It's Friday again! One more week and it will only be a few days before Christmas! Are you excited yet? Things have been a bit manic here so I am going to be rushing around next week doing a few last minute bits and bobs! But Christmas wouldn't be Christmas without some last minute stress! So onto the last wedding of the week and it's the wedding of Jo and Angus who were married on 2nd June. The Ceremony and reception were held at St. Katharine's of Parmoor, a Sue Ryder retreat and charity-focused venue, based in Frieth, Henley on Thames. They had about 100 guests in the day and a few more in the evening, it took about a year to plan.
I do love an outdoor wedding, I wish more people did this in the UK but I know our terrible weather puts a lot of people off! So it's great to see this wedding and see that the couple were brave enough to take their wedding celebration outside in such a beautiful venue.
'British countryside quirk, with an emphasis on local suppliers & the community.'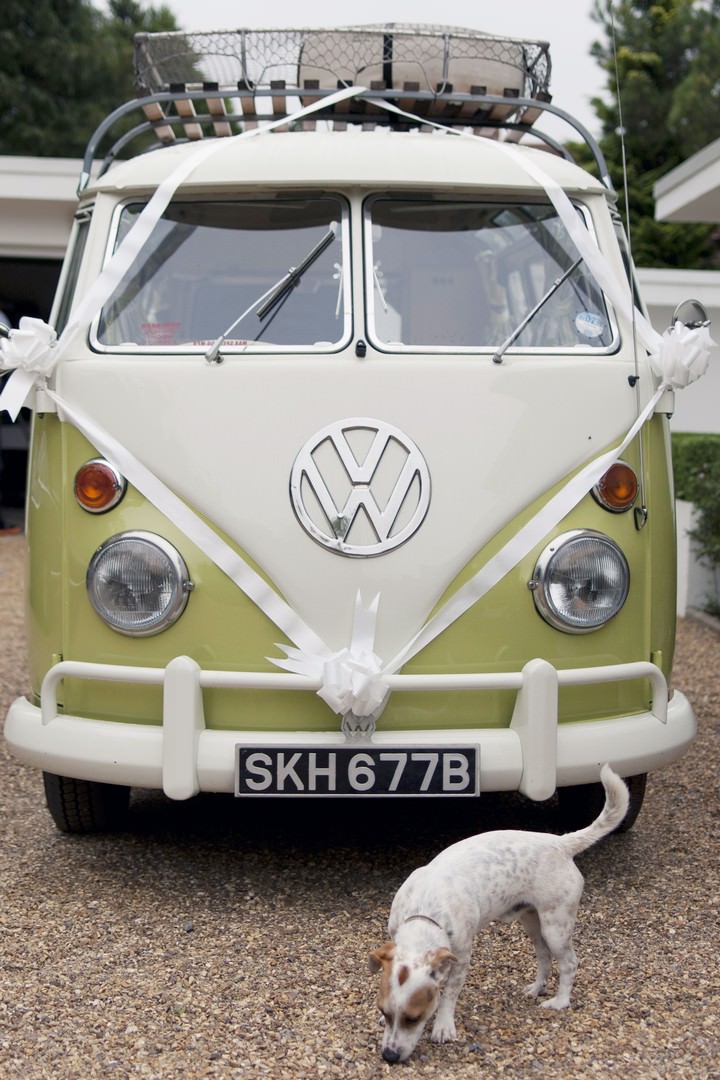 The venue
We picked the venue because A. it was so beautiful and B. because again we wanted to help the local community. It is called St Katherines Parmoor and is in the beautiful village of Frieth where Angus' parents live. The village is such a beautiful place with such amazing people living there who all helped out on our wedding day. It is a Sue Ryder retreat and is charity based. We had always said that we wanted something different for our wedding day, something that stood out and was different to your average wedding. That people could look back on and remember. So we decided to hire the Teepees to give it a bit of a wow factor. It fitted in perfectly with the amazing country side and looked stunning against the setting of Parmoor. They were hired from Beautiful Tents who were great. They sent an army of about 10 men to set up and they worked tirelessly the whole day to set them up. They were very nice people and I would highly recommend them.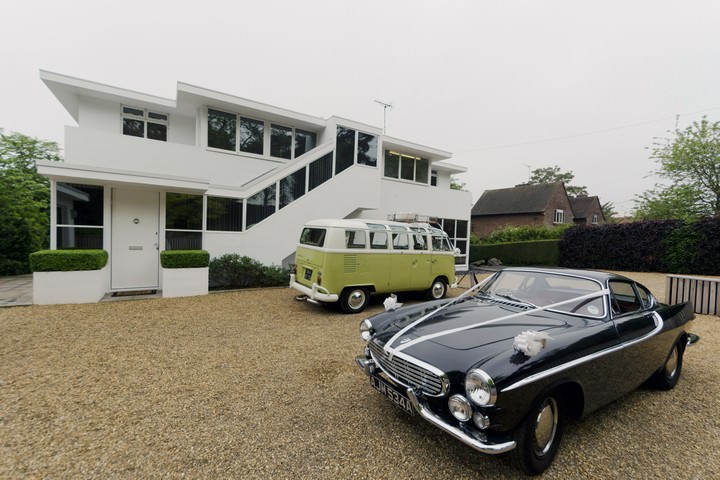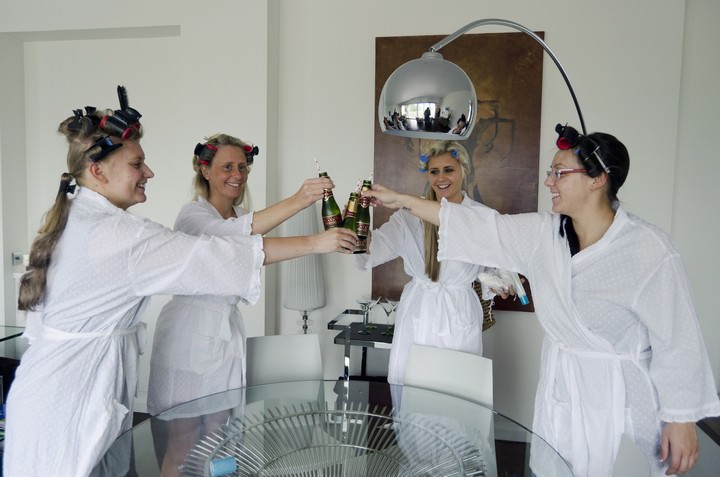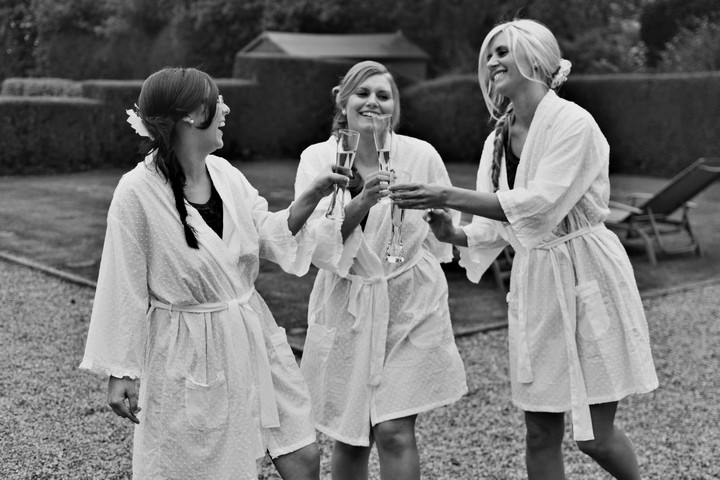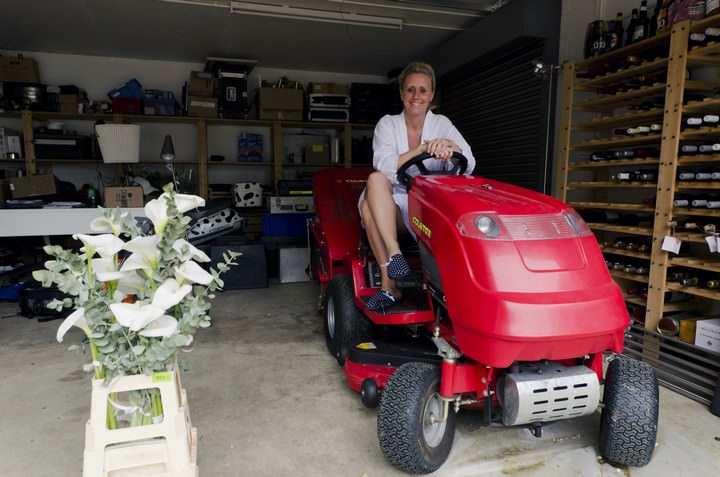 Why did you choose your photographer
After meeting with a few photographers who lets say weren't really our cup of tea we knew Nigel was the man for the job. He was nice, his pictures were great, we got on really well and he really appreciated our day and all the effort that we were going to to make it original. After our first meeting we always knew that his pictures would be great, but he really did surpass himself. On the day he got all the main and amazing shots yet was not intrusive in anyway. In the morning with the girls we had lots of giggles and he got some great and some embarassing but funny pictures.
Nigel captured our day exactly as we remember it, lots of bubbles, laughs and enjoyment. We can look back at our pictures and remember our day just how it was. He told a great story.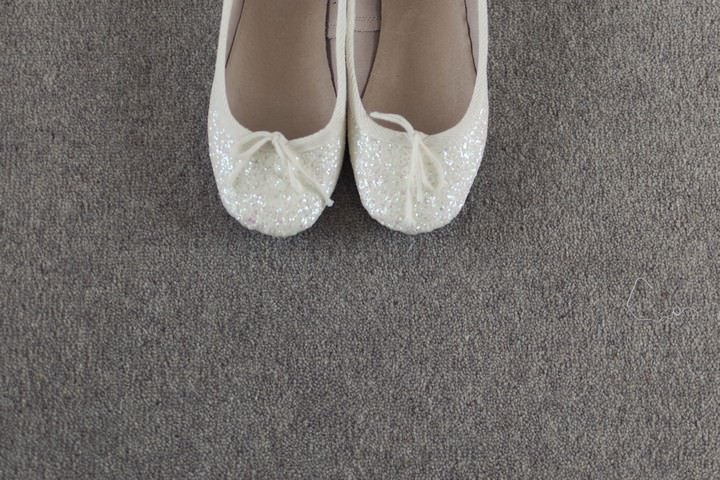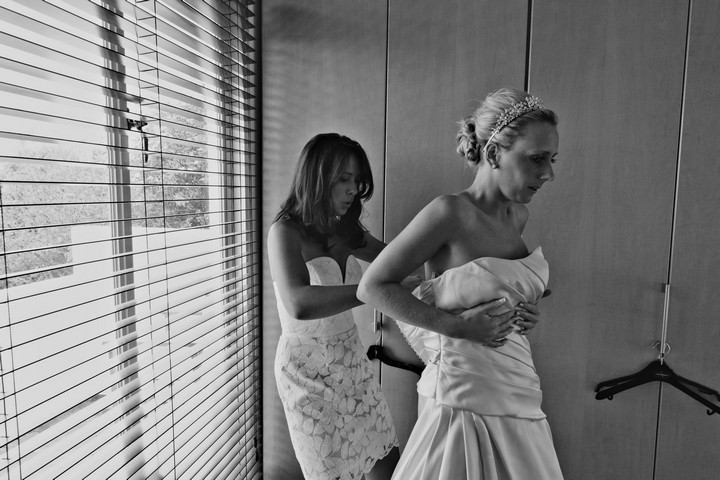 The Dress
My dress is from a shop called Confetti & Lace – it's in Lakeside (Good old Essex) Designed by Alfred Sung
My Shoes – Topshop – I wanted to wear flat shoes so that I wasn't the same height as Angus and didn't want to spend a lot of money on something you wouldn't even see. Plus they were sparkly.
My Tiara is also from confetti and lace, I was just trying it on to see what I should wear with the dress and fell in love with it. I will get the designer for that over the weekend as well. My Veil was bought on line a Spanish company. I had googled funky veils because I wanted something a bit different. It was called the Cock Shape!!!
My earrings were Tresor Paris studs. The girls had the same earrings. The bracelet I wore was my something borrowed a silver bangle from the bestmans girlfriend. I wanted to keep it simple as my Tiara was the main feature jewelry wise.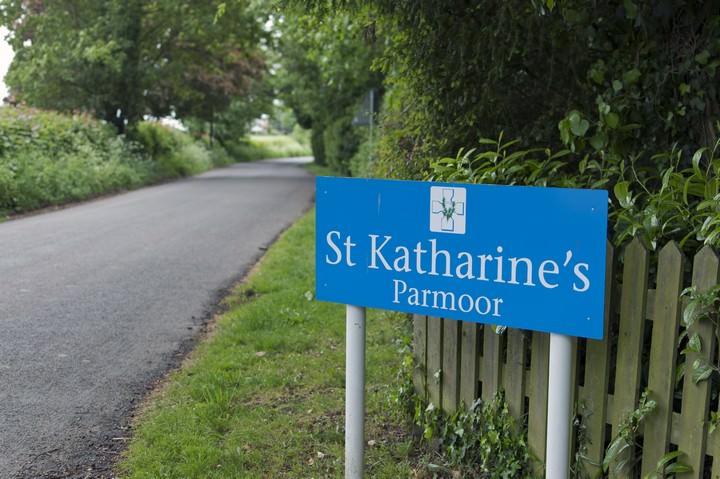 The suit and bridesmaids
Bridesmaids dresses were ordered online from JJ House. They were taken in by a tailor company in East London called Little Black Dress.
Their bracelets were from Links of London. Their shoes were also ballet pumps from topshop (but not sparkly).
Angus' suit and the other mens suits were hired from an amazing suit hire/tailors in East London called Jack Bunney's. It has been there for over 50 years and passed down the families. The son & grandchildren of the original owner work there. We were so happy to be able to support a local business close to where I grew up. His tie was also from there. His shoes were from Aldo and so were the rest of the mens and their ties were from M&S.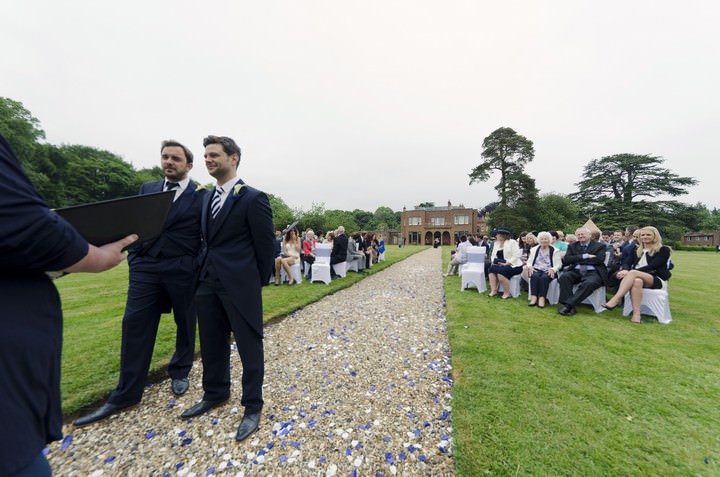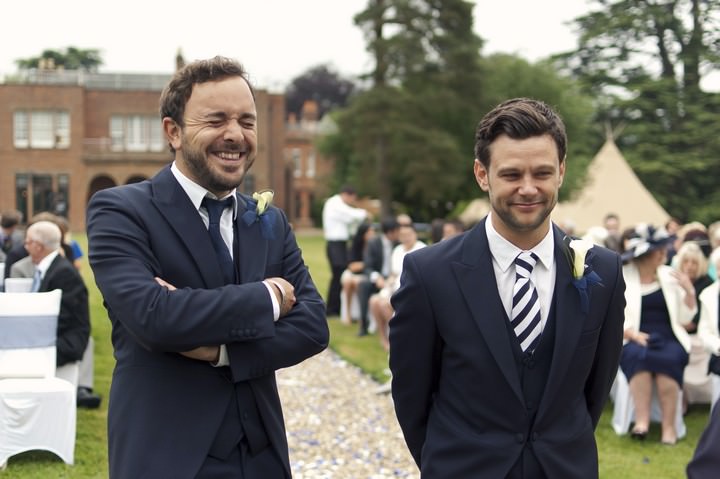 Theme
Very simple. We combined white with a navy blue and let the natural wood colours of the venue do the rest of the work.
The Decoration was very basic with no flowers on the tables, just candles in jam jars, bunting and fairy lights.
Flowers
I am not a massive flower person, hence the reason I didn't have them as center pieces. I have always liked Callas Lillies which is why I picked them. My Aunt Tina Sheehan did my beautiful flowers which she got from a local florist and she did them as a wedding present for us. We had my bouquet which I saw something similar online and loved the feathers. My three bridesmaids bouquets, the mens button holes, the spray on the table & the piano which were moved to the top table. She also did the other flowers around Parmoor which were then given out to people at the end for the night.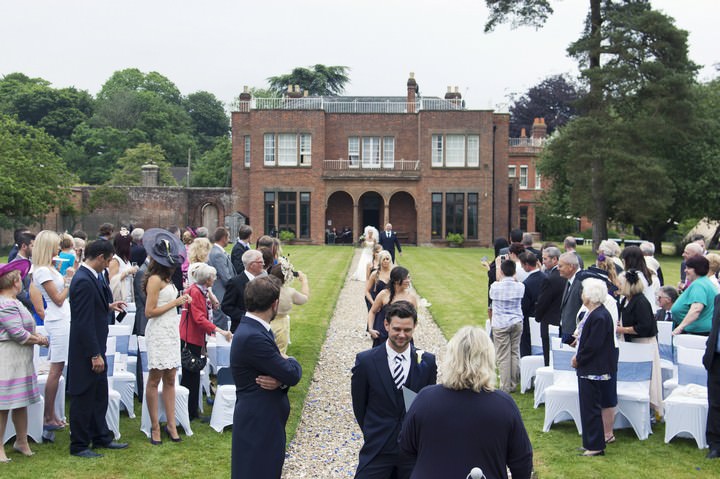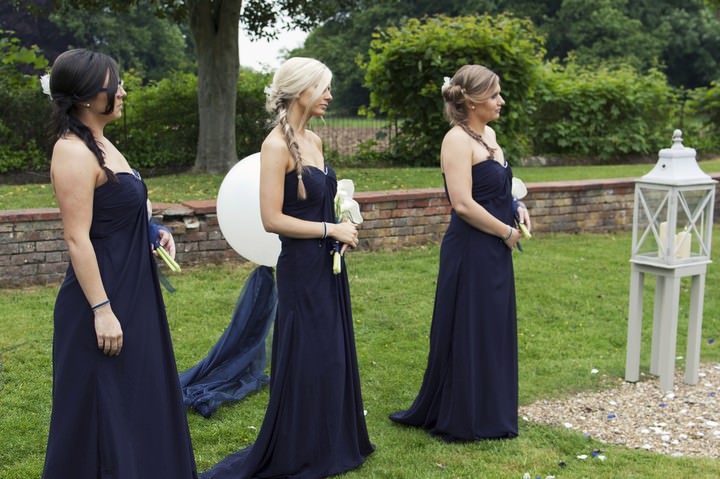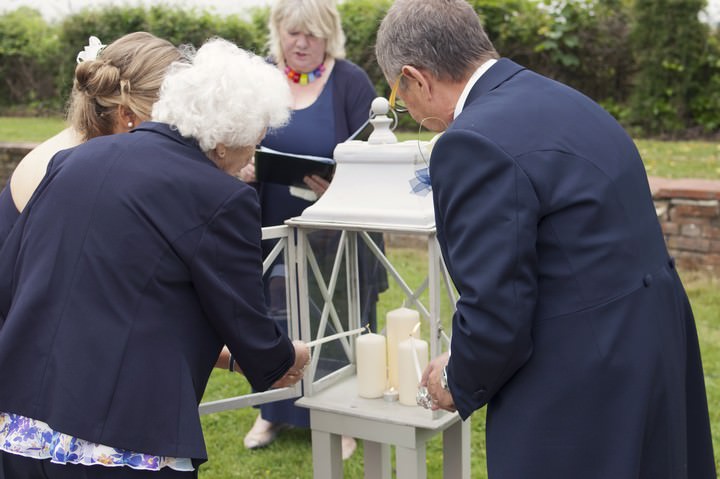 Entertainment
My beloved band Thrill Collins. My wedding revolved around them. We had seen them out in Cheltenham where they are from. Having talked of getting married I had took the liberty of taking their card. The same day Angus proposed and we had chosen a date I booked the band. If they were not available I would have changed the wedding date. They were amazing. Three of the loveliest people I have had the fortune to meet. Their music is just so fun and I can't remember a time when they were playing that the dance floor wasn't packed. They learnt 3 songs for us and our first dance was out of this world. I think they made our wedding and they are the thing that everyone has talked about since. The fact that they do modern music with such a great twist I think makes them so appealing.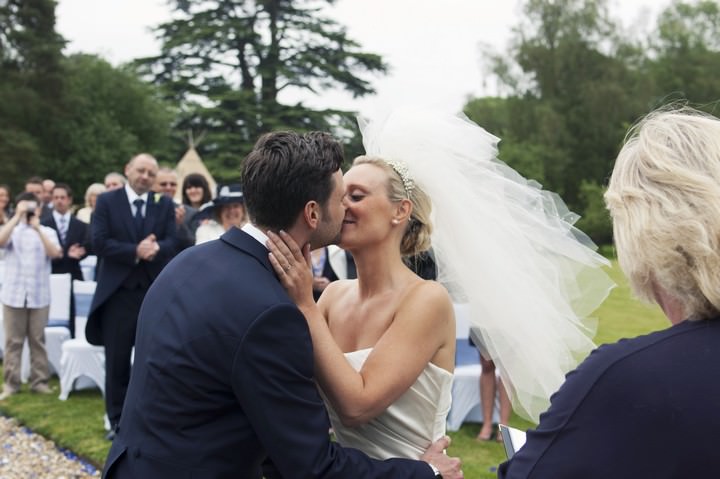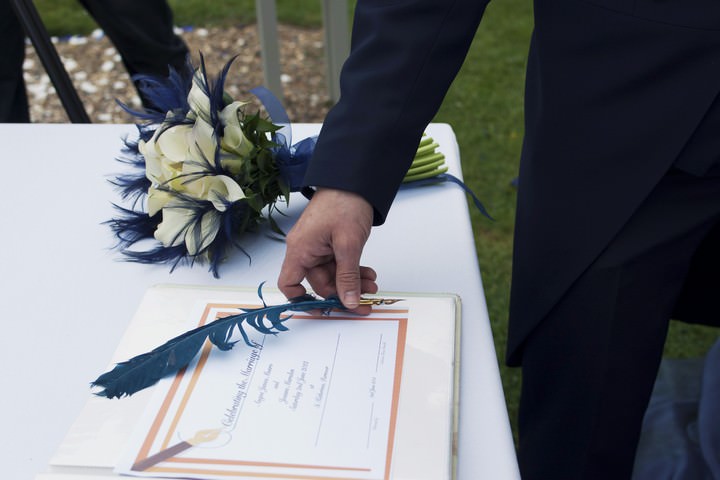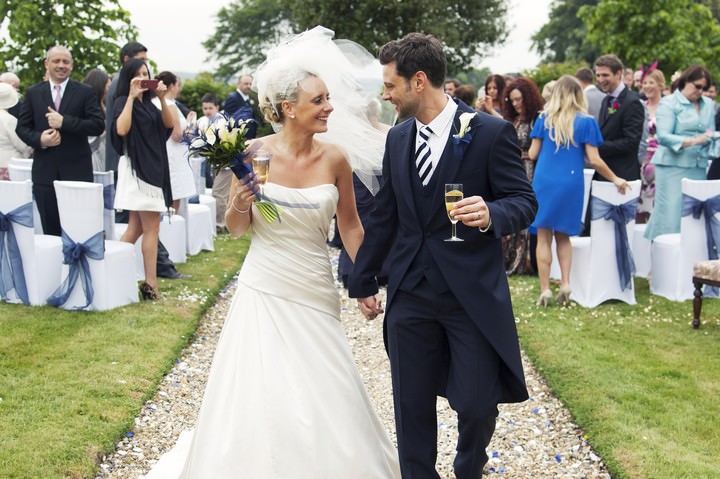 Personal touches
We did all of the work on our own for the day. We planned and styled it ourselves.
• Our celebrant Fiona Braclik – Henley Ceremonies. She was such a lovely person. She was brilliant with the photos and always said that the photographer could take pictures wherever and she would not get in the way. She made it possible for us to have our wedding outside and I think that is a big thing these days.
• We always wanted our wedding to be a bit different food-wise. Buffets are great but we decided to do something a bit more fun. Our Mexican van was Chilly Gone Balmy and their food was out of this world. They again were very lovely people and just got on with the job in hand. All of our guests thought the food was great and really enjoyed the whole concept. The crepe van Creperie Nicolas who were again great and people really enjoyed the crepes as well. They are Angus' favorite so it was a must.
• Our cake was made as a wedding present from an old friend of the family Eileen Alderman. She bakes cakes for a living and her company is Yummy Mummy Cakes.
• Little touches that I thought I would mention are the sweet trees on the bar and the lolly tree in the toilet these were supplied by Sweet Creations and went down a treat.
• I had been to a wedding 2 weeks before in a field and it was muddy and I ruined my heels. I didn't want people coming to my wedding and leaving having had a great day but ruining their shoes. So I supplied heel stopper from Pretty Pink Toes Boutique. They were given out to people to put on their shoes and then to keep after as a souvenir.
• Another hit was the flip flops in the toilet. I brought about 30 pairs and put them out for peoples tired feet, they were a huge hit and all went. When people talk about our wedding they always say what a great thing that was.
• We were not into hiring a flashy car and we love the VW Split screen camper vans so decided to have this as our wedding car which also doubled up as our mini honeymoon. We hired this from Vanilla Split.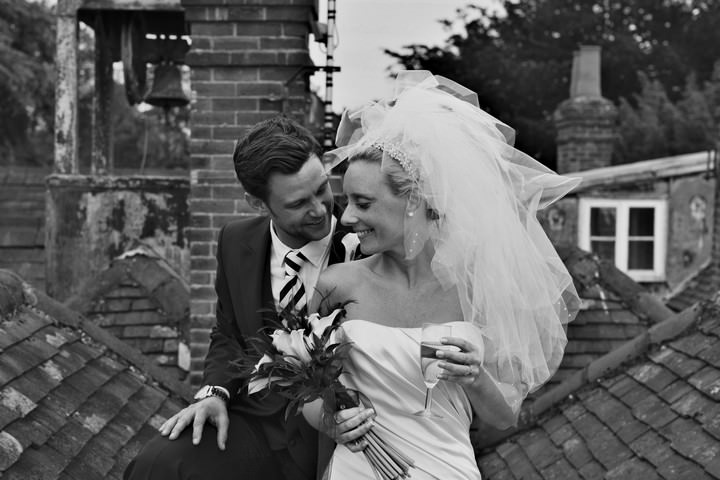 Advice
Use visuals to help you plan and don't be afraid to put your own stamp on the day. Use local suppliers who you are already connected with as it makes the day so much more special.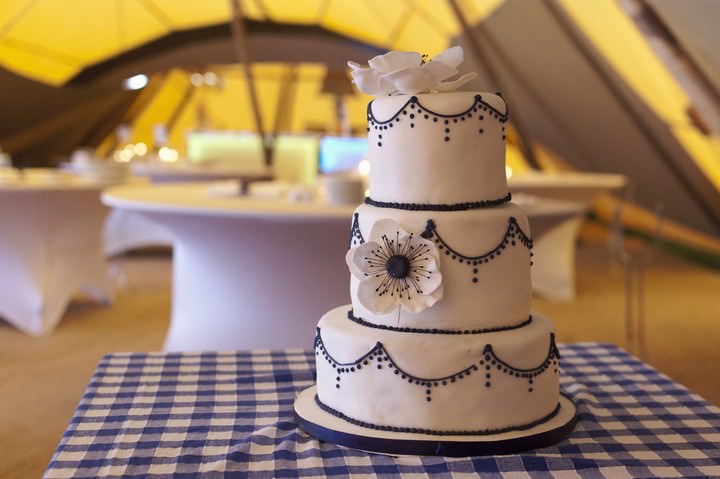 Supplier Shout Outs:
For more information on Nigels's work go to
www.nigeledge.com
http://blog.nigeledge.com
[email protected]
FACEBOOK
@WeddingShoot 
  ♥  You can see more Real Weddings featured on the Blog HERE  ♥
Due to an email issue if you have emailed me between the 2nd & 9th of December, please resend it.
X