It's Thursday already, how on earth did that happen so quickly! The Christmas countdown is well and truely on! Laura and I are out for our Boho Christmas do today, we are going for a lovely lunch which I am really looking forward to! I'm sure I will be sharing some photos on Instagram later today. First of all though I have this this fabulous Canadian Wedding to share with you all, courtesy of Laura Kelly Photography. It's the lovely rustic wedding of Amanda and Ron, who chose an outdoor ceremony with lots of lovely homemade details, including the most feautiful paper feather wall.
Amanda and Ron were married at Temples Sugar Bush, Ontario, Canada on the 5th September. 'We had found a couple of local examples of venues we liked to show our amazing wedding planner, Karen of When Sparks Fly. We were looking at rustic, outdoorsy, natural venues. She set up a day of venue visits that also included a pick of her own, Temple's Sugar Bush. It ended up being the first venue we visited and from the moment we walked in we were enamored. The look, the smell (fresh cut wood and maple: love), we could picture getting married there as soon as we stepped foot inside. We had 125 guests.'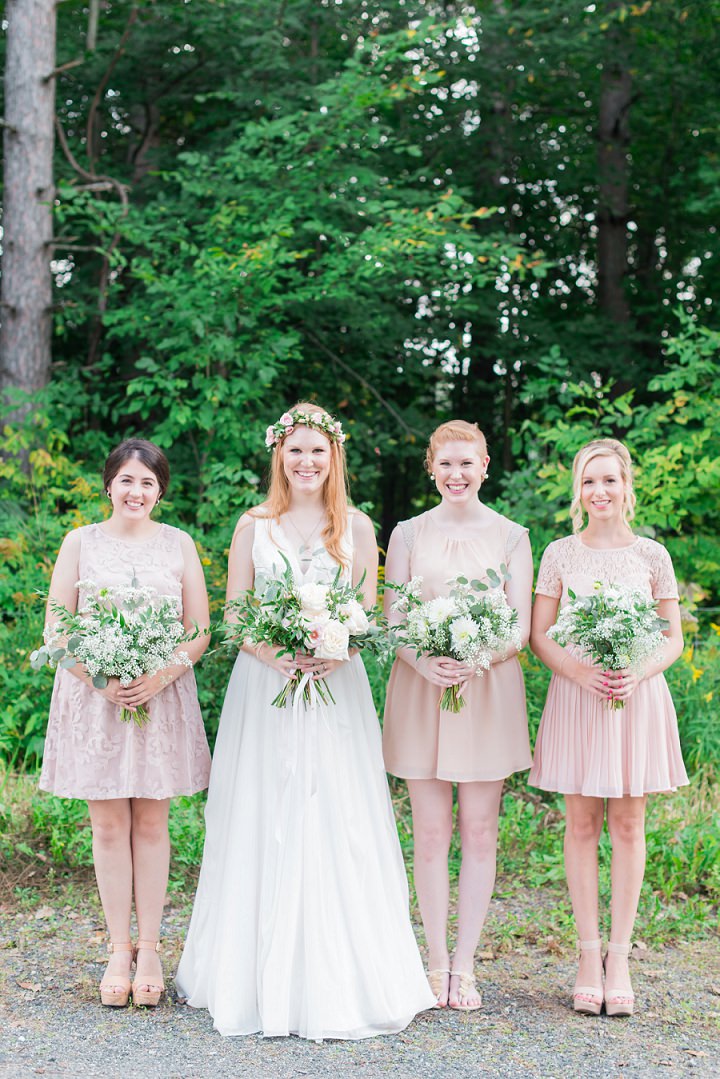 How they met
We met six years ago on his first day after being transferred to the Staples I was already working at. We had our first conversation that day in the break room and found out that we had worked in neighboring stores for about two and a half years before fate led us to working at the same Staples. We had a mutual respect and trust for one another that neither of us had experienced in a relationship before. Once you have the real thing you wonder how you thought anything else was as good.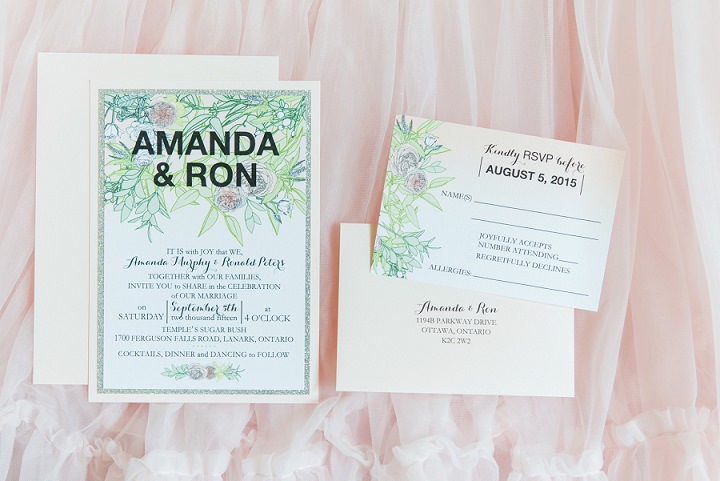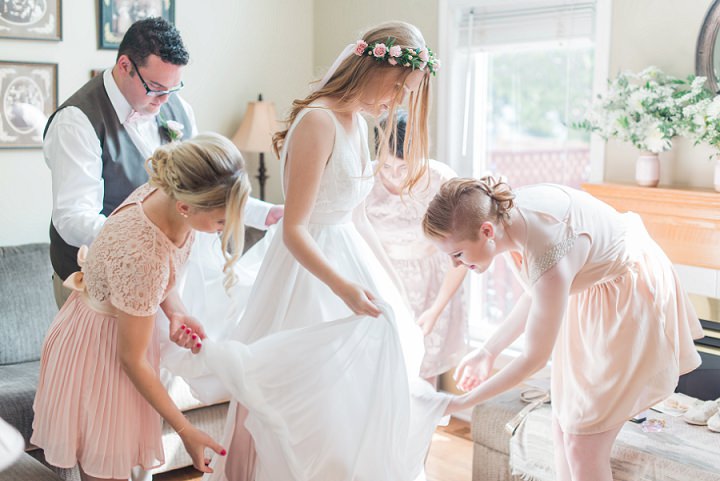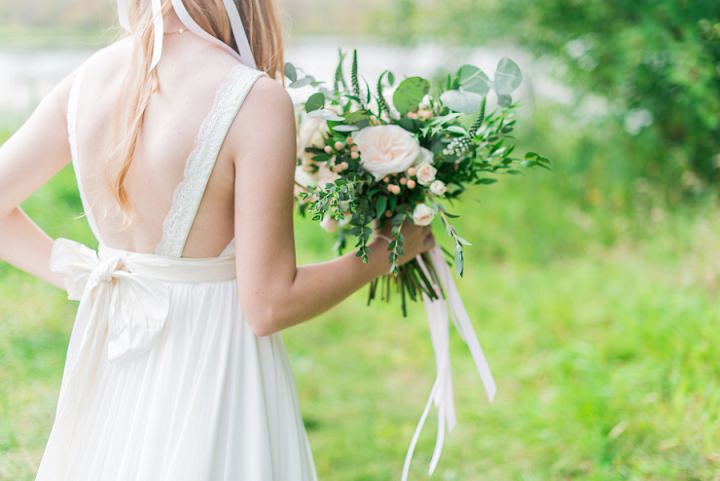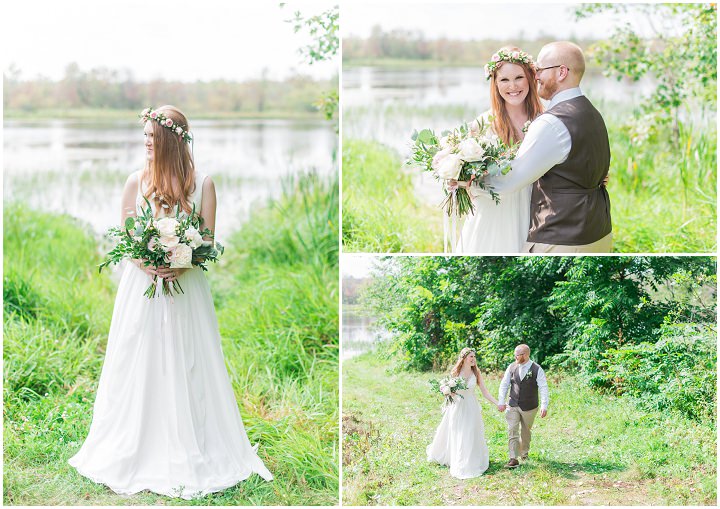 Did you enjoy planning your wedding?
YES. In large part thanks to our wedding planner, Karen, who allowed us to be as involved or not involved as we wanted with all the elements of planning. We know a lot of people don't consider wedding planners a wedding luxury they can afford, and neither did we at first but we recommend taking a look at your options and finding someone who fits your needs and budget. We felt confident and prepared at every step of planning and got to focus on the things that were more important to us as a result.
Theme or colour scheme
We wanted the day to be oriented around being with family, feeling relaxed and being able to ultimately enjoy the day. The rustic, outdoor venue set the mood and the vendors we had rallying behind us allowed us to spend the day with our family and friends and dance the night away.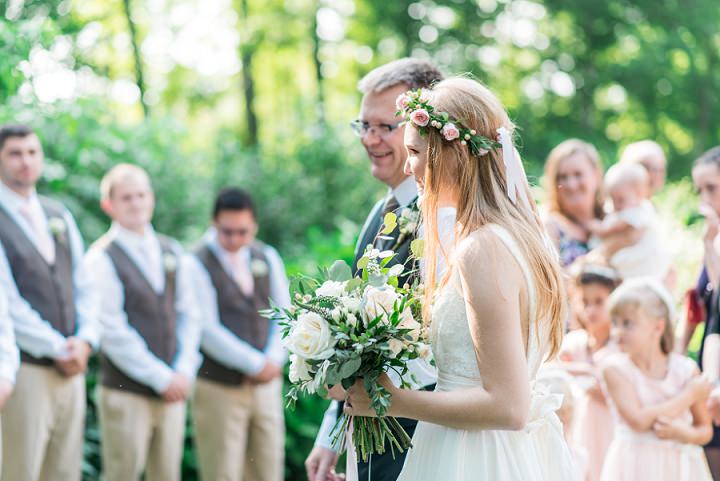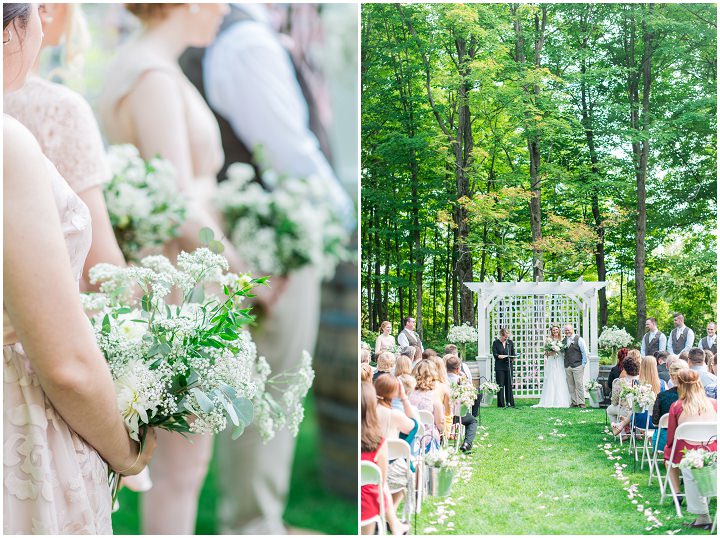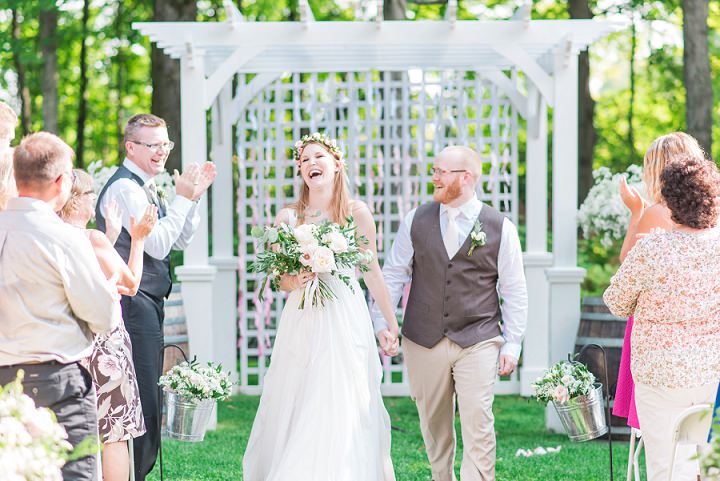 How did you choose your photographer?
Laura could not have possibly been more professional and fun to work with. She made us feel like superstars all day! We then got to experience the added bonus of getting to look at our perfect collection of wedding photos while waiting to board the plane to our honeymoon a week later, and with Laura's help had beautiful albums made to gift to our parents as well as one for ourselves. She is the gift that keeps on giving and is a huge part of our perfect wedding day.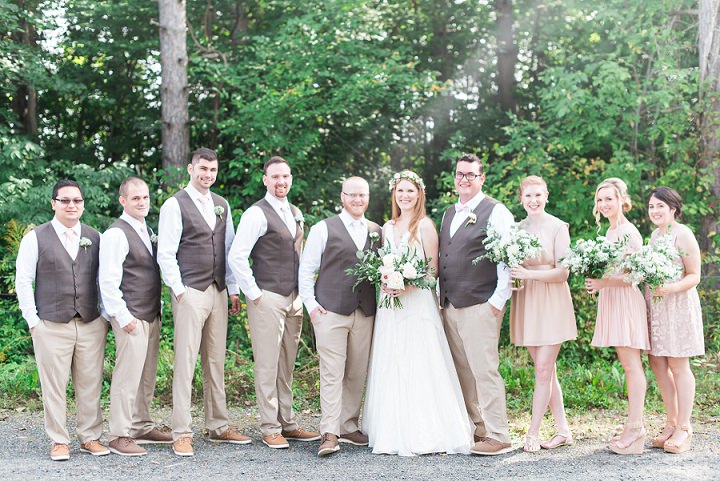 Personal Touches
To save costs on some rentals, my mom made all the vases for our centerpieces by beautifully decorating mason jars. I spent a few days cutting out over 300 paper feathers with my Cricut machine and stringing them on fishing line to make a whimsical backdrop for the ceremony. The best part about both these DIY projects was that they were multi purpose: the centerpieces were used as aisle markers during the ceremony and brought inside after for the reception, and the ceremony backdrop became our DIY photo booth backdrop (complete with a frame my dad made out of PVC pipes). My parents' garage still looks like a glitter bomb exploded in it; if that's not committing to making your daughter happy, I don't know what is!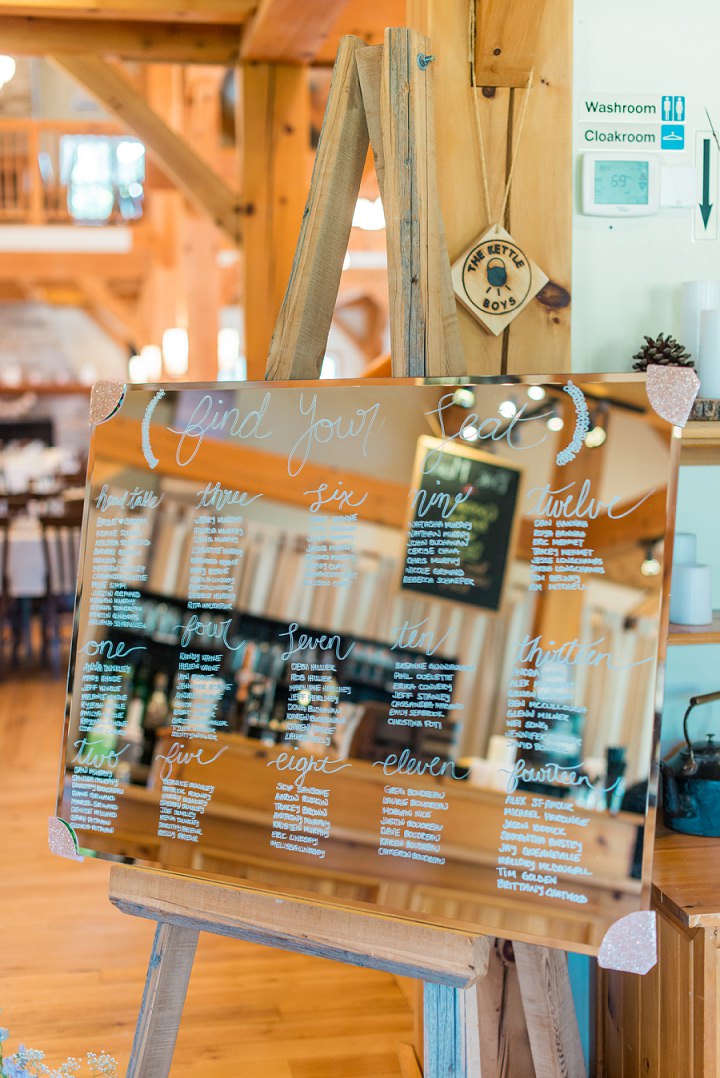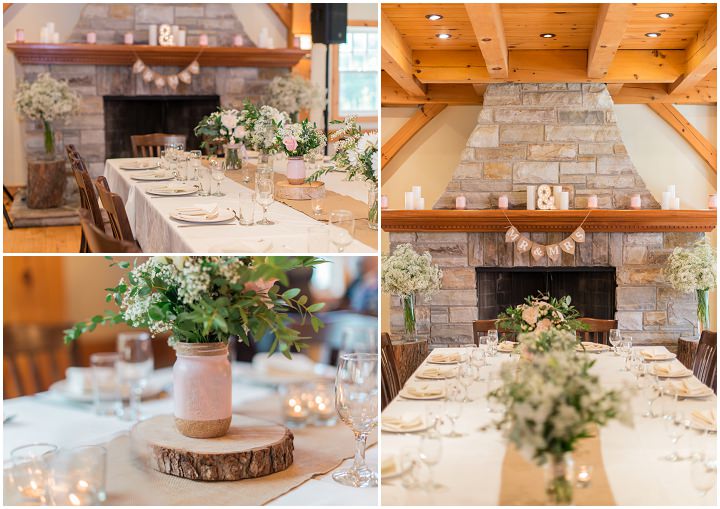 Special Moments or Highlights
Our favourite moment of the day was the ceremony. Our officiant, Julia Kiska, crafted a unique ceremony for us based on our love story and it was a very special thing to share that with our friends and family.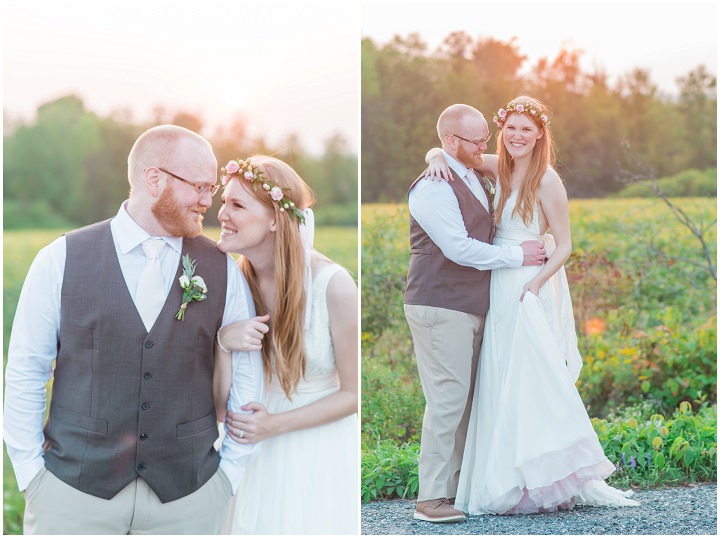 Supplier Shout Outs
For more information on Laura's work go to:
laurakellyphotography.ca / FACEBOOK / I : @laurakellyweddings