Happy Monday everyone! I hope you all had a wonderful weekend? What did you get up to? Anything festive? My weekend involved 2 Christmas parties, a 4-year old's birthday party, Christmas tree shopping and 2 Christmas fayres, so I am feeling well and truly festive now….bring on Christmas!!
We are starting the week with a trip to Portugal for some lovely summer sunshine, which is much needed at this time of year! The lovely Josine and Daniel held their beautiful rustic chic wedding in the most gorgeous of settings and filled it with green foliage, blue and white flowers and so much charm and love. I just love the ceremony arch made of foliage. What a stunning backdrop to feature in this ceremony. Big thanks to Adriana Morais for the images.
Uncomplicated, genuine, beautiful, light, happy, full of love….the most amazing day we could have ever hoped for!
Josine and Daniel were married on 18th June at the Alqueva Lake close to the Monte followed by a reception that took place at Monte Falperras, Mourão, Portugal. 'We wanted a special place, away from the commercial venues. This place is owned by friends of ours, which means we could do a lot by ourselves and shape our day as we wanted it to be. Monte Falperras is in the beautiful Portuguese region of Alentejo – we immediately fell in love with it. Not only does it have a great garden with a view on the nearby Alqueva lake, the house itself is also very beautiful and comfortable. We had around 80 guests and it took 6 months to plan.'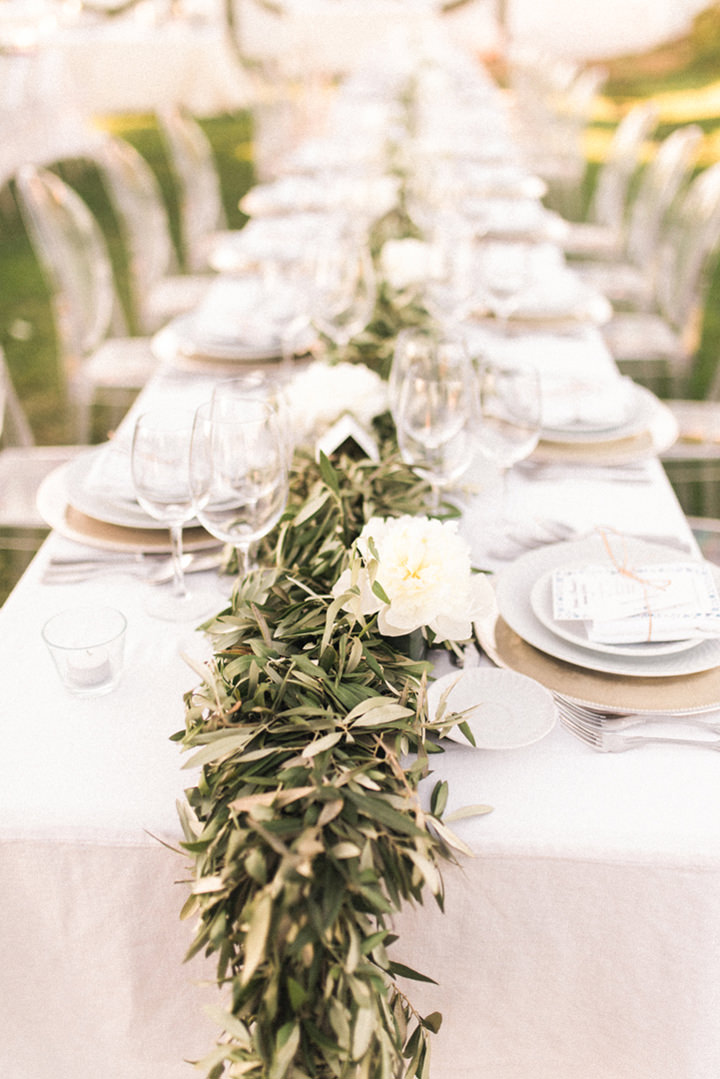 How they met
We met at a professional meeting – I was a PhD researcher and went to interview Daniel for my work. We basically fell in love instantly and got married 3.5 years after that first meeting.
The Proposal
Daniel had the idea of spending a weekend in the Belgian Ardennes (we used to live in Brussels at that time). It happened to be the weekend of the 4th of July, which was the hottest weekend of the year. We went for dinner and then for a stroll along the river. Daniel proposed whilst we sat down opposite the beautifully lit castle of Bouillon, and then there was the ring…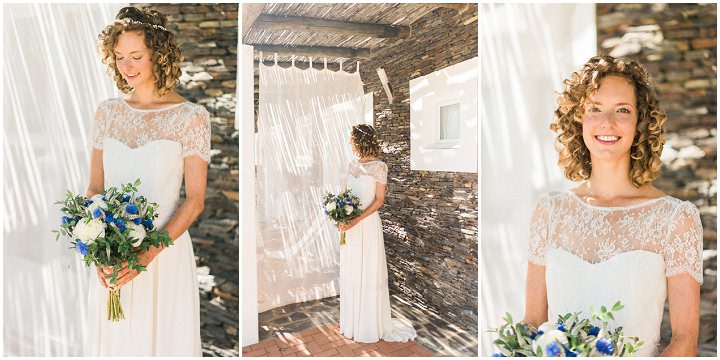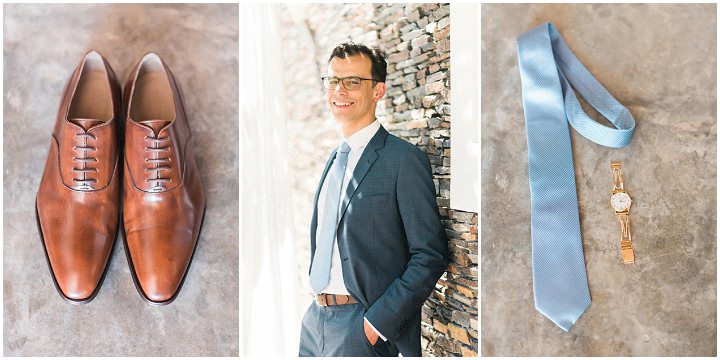 How did you allocate your budget?
We wanted happy guests, so we decided to spend a big part of the budget on a great location and good food. We also hired someone to lead our ceremony at the lake. We didn't spend much money on music, make-up, hair and decoration of the place; we were lucky enough to have family and friends who could help us with this.
Where did you splurge and how did you save?
We wanted the guests to be happy, and one thing we thought was important was to have good food. I guess we spent a bit more on food than we could have done, but we don't regret it at all. Also, we bought wedding favours for the guests that were more expensive than what most people would get – we had guests coming to Portugal from the Netherlands and from other parts of Portugal, and we wanted to give them something special to take home.
We saved money because we did a lot of things by ourselves – we didn't have a hairdresser and make-up artist, and friends and family took care of the music and of the garden decoration.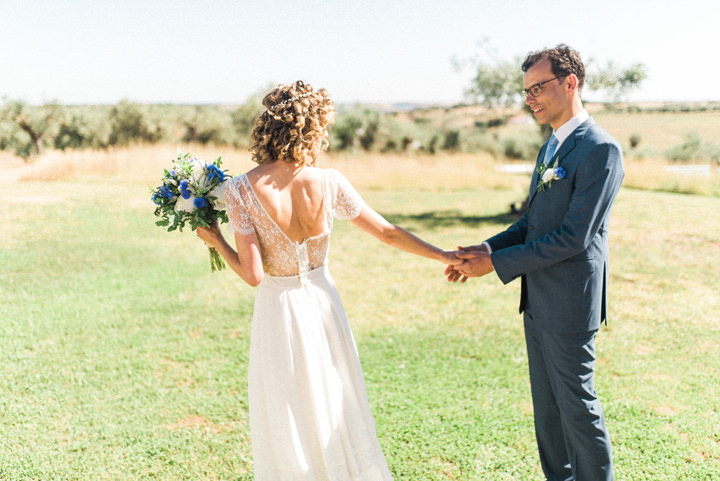 Why did you choose your photographer?
We talked to some photographers, but we had an immediate click with Adriana Morais when we talked on Skype. She seemed so sweet and we just loved her pictures. She was amazing at the wedding itself – she really went beyond her tasks and made us feel relaxed all along the photo sessions. And the result is amazing!
The Dress
The dress was by Laure de Sagazan and the shoes were by Repetto; the earrings were my mother-in-law's.
The Suit and the Bridesmaids
The suit was by Dielmar. We didn't have any bridesmaids.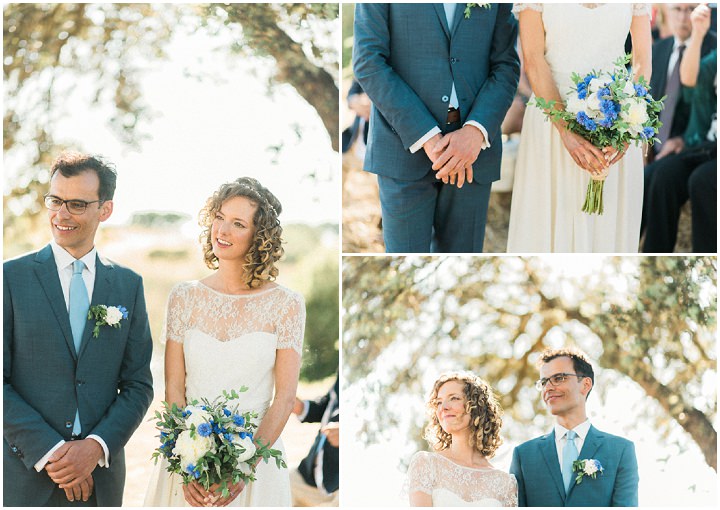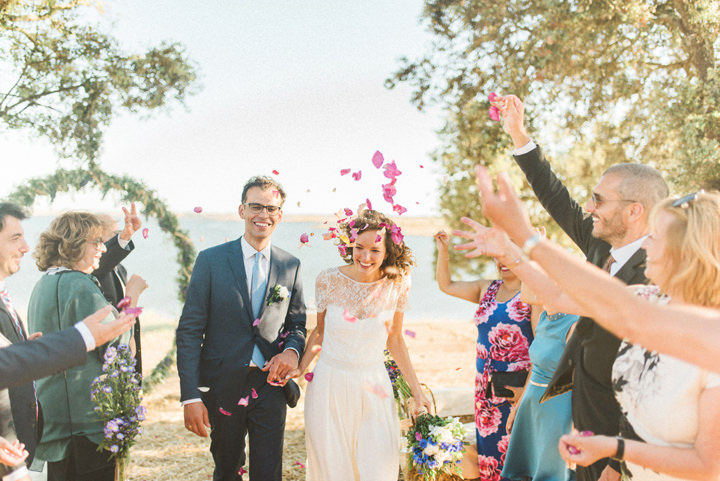 Theme or colour scheme
We wanted to keep it simple and chose to combine white, blue and green. I had a white dress and blue shoes; Daniel had a blue suit. The flowers were white, blue and green.
Flowers
We had a combination of green leaves and white and blue flowers. Actually, we weren't sure what we would get – the only conditions were to have these colours and to have a bouquet that would not be too 'stiff'; we left the person who took care of the flowers to decide what to do. Next to the bouquet, we also had flowers in vases around the Monte, a ring of flowers behind us at the ceremony location, and bands of flowers on the tables and hanging down from the Monte.
Decoration
We had flower bands on the tables and flower vases around the Monte, and big candles in vases in the garden. The location was so beautiful that we didn't really need to have a lot of decoration.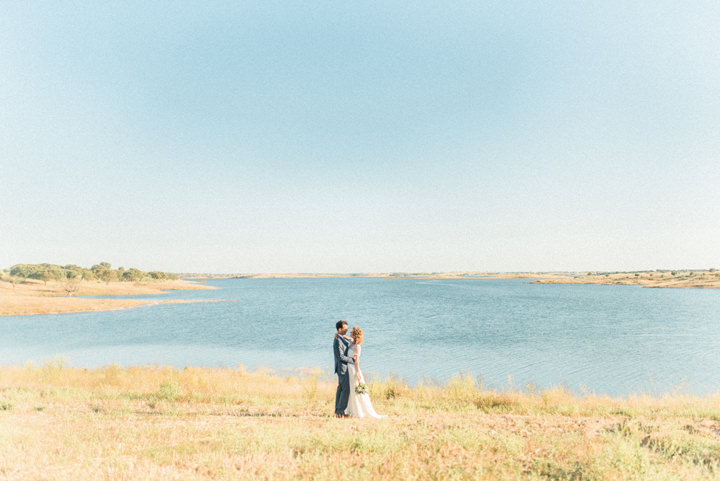 Food
We had dinner served at the tables – first some gazpacho, then a fish dish and a meat dish. We had the wedding cake for desert and a desert table with traditional Portuguese deserts inside the Monte. Our caterers were Tudo Bom.
Wedding cake
The wedding cake was very simple – it was a chocolate cake decorated with a white sugar coating, blueberries and olive leaves.
Entertainment
One of our friends happens to be a DJ. He took care of the music during the reception, dinner and dancing. A friend of ours surprised us with an act during dinner, which was a really nice break between the courses.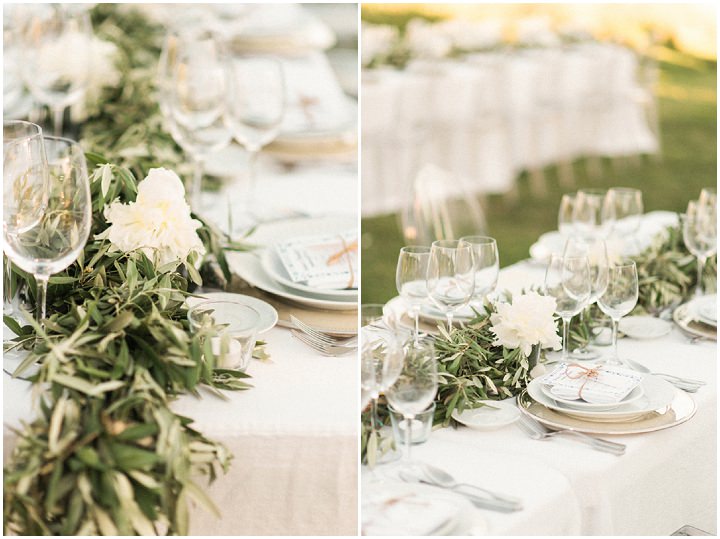 Who supplied the stationery?
We designed the stationary together with an acquaintance, who is a designer. We had everything printed by a specialised shop in Brussels.
Personal Touches
We practically did everything ourselves – apart from the food, photography and ceremony, we designed and organised things on our own.
Special Moments
We loved the ceremony that took place at the lake close to the Monte. We had hired someone to lead the ceremony, and she did a great performance. Daniel's witness, who is a guitar player, played the guitar in the background; our mothers and witnesses read something; we read something… and the weather and surroundings were absolutely fabulous. The ceremony was definitely one of the most special moments of the day.
Advice for other couples
Don't make it too complicated. And don't worry if things do not go exactly as planned; it would be a shame if things that didn't to exactly right were to overshadow the happy memories of your day!
Biggest Surprise
That the weather was as amazing as it could be. It was quite cold the day before the wedding and very hot the day after. The 18th of June was definitely the perfect day to get married.
SUPPLIER SHOUT OUTS
For more information on Adriana's work go to
www.adrianamoraisfotografia.com / www.adrianamoraisfotografia.com/en-blog / FACEBOOK / PINTEREST / INSTAGRAM