Today we are off to Chile for wedding number 22 of our good friends Lisa and Alex from 2 People 1 Life. If you're not aware of what Lisa and Alex have been up to I'll explain. Over the space of two years they are traveling round the world getting married in every country they visit, you can read more about their adventures HERE.
We started our Chilian wedding journey in Mantecillo a gorgeous little beach town with Alex our guide and the lovely Penny and Claudio who agreed to help us with wedding 22.We spent the day before the wedding collecting things that I wasn't allowed to see, meeting friends that would be coming to the wedding and meeting our wonderful 'master of ceremony' Ivan and his lovely wife Haydee. There was so much going on and we met so many new friends that my nerves had kicked in already!
The morning of the wedding was back to 100 miles an hour and as we dressed in our traditional Huaso and Huasa the nerves returned. We had empenadas to collect, the photographer to meet, Ivan to prepare and a location to decide. The weather had stopped us making any real decisions the day before, Ivan lives in a beautiful spot overlooking the ocean but the drizzle had made the deck a little slippery and the view was obscured by the misty rain. The small beach of the fishing town was lovely too so we were undecided until we arrived in Horcon on the day of the wedding. The sun burst out from behind the clouds and begged us to marry under its rays by the crystal clear waters of Horcon beach. We met with Gardner who was our photographer for the day and Mauricio his assistant and knew we were in great hands.
Everything is a blur from then up until after the wedding! We were suddenly ready! We were there, on the beach, dressed and with a huge crowd of friends and family around us. We thrust our camera at Claudio and asked him to snap away too and the ceremony began. We stood facing the water in between two brightly coloured fishing boats with Ivan front and centre. Ivan was so excited and had prepared a beautiful ceremony for us in Chilean Spanish and Penny translated for us as he spoke. He welcomed us to Chile with warm words and open arms and blessed us in the presence of everyone there to a long and happy life together.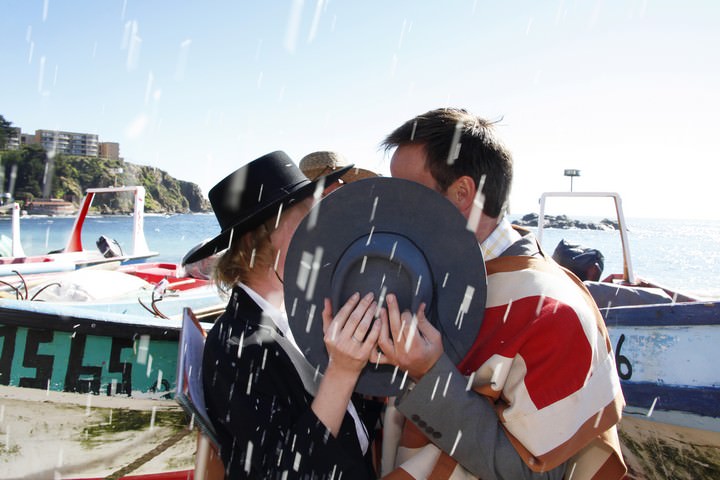 The ceremony was short but lovely and really from Ivans heart. As we kissed to seal the deal everyone cheered and threw rice and congratulated us with hugs and felicidades. Even the fishermen had come to join in the fun and we had a few fishy hugs too! Everyone was so happy for us and intrigued at our tale. One of my fondest memories of the day is climbing into one of the fishing boats for a picture and my ankle flashing from under my skirt. Everyone was stood watching and all we heard was Ivan shout 'Oh my God' as I put my feet up on the side of the boat. We laughed so hard and everyone cheered as we kissed in the boat.
We all went back to Ivans for empenadas and champagne cocktails on the now sunny deck. We chatted the afternoon away and waited for the light to drop to go to the beach for some pictures with Gardner and Mauricio. It was such a gorgeous day, we were so welcomed by everyone, they were all eager to hear our stories and we were eager to listen to theirs too. For us this was one of the more special weddings, a day to share with strangers that become very quickly new friends.
As we left Ivans to go to take some pictures on the beach our guests went back to Francho and Marias to cook up some Asado (BBQ), it was hard to leave the smoking meat but we were desperate for some more images in such a beautiful part of the world. We followed Gardner to a spot he had found earlier that day and turned mountaineers to get down the steps to the beach. It was definitely worth the climb though, they had found a perfect spot. The beach was pristine with beautiful rock formations jutting out into the Ocean. Gardner had some great ideas and it really paid off him having visited the area earlier in the day.
I'm sure you will all agree that the images are spectacular. He has captured the life in the rocks, the ocean and the light and most importantly the all encompassing beauty of the landscape. Thanks so much Gardner for such stunning shots and for being a big part of our special day!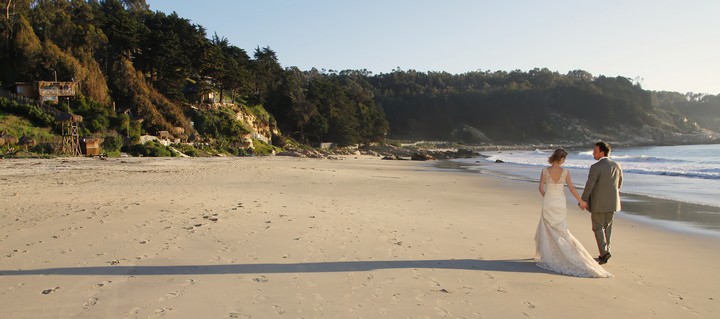 By the time we got back everyone was as worn out as we were and after waving goodnight to all of our guests we grabbed some food and a glass and we all crashed in front of the TV to watch the Olympics! It was a perfect end to a perfect day. It started with one family wanting to help us out and ended with all of that family sat around relaxing together…with their 2 new additions…US!
If you have missed any of the previous weddings you can catch up HERE,HERE , HERE, HERE, HERE, HERE , HERE and HERE
To follow Lisa and Alex's journey go to – http://2people1life.com/blog/
images by Gardner Hamilton – http://gardnerhamilton.com
♥  You can see more Destination Weddings on the Blog HERE  ♥