Today we are back with our good friends Lisa and Alex from 2 people 1 life for wedding number 27. It is hard to believe they are on their 27th wedding already, it really has been an amazing time for them! This time they have a traditional Texan wedding, complete with this amazing rustic venue and cowboy hat! Thanks to Morgan Lynn Photography for these stunning images.
In case you have missed it the whole story Lisa and Alex have spent the last two years traveling round the world getting married in every country they visit, you can read more about their adventures HERE.
Lisa tells us more about the day…………..
Very last minute, as we can sometimes be! We had asked a wedding planning company if they could help us arrange a true Texan wedding! We had given Belle of the Ball a few days notice and they jumped at the challenge!
We got online and it was confirmed, we had a wedding lined up 2 hours away from where we were sat. We packed up and set off towards Las Brisas farm near Fayetteville.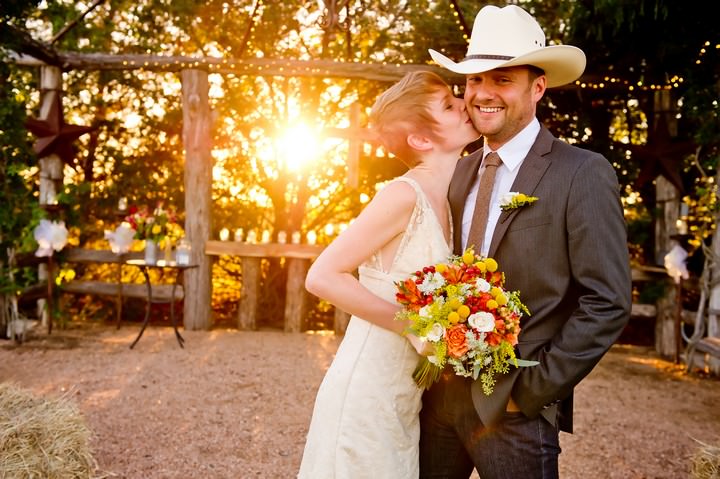 The sun was shining when we arrived around lunch time and we met with Kathy and Eldon the owners and builders of the farm. The place was perfect! All made from recalimed materials, the walls rusted corugated iron, timber beams and reused window frames. Flowers bloomed everywhere, bumble bees bobbed along and butterflies floated along the perfumed air in the perfect peace and quiet. We sat and had iced drinks with Eldon on the porch and just soaked in the calm.
What a perfect place for a wedding and of course with our amazing luck, a perfect day.
Kathy came out of the sunny haze wearing a big floppy sunhat and carrying a flower basket and a couple of gifts for us. She explained the cowboy boot shaped Christmas stockings were made by a local lady. Kathy and Eldon hold craft days for the ladies in town in their amazing barn. Kathy took us for a tour around the grounds, through the pomegranate bush fields and to the location for the wedding. Glittering with twinkling lights, surrounded by olive trees was a massive log gazebo with a cedar tree backdrop and topped with wisteria! Hay bails lined the aisle and candles nestled inside the hurricane glass holders. I jumped and clapped with excitement! This was just perfection!
We met with Mimi from Belle of the ball who had my bouquet and Alex's button hole from Flowers by Lisa and the we met with Morgan and Amir who would be taking the pictures for us from Morgan Lynn Photography
We were given separate rooms to get ready in so Morgan came with me to take some pictures and Amir went with Alex. It was strange to be apart again to get ready for the wedding, the last time we did this was in Argentina!
I was wearing Tabitha for the 11th wedding and as always, on being pulled out of a plastic bag where it has been rolled in a ball under the bed the dress looked fab. It definitely needs refitting a little as the material has stretched after being under water and all the climbing I have done in it but other than that it looks fantastic!
I stepped into Tabitha, popped on my cowboy hat and went out to met Alex. We were holding the ceremony at sunset so we decided to grab a few pictures before hand. The farm is stunning and everywhere you look there is the perfect spot for a picture! The textures of the reclaimed wood, the rust colours on the tin boards and the gnarly old trees just made a perfect backdrop to our very Texan wedding!
We swung on the porch swing, wandered through the long grasses around the lake and even clambered onto a huge hay bail for some shots! We had great fun with Morgan, Amir and Mimi and loved Morgan and Amir's photographic style immediately just from the places they were choosing for the shots.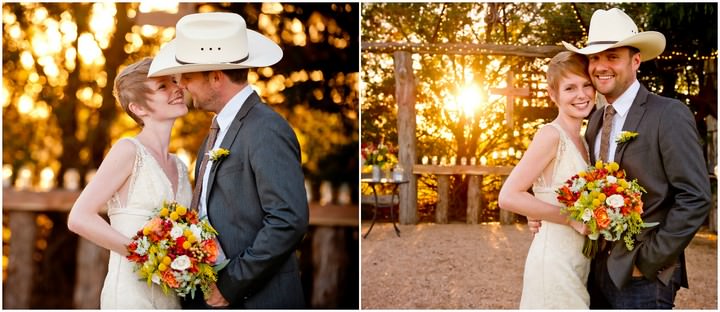 As the sun started to drop and the hundreds of candles had been lit it was wedding time! Eldon was to hold the ceremony for us. He was certified by an on-line church in case of emergency, incase an officiate didn't make it last minute and to be honest, I am SURE that lots of people LOVE to have him officiate their wedding with his laid back attitude and LOVING personality! There was a local guitar group playing and a couple of neighbours as witnesses. Alex was whisked away and I sat under the twinkling lights waiting to be called to walk the hay bail aisle!
The nerves hit as I was chatting to Mimi. The setting was so beautiful and definitely the kind of place we would choose for a ceremony. Simple natural beauty enhanced by candles and lighting and with THE most stunning sunset.
I was called over and headed to the altar to meet my cowboy. Alex wore a loaned pair of cowboy boots and of course a hat for the ceremony. The vows were lovely and incorporated an old American Indian poem.
Now you will feel no rain,
for each of you will be shelter to the other.
Now you will feel no cold,
for each of you will be warmth to the other.
Now you will feel no loneliness,
for each of you will be companionship to the other.
Now you are two persons,
but there are three lives before you: his life, her life and your life together
After saying our I do's we were asked to perform a sand ceremony. We were each given a vase of different coloured sand and asked to combine the two. The grains mixed into one container made a lovely pattern and Eldon explained that the grains of sand represented us two becoming one, that they could never be separated.
We kissed to seal the deal just as the sun set and were whisked away on the back of our wedding vehicle…a golf cart! We were whizzed around the lake and through the pomegranate bushes back to our reception.
We met with all of our guests and ate boiled peanuts, pretzels and of course a fabulous wedding cake made by a local school teacher! We were also gifted two pecan pies by Mimi's mother-in-law who makes the 'tiny-pies' label! They were DIVINE! Pecans grow locally and the pies were in gorgeous little jars and were perfect for favours…we enjoyed ours so much we devoured them slowly as we never wanted them to end, we would literally have a spoon full each every day!
We washed all of our treats down with local beer and a good natter with everyone. We squeezed in a first dance under the sparkling lights against the perfect indigo night sky before we had to hit the road again!
We couldn't thank Belle of the ball enough for introducing us to this amazing location and of course to Mimi and Eldon AND Morgan and Amir. We left excited to see the pictures by Morgan and wished we just had another day to spend a little more time with everyone but we had a date in New Orleans the very next night!
We packed up our tiny pies, our cowboy boot stockings and pomegranate drawer scenters, our wedding clothes went back under the bed and we waved as we disappeared into the black night chatting about how perfect it had all been
Supplier Shout Outs
To follow Lisa and Alex's journey go to
http://2people1life.com/blog/
http://2people1life.com/blog/the-whole-journey
FACEBOOK
@2people1life
If you have missed any of the previous weddings you can catch up HERE,HERE , HERE, HERE, HERE, HERE , HERE  HERE , HERE ,  HERE , HERE , HERE and HERE