Today's Wedding is very special as the wedding reception is not only held in the couples back garden but in their house too. They invited 75 of their closest friends and family into their home to help celebrate their wedding with an English garden party theme, mixed with lots of lovely vintage touches. The day was one big collaboration project with everyone pitching in to help create their perfect day, from decoration to cakes, to flowers and then to entertainment, everyone played a part at pulling this homespun wedding together. Thanks to  Melanie Cowell for the wonderful images.
The lovely couple are Emily and Ewan who were married on 23rd June. 'The Ceremony was held at Louth registry office, in the town hall, and reception at our house with 75 guests. Ewan and I both have positive associations with Louth; he was born there, and I attended 6th form there. We chose our own home because, although a tad cosy; and in fact would have been very cramped had it rained as forecast (it didn't!), we wanted to fill our house with happy memories and love, as it had been filled with such sad ones not that long before. We wanted to gather as many of our loved ones as we could fit in the house to help us start such a dramatic new chapter in our lives.'
'An intimate country wedding with a relaxed vintage feel. Very homemade, very personal and very much about the marriage as opposed to the party'
How they met
Ewan was my late husband Jamie's best friend, and my daughter's godfather, so I've known him very well for 8 years.
When our relationship developed into something more, around 2 years after I was widowed, we knew immediately that it would be the Real Deal. I think being friends first, and having been through so much sadness together before getting romantically involved has given us an amazing foundation for a marriage. He's an amazing man and very strong emotionally; he seems to be able to deal with anything my girls and I throw at him!
The proposal
We had a very romantic break at the Black Swan in Helmsley, accompanied by beautiful food and wine, and not one, but two rainbows. All rather fitting backdrops for getting on bended knee… However, Ewan finally plucked up the courage at the somewhat less picture perfect "Diner 68" on the route home. I said yes. We turned round and went straight back to Helmsley!
We looked at rings in Helmsley but couldn't find any we liked, or which were small enough, so we called into Ewan's parent's on the way home where I was given his Grandmother's engagement ring- 1930's platinum and diamond. Which fitted perfectly.
The Planning
It didn't take very long- we got engaged in January, married in June!
Fortunately for us, we have very lovely friends and family who were all so happy to see us happy that they all wanted to be involved!
Why did you choose your photographer?
Because she's a very good friend, and I trusted her to capture the mood we were trying to create. She really understood what we wanted from our day, to the point that she rang me every time she spotted something in vintage and antique shop that fitted the themes we'd been talking about, and even discovered The Dress!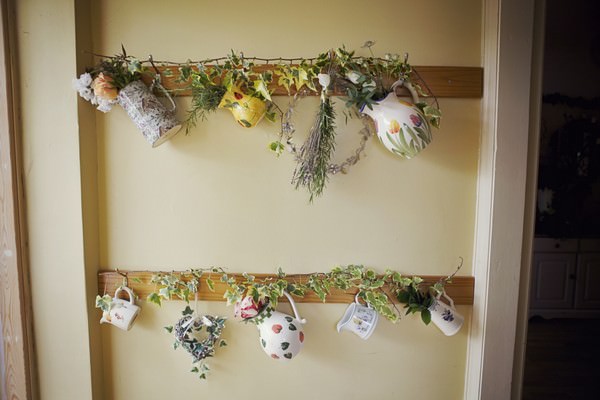 The Dress
My dress was a fabulous vintage find at La Vida Vintage– sourced by my equally fabulous photographer Mel- a long beaded cream evening gown from around 1960, unusually long for the period. It was the only one I tried on, cost £65, and fitted perfectly. It felt very right.
The veil was beautiful handmade lace and probably around 150 years old; also spotted by Mel. It was repaired by my mum, who managed to invisibly repair the holes (and more importantly remove the funny smell..!)
My girls helped Ewan choose my wedding jewellery- 1930's to go with the ring- from the Shambles- an antique shop in Lincoln.
And my shoes had a low curvy heel, which I wanted to fit with the vintage theme: Ewan found them on ebay!
The suit and bridesmaids
Ewan was very determined to feel like himself on the day, and wore smart jeans, a rather natty navy pinstripe blazer over a white shirt with his Granddad's cuff-links, and his beloved trainers. No tie, obviously. Our daughters were very pretty in monsoon flower girl dresses and shoes.
Theme
Ewan and my families were very involved with dressing the house and were told faded florals, creams and traditional English garden party.
Food
We were lucky enough to have two caterers: Mrs H's cafe, run by close family friends of Ewan's did the English Summer Garden themed buffet, with mountains of meringues, scones and homemade strawberry jam. Eamonn Hunt, Masterchef finalist (and very close personal friend of my late husband) did a selection of deeply delicious Italian canapes in a nod to the time I spent living in Italy. My lovely friend Alice from the village made a gorgeous and utterly professional cake- decorated with caramel coloured ribbon and lace.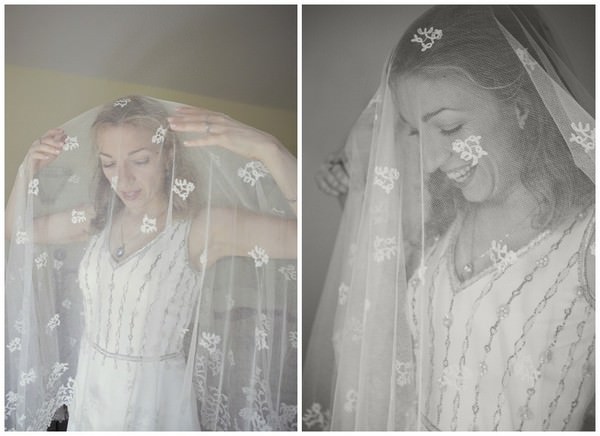 Entertainment
My children arranged a disco in the music room, from which most adults were banned. We had a fair few musicians amongst the guests, as Ewan's in the biz, but didn't want anyone to "sing for their supper" so we kept it very low key.
Flowers
Cream roses tinged with pink, lisianthus and cream spray roses. My friend Paula is a florist, and did a fantastic job on the bouquets and corsages, and my family member Linda is also a dab hand with the secateurs and did amazing explosions of greenery throughout the house, using the same blooms, armfuls of ivy from our garden and adding hydrangea heads from living plants she bought at the last minute, and which I've now planted in our garden for next year.
Decoration
My family decorated the house with lots of foliage, much of which was cut from our own garden, Linda decorated every available surface with informal arrangements of flowers in mismatched antique jugs borrowed from every corner of our newly extended family. Family members and some of the guests also brought arrangements of flowers which they had grown for the occasion in their own gardens.
Personal touches
My sister made pretty tags with charms on which people hung on an indoor tree, after writing a wish for us, and made gorgeous bunting from a faded rose pattern fabric. We also chose mismatched teacups from La Vida Vintage again, which she filled with candle wax as table decorations, and pretty plates which were stacked and glued into unique cake stands.
Special moments
Just being married was highlight enough for us. The photoshoot portion of the day was lovely as it was very quiet and we got to spend that time together. Seeing all our loved ones so happy for us was really wonderful.
Advice
Everyone will have ideas for your wedding. Keep a little book to write them in; even the ones you have no intention of doing, as it helps to keep everyone feeling involved!
If you like vintage, then don't be afraid to buy something that could be turned into something else- as you'll end up with something that is utterly unique.
Supplier Shout Outs
For more information on Melanie's work go to
www.melcowellphotography.com
www.melcowellphotography.com/blog
[email protected]
FACEBOOK
TWITTER 
07956608409
I love people, photography and special events, which is why I think I have the best job in the world.  It is a huge honour to be trusted with documenting a couples special day and I like to bring my love of nature and romance to the proceedings and use this to capture the little moments which mean so much. For me photography can trigger and enhance the memories of the special times in our lives and my style of photography captures the emotions of the day without taking over it.
I am a mum to my beautiful Poppy and live and work in the lovely county of Lincolnshire, which has the friendliest people! I generally stay in Lincolnshire and neighbouring counties but travel further afield when I can.
  ♥  You can see more Real Weddings featured on the Blog HERE  ♥