We are heading across to a very sunny Somerset for today's wedding and it's a day filled with sunshine, chilled out vibes and plenty of vintage inspired touches. Natalie and James knew straight away that they wanted to hold their wedding on James Uncle and Auntie's farm and it was a family effort getting the place spic and span and wedding ready. With lots of friends and family chipping into help with the wedding plans, this really is a homespun day with so many wonderful handmade elements. From the cake to the flowers, the hay bale covers to the bunting. The rustic barn setting works perfectly and is made super wedding pretty with a gorgeous colour scheme of green and peach. Big thanks to Sheryl at Oobaloos Photography for the super images.
A day as unique as we are as a couple, surrounded by our most favourite people in the world.  A day prepared with love and filled with happiness.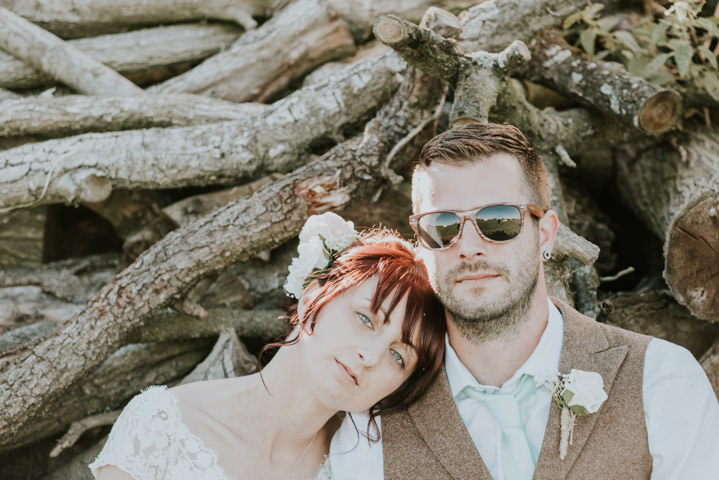 Natalie and James were married on the 26th August 2016. 'We had a legal ceremony with only our mums as witnesses at Weston-super-Mare Registry Office – we both wore shorts and t-shirts to this very relaxed 10 minute ceremony! The ceremony with a humanist celebrant and our own vows and readings happened at Wallbridge Farm in East Huntspill, Somerset – it is a working farm that belongs to James's Auntie Ali and Uncle Martin.  The reception was also held at the farm. We wanted a vintage festival/farm wedding in the village where we met.  We wanted it to be a unique day and we wanted the freedom to put our own personalities into it.  We didn't even look at another venue, we just asked James's Aunt and Uncle if we could use their barn and farmland and explained our plans.  They were as excited as we were but they knew it would take a lot of hard work to make it into our dream venue. We had 60 day guests and a further 80 evening guests. We got engaged on 8th May 2015 and started planning about a month later… probably about 14 months of planning and work went into the day!'
How they met
We met at playschool in the village of East Huntspill in Somerset when we were 3 years old.  Our paths crossed again in secondary school, but we got in contact again on Facebook in September 2009, and after quite a few dates, we officially became a couple on 6th November 2009.
The Proposal
We were camping in Looe, as we do a few times a year, in our favourite campsite in May 2015.  We were on our way to visit our favourite restaurant, Papa Nino's, and had just parked up next to Looe harbour.  Just as we were getting out of the car, James said "Nat, I have a question I need to ask you… come over here a minute…" and he took me over by the harbour.  I was really hungry and could only think about how he was going to make us late for our dinner booking!  Then he pulled out a ring box from his pocket and said "Will you marry me?"… I was shocked and blurted out "How have you done this? !"  And then obviously said yes!  It was very unexpected as I do our business accounts and know where all our money goes, therefore I didn't think he'd ever be able to surprise me like that!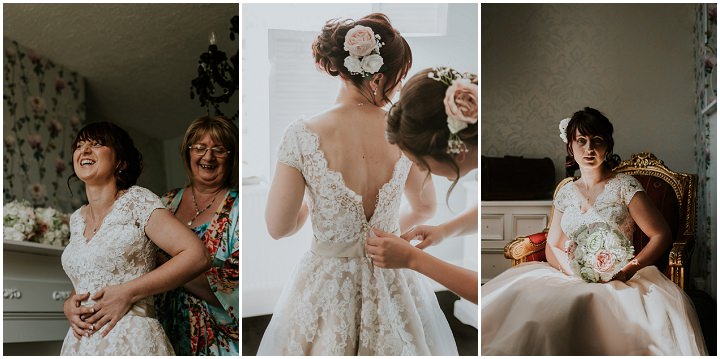 How did you allocate your budget?
We booked and paid for things each month and just paid  off things when we had the money.  We booked the most important things (to us) first – things like the photographer and band, and then paid for things as we went.
Where did you splurge and where did you save?
We made a lot of things ourselves, and cleaned, painted and dressed the venue ourselves with a lot of help from family and friends!  We didn't have a particular budget for the photographer as this was pretty much the most important thing for us as we wanted the photographs to be perfect!  We chose our photographer based on the style and quality of her work… the price was irrelevant!  Our other splurge was the band as they were the one local band we'd seen and both loved!  I hunted for bargains on eBay and on Facebook wedding pages.  The stage for the band was constructed by a scaffolder friend of ours, James Hornzee of Emerald Scaffolding, and he did it as a wedding gift to us – another big saving!  We also decided not to do favours as we felt that it just wasn't important to us.
Why did you choose your photographer?
One of my bridesmaids, Lesley, recommended a friend she knew who was a professional photographer.  I did some research and looked at her work on her website and immediately LOVED her work and her general photography style!  I contacted Sheryl Fish of Oobaloos Wedding Photography and she became the first booked part of our wedding… even before the registry office!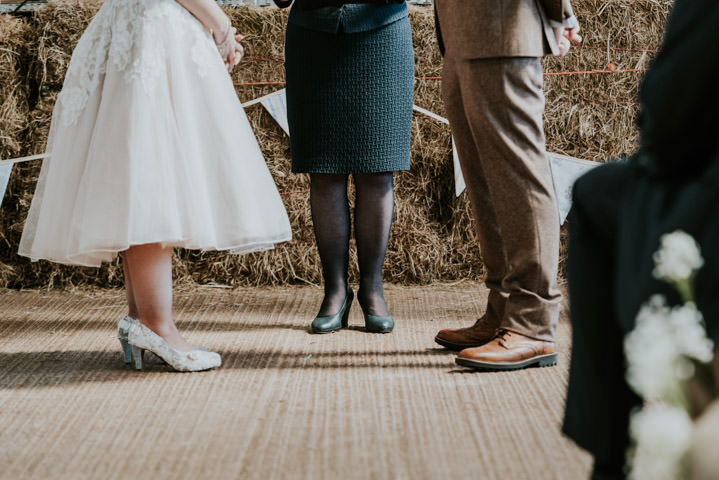 The Dress
Inspired 'Justin Alexander' dress, and I bought it from local wedding dress shop, White Lace and Promises in Weston-super-Mare with alterations by Celia.  My shoes started off as plain Clarks shoes, however, I handed them to Amy of  ShoeShoes and she transformed my plain shoes into a work of art to match my dress perfectly!  I told her I wanted lace, beading and embellishment detail and she did the rest!  My necklace and earring set came from H. Samuel Jewellers and my bracelet was my 'something old' as I'd had it bought for me by my grandparents when I was a little girl.
The Suit and Bridesmaids
The Groom's suit was a custom made brown tweed suit from Victor Valentine in Southampton. My five bridesmaid dresses were from BHS – they were mint green 'Chloe' dresses.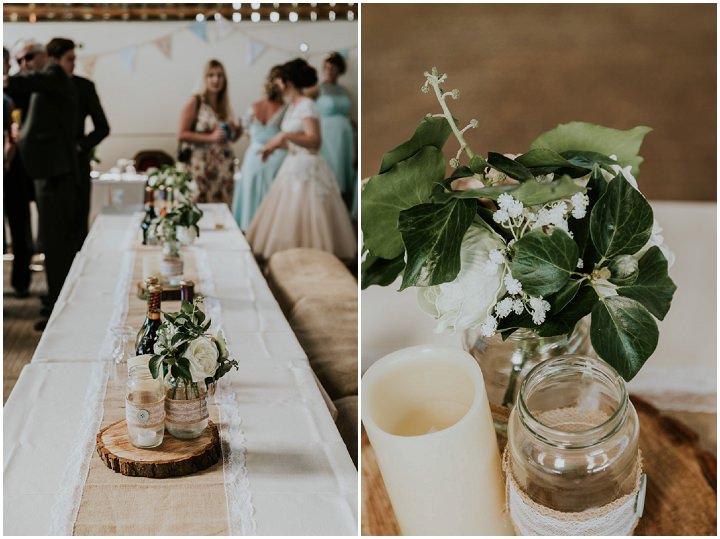 Theme or Colour Scheme
Our theme was a vintage WedFest/FarmFest and the colour scheme we were working towards was mint green and peach.
Flowers
We had artificial flower bouquets and buttonholes made by Hannah Sherlock of Your Day Your Way Weddings.  Hannah also made my floral comb and bridesmaid combs to match the bouquets.
Decoration
Our decoration was ivory table cloths with hessian and lace table runners.  We had log slices on the tables with battery powered church candles, decorated jam jars with artificial flowers (matching the bouquets) in them and battery powered tea lights.  James's uncle did lots of arrangements of real flowers around the barn for us which really helped to make it a beautiful venue.  I made 50 metres of bunting and we covered over 40 hay bales in hessian!
Food
After the ceremony in the barn, we had a harvest home style lunch which was put together by James's mum, her partner and other family members.  It was very personal to us as James's family are farmers and we all enjoy going to the local Harvest Home Festivals every year.  The food included cold meats – ham, roast beef and salt beef, as well as homemade quiches, coleslaw, potato salad, green salad, fresh bread from a local bakery, cheeses, pickles and chutneys.  This was followed by tea and cake served on vintage crockery.  The cakes for this part of the day were made by my cousin, Casey Hill, and my sister in law, Laura Plater.
In the evening we had a hog roast served with stuffing, apple sauce and roast potatoes.  This was provided by Laura Latimer of Laura's Customised Catering.
Wedding Cake
The wedding cake was made by one of my bridesmaids, and my best friend, Jenna Dyer.  She isn't a professional cake maker, but she really should be!  I picked the flavours and theme.  Four tiers – mint chocolate, lemon, coffee and Victoria sponge.  I wanted a vintage tea party theme with a subtle hint of Alice in Wonderland.  Jenna did an amazing job and even put little personal touches in such as my Nan's initials on a pocket watch made of icing and James's grandad's initials on an iced plaque.  We had lost both grandparents recently and it was a beautiful gesture in their memory.
Entertainment
Our main entertainment was our band – Rude Awakening.  However, there were outdoor games for the children (or adults!) such as Giant Jenga, archery and skittles.
Stationery
We didn't have much stationery, but our invites were made on a genuine ticket website as we wanted an authentic festival feel to our invites – they even came with barcodes on!  The website was www.ukticketprinting.co.uk.
Personal Touches
We did a lot ourselves!  From making the bunting, to decorating the venue from being a working farm… most things were done ourselves or by friends and family.  But we think that all of the personal input made our day very unique to us as a couple, and very special indeed.  As a very personal touch, we displayed a photo frame containing two photographs of myself and James when we first knew each other at 3 years of age.  One was of us in playschool in a full class photo and we are even sat next to each other.  The other is me riding James's bike at his 4th birthday party.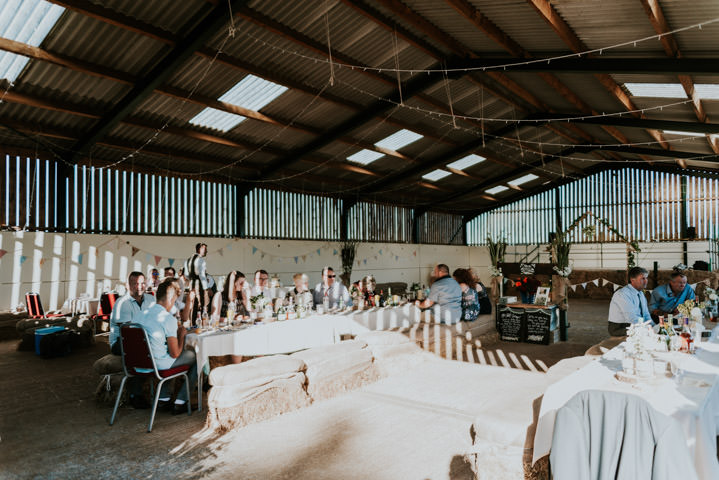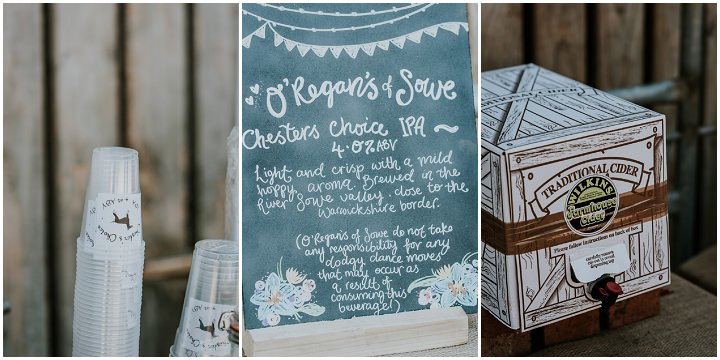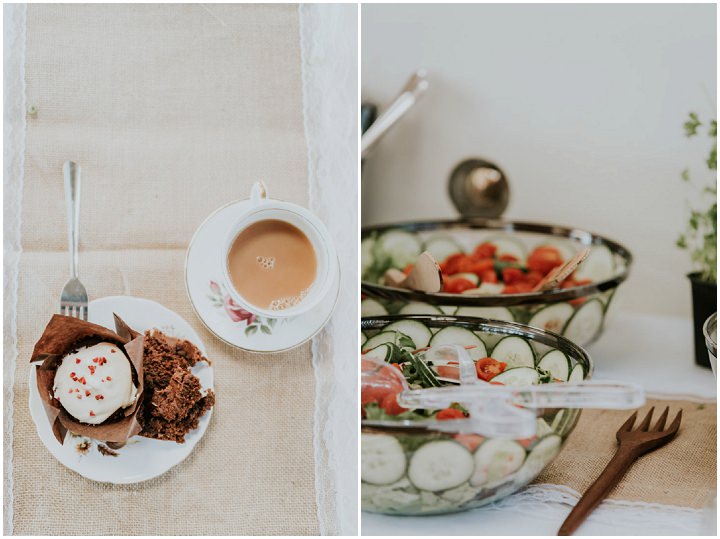 Special Moments or Highlights
Our photographer, Sheryl, had spotted the lane that runs next to the farm and she suggested taking a walk down there for some private photo opportunities.  Not only did she produce some amazing photos of the two of us from this walk, but it gave us 20 minutes to ourselves as newlyweds, and we both agree that it felt like a very special and private moment of the day… definitely a highlight!
Advice for Other Couples
Try to prioritise what is most important to you as a couple.  Choose things that you want and try not to give into peer pressure.  You will never make everyone happy so just make it a day to remember for yourselves as the new Mr and Mrs!
Biggest Surprise
One of my longest serving best friend's, Stacey, who now lives in Oman, had flown in with her husband and 6 week old daughter for our wedding.  Stacey had messaged me a few weeks before the wedding to say they would be flying back for it so it wasn't an actual surprise on the day – but it was still the best surprise of the wedding!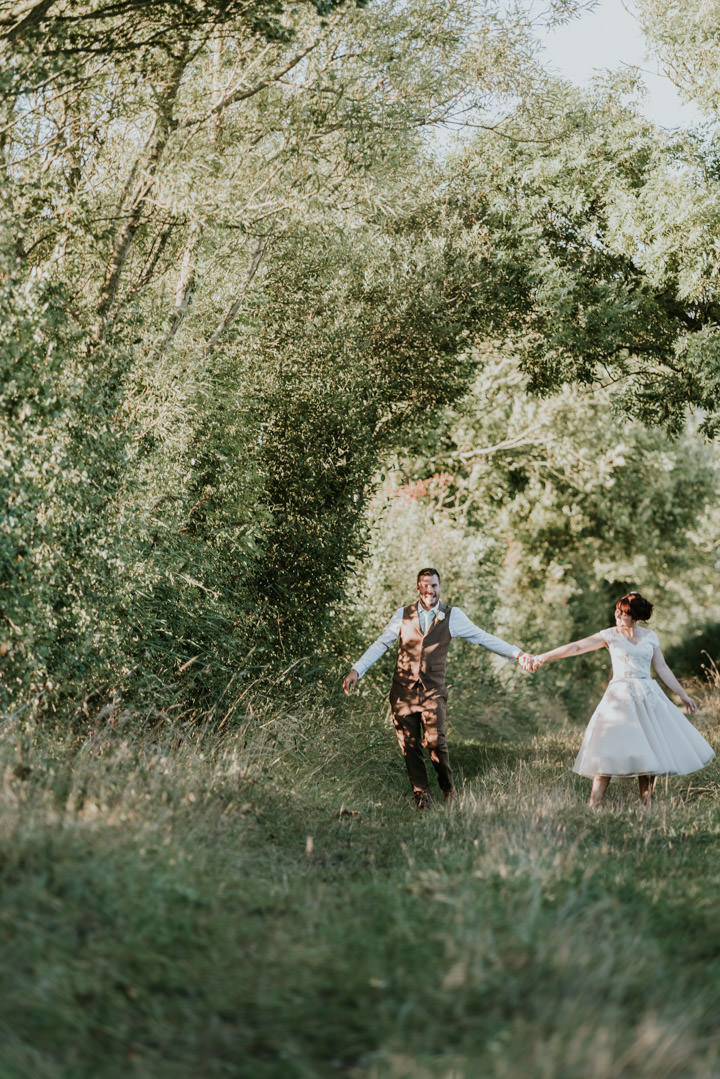 Supplier Shout Outs
For more information on Sheryl's work to go:
www.weddingphotographyincheltenham.co.uk / www.weddingphotographyincheltenham.co.uk/blog / [email protected] /  07712 137 520 / FACEBOOK / I: @oobaloosphotography
Hi! I'm Sheryl from Oobaloos Wedding Photography. I am based in the heart of the Cotwolds and cover all of the South and Midlands of England mainly but happy to travel anywhere in the world! My style is mostly documentary, I love to capture the day as it naturally unfolds. When it comes to couples portraits I try to harness in to the couples natural energy. If their relationship is fun and outgoing, that is what you will see. If they are deep and soulful people, that is also what you see from my work. It's your wedding, be you.