As we reach the mid-point in the week, I have a super cute North Yorkshire Wedding to share with you. Emma and Alexander chose to spread their planning over 2 years and really got stuck in with the DIY, handmade elements of their day. With a vintage inspired theme, they really went to town creating their amazing outfits, with Emma even designing and making her own wedding dress, as well as the bridemaids dresses. With 100 meters of bunting thrown in for good measure and lots of beautiful homemade decoration ideas, this wedding is so personal and full of pretty details. Most of all though, lots of love and so many smiles, asll of which has been captured perfectly by Craig from Mr & Mrs Photography
A relaxed, yet intimate DIY, vintage inspired, local shindig!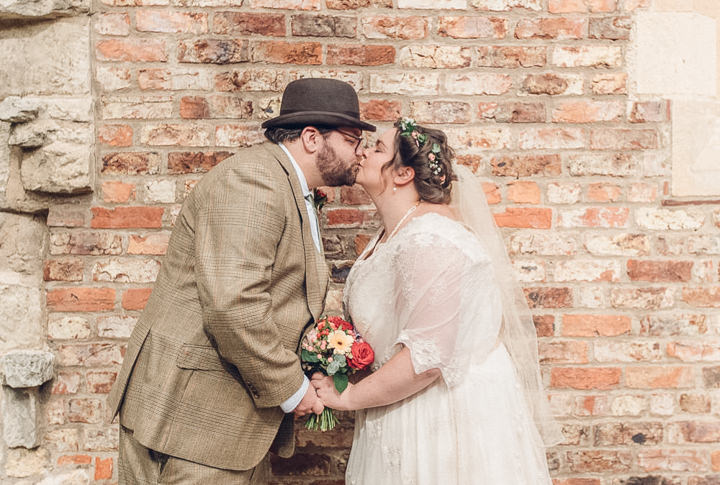 Emma and Alexander were married on the 17th September 2016 in a ceremony at Bedern Hall, York followed by a reception at Barmbyfield Barns, Pocklington, North Yorkshire. 'It was a combination of several things! Firstly location, in the centre of York meant it was easy for anyone who could get to York to get to! Secondly, being an old building, and its beautiful interior gave it a sense of history, you usually get in a church, but with a civil ceremony. Thirdly, it was to be fair, a very competitive rate, for somewhere as beautiful as it was in the city centre and it was a 'not for profit' organisation running the venue as well. We had 60 guests at the ceremony, but we invited a further 90 guests to the reception. We wanted everyone who was at our wedding to be our family and closest friends something which made our day feel special and just like a family get together. All in all, the planning took place over two years, along the way there was lots of discussions about what we wanted, namely holding back Emma's creativity and making our ideas manageable so that on our day it truly was the day we wanted and hoped for, even down to the glorious sunshine making an appearance in Yorkshire.'
How they met
We met through the 'zine scene', and after we eventually got together, we've been together 8 years this Easter.
The Proposal
Alex proposed at the Whalebones in Whitby, on one of our frequent visits to our favourite hotel there, La Rosa. He proposed just as we were setting off on the 'In search of Dracula walk' on the 17th November, the stories that were told on that walk I have little memory of, as Alex's unexpected but not unwanted question sank in.
How did you allocate your budget? 
We divided up our budget and things we needed in to two different categories, things we could do ourselves and things we couldn't, so this meant we spent the larger sums of money on the venue and photographer. From here we worked out how much we had left from our budget and agreed sums of money to each part of the wedding.
Where did you splurge and where did you save?
We splurged on the reception venue and Craig, the photographer. We saved on several things, firstly, with the help of York Learning night classes, Emma made her own, and the bridesmaid's dresses. The food is another place we saved a lot of money, we bought a lot of things that wouldn't be out of place at a picnic. We also made the deserts ourselves, 60-odd individual cheesecakes in three different flavours, which got a although a really fun thing to do together the days before the wedding it was a bit messy….
Why did you choose your photographer?
Emma, as a photography enthusiast was very keen on getting a photographer whose style she liked, so she scoured the internet and narrowed down wedding photographers that she liked, were affordable and local. We had a shortlist, but we were so impressed with Craig when we met him, that we didn't bother meeting the rest! Craig had a laid back personality and immediately 'got' the style and direction we had planned for the wedding and actually started getting excited about it as we talked, so it seemed like an obvious choice!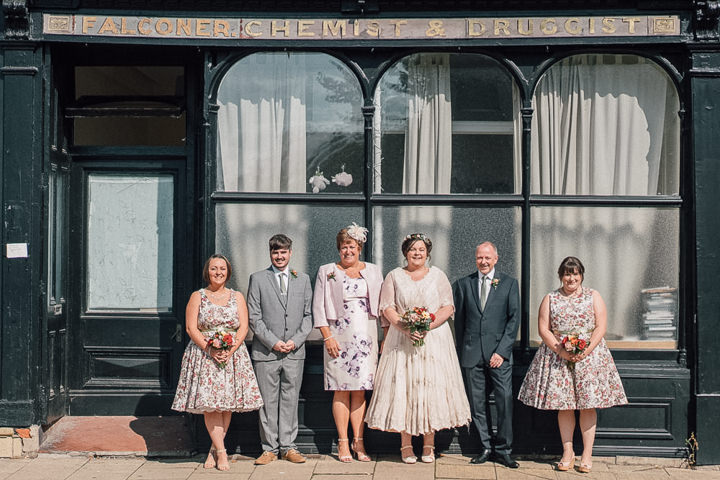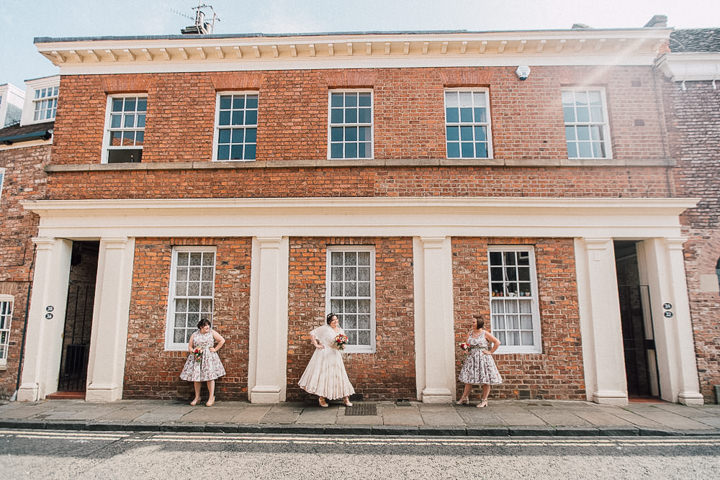 The Dress
Emma designed the pattern for the dress, and made it herself, using lace from Fabworks in Dewsbury, silk from Fletchers in York and trimmings from Boyses! The shoes were from Red or Dead and the veil was another thing Emma made herself, with fabric from Joel and Son and flowers provided by the florist. Jewellery was gifted to Emma by a much loved family friend. Despite the dress costing less than £150 I felt every inch amazing and will treasure it with fond memories of the nights sat watching tv with Alex sewing on seed pearls and hand stitching the lace. We decided as I was making the dress in our petite flat that for Alex not to see it was not practical but that meant the memories I have are of us together making decisions on things like is that shade of cream right for the silk and is there enough or too little seed pearls? Which is 'us' really, I like to think we're a collaborative couple.
The Suit and Bridesmaids
The suit was ordered from Brooke Taverner, and the hat purchased from a stall in Whitby market, whilst on the 'sten do'. The bridesmaid's dresses were also designed and made by me (Em), with fabric from Fletchers,  which was a new experience for me, I'd never made dresses for anyone but myself! I took a days annual leave and set up shop at my mums on her big table and together we designed, made the patterns and stitch the dresses. My Grannie hemmed the bridesmaids dresses by hand for us, which is not an easy task with circle skirts!
Theme or Colour Scheme
We started with an aim of warm autumnal colours, and a vintage style. As the planning and time progressed it lent more towards the later. We didn't want to feel confined by a colour scheme as it would have made buying fabrics for the girls dresses difficult. In the end I found the fabric I liked and we worked from there. What was really great about making the dresses meant that the fabric could be used to weave in the colours through the day from bunting, to centre pieces and flowers. We gave the florist samples of the lace, silk and bridesmaids fabric so she could match the flowers.
Flowers
We had a bit of a mixture, there were spray roses, violets and berries in there. We gave the florist a free reign, and a sample of the fabric from the Bridesmaids dresses and she came up trumps!
Decoration
A lot of the dinner sets were decoration, we were helped by Emma's mum and Grannie to collect a range of vintage plates and cutlery. Emma's mum also stitched over a hundred meters of bunting which stretched across the reception and back, more than once! We also collected odds and ends to place on the serving tables, such as a vintage set of George Elliot books. The table pieces were large numbers, decoupaged in vintage sheet music, except one, which Alex insisted in decoupaging with 2000AD comics. To set the right atmosphere, we used a lot of tea lights, housed in upcycled jam jars, and tea cups which were a gift from Emma's manager's at work! We also had a sweet table, which had vintage jars filled with sweets gifted from Swizzles.
Food
The starters was artisan bread from Olivia's in York, along with an anti-pasti selection. This was followed by a picnic style main, with a lot of things like sandwiches, pork pies, quiches and pasta salads. The dessert was fresh fruit and homemade jam jar cheese cake. Along with this we had a massive cheese selection from LoveCheese in York and later on in the night, we had a visit from the Artisan Pizza Company, and their fantastic pizza van.
The Cake
The cake was made by Rachael from 'cakes and baked crook', one of our Bridesmaids. A naked cake, on vintage cake stands, in descending height order, two of which were family heirlooms. The cakes were so good, Alex feels they have spoilt all other cakes, ever, for him.
Entertainment
We asked for requests when we sent out the invitations, and used them to put together a large Spotify playlist, which started off on shuffle, but got a bit hijacked more to the end of the night, by Johnny one of the Bridesmates.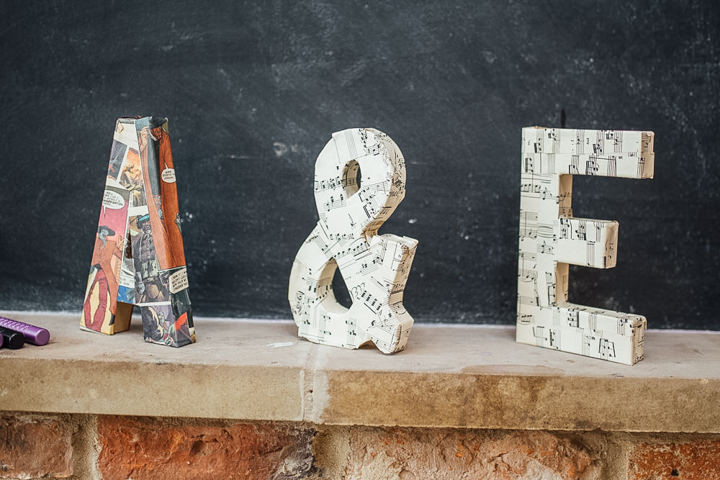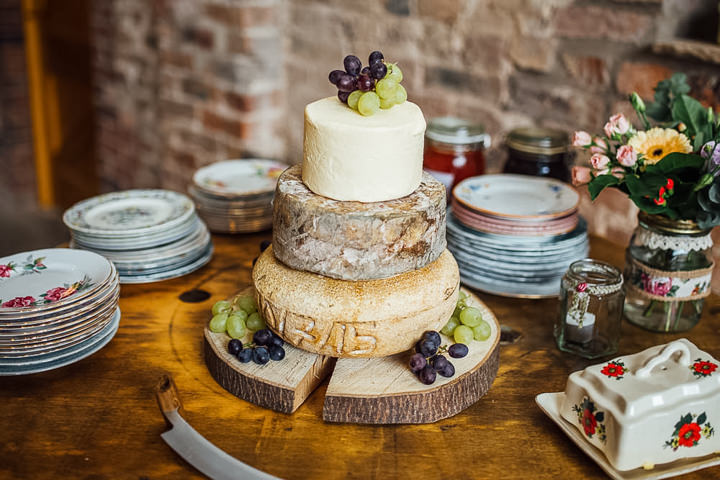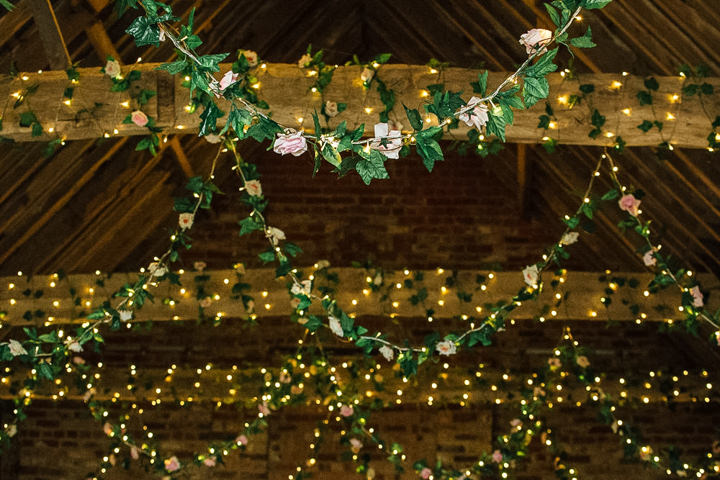 Stationery
The invites were printed in a vintage postcard style, by Emma's uncle's company. We made two 'zines as well, one to go with the invites, and another for on the day including the order of service. These were made with glue and scissors and printed on university photocopiers.
Personal Touches
We did everything we could do ourselves, from needle felted acorns, to making Emma's dress, even if we listed them all, we'd have forgotten one or two there were that many. Alex really liked using bits of the first proper comic he ever read, as decoration, and using Kurt Vonnegut as a reading for the ceremony.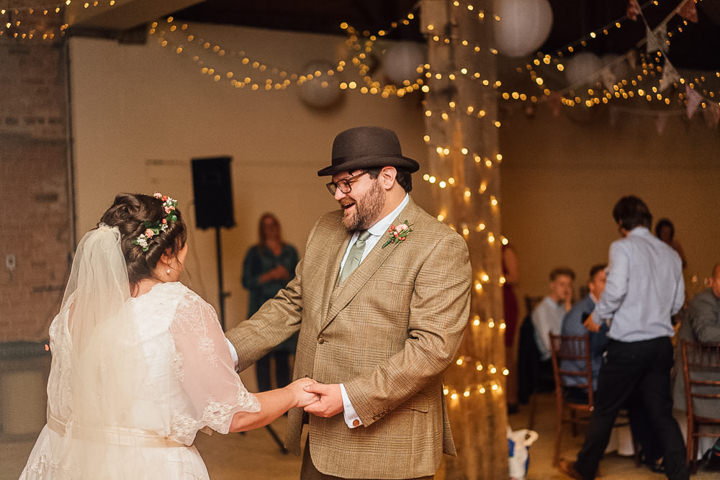 Special Moments or Highlights
A highlight of the day is that everything to went to plan as we had planned it, the sun came out, we think everyone had a good time and it is definitely one of the happiest days of our lives.
Advice for Other Couples
Think about the day you both want, yes traditions are nice and formal routines are lovely and what people expect but it will be your day, it's ok to pick and choose the bits you like. Also there's no rush, we took two years to plan our wedding and I wouldn't change that for the world as it meant we had the time to agree what we wanted, collaboratively plan and make all the things we wanted to make. If your going to spend the rest of your life with someone then there's no rush, sit back and enjoy the journey.
Biggest Surprise
How relaxed I felt in the morning, I expected a little bit of nerves but there was no nerves looking back I know that this was because Alex is the right person for me.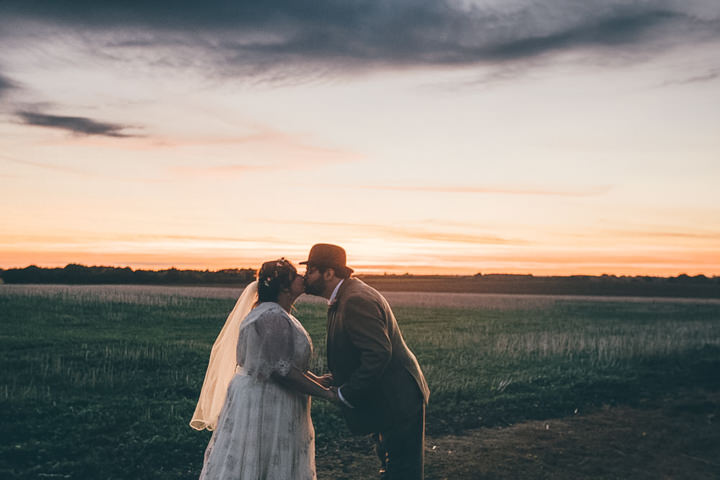 Supplier Shout Outs
FOR MORE INFORMATION ON MR & MRS PHOTOGRAPHY GO TO:
 www.mr-and-mrs-wedding-photography.co.uk / [email protected] / 07970299089 / FACEBOOK / PINTEREST / I: @mr_and_mrs_wedding_photography
Based in Saltaire, West Yorkshire we create artistic, creative wedding photography but with a friendly, laid back, natural approach that lets couples enjoy their day and spend time with their guests. Using a mix of digital, 35mm and a love of vintage lenses and all types of photography. We also love creating wedding films using digital and 8mm.