We are heading over to Skipton today for the last wedding of the week and it's a great one! It's a vegetarian wedding  full of rustic details as the couple take on an enchanted forest theme mixed with a love of cider and apples. The venue is one I know very well as I worked there last year for the wedding of Caroline and Aaron, it's a fabulous place with on site accommodation, a great plot of land for marquees and a whole host of farm land as far as the eye can see! Very rustic, peaceful and ideal if you are looking for something a bit different. Thanks to  Mark Tierney for the submission.
It's the wedding of Jo and Ian who were married on 21st June (Midsummer's Day)! The ceremony and reception were both held in a marquee in the grounds of Newton Grange, Skipton, North Yorkshire. We had 54 guests, 56 including babies! It took just over a year from booking the venue, but a couple of years before that lazily researching venues and marquees and getting inspiration for the 'look' I wanted to go for
'Personal and very 'us' – unconventional, relaxed and back to nature!'
How they met
We met at our first year of university in Manchester and have been together almost 9 years.
The proposal
Ian proposed to me by surprise on our 5th anniversary while out for dinner at our favourite vegetarian restaurant – Green's in West Didsbury. He gave me a beautiful, one-of-a-kind purple amethyst and diamond ring (purple being my favourite colour!)
The Venue
I'm a Yorkshire girl at heart, and always loved the dales, so this area was a must. Newton Grange is a really pretty place, with space for a marquee, ceremony on the lawn (had it not been raining) and for lots of family and friends to stay in cottages on site. It gave us the flexibility to design our wedding the day we wanted it, and bring in whichever suppliers we chose.
Why did you choose your photographer?
We wanted photos that were a little bit different, with some arty and black and white shots, not just the run-of-the-mill staged ones. We wanted someone who would be good photographing outside, and wouldn't be afraid of bad weather or doing something a little bit different. Luckily, we found Mark Tierney, and being a landscape photographer as well as a wedding photographer he really fit the bill!
To balance out all the countryside shots I knew there would be at the wedding, we went for an urban pre-wedding shoot in the Castlefield canal basin area of Manchester, and got some amazing pictures of us between the canals and viaducts.
The dress
It was not a big budget wedding, and always being a bit canny and thrifty I found the perfect dress I had been imagining at House of Fraser, and got my shoes from Next and Debenhams! (Not being one for heels I also got a comfy pair of flats for after the ceremony). I had some lovely pearl earrings and hair comb also from Debenhams.
My mum and sister made sure I had the something old, new, borrowed and blue, with a family heirloom ring to borrow and a new blue ribbon garter. And of course not to forget the lucky charm horseshoe on my bracelet and lucky sixpence!
The suit and bridesmaids
The suits were hired from Moss Hire and the bridesmaids dresses were from Coast.
Theme
Purple and green, in a rustic, 'enchanted forest' theme. Cider and apples also snuck in there along the way, with cider table names and apple place settings (and of course a few ciders to drink)
Food
We had a completely vegetarian buffet, cooked by Dandelion and Burdock restaurant in Sowerby Bridge. Our wedding cake was made out of four tiers of different cheeses, which we then cut up and ate with crackers and chutney during the evening!
Entertainment
Mirage String Quartet played for the wedding ceremony and afterwards, with a mixture of classical, jazz and rock covers (Metallica and Led Zeppelin work surprisingly well played by strings!). In the evening we made our own iPod playlist with some of our favourite songs, and also songs chosen by each of our guests, which we had asked for on their RSVPs.
Flowers
I wanted a very rustic, wildflower-style bouquet of flowers in blues and purples, which Fletcher and Foley Florists put together wonderfully based on my vague descriptions! My bouquet included Nigella, cornflower, freesia, campanula, eryngium veronica, agapanthus, delphinium, scabious flower, scabious seed head, flowering mint, rosemary, sage and panicum fountain. As Ian is part Scottish, he had thistle-like eryngium in his buttonhole.
Decoration
The marquee was draped with deep green muslin and decorated with willow twigs around the poles. Around the marquee and trees in the garden were hung bunting, felt, metal and crystal hearts, and little lanterns.
Personal touches
• Felt and lace heart decorations
• Table plan – on cards attached to garden stakes in purple pots of herbs
• Table place settings – apples with guest names written on a leaf shaped card pinned into the apple,
• Little signs and notes to the guests.
• The bar! We provided all the drinks for the bar and put out 'honesteapots' for our guest to put contributions in.
• Personalised signposts on the lane leading to the wedding.
• Pull your own pint – Draught beer and pump from Skipton's Copper Dragon brewery.
Special moments
Getting married, and being together with all our friends and family on such a happy day.
The readings were particularly special and summed up our ceremony – an excerpt from Captain Correlli's mandolin read by my sister, 'The Places you'll Go' by Dr Seuss read by Ian's dad, and part of a wedding poem originally written by the best man at my Great Grandparents wedding in 1914.
Biggest surprise
How lovely the speeches were, I hadn't expected them to be so emotional.
Also Ian's Uncle Steve's colourful boating-style jacket – apparently he sneaked it into the suitcase without his wife knowing!
Advice
• Definitely do it if it is the kind of day you want, but do not assume that a DIY marquee wedding will be cheaper or easier than a hotel package. Using a marquee comes with lots of little extras that need to be hired, such as toilet blocks, crockery, glasses, furniture, table cloths, you name it! You also need to put in more man-power to set it all up before the ceremony – an army of helpers is a must. Ice and cooling of drinks was also quite a challenge without fridges and freezers, involving big tubs, and lots and lots of ice cube bags!
• Time goes ridiculously quickly on the day, so make sure you take time to enjoy all the parts of it that are important to you, and to spend the time with the people you do not get to see often – before you know it, it will be the end of the night and it will all be over!
• Don't think that your wedding has to follow the prescribed tradition of churches/registry offices. You can do the legal bit separately and have your own, personalised, wedding ceremony with someone like One Life Ceremonies, who will write your ceremony with you and perform it exactly how you wish, wherever you wish!
• If you are planning an outdoor wedding, be prepared for it to rain and don't let it spoil your day – just get a lovely pair of wellies, some umbrellas and a photographer who is good at doing stormy landscape shots!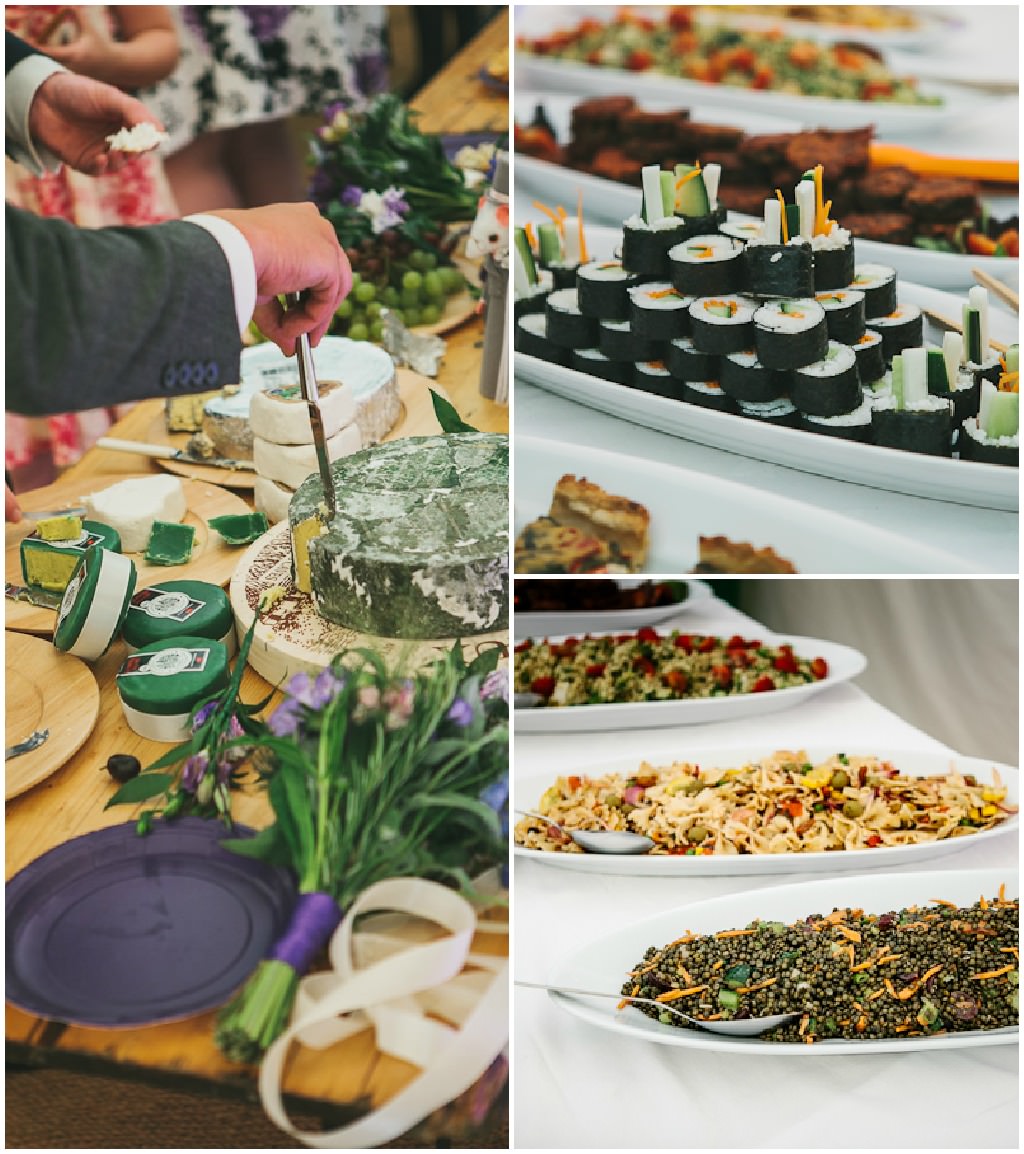 Supplier shout Outs
Fore more information on Mark's work go to:
www.tierneyphotography.co.uk 
tierneyphotography.co.uk/blog 
[email protected]
FACEBOOK
TWITTER
07981 347019
 ♥  You can see more Real Weddings featured on the Blog HERE  ♥