Happy Monday everyone! I hope you all had a wonderful weekend? We are back with a bang this week and I have some truly swoon worthy weddings to share with you. I am starting off with this beautiful Broughton Hall Wedding, courtesy of our very own Kelly and husband Paul from the amazing Paul Joseph Photography. The wedding is pretty epic and is totally jaw droppingly gorgeous! A totally stunning venue filled with amazing decorations and of course the most beautiful bride and groom. I just know you are gong to LOVE this wedding from beginning to end.
'Everything we dreamed of and so much more! Family, friends, delicious food, great drinks, fun, laughter, and epic dance offs'
Gemma and Terry were married on 11th July 2015 at The All Saints Church in Broughton followed by the wedding breakfast at Broughton Hall in the main house and then onto Utopia for the evening celebrations. 'This was the first place that we looked at. Besides looking at over 12 other venues – we knew this had to be the one. When we viewed the venue, we saw that Broughton is an exceptional house, steeped in history and loved the grandeur of the estate. We knew it would be the perfect fit for our special day and the ideal venue for our close family and friends to stay over for the whole weekend. We loved the spectacular views and the contrast between the formal Stately Home for the reception and the contemporary feel of Utopia, for the evening (when the party really started). Paul and Kel's photos – they made us fall in love with the Broughton estate. We couldn't have wished for a more perfect venue. Guest wise we had 76 to the day 120 at night. The wedding took about a year and a half to plan – we had to ramp things up a gear by quite a bit when we got to the six month count down though'
How they met
This isn't your everyday fairytale romance! Our story started at work. We were friends first and over time our friendship blossomed. We've now been together almost four years and there's never been a dull moment. It's been an eventful few years with house renovations, travels, weddings all over the world, new jobs and not forgetting our other love of our lives our little puppy, Poppy. Which – we might add, is not as easy as you think and not advisable to introduce to the household a few months before getting wed. We wouldn't change her for the world though. She's ace!
The Proposal
The proposal was so romantic! I have a love for waterfalls. We took a lovely, idyllic break around Ireland and as part of that trip Terry booked a special place for our anniversary. The hotel was a place named, Muckross Park Hotel and Spa. It's the most beautiful place located in the tranquil location of Killarney. The staff were absolutely amazing and the hotel was out of this world. But Terry was not himself. I could tell something was up. He's always so laid back and easy going – it's easy to spot when something is going on. That or we just know each other too well. We hadn't spoken about getting engaged prior to this so his behaviour was a bit unexpected. We went down to the hotel restaurant and there were a room full of people and we had a feast, a 7 course taster menu. I was convinced he was going to propose in a restaurant full of people, when we were fit to burst after eating like piglets but it didn't happen and I told myself I was being paranoid. The next day we'd booked some spa treatments and had a wonderful relaxing morning. He'd then booked a little excursion. The hotel was set in a beautiful national park. The hotel manager took us to a little spot in the middle of the park. Through the trees there was the most beautiful waterfall. There was no one around and he'd arranged a champagne picnic and got down on one knee. It was perfect.
How did you allocate your budget
What's one of those?! Just kidding. We had a rough idea of a budget but when we fell in love with Broughton Hall things changed a little. A large chunk of the budget went on the venue and catering. Catering was provided by Grassington House. The food was exquisite.
Several friends had been married before and sent over their spreadsheets – we used those and guidance from blogs and magazines as a basis for the budget.
Where did you Splurge and where did you save
The things we didn't want to scrimp on were: catering, photography and the band. These all had to be exceptional. The dress, shoes and grooms present were also splurges that we couldn't do without!
We decided to provide our own drinks for the reception and during the meal. This wasn't a cost saving in the end as we decided to have such an array of choice but it enabled us to have our favourite wines, beers, prosecco, cocktails and champagne. This was more work – but by buying things on our trips abroad and at bank holidays, we managed to get a few steals!
As I love my crafty bits – there were lots (probably too many) personal touches to the day. Terry and I created all of the stationery ourselves – with the exception of the main invites. We created Meet our Guests guides, the order of services, hymn sheets, save the dates, table quotes, cards for each of the guests rooms and more.
We also roped in my auntie and grandad to create venue sign posts, chalkboard dance floor rules and lots of table top signage. These looked fab. My best friend Nicky and her partner Jay created a huge heart piñata complete with G and T design! Terry also created a personalised G & T beer pong table!
How did you choose your photographer
Because they are amazing. Need we say anymore? Paul and Kel are so grounded, such good fun and completely held things together for us. They are absolute stars. They manage to capture the very best moments of the day (and night!). They are so much more than photographers though. They kept the day together – ensuring we got things done at certain times. Calming and reassuring us. They were brilliant. The photos are unreal. We couldn't of asked for anything more.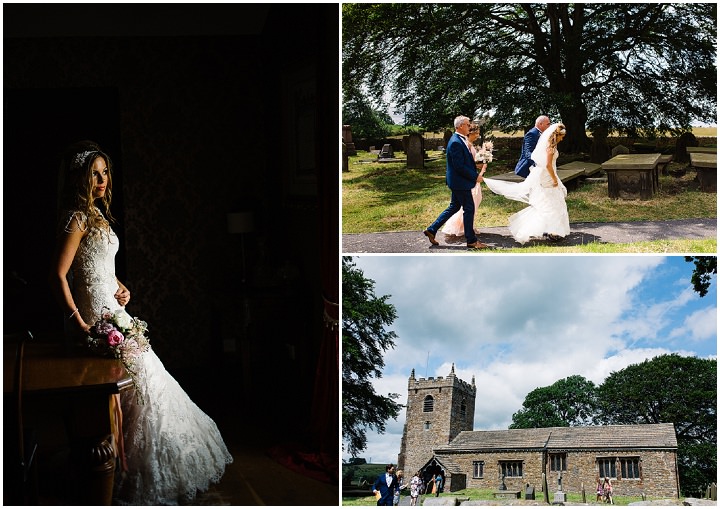 The Dress
Joanna Leigh Couture – the best dress designer ever! I fell in love with Anna Campbell dresses but the Gossmer collection was only available in Austrailia and I liked the idea of taking inspiration from these dresses and fitting it to a fishtail shape. Jo took all of my ideas and created an absolute masterpiece! Better than I could of ever wished for. I've had countless messages and comments on THE DRESS! I've even had a few strangers approach me to buy the dress.
Shoes – the amazing Manolo Blaniks! Headpiece – Joanna Leigh Couture. It was the perfect accessory to the epic dress.
The Suit and Bridesmaids
Suit – Moss Bross, it was a modern, skinny fit blue suit with a bow tie. Very Terry! It was the perfect colour and fit.
Bridesmaids – these were a blush mix and match to suit their different personalities. These were from For Her and For Him.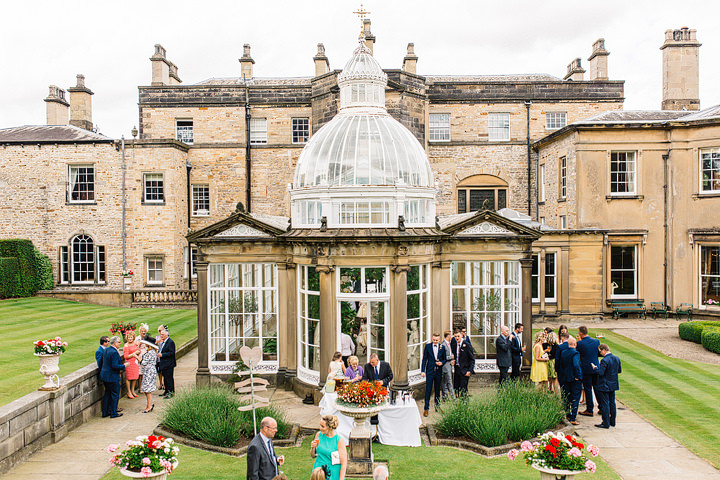 Theme or Colour Scheme
Royal Blue and Blush.
Flowers
A real mix. I wanted to have a country style bouquet. Nothing too neat. We had peonies, roses and sweet peas with lots of ribbon.
Decoration
In the main house it was all about the gold – gold candelabras, candles pots, photoframes and sparklers! In Utopia it was all about the lights – love lights, festoon lights, and fairy lights. We also had the obligatory bunting!
Food
As I'm from Grimsby and Terry's from Yorkshire we tried to have a Grimsby and Yorkshire theme with little bits throughout the day. We had Yorkshire crisps and Cleethorpes rock in the guests rooms. We also had canapes which included: Posh Fish and Chips and Mini Yorkshire puddings with beef & horseradish mousse.
The wedding breakfast included: Grassington House Tasting Slate to share: Goosnargh liver pate, potted ham shank, Pork & chicken spring rolls, seared scallops & Tiger prawns, Olives, humus & naan bread. Roast Best End of Pateley Lamb, Rosemary Infused Baby Vegetables. Raspberry & Almondine Tart, Ripple Ice Cream
Wedding Cake
For the wedding cake we didn't want anything too fussy. Neither of us are big fruit cake fans so we had a raspberry and white chocolate sponge, lemon sponge and ginger sponge! It was delicious.
Entertainment
For the day time we had a fabulous pianist –Carolina Garcia-Cox. For the eventing we had the bridal party – and the band, The Warning Tones as well as a DJ. The Warning Tones were absolutely fantastic! They brought the party.
The Stationery
We did it!
Personal or Handmade Touches
I think the thing that took the most effort was the 'Meet the Guests' guide. We created one of these for each of the tables. Within it were a few sentences about our most favourite people with a little photo. It told a bit of a story about each of the guests and was used as a talking point for people that hadn't met.
We also had a Wedding Bake Off! As Gemma has a sweet tooth, loves the GBBO and lots of our friends and our family members love to bake – we decided to run a mini contest. There were prizes for the best bakes and the grandparents were the judges of soggy bottoms.
We had lots of games throughout the day including: space hoppers, sack race, giant jenga etc.
Special Moments
Having the time together after the wedding ceremony, before the guests arrived back at the house. Celebrating with a glass of champagne and realising that this was the moment we started our new lives together.
For me it was Gemma walking down the aisle, I wasn't nervous at all until one of my groomsmen said I had to go to the front as Gemma had arrived. I got really nervous and my legs went a bit weak, once the flower girls started walking in I calmed down a bit and seeing all the girls followed by Gemma looking absolutely incredible is a memory that I will cherish for the rest of my life.
Advice to other couples
Try not to get too carried away. Try to do as much as you possibly can in the lead up to the big day but give yourself the week before time to relax together and pamper yourselves.
Biggest surprise
It wasn't a surprise as such but something that you can't really prepare yourself for is the overwhelming feeling of love from everyone that is there for you on the day. It's a day we will treasure for the rest of our days.
Supplier Shout Outs
For more information on Paul and Kelly's work please go to:
www.pauljosephphotography.co.uk / www.pauljosephphotography.co.uk/blog / FACEBOOK /
PINTEREST / @Kelly_PJPhoto / @Paul_PJPhoto / I – kellypauljosephphoto / I – pauljosephphoto