When both the bride and groom work for film companies, drawing and modeling film sets, then you know their wedding is going to be detail heavy and full of amazing decorations! Today's wedding is such a wedding! Emma and Tom have really gone to town with every aspect of the details and decoration, from the laser cut order of service to the stunning table numbers. The colour scheme of grey, fuchsia pink and dark teal, work perfectly against the marquee and the amazing Yorkshire backdrop which has been captured perfectly by Andy Gaines.  A really stunning wedding with some amazing photography, that I know you are going to love.
Our wedding was a day full of Love, celebration and fun set in the incredible Yorkshire dales. With lots of help from friends and family, we worked hard on the personal, handmade touches in order to create a wedding that reflected us as a couple.
Emma and Tom were married on the 20th August 2016 in a ceremony at St Michaels the Archangel, Kirkby Malham, Skipton, followed by a reception at Eden at Broughton Hall, Skipton. 'Emma is originally from Skipton and we currently live in London so we thought it would be nice to have the wedding back in Yorkshire. Emma's parents recently moved into Kirkby Malham village and the church is 2 minute walk from their cottage so it was an obvious choice for the wedding ceremony. The reception venue Eden is based in the grounds of Broughton Hall and Emma grew up walking around in the fields of the hall. As we have many friends in London who had never been to Yorkshire, we thought it would be nice to give them a reason to visit such a stunning part of the country! We had 100 guests. The venue waiting list was nearly 2 years so we booked it and then only started really thinking about things about 1 year before!'
How they met
We met through a mutual friend in 2012, at a house party and realised that we did exactly the same job (we both work freelance drawing and modelling film sets for feature films) and had been interviewing for the same jobs but had never bumped into each other!
The Proposal
Tom had a ring designed and made by a friend. The week before the intended proposal date, Tom broke his ankle in a football match and had a cast on and was on crutches. His idea was to propose to Emma at The Back to The Future Secret cinema event that we had tickets for but the event was cancelled a few hours before we were to go, so instead Tom slowly got down on one knee with his crutches and proposed at home in our flat in London. It was lovely!!
How did you allocate your budget?
We managed the budget on a spreadsheet and based it on one that we'd found online. My sister had got married the year before so we asked her advice on where she went over and where she saved money.
Where did you splurge and where did you save?
We spent the most money on the venue as we loved it so much and we hired the Eden house and had a marquee on the lawn. As Tom's family are from Chester, they were able to stay in the house for the week before and over the wedding weekend. We saved money on all the stationery/ decorations/ styling as Emma's company Studio-M Design, did it all. Emma's best friend of 20 years is a make up artist so did all the bridal hair and make-up as a gift, along with the mother of the bride and Emma's sister Michelle, who was the second bridesmaid. The groomsmen and best man wore their own grey suits and we provided the matching ties. For the wedding car we had Toms vintage mini fixed up, which was a splurge but it was his first car he bought when he was 17 and is very dear to him, so it was really nice to be able to use it on our wedding day!
Why did you choose your photographer?
Emma's family has known Andy's parents for many years and so we had met loads of time over the years. He shot Emma's sisters wedding the year before too and was so incredible, that we had to ask him to do ours too!!
The Dress
The Dress was Mori Lee. Heels worn for the ceremony were from Roland Cartier bought for £20 in the January sales! High top trainers for the reception were Nike and customised with jewels and ribbon by Emma. The birdcage veil was bought from Ebay and customised with a hair brooch that Emma had worn as a bridesmaid at her sisters wedding. Jewellery was Swarovski.
The Suit and Bridesmaids
Tom's suit was a bespoke Alexander McQueen and was a gift from Tom's friend. The bridesmaids wore Dessy dresses in Teal and bought their own shoes.
Theme or Colour Scheme
Emma/Studio-M Design created a Pinterest page with colour scheme and ideas. We went for Grey, fuscia pink and Teal with a woodland/homemade theme. The bridesmaids wore long teal dresses and the ushers and best man wore their own grey suits with teal ties.
Flowers
As Toms dad is Scottish we really wanted to incorporate a thistle into the flowers. We had Blue eryngium, Orange roses, Peach avalanche, Paavi eucalyptus, Deep pink astilbe, Buplurem, Marina rose, Pink veronica, Deep puple lissi. We wanted really vibrant colours for the palette of the wedding, so that the colours stood out against all the green of the Yorkshire hills.
Decoration
As we had a woodland theme, we had bell jars on the tables sat on logs, with fairy lights. Inside the bell jars Emma made little dioramas of landscapes featuring model trees and lego figures of film characters from the jobs that Tom and Emma had worked on (Jurassic Park/ Harry potter/ Batman etc). Emma's company created the laser cut table numbers and all the other laser cut signage for the wedding. Emma and her friend also made the wooden chandeliers using hula hoops, willow twigs and fake flowers. Emma's mum and mums friend's handmade all the bunting. We also had jars of flowers all over the tables, for a laid back informal feel.
Food
We had mac n cheese bites, chicken satay and mini fish n chips for nibbles. We served anti-pasti for starter then Roast Pork and accompaniments and a trio of deserts (chocolate mousse, lemon meringue pie and cheesecake). We followed with a 'Yorkshire & Cheshire' cheeseboard!
Wedding Cake
The wedding cake was a 3 tier cake with messy frosting, each layer was different so we had a Victoria sponge tier, red velvet tier and chocolate tier! Studio-M Design created the wooden laser cut topper 'Mr & Mrs G' which was dressed in around flowers.
Entertainment
We created our own fancy dress Photo Booth, using a red velvet curtain as a back drop. We bought fancy dress and props, again from the films Tom & I had worked on, and from our favourite films too, we got some fantastic photos from it!! We had an amazing band called The Soundcasters, from Kent, whom Emma's sister had seen playing in a pub in Cornwall. Emma's older brother also did a DJ set after the band, playing some old school house anthems which seems to go down very well with every age group!! It was an epic party!!
Stationery
Stationery was made by Emma's company Studio-M Design. Invites were laser cut and folded to create our love story in 3d. Buildings from London were featured, and the church and the reception venue. The order of services featured the church too and the guest book had a laser etched portrait of the Eden venue.
Personal Touches
We did all decorations and stationery ourselves and Tom's parents handmade a batch of sloe gin in mini bottles for our favours, which went down very well with the guests! We made betting slips on the reverse of the menus as a few of our guests like to bet on the best mans speech! Emma's brother is a computer whizz and so kindly created a website for us, with lots of information about the day and the area, for all the folks who were travelling up for the wedding. We also used mostly local Skipton suppliers, from the caterers to florists and wedding dress.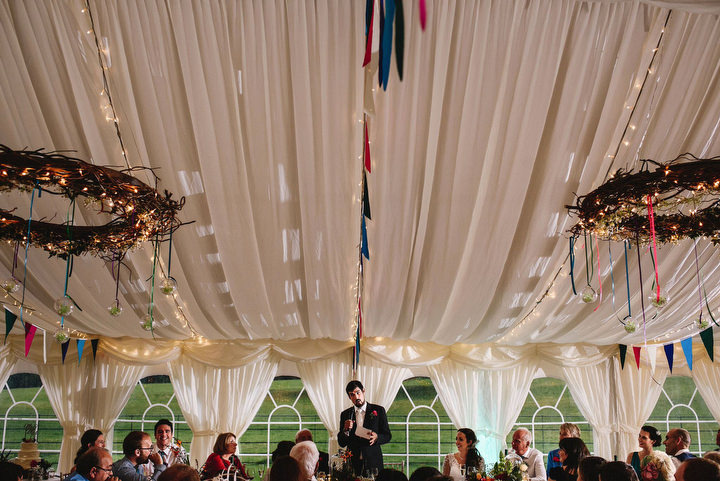 Special Moments or Highlights
The whole day was completely perfect! I kept thinking all day that I'd never hugged and kissed so many people in one day, and it was the most heart warming feeling ever. People travelled so far for us and to have all your loved ones and best friends supporting us on our day was the most incredible feeling.
Advice for other couples
We would say to make sure that you enjoy the day. Its obviously a stressful time, especially on the lead up to the wedding, but at some point you have to think that there is no more you can do and that whatever will be will be! As soon as we decided to stop worrying about things, we could then enjoy it and on the day we really went for it!!
Biggest Surprise
We'd been closely following the weather forecast for the whole run up to the wedding, as Yorkshire is beautiful and green because it rains quite a lot….!! We were so lucky in that it only rained when we were inside the church and serving the wedding breakfast, so we had the opportunity to get outside and get some incredible photos with Andy Gaines. The sky is so dramatic on them, the end results are fabulous!
Supplier Shout Outs
For more information about Andy's work go to:
www.andygaines.com / [email protected] / 07799265834 / FACEBOOK / I: @andy_the_gaines /T: @andy_gaines
I am an award-winning creative wedding photographer, based in York but shooting weddings across the world.  A key focus on story -telling and natural photography, I make weddings with less cheese and more awesome!