Today I am very excited as later on today I will be launching this years  Boho Readers survey, so pop back at lunch time for the launch and the chance to win a whole hamper full of wedding prizes. This morning though I have a totally gorgeous wedding for you full of so many lovely DIY details and the cutest couple, along with the most charming of wedding venues, it has been sent into me by A'OK Photography and Frank Millar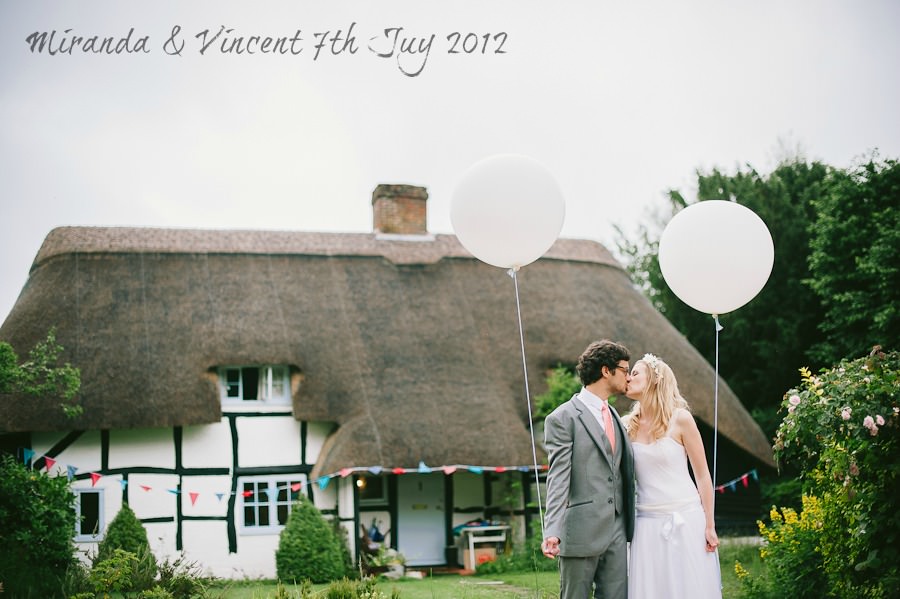 The lovely couple are Miranda and Vincent who were married on 7th July. The ceremony was held at St Mary's Church in Copythorne, New Forest, Hampshire, with the reception at Miranda's grandparents' farm garden, just behind the church. They had 120 guests with about 70 coming from abroad, it took 14 months to plan the wedding.
'A very wet but very happy day! Emotional, fun, relaxed and full of love. It really does go too fast!'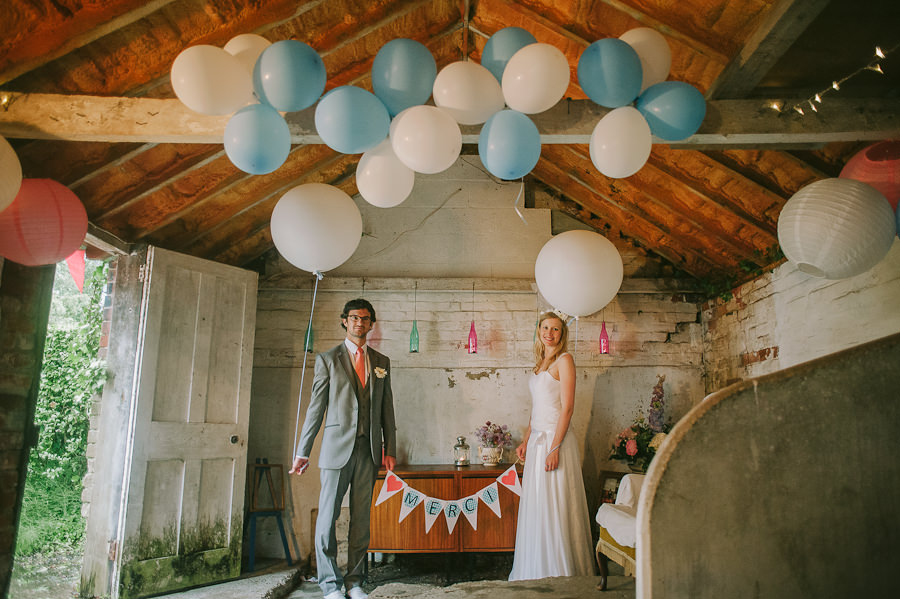 How they met
We actually met in England! We were doing an exchange year at Coventry University. It was 7 years ago this October…
The proposal
Vincent took my on a surprise weekend disguised as a "research" trip for his blog on British design. We arrived at the Staying Cool hotel in Birmingham, a very cool place indeed in the city center. He had arranged for a lovely bouquet of roses and a bottle of champagne to be in the room, next to a little Tiffany's box. I was not expecting it at all!
The venue
We wanted a setup which would suite both our backgrounds (Vincent is French and I am half and half) and families. So we had a civil wedding in Paris the Saturday before with a lunch party, to which my husband's more elderly relatives could come to. I wanted a traditional church wedding and it seemed easier and more personal to do this in England, in the place where the whole family usually gather. And our French family and friends loved the excuse to make a trip out of the event!
How did you choose your photographer
I started booking all the suppliers about 12 months before the day, and quickly found that a lot of the photographers I liked were already booked! I was mainly using the wide-range of wedding blogs to source names, and Antony was one of them because I liked the work he did, a relaxed, journalism style photography.. When he said he was still free, we booked a date to meet him and talk things through. We also did a very lovely couple shoot about 6 weeks before which is a super idea to "warm" up. We love the result of both sets of photos.
We also decided to have a videographer, and in the same way we booked Frank Millar. The work he did is fantastic! The videos really make you relive the day again; it really is a super complement to photos!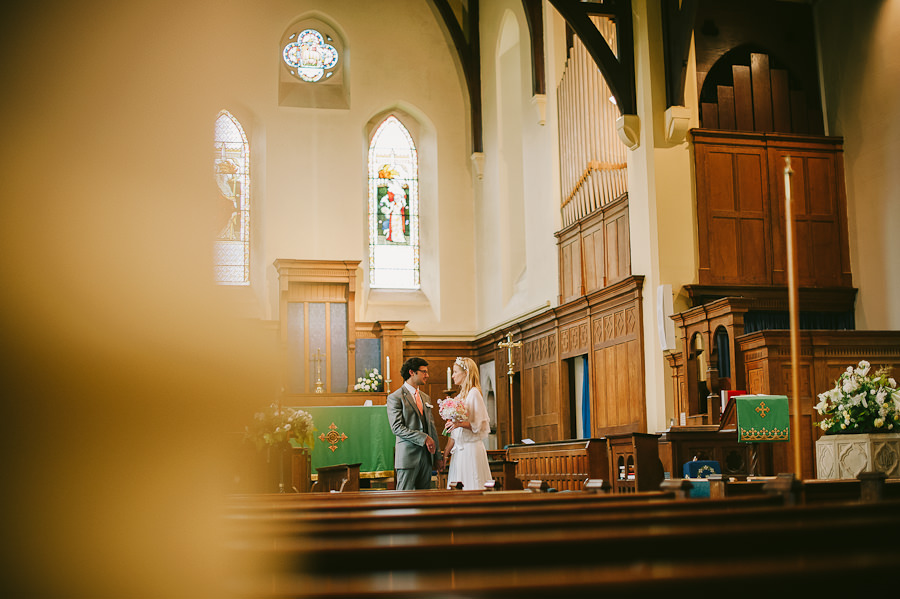 The dress
My dress was handmade by a young French dressmaker, La Belle Bobine, based on my design. I did a few fittings in traditional shops, but was quite disappointed as none had the style I wanted. So I decided to meet a few dressmakers to talk about my ideas, and Marie who is behind La Belle Bobine convinced me to do it! It was quite an adventure but I trusted her, and after several meetings and fittings, I had my very own and totally unique wedding dress! I would recommend the experience to all future brides! And the cost was actually lower than the shop dresses I had tried at first.
I had two pairs of shoes, one lovely Rachel Simpson coral and gold pair with heels and one golden pair of Monsoon sandals. There was also some colourful wellington boots worn in the middle, since the garden and the path to the toilets was a real mud-fest!
The suit and bridesmaids
Vincent had a made to measure suit done in a Parisian shop called Les Nouveaux Ateliers, where they scan your body in 3D to get your measurements. He wore white Repetto Zizi shoes, before changing back into his wellies.
My bridesmaids each chose their own dress, the colour code was coral. They bought their dresses separately, since they live across three countries, but I think that they looked really good altogether. I had bought them each a bracelet from xxxx and they had their hair and make-up done with me in the morning.
Theme
There was no distinct theme, but we wanted it to feel like a large garden party with some vintage elements thrown in, and the colours were coral and blue, used in different shades throughout the wedding. As a couple, we are more laid-back than formal, and we wanted this to come across in the feel of the day. We had a lot of homemade and personal touches, to really make it "our" wedding.
Food
We didn't want to spend to much time sitting down for the meal, with a meal that drags on and on, so we chose to have a long cocktail, and go directly to main course sitting down. We had guinea fowl with a mushroom ragout, then served a cheese buffet and dessert at the same time. The dessert was an ice-cream cart, the guests loved it.
We served the wedding cake later in the evening, with tea & coffee. The catering for the cocktail and the main course was done by Vanilla, they were a dream to work with and the quality was impeccable.
Entertainment
We both love going to rock concerts, so decided to splash out on a live rock band! We chose The Hype via the booking agency Warble Entertainment, and they were absolutely great! I was honestly dancing all the way through their live acts, and they also did the DJ in between and until the end of the party.
Flowers
I am lucky to have a florist in the family, so she did all the arrangements and I paid only for the cost of the flowers. They were beautiful! My bouquet had white and pink Hydrangea heads, white and pink germini, white, pink, lilac and cream sweet peas, pink roses, pink peonies and pale blue delphiniums.
The buttonholes were white germini, and the bridesmaids had posies of white germini and hydrangea.
On the tables we had collected and painted orangina and milk bottles to turn into vases, and I hired vintage vases and teapots, and huge milk churns from Grace your tables. These had a mix of sweet peas, pink and white hydrangea heads, mixed germini, mint flower, september daisy, astrantia, pale blue delphiniums with eucalyptus. We also found old trunks belonging to my grandparents, cleaned them up and displayed hydrangea pots in them.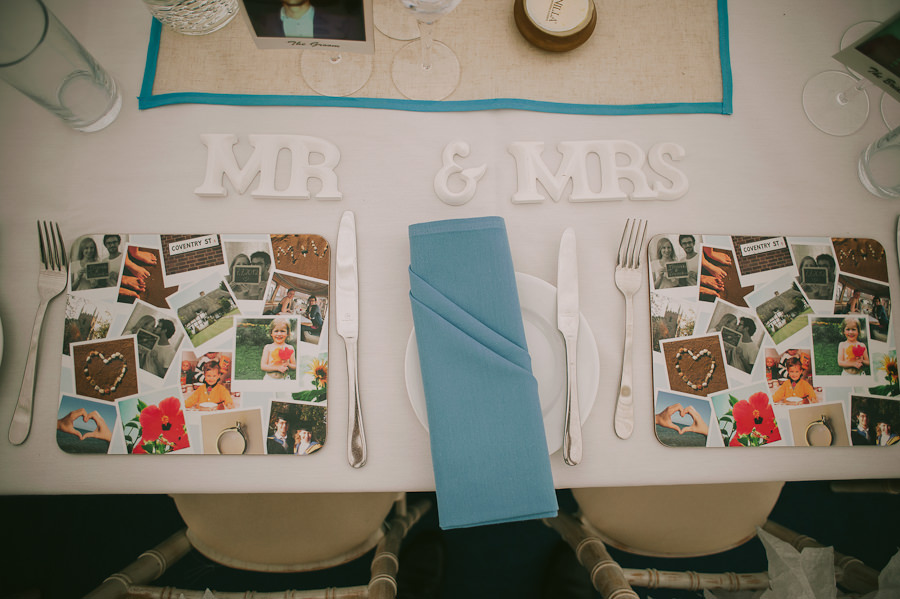 Decoration
The inside of the marquee was decorated with coral, white and blue lanterns, some pompoms and fairy lights. We used an old golden frame and added a chalk painted MDF board, to use as a table plan.
For the cocktail area and the house we made 100 meters of bunting (my husband did all the sewing on my gran's old Singer!) We also added lanterns, pompoms, fairy lights, candles, old frames, balloons, mini bunting, flowers to the rest of the cocktail area, altogether it gave a rustic chic feel which was perfect.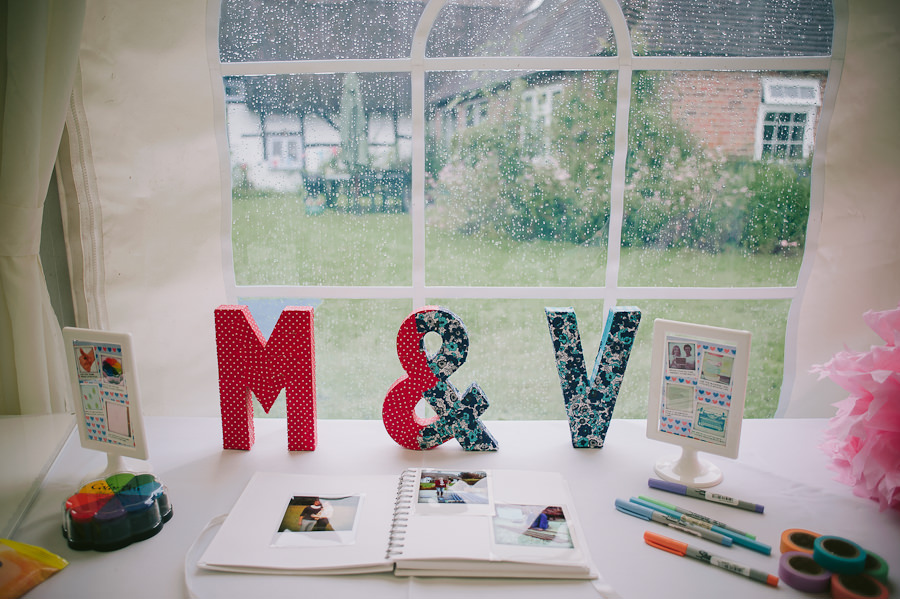 Personal touches
• I am very lucky to have designer Ella Doran as my cousin. She helped us create all our stationary (bilingual invitations, info cards and RSVC cards, our order of service and menu cards for the tables).
• She also made us personal table mats, with key photos of us as a couple.
• We also gave out a selection of her umbrellas at the end of the service. These with the mats were our favours.
• As said previously, we made 100 meters of bunting. The fabric was also used to make a mini-bunting for our cake (the cake was made by a good friend of the family, and it was delicious as well as stunning!)
• I also made a mini bunting of felt hearts (which can be seen on the photos of us on the sofa)
• I organised a workshop of family and friends to make the 70 tissue paper pompoms which line one of the walls.
• The orangina and milk bottles we gathered over the year before, then painted them coral and blue. We also ate a lot of yogurts to collect and us as candle pots.
• On the tables, we used Ikea picture frames for the table numbers, on one side we made the numbers out of bunting material and on the other we had the menu.
• We also made tables centers using linen material (Vincent loved using the sewing machine so much!)
• I think one of our greatest achievements was collecting a photo of each of our 120 guests without them knowing, to turn into polaroids and use as place names. We then asked them to stick their picture in our guest book along with their note.
• Another great project was the construction of our photobooth, like a real cabine. We used an ipad with a super application, and the results are hilarious.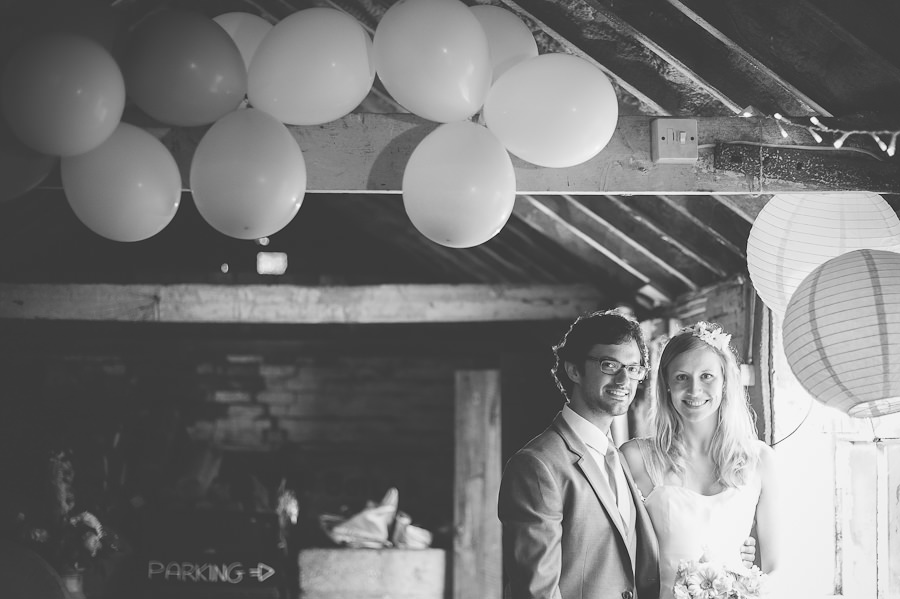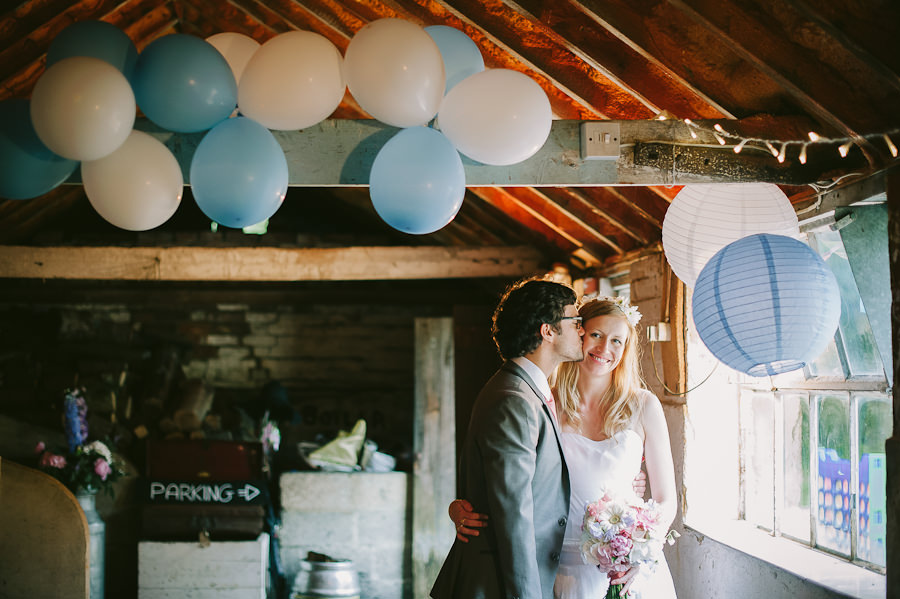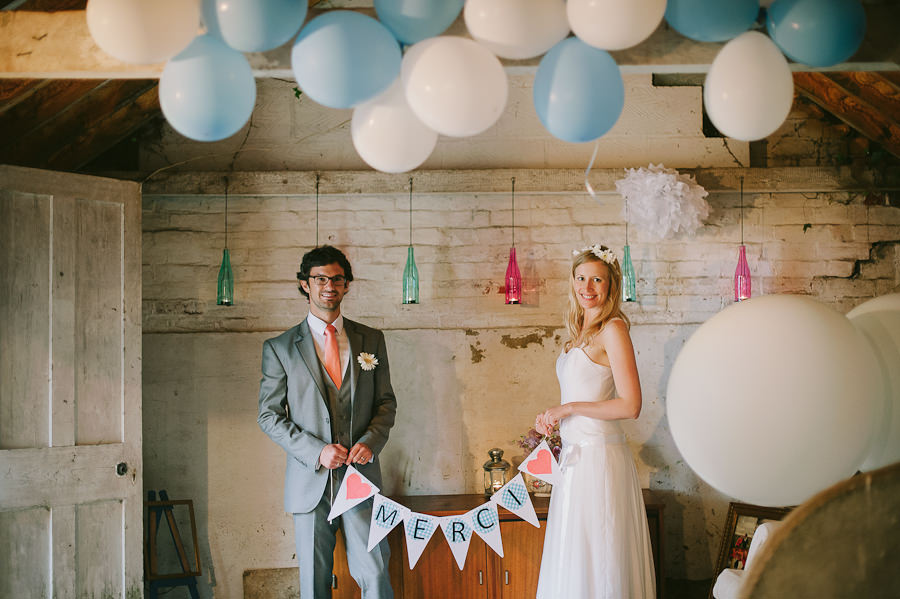 Special moments
The service, we had a family friend who was our priest in France join the local priest and do the French translation. Vincent said his vows in English, it was so sweet, a very special moment. And my sisters participated as well, one singing Bach's Ave Maria and the other reading a French poem. It was a very intense moment.
Also the speeches by the groom's father and my mother were an emotional moment.
And I loved the rock concert in the evening!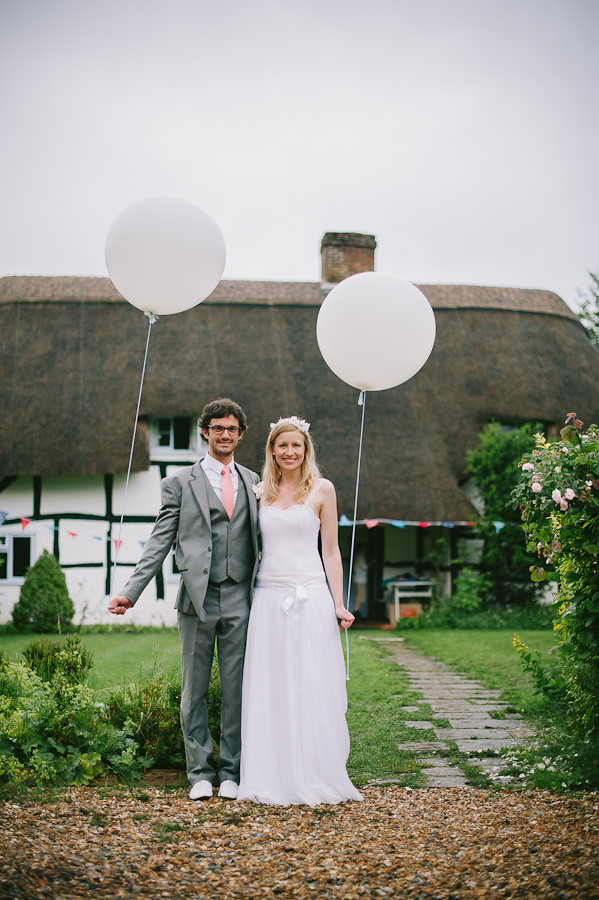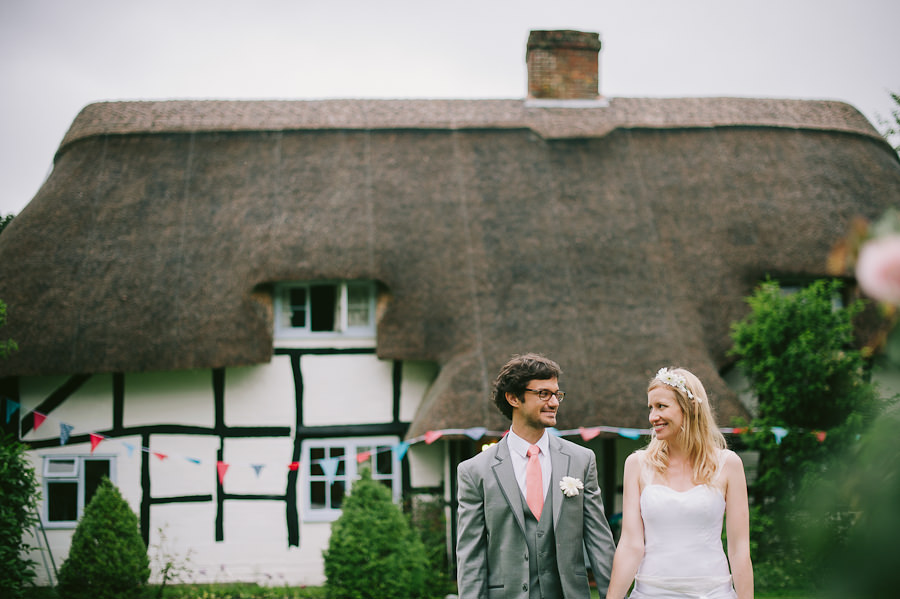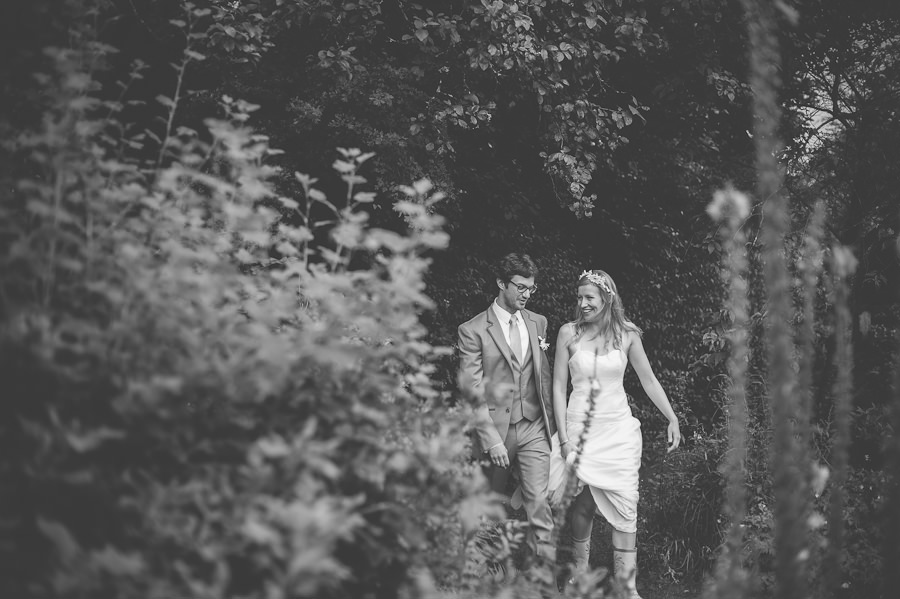 Advice
It really is worth trying to make the day as personal as possible, it does make a difference. We tried to do as much as we could ourselves, and we made all the decisions based on what we wanted as a couple, not what our parents wanted or the way things were "supposed" to be done. It's very important to define together what the most valuable parts of the day are, and invest on them. For us it was the entertainment, the photographer and the videographer, and spending time on the DIY.
We also decided to hire an on-the-day wedding co-ordinator -Marie from Isabella Weddings. She did all the setting up of the decorations on the day (with all the rain it had to be done at the last minute to stay nice), plus making sure that everything went smoothly will all the various suppliers. Her help was invaluable to us, we were able to totally relax in the morning and then throughout the wedding, I totally let myself go… I would really recommend it to every couple, it also meant that our parents could relax and enjoy the day also.
And as everyone says, the day really does by too fast. We organised a Friday evening get together at the pub so that everyone could meet, and had a hog roast lunch on the Sunday, so we really made the most of our guests and of the weekend.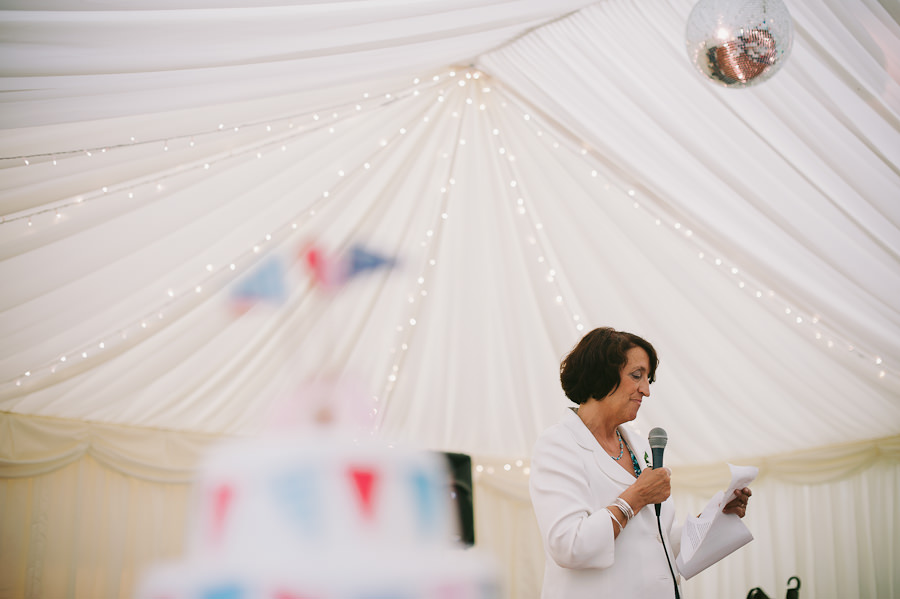 Biggest surprise
For both of us it was seeing everyone enjoy themselves, despite the crazy weather, the mud and the wellies. It bought everyone together, and it was great seeing the French and the English mix so well together. We had so much fun, the disappointment I was feeling the previous days because of the rain disappeared and it really didn't matter.
As a special treat I have Miranda and Vincent's wedding video to share with you
Miranda & Vincent from FrankMillar on Vimeo.
Supplier Shout Outs
Photographer Antony Turner www.aokphotography.co.uk/wordpress Super work!
Videographer Frank Millar www.frankmillar.com  The best videos!
Catering : Vanilla catering www.vanillacatering.co.uk Helen and Sally looked after us and we cannot praise them enough. They had to work in such dreadful conditions, but it did not seem to matter at all, the service was perfect and the food delicious.
Marquee : Quality Marquee Hire www.qualitymarqueehire.co.uk James was also a star, our marquee looked beautiful and resisted to the rain thanks to his hard work. He is so nice to work with and a real professional.
Wedding co-ordinator : Marie Haverly http://isabellaweddings.co.uk  As I said, she was a real support and worked so hard to make sure we had the best did, and we really did!
Ice cream bike www.icecreamtrikebike.co.uk  delicious and loved by all
Extra decorations Grace your tables http://graceyourtables.comVery good prices and Clare is absolutely lovely
Band The Hype www.warble-entertainment.com/hire/the-hype/689/They were so good, a private concert in our garden. They got everyone dancing right till the end!
Dress Marie Bedhet www.labellebobine.com She is in Paris, but for anyone living in France and wanting to have their dress made, I cannot recommend her enough
Stationary, table mats and umbrellas Ella Doran www.elladoran.co.uk love her work, so lucky to have her in our family!
Make up for bridesmaids  Sarah Barlex
Bracelets for bridesmaids  www.jewellerybyvanya.com Super service and lovely jewellery
Photobooth props www.etsy.com/shop/partygoodies In the end could not make them myself, so bought them on Etsy, this seller was great and provided very fast service
Hair piece in the evening  http://rhapsodiefrance.com/fr/
Lanterns  www.sous-le-lampion.com/ French e-shop set-up by a wedding blogger.
www.aokphotography.co.uk
[email protected]
FACEBOOK
TWITTER
07540744534
I'm Antony from A'OK Photography and I'm a wedding photographer operating in Hampshire, England. I am a photojournalist capturing honest and sincere reflections of newly weds and all the guests involved with the occasion. I exercise a unique journalistic approach by focusing on the laughter, nervousness, tears and smiles and I document this by allowing the couple to be completely uninterrupted resulting in a lovely visual story of their wedding day from start to finish.
www.frankmillar.com
[email protected]
FACEBOOK
TWITTER 
I'm a wedding videographer & photographer, based in Oxfordshire, but travel nationwide. My style is relaxed and very informal, I just capture the day how it happens. I don't produce long wedding video's, just short and sweet edits, which you will hopeful want to watch again and again.
♥ You can see more Real Weddings featured on the Boho Blog HERE ♥
Due to an email issue if you have emailed me between the 2nd & 9th of December, please resend it.
X