I just LOVE today's wedding, it is so pretty and FULL of so many wonderful and imaginative details PLUS it has two of the most gorgeous Shetland ponies! What's not to love?!? Sent into me by Laura at Candid & Frank Photography it is just oozing summer goodness and really sums up the wonderful summer of glorious weather we had last year! The couple, Alexandra and James really went to town on all their DIY and hand-made projects, bringing in friends and family to help them create an amazing array of decorations, the extent of their efforts is quite extraordinary. I just love this wedding, I wish I'd been a guest, so laid back and relaxed and the fact that it takes part in the couple's back garden only adds to its uniqueness!
Our wedding was the most magical secret garden style vintage country wedding EVER!
Alexandra and James tied the knot on 29th June at Artington House in Surrey followed by a stunning garden party at the family home in Deerwood, Surrey."Being able to have the space with beautiful surroundings was just what we had pictured for our vintage, country, rustic, garden party wedding. We were joined by 120 guests including 20 of these being children and planned the whole thing in between having our second child and moving house!"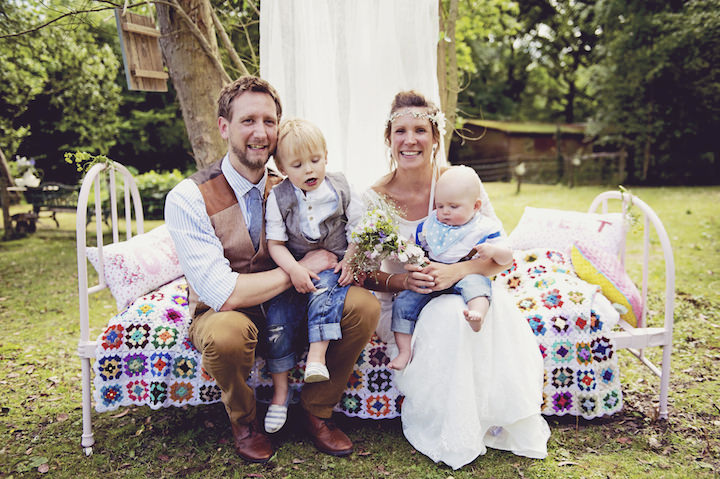 How they met
We met at Kingston Upon Thames University in 1999, and just as friends we lived together till 2001, we lost contact with each other for about 6 ½ years and then made contact through Facebook and realised out of all the places in the world we were literally within 5 minutes of each other. We have been together now since October 2007.
The proposal
Sadly we lost our baby girl Matilda in June 2009 due to stillbirth. That September, James took me away for a break to Paris which turned out to be a very romantic proposal under the sparkling Eiffel Tower. James handed me a small black package tied together with a ribbon enclosing an engagement ring and the words 'veux-tu mepouser? (will you marry me?) in French…Obviously the answer was YES. Losing someone so special as our baby girl Matilda, and being able to come out the other side with someone who supported you all the way, made both of us realise we were meant to be together. The date and time of the proposal was exact, – 19.19pm on the 19 September 2009!
How did you spend your budget?
We wanted to keep our costs for the wedding as low as possible, which resulted in us using local suppliers and doing a lot of the wedding ourselves, with lots of help from our dear friends and family.
How did you choose your photographer?
One of James' friends from university was a photographer and offered to shoot our wedding and as you can see from the fabulous images it was one of the best decisions we made! Candid and Frank photography you are the BEST! You captured our wedding just as perfectly as we had imagined it!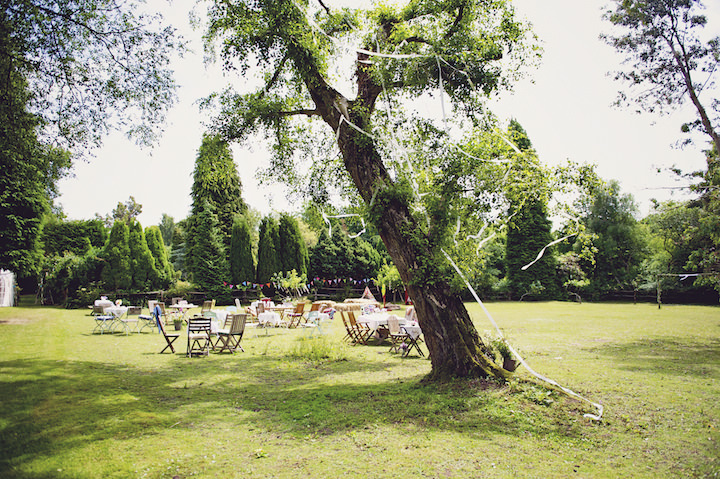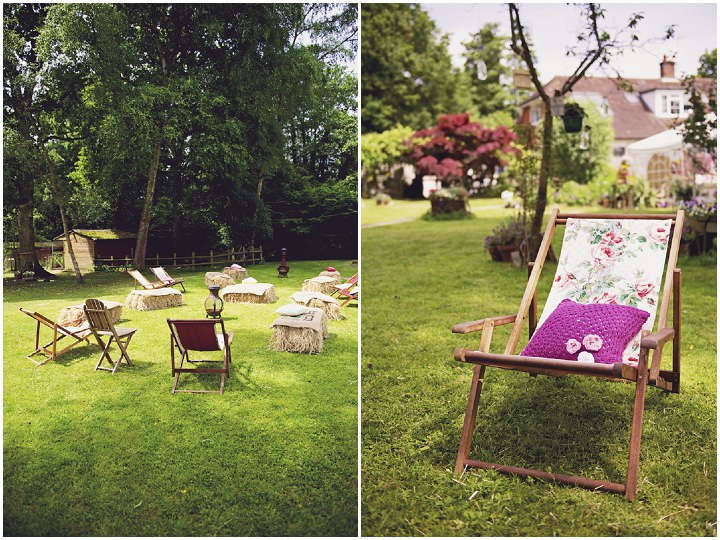 The dress
My dress was based on a 1930s style dress. I was after something simple yet elegant and not to over the top for a garden party, the perfect dress with the perfect price was purchased from Monsoon. My beaded headdress was beautifully created by my talented mother using vintage style beading. My shoes were Indian beaded style flats so I didn't tower over my husband to be!
The suit and bridesmaids
We decided to rule out all formal suits therefore James put together a very vintage style outfit for the cost of just under £100 for him and his best men.They all had handmade handkerchiefs, personalised with their own initials and they all, including our 3-year-old son, had a vintage pocket watch. Our two sons, who were just 3 and 8 months, wore rolled up jeans with braces, white granddad shirt and a waistcoat or kerchief. My one bridesmaid wore a 1950s style swing dress which tied in with the colours of the best men.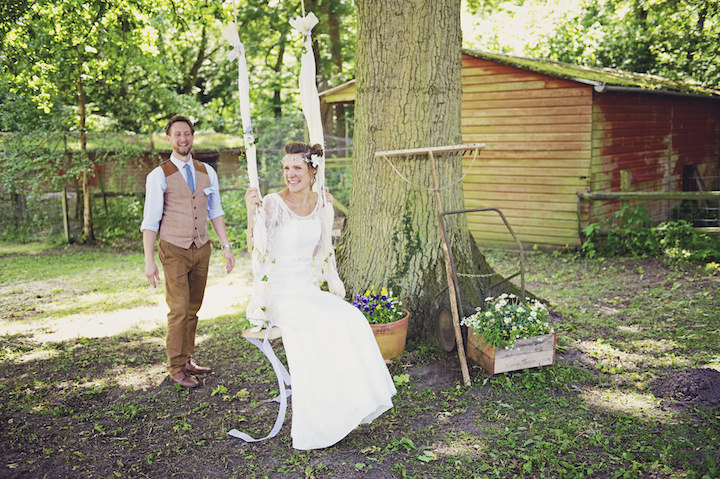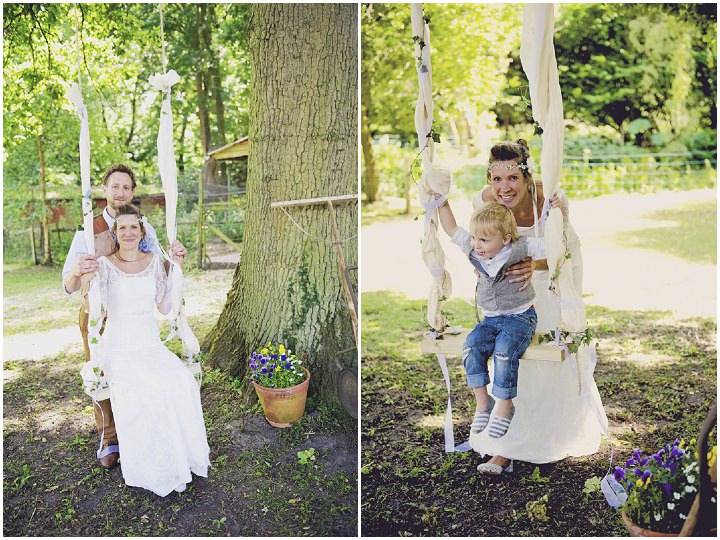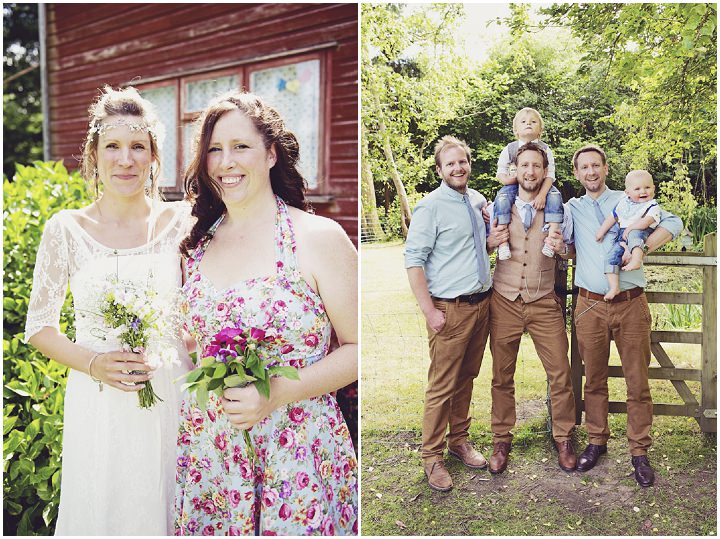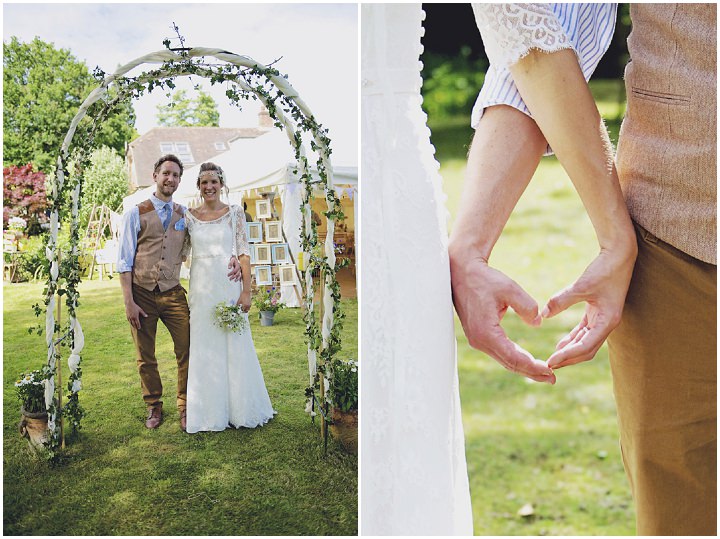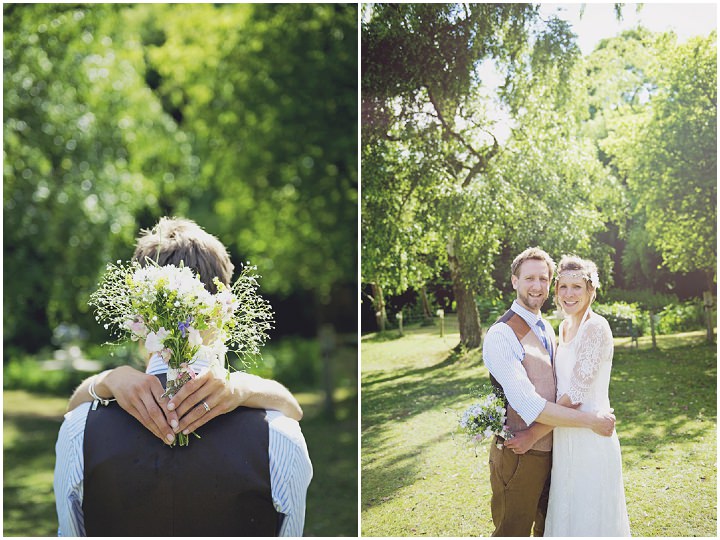 Theme or colour scheme
We didn't really have a colour scheme though initially we did aim more towards the pastel colours
The flowers
We handed the project of flowers over to our Mothers with a brief with it not to be formal and to be as homegrown and wild as possible. They did a fabulous job using some flowers grown by Sarah Barrett from The Flower Field, sweet peas brought over from Holland thanks to my Dutch Auntie, and flowers grown in each of our parents' gardens. My bouquet was made by my Mother from a small handpicked bunch of wild flowers tied together with lace and an old vintage brooch.
The decoration
Our decorations consisted of white streamers and glass milk bottles with flowers in hanging from the trees, pastel coloured streamers inside the marquee and James made a paper pom-pom chandelier for the marquee centre. We had fairy lights above the bar area, jam jars on each table with flowers in, milk bottles hanging from the wooden entrance gate with a flower in each. We also made and decorated a fabulous bohemian style swing.
The food
Our food started with a vintage tea party with scones and we asked each guest to bring along a cake for our cake table. After this it consisted of a hog roast which was supplied by a local company. We had salads, coleslaw etc to accompany this. For dessert, we had cheese, pears, apples, French bread and chutneys.  To keep everyone going through the day we also did have a yummy sweetie table.
The wedding cake
Our wedding cake consisted of two, 3-tiered selection of cheeses, we decorated each of these with fig leaves from the garden, grapes and a pomegranate.
The entertainment
We had been banking on the weather being beautiful, which as you can see from the photos was the best day of the year. Due to the number of children attending we decided to create a small vintage play area with hula hoops, sack races, knock the tin cans with bean bags, facepainting and teepees. For everybody else it was the beautiful surroundings including the two delightful Shetland ponies Lucy and Benson. When the sun had finally left us we lit chimneas and sat round hay bales star-gazing. We did have a DJ and the evening came to a close with a fabulous sparkler arch.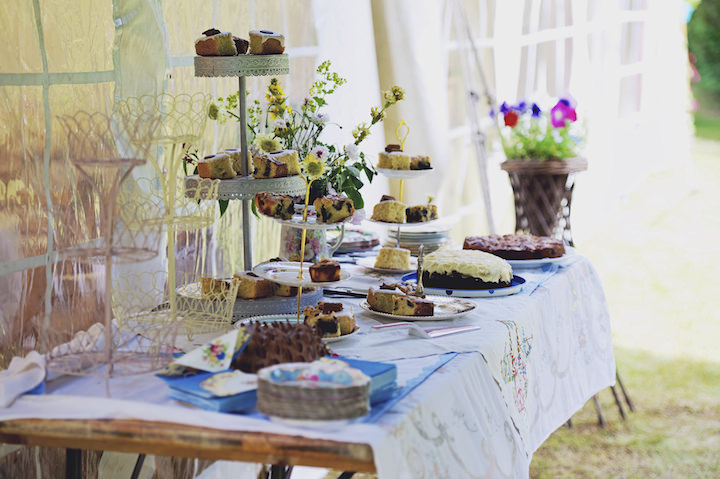 Buy or DIY your stationery?
We designed and created all our stationery ourselves, initially we sent out save the date cards consisting of a lolly pop stick stamped with the date of our wedding which was to be used as a seed stick for the Forget-me-not seeds also attached. We purchased a personalised stamp from Etsy and used this for both the save the date and the invites.
Personal or handmade touches
We virtually DIYed our whole wedding! We sourced whisky barrels and built our own bar, we made all our own crates for flowers to go in, also each table crate which had flower name signs for each, which included the wine, flowers, chutneys and our fab favours. Our favours were an unusual idea which consisted of stars made from willow, each had a tag attached with a saying about stars. Each willow star was able to be planted in everyone's gardens and would sprout leaves, we still have some in our garden. We made our vintage napkins and stamped all our bamboo cutlery with 'i love you' 'vintage' and 'wedding'. We had a number of directional signs which again we made and hand painted ourselves. These were nailed to a post and my favourites were 'kiddiwinks area' and 'to the stars'!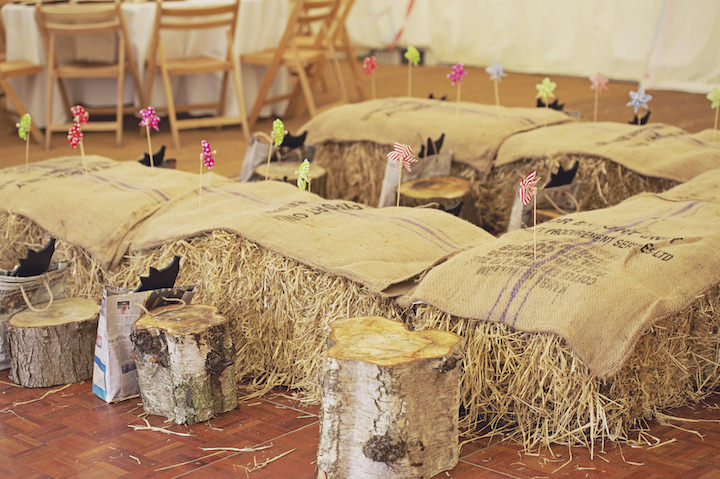 Special moments
It is impossible to pick one particular part of the day – it was all just amazing…however we both loved it when our 3-year-old son came out riding his old vintage car with 'just married' on the front of it and old tin cans trailing along behind him…perfect picture!
Advice for other couples
Have a clear realistic picture of what you want and plan it thoroughly, working towards deadlines
Biggest surprise
The weather was so amazing, considering the day before and the forecast had been heavy rain. Also even with 20 children attending ages ranging from 8 months to 12 years, we never heard one cry – just amazing. We were so inspired by our own wedding, we have now set up our own company called AlexisBarnCreates. Beautiful pieces made from old reclaimed wood, one of those items includes wedding signage.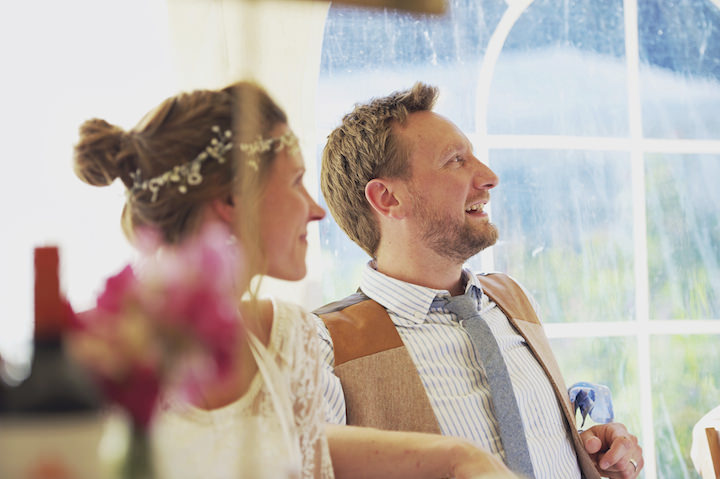 Supplier Shout Outs:
Ourselves! AlexisBarnCreates – Alexisbarncreates.com
Our amazing photography from Laura at Candid and Frank – Candidandfrankphotography.com
Perfect Pitch Marquees: these guys were fabulous! So efficient and we would definitely recommend them. They supplied everything including the marquee, lining, tables chairs, toilets – a one stop shop! – perfectpitchmarquees.co.uk
Bentley Brown for table clothes – bentleybrown.co.uk
Jeff Jann supplied the hog roast.
Sarah Barrett from The Flower Field Hampshire supplied some of the flowers – flowerfieldhampshire.co.uk
Ben Westhead Jitterbug – DJ
Waitrose for the prepared salads and fabulous 3 tiered cheese cake – waitrose.com
Creative and Contemporary Gorgeous sweetie bags
Pipi – fabulous paper decorations
For more information on Laura's work go to:
www.candidandfrankphotography.com
www.candidandfrankphotography.com/blog
[email protected]
FACEBOOK
www.facebook.com/candidandfrank
@candidandfrank
07854236422
I am a Surrey-based wedding photographer covering the Southeast.  I am fascinated by the value of intangible things such as friendship, love and laughter – these are the aspects I love to capture.  My style is relaxed, candid and always heartfelt.
[jprel]