It's all back to normal today after the bank holiday weekend, and the normal 2 posts a day resumes after a few days break in Cornwall. Today I have a wedding that is very special to me as it comes from a Boho Blog reader who actually found her photographer through the blog. I do love it when I hear how the Blog has helped people to find suppliers and has given them ideas, and the email I received from Catherine put a big fat smile on my face………..here is what she has to say
'On a personal note, I would like to thank you so much for your Blog. It was a huge help to me both in terms of inspiration and good advice. It was a refreshing change in what I found otherwise was mostly a sea of fluffiness.  Your blog was in at least in part where I found the strength to stand firm and have the wedding I really wanted and not to be swept up in tradition for traditions sake and all the things that the "Great wedding Machine" seemed to say I needed.   So Thank You.  Catherine'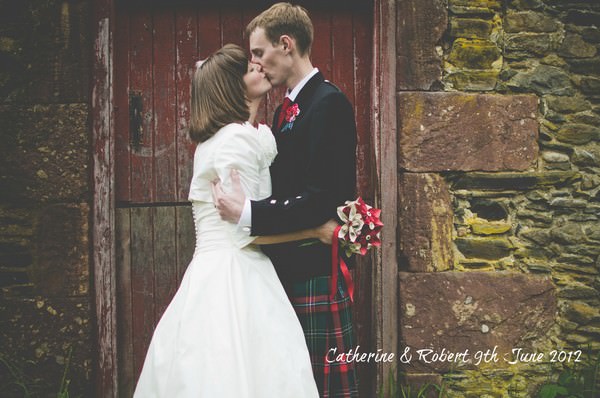 Bless you Catherine thank you so much for your kind words! The wedding is full of amazing homemade and recycled details that have been carefully put together by all of Catherine's friends and family!
Catherine and Robert who were married on 9th of June 2012 it was held at Sawmill Croft, Turriff, Aberdeenshire. At Catherine's parent's farm and where she grew up. They had 100 guests. 'We got married 1 day less than a year from the proposal and planning pretty much started from then.' Their Photography who they found through the blog was Daniel from DHW Photography
'A fun, relaxed, rustic, DIY day packed with Family, Friends, Love and Laughter. A day that was only possible due to a lot of hard work and the efforts of so many of our loved ones, who pitched in and helped, and a day that was all the more special because of it.'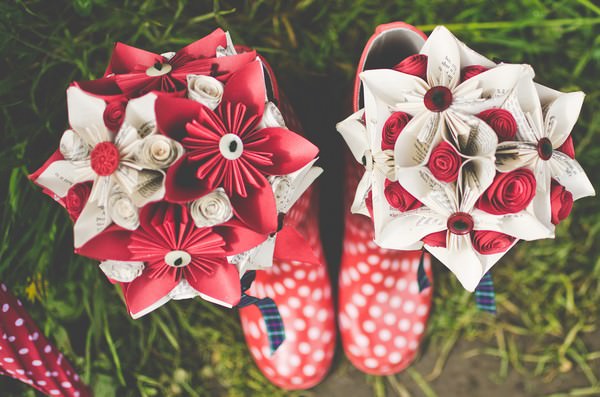 How they met
We first met through our University Canoe Club in 1998; we were friends for 8 years before we got together. Then we were together for 5 years before we engaged, you could say we took our time but we definitely knew it was what we wanted once we got there.
The proposal
We are lucky enough to live in the Peaks so Rob asked me to meet him on the hill that overlooks our Village one day after work. It was just after my Birthday so he made out like he had another birthday present for me, he handed me a wrapped present which was a bar of my favourite chocolate and when I opened it the ring fell out.
The venue
It is a beautiful rural location, and obviously special to me as it was where I grew up and Rob loved it too. When we decided to get married we knew that we would not find anywhere else that would mean as much as a location.
It added a few extra headaches to the planning, being down a mile long single track road, with limited passing places and the building being used for the venue starting out as a cattle shed. When it all came together, though, it was totally worth it.
How did you choose your photographer?
I actually found him through the Boho Blog which at the time was a great relief as I was starting to get a bit stressed about finding a photographer. I really wanted someone who would capture the whole day for me from start to finish, but we were on a very tight budget and I simply could not find a photographer who would do the whole day for a price we could afford. I had read your blog about how to try and save money and still find a photographer and tried lots of the things you suggested but was having no luck.
Then I spotted Dan on Boho, he had a special offer on and because our wedding was a bit different was willing to travel all the way to Aberdeenshire too. His style was great and all about capturing the special moments and the way he worked was to spend the whole day and capture everything. His pricing was really reasonable anyway but with the special offer it brought him into our price range, hooray! He was amazing and worked so hard all day to really capture everything, which I so appreciate.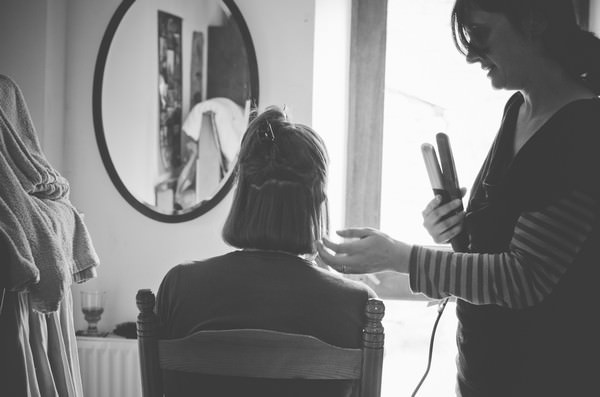 The Dress
My Dress is an Ian Stuart, but I actually got it second hand on eBay and then got it adjusted. It was one of those fateful things I think. I had gone round a few Wedding dress shops to try on dresses and see what I liked. I but knew I probably would not be able to afford them, but I figured if I worked out the style I wanted I could get something made.
I tried on the exact same Ian Stuart Dress in one of the shops and fell in Love with it, but there was no way I could have justified the cost. So as a bit of a thrifty fish and a fan of recycling too I had started looking for patterns and dress makers. I was actually searching on eBay for second hand dresses I could buy for their material, when the Dress I loved popped up. It was slightly outside my price range, but only just, so I went for it.
I pretty much got all my accessories on e-bay too, shoes, umbrella, the flower for my hair and birdcage veil. The only thing that I did not was my pearl necklace that belonged to my Gran.
I had 3 pairs of Shoes, my red and white spot Firetrap heels for looking ladylike in, my red and white spotty Wellies (well it was a farm wedding) and my dancing shoes- Ethletic (like a eco version of Converse) trainers tied with mismatched ribbon.
The bridesmaids
I had one Matron of Honour and one Flower Girl (and two best ladies who were very much involved, but did not have to do the whole being dressed up thing). My MOH wore a fun 50's style kind of dress that again I found on e-bay, which we matched with a fantastic custom made petticoat from Honey Pie Boutique. My Flower Girl wore a really pretty dress that her very talented Mother (the MOH) made for her. She also made a matching ring cushion which my Flower girl carried in with the rings tied on to it for us.
Theme
We started out with a red and white colour theme as it fitted with Rob being a fan of Gloucester Rugby Club. Then we added Dark Green to the mix as I wanted to work in the tartan from my Dad's Kilt too.
Food
We did the drinks reception bit ourselves. We got a Popcorn Machine and had popcorn and mini Mackie's Ice cream. I love Mackie's Ice cream and they are actually based just down the road from my parents, so it was perfect, as we were trying to source as much locally as possible.
A fantastic Local Lady, Jenny Durno, did the catering for our main meal. We had locally sourced Roast Beef, with Dauphinoise Potatoes or Mash and Vegetables and Skirlie (a local dish, a kind of oatmeal stuffing, which I love) followed by fresh local Strawberries and Cream.
Then for the evening food, we had a cakes table. Lots of our friends made and brought cakes, we had an amazing choice, and we also provided a yummy cheese and biscuit selection.
These we served alongside our fabulous wedding cake which my very talented cousin made for us. It was based on a children's book a called Giraffes Can't Dance, which was one of the first presents I ever bought Rob and had special meaning to us.
Entertainment
Being a Scottish wedding we had a Ceilidh, which was just fantastic fun. Then we played a few of our favourite cheesy tunes on our Music Box for the last 30 minutes.
Flowers
We did all our own flowers.
• My matron of honour and I made our Bouquets, from old discarded books we recycled, red card, pipe cleaners and buttons.
• The button holes I made myself out of buttons, material scraps and ribbons.
• The rest of the flowers, for decorating the venue, were all picked from those growing on the farm. We grew a few in the garden for the purpose but mostly they had not come to flower in time, so the majority were just the flowers growing wild on the farm. These we picked the day before and arranged in jam jars and bottles I had collected in the run up.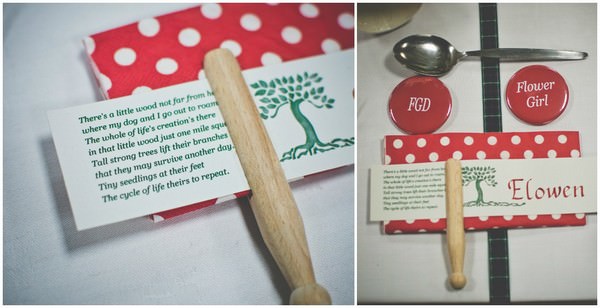 Decoration
Rustic, homemade and recycled is the probably the best way to describe it. We used what we found on the farm, like old tea chests and milk churns etc
We were quite lucky as we pretty much had a blank canvas. We came up at Easter and cleaned and painted the barn, so when we came up the week before we were able to take the time to turn it into the venue we wanted.
• We made the large tissue paper flowers that acted as ceiling decorations.
• Potted a sapling tree which we brought in, along with some other greenery.
• We used bird wall transfers to help create the centre piece, then I hung ribbons from one of our canoeing paddles as the backdrop.
• The Bunting and Spotty table clothes were borrowed from my MOH who made them for her wedding.
• We had candles in recycled jars with coloured tissue paper around the outside the ledges at edges of the barn.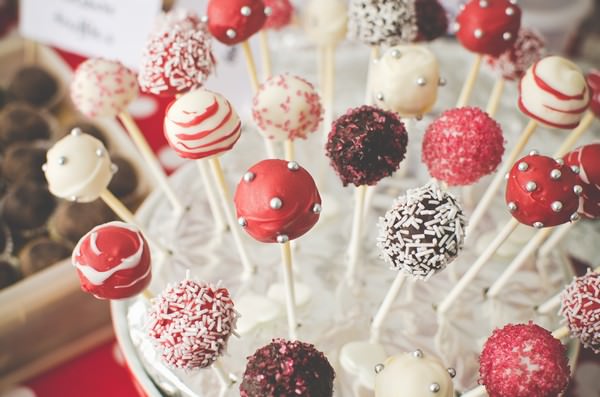 Personal touches
Pretty much everything was DIY, partly because we wanted to keep costs down, but also because it made everything so much more personal. For example I used buttons from a dress my Grandmother on my mother's side used to wear for the flower button holes I made for my Mum, MOH and Best Ladies as well as for the central button in my bouquet.
As well as all the bits already mentioned above some other bits include
• As favours we purchased a quarter acre of woodland through the woodland trust to be kept in trust. Then I made bookmarks for everyone with a little poem and explanation that doubled as place markers on the tables.
• As a bit of fun we had badges made for everyone involved in the wedding. Initially the plan was to have best men and groom badges made, as one of Robs best men (he had 2) was his Identical Twin Brother. Then we thought we would get them for the Ushers too, and pretty soon it grew so we had badges for everyone who had role.
• The guest all had escort cards which I made from luggage tags, they had a photo of them on and told them which table they were sat on. A homemade table plan helped them to find their table.
• Each row of tables was a river that Rob or I had paddled in our time in the canoe club and each table was a section or memory from the river with a photo. They all "flowed" down to the coast/Sea/Beach which was the top table.
• We made our own Programmes for the day too, and had a bit of fun with requesting our guest capture some fun photo's too. As well as introducing Ushers and end everyone involved in the day.
• The Flower petal confetti was made by Rob's Mum who collected flower petals for us all of the previous summer. Then we made the cones again from paper we recycled from discarded books.
• We decorated one wall with poster paper to make it like a river, and we had "best fishes" which people could write best wishes or words of wisdom of for the bride and groom and then peg in the river.
Special moments
This is a hard one the day was just so magical through out
• I think riding up to the barn on our old tractor was pretty cool.
• I loved that the friend who read giraffe's can't dance for us found a giraffe puppet to read it with.
• Having all the people most important to us there to share our day, seeing it all come together and work so well.
• Drinking form the Quaich (Scottish friendship cup)
• The dancing
• The food
• Taking timeout for Rob and I to get some pictures just the 2 of us.
• Getting ready with the girls.
• The way our amazing Master of Ceremonies, Ushers, Best Ladies and MOH and Best men took on all the organising and doing of things on the day for us, we asked a lot more of them that would be usual as it was such a DIY day but they did an amazing job.
It was all too special to pick really. If I had to pick one moment over any other it would be the answer to the surprise question below.
Advice
One of the best pieces of advice I was given was by my MOH, early on.
She said sit down with Rob and separately write a list of the 5 most important things for each of you for your wedding day. Then bring them together into a joint list. We did that, and it was brilliant to refer back to whenever you started to feel a bit lost or stressed in all the planning. It really helped remind us what was important and made sure we had the day we really wanted.
I would also say have faith in your vision, it will all come together in the end.
Then on the day, especially if you are having a massively DIY day like we did. Hand everything over to people you can trust to sort all the details, relax and enjoy, it will all be over so quickly, just make the most of it.
Biggest surprise
I have always wanted to marry a man in a kilt; I think men look truly dashing in kilts, but I got engaged to an Englishman who was not keen on the idea at all…
I tried to persuade him, after all my family are Scottish and he was marrying into that and we were getting married in Scotland so of course he could wear one.
But the more we talked about it he went from not keen to strongly determined he did not want to. Realising it was important he felt comfortable and enjoyed his day I let it drop and moved on, saying of course it was up to him to choose what he wanted to wear, after all I was not going to let him choose my outfit. Although I was secretly still a bit disappointed.
Little known to me though the sudden determination that he would not wear a kilt resulted from him deciding to surprise me with it, not deciding not to wear one.
I remained none the wiser till I was about half way down the aisle. I nearly lost all emotional composure when I really looked at him and realised he was wearing full Scottish gear. I had to take a moment to recover before I could keep going, but it was the best surprise… And he looked so great in it too.
His two best men were dressed in the Scottish kit too. And I felt slightly better that I had been completely taken in by the fact that he had not told his Twin brother (one of the best men) till he turned up to try the kit on that morning either.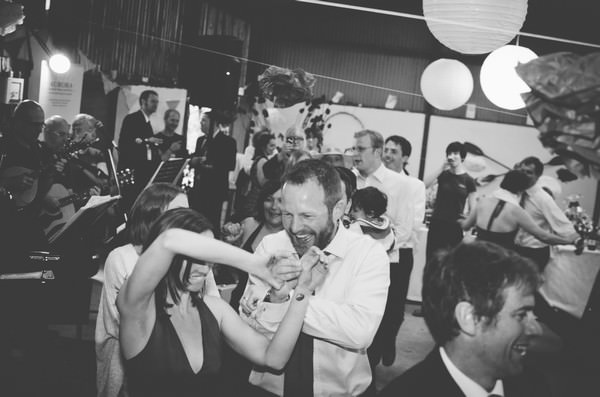 Supplier Shout Outs

For more information on Dan's work go to:
www.dhwphotography.co.uk
www.dhwphotography.co.uk/blog
FACEBOOK
TWITTER

♥  You can see more Real Weddings featured on the Boho Blog HERE  ♥

[jprel]