I LOVE todays wedding, it's a beautiful day full of so many gorgeous vintage details and two very handsome grooms! My favorite aspect of this wedding is that the two grooms shared the same suite, one wearing the trousers, while the other wore the jaket!……..how romantic is that! and I am loving the two great looks they both pulled off! The day oozes style and sophistication and I just love it! They describe their day as 'Country Gent meets English Tea Party.'
The handsome couple are Joseph and Daniel who held their civil partnership on 17th Feb, both the ceremony and reception was held at h at Holdsworth House, Halifax. They had 70 people for the wedding breakfast and 160 attended the night do. It has been sent into me Sophie and Alex from Alex Knight Photography
The Planning
We set a date in the August of 2011, leaving us 6 and a bit months to plan. But as Joe is an Event Manager and Daniel if a Project Manager planning a wedding came naturally. And with a little help from friends, and a lot of help from Joe's mum, on the whole this was a breeze! (ish)
How they met
There's nothing really remarkable about how we met. Daniel was out in Leeds having a drink on Christmas Eve and I was working behind the bar. We just got chatting and the rest is history….
The proposal
Daniel proposed to me on our one year anniversary at the Mal Maison Brasserie in Leeds, having asked my Mum and Dad for their permission.
Whenever we went for dinner to a nice restaurant Daniel would always have white roses and lilies waiting for me on the table, complete with soppy message.
On this particular evening, there were the flowers, but no message!
Later in the evening Daniel left the table to have a cigarette, but as he did said "Go on then, give me the card and I'll write it". So he wrote it and handed it over. I opened it to the words "Will you marry me?".
The Venue
As soon as we walked into Holdsworth House we knew it was perfect. The paneled walls and log fires made it just "grand" enough without being pretentious. The staff were also fantastic. It was evident that they really cared about our day and making it personal. Not just another wedding off the shelf.
Photographer
Alex and Sophie have done a lot of pro-bono work for the charity Joe works for, as well as couple of personal projects (including our pet portraits). Their work is always fantastic and we knew we could trust them to really capture the day perfectly…. And they did!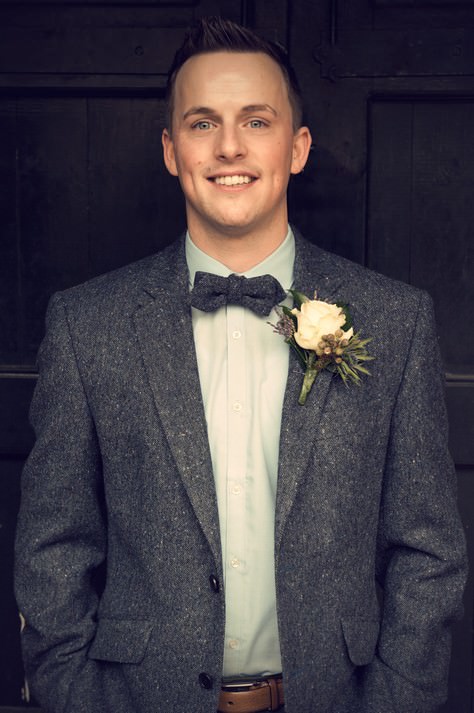 The Suits
We "shared" a bespoke Magee Tweed suit.
Daniel wore the jacket, with some green cords and I wore the tweed trousers and the waistcoat with a white shirts and no jacket.
We even ordered extra material to have a bow-tie made for Daniel and ties made for each of the groomsmen.
It was amazing to have a suit made exactly to measure, and being able to have our own choices of lining, melton and buttons made the outfit really personal.
Daniel wore the most amazing blue-suede pumps!
The Groomsmaides
We had 6 groomsmaids (3 each).
As the theme for the day was vintage, all the dresses were different – and we decided to let the groomsmaids choose their own dresses. Each one was assigned a colour to match the 6 colours of the chair covers – teal, royal blue, wine, olive, steel and claret.
To signify each of the girls as a groomsmaid we gave them a white rose and ivy corsage with a tea-cup charm to hang on the corsage.
Theme
The theme for the day was Country Gent meets English Tea Party. We didn't want any really bold colours, but more a mis-match theme of deep pastel shades that really accentuated the vintage surroundings.
Food
Our wedding breakfast was at the stunning Holdsworth House Hotel. As with the rest of the day we wanted a really relaxed country gent feel to the day.
This was reflected in our rustic menu of: Old spot pork rillet (a cross between a pate and a terine), Yorkshire lamb with anna potatoes and fine green beans, with scrummy sticky toffee udding for desert, finished by coffee and truffles.
We were REALLY pleased with our cake. It was a cheese cake, and not the sweet kind! We contacted Cheese and Chutney based in Saltaire, Bradford and Matt was fantastic at putting together a tower of cheeses that not only looked fantastic but tasted AMAZING!
Entertainment
We had a wonderful band fronted by the very very talented Karen Lake (jazz, swing stype music) – really romantic. Then a DJ to finish the night off (no 'cha cha slide' or 'oops up side your head' though)
Our first dance (sung by Karen) was Bewitched Bothered and Bewildered by Ella Fitzgerald. We chose the song for 3 reasons: 1 – when I told Joe I loved him in March 2008, I used the poem (that became the song) to express my feelings. 2 – When I proposed on the 24th December 2008 on our 1st anniversary, Bewitched Bothered and Bewildered were engraved on the inside of the engagement ring and 3rdly, one of our best friends read it as a reading during our ceremony.
Flowers
Our flowers were white roses, ivy, thistles and limonium and gave the day a real meadow –like feel.
Decoration
We used some vintage postcards and imagery to design our menu cards and other stationary. And each guest had a calligraphy luggage tag as a place setting.
We also bought three antique dressing screens to decorate the room, placing them in different locations throughout the day.
Our tables were laid with an individual vintage cup and saucer for each guest as their wedding favor with 5 sugared almonds in spotty cellophane placed inside (5 almonds, 1 each for Health, Wealth, Happiness, prosperity and Fertility). There was also a bottle of personalized beer called Vedette (4 different pictures of Joe and I).
The table centers were old books stacked with a vintage teapot planted with ivy on top and another vintage cup and saucer with made in to a candle. The menus were printed on the backs of old postcards with black and white pictures of very dashing gents on!
Personal touches
Our toasts were made using the vintage cups and saucers we had given our guests as favours. As the champagne was being served, two boxes of cigars were also handed round for guests to truly indulge after the speeches.
The seating plan itself was really original (if we do say so ourselves). Each table was named after a gin, which is our tipple of choice, then rather than writing each persons name out to display, we printed individual photos of the guests and suspended them on ribbon between the top and bottom on huge picture frame (with no glass and no back) – what a talking point it was (plus we got to embarrass a few friends with some great silly photos)
Special moments
The whole day was a memorable moment from start to finish, though I will never forget seeing Joe for the first time on our wedding day and thinking…. Phwor!
Planning Advice
* For 'Brides' – Plan –plan, plan, plan – don't underestimate the power of a list, spreadsheet, clipboard, diagram, meeting and agenda – the more you plan and detail, the less can go wrong.
* For 'Grooms' – Go with the flow!
* For keeping to a budget – again, plan, shop around and don't be afraid to negotiate – also don't be afraid to roll your sleves up and do bits yourself – its amazing what skills you can acquire if you have a clear vision for the day.
* "If we could do it all again, we'd…" do it exactly the same!
Supplier Shout Outs
Venue: www.holdsworthhouse.co.uk
Photography: www.alexknightphotography.com
Suit: (shared by Joseph & Daniel): bespoke by Magee
Hair Stylist: http://roryjamessalon.com
Cheese: www.cheeseandchutney.co.uk
Entertainment: http://karenlake.co.uk
For more information on Alex Knight Photography go to
www.alexknightphotography.com
www.alexknightphotography.com/blog
[email protected]
[email protected]
FACEBOOK
TWITTER