Today I'd like to introduce you to an amazing wedding supplier The Rainbow Club. The Rainbow Club are best known for their wedding shoes but they also have a great variety of veils, headpieces, bags, and children's bridesmaids shows. Their collections always seem to strike just the right balance between traditional designs and more quirky creations.
A bit more about them………
'The Rainbow Club have been designing, making and colouring handmade satin wedding shoes since the mid 1980s and we are now firmly established as the UK's leading and most inspirational producers. We have over 600 UK stockists and 55 Eire stockists who hold a wide range of products across our collections.'
'Each pair of your wedding shoes are handmade using only the best components, from our exclusive dyeable satins to our Swarovski buckles and embellishments. We also spend time ensuring that our shoes are comfortable, leaving you free to concentrate on your special day, or glamorous event.
Our passion and heritage for great design has inspired us to launch a range of exquisite handmade veils and headdresses, which we are so proud of. This collection has gone from strength to strength over the last two years and we are constantly working on them to ensure they live up to our high standard.'
So after having a little drool over their website, I thought I would put a post together showcasing my favourite pieces from their shoe and wedding accessories collections…..I hope you like what I have picked out for you……..
Rainbow Club are best known for their wedding shoes and with good reason! They have such a great selection so there truly is something in their collection for everyone! It's no wonder their shoes are so beautiful as lead designer, Diane Hassall learnt her trade from shoe god, Jimmy Choo!
Coral – A peep toe platform made our of the finest ivory silk. Beautifully finished with an oversized bow with a Swarovski crystalex centre. A very fashionable and feminine shoe.
♥ 'I have picked these my favorite as I think they add an extra touch of glamour to your wedding outfit! I love a bit of a platform in a shoe and the little diamonte detail is just gorgeous!'  
Cherish – These vintage inspired shoes are covered in embroidered organza and finished with a choice of velvet or organza ties. Definitely one of the showcase pieces from the Hassall collection.
Santi – Another perfect peep toe shoe with a slightly lower heel and a stylish cut out waist. They are finished with a pretty pleated detail and a vintage inspired diamante ring.
Rainbow Club have got a super stylish collection of headdresses for you to choose from for your big day. They have a great range of wedding tiaras, headbands and combs – we've picked one piece from each collection to share with you
Clary– The Clary is a simple yet stunning headband – a subtle way to add that wow factor to your wedding day. Made from silver and diamante – this is the perfect piece for adding some toned down glamour to your outfit.
♥ 'I Love this headpiece, it is simple and not to fussy but oozes vintage qualities, perfect for any 1920s inspired bride.'
Snowdrop– This beautiful corsage comb is an elegant way to dress up a veil but it also works as a single piece. This hair piece is finished with crystals and pearls, perfect for adding a bit of sparkle to your outfit.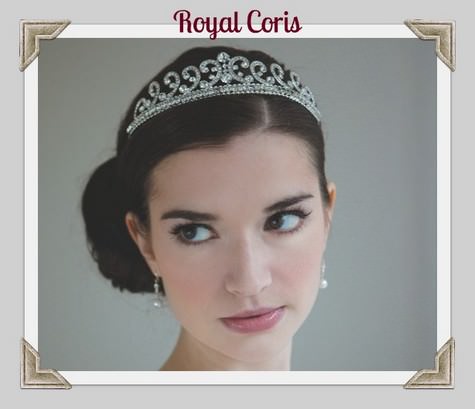 The Royal Coris – The Royal Coris tiara was inspired by the Royal Wedding and can make any bride feel like a princess. This regal headpiece is very stylish and is finished with the finest crystals.
Not many people know that Rainbow Club do the most amazing selection of handmade wedding veils Be prepared to be wowed by the great selection with both classic, vintage and quirky designs – you're sure to find something that suits your style!
Chinita – If you're looking for a veil that stands out from the crowd, then this vintage inspired face veil is for you, especially with the beautiful statement roses.
♥ 'I Love this veil, especially the Flower that comes with it! You would definitely get noticed in this veil and is perfect for any 1950s inspired bride!'
Elfin – A classic two tier bouffant veil which is absolutely adorable. It's made from classic ivory tulle, finished with a stunning hand beaded comb to add that extra bit of detail.
Sweetness – A feminine dotted veil made from ivory spotted tulle with a hand cut edge – right on trend at the moment. A great balance between classic and contemporary.
You don't want to be carrying around too much with you on your big day but these wedding handbags are the perfect place to store all those little essentials you want to keep to hand. All of the handbags made by Rainbow Club are as elegant and delicate as the rest of their accessories so you're in for a treat!
Pearl – An adorable rounded box bag with a detachable wrist strap which is just big enough for all your wedding day essentials. Also a great choice for bridesmaids and flower girls.
Mora – Drawing from the same inspirations as the Santi shoe, this beautiful clutch certainly catches your eye with it's pleated front and diamante detail. It also includes a concealed strap.
It's not just the bride who needs to worry about her footwear – you need to make sure your younger bridesmaids are suitably kitted out. But never fear, Rainbow Club also have a fabulous collection of girls bridesmaid shoes so even the smallest of feet are super stylish on your big day. They also have different sizes to cover kids from infants to teens which is very handy.
Jemima – These beautiful bar shoes are made of the finest white silk and look perfect on little feet. They are finished with a pleated bow effect across the toe which really completes the design.
Abigail – These are classic child's bar shoe with a beautiful Swarovski crystal buckle. They were actually worn at the Royal Wedding by the Kate's younger bridesmaids.
For more ideas and to see the full range of shoes, headdresses, veils, handbags and children's shoes go to
www.rainbowclub.co.uk
Facebook
@RainbowClubUK.
*This is a Sponsored Post*