In my many years of wedding planning I have worked with lots of wedding venues and todays wedding venue is one I have worked with a lot! Set in the gorgeous Derbyshire countryside Hargate Hall is a fabulous venue that offers self catering options, as well as an amazing hall, marquee and wonderful grounds. Sarah and Jon todays couple took full advantage of the halls facilities, utilising both the hall and the marquee with this stunning rainbow wedding. Hours upon hours were spent putting together the 4 stunning chandeliers made out of rainbow origami kites, they really set the marquee off. I just love them. Big thanks to Pixies in The Cellar for this lovely submission.
'A Colourful, bright, relaxed and summery fun feel with lots of personal touches. A fabulous day surrounded by our favourite people'
Sarah & Jon were married on the 14th June 2014 at the All Saints Church in Youlgreave, Derbyshire with the reception at Hargate Hall, Wormhill also in Derbyshire. 'It's in the beautiful Peak District National Park. Sarah used to live in Sheffield so used to visit the Peak District often and Jon grew up in Youlgreave village. We also had guests coming from the top and bottom of the country so the Peak District was the best location in terms of easing the distance for some people. We had 90 guests in total and it took 10 months to plan (but we did have a baby in between!)'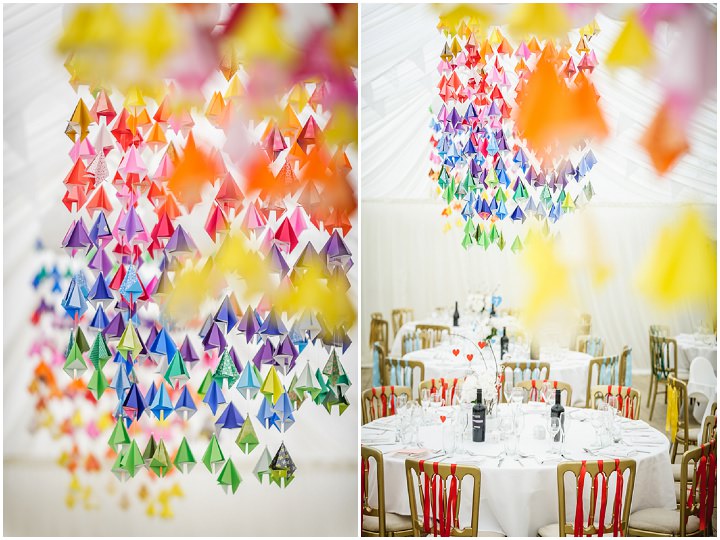 How they met
We met on a night out in Leeds in our favourite bar Sandinista, we'd been together 4 ½ years when we got married.
The proposal
We decided to go on our first skiing holiday together just before Christmas 2011. It also coincided with our two year anniversary. Jon had been talking about a romantic trip to Paris (Sarah didn't twig, d'uh!) but Sarah insisted on going to the mountains for some snow and skiing. The day before the anniversary, we had the ski slopes to ourselves but there was a break in the cloud and a beautiful view of the valley unfolded. Jon asked Sarah to get a present out of the rucksac – Sarah initially thought it was an anniversary present and was about to tell Jon he had got the wrong day but it turned out to be a little box with a "Mr and Mrs" card inside. Jon had actually been planning for weeks (very unusual for him!) and had been to see Sarah's family weeks before to let them know.
How did you allocate your budget?
We had savings and also had contributions from both sets of parents. We couldn't have done it without them. We did a lot of research into different options to try and avoid the costs escalating out of control, although we still spent a lot more than we originally intended.
Why did you choose your photographer?
They were recommended by the owners of Hargate Hall but when we checked out their website and portfolio we were really impressed by the quality of their images and the attention to the little details. We arranged a meeting with them and instantly liked them – we had travelled all the way up from Birmingham (where we live) to meet them and were greeted with comfy chairs, pastries and fresh coffee. We liked their relaxed attitude, flexibility and willingness to incorporate some specific photo requests.
The Dress
I only went dress shopping once, with two of my bridesmaids, and got some ideas about styles and what suited me… then I got pregnant and dress shopping obviously went out of the window! I was six months pregnant by the time we actually started planning the wedding properly and booked the church and venue. Our daughter was two months old by the time I was ready to start thinking about dresses again. By then time was starting to push on, it was now the end of January and we were getting married in the middle of June. As boutique dresses take several months to order and I was still changing shape every week after having my baby I decided to have the dress made by a company online and then altered by a local wedding dressmaker as this would be the quickest way to get a new dress in time. I found a designer to make a full-length ivory and lace trumpet-style dress with a bateau neckline. About a month before the wedding I realised that I might find dancing a bit of a struggle in my long dress so ordered a tealength dress with a 50s style skirt.
As for the accessories, I bought my hair clip from a boutique at the National Wedding Show at the NEC and ordered my shoes from Rachel Simpson. I borrowed the veil from my sister (my "something borrowed"!) and wore an antique pearl bracelet that my Godmother had given me a few years before (my "something old"). I wore my sapphire engagement ring on my right hand (my "Something blue")
The Suit and bridesmaids
We hired the suits for Jon, our Dads, the bestmen and my nephew (pageboy) from Moss Bros. We chose a dark blue suit with ivory waistcoats. The bestmen and Ushers all wore a different colour silk tie and pocket handkerchief. Jon wore an ivory tie.My six bridesmaids and flowergirls each wore a different colour dress in a fun halterneck, 50s style with full circle skirt. I ordered them from a dressmaker on Etsy.
The theme and colour scheme
We couldn't pick a theme based on one colour… so decided to go for a cheerful, bright, multi-coloured rainbow theme with lots of our favourite colours on a background of white.
Flowers
There are so many flowers I like I wanted a mixture! I also wanted each bridesmaid to have a different colour bouquet to tie in with each different colour dress. My own bouquet was a mixture of all the different colours but featured a lot of fragrant colourful freesias and white lily-of-the-valley (to remind me of my Grandmothers). Jon and the boys all had white freesia buttonholes and Jon's also had some lily-of-the-valley. We wanted some bigger flowers on the dinner tables and opted for some statement white hydrangeas interspersed with twigs-in-bud and decorated with birch wood hearts which we painted ourselves – a different colour for each table. We had a huge amount of help from talented friends to put all the table flower arrangements together.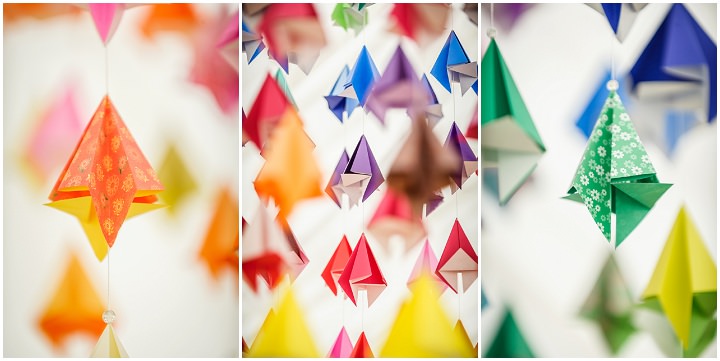 Decoration
In the church we had two floral displays with lots of colour and on the end of each pew we hung wooden hearts that we painted white and strung with white ribbon. In the marquee we had white fabric bunting that I handmade and four origami "chandeliers" that we hung from the roof – these were made with lots of tiny origami kites all in different colours. The chandeliers were a real labour of love but they were show-stopping and looked amazing on the day and were worth all the considerable effort. Jon and I spent several evenings stringing all the origami kites together so that we could thread them onto plastic hula hoops that we had painted white. In the house we hung strings of colourful tissue paper pompoms. I had made some in advance but we were really running out of time to finish them and our brilliant family and friends leant a much-needed hand to get everything finished the day and evening before the big day.
Food and wedding cake
I love a good afternoon tea so we decided to have an afternoon tea with lots of cake, scones and sandwiches washed down with summery Pimms for guests to tuck into back at the marquee after the church. The cakes were all donated by family and friends. Luckily we had a warm, sunny afternoon so people could sit on picnic blankets in the garden. We also both love a barbecue so that was our inspiration for the evening dinner and was absolutely delicious with sausages, chicken, tuna, steaks with lots of salads, bean cassoulet, coleslaw and fresh bread rolls. For dessert we had a choice of Bakewell pudding and an orange terrine.
Jon's sister-in-law is a really good baker and made three delicious cakes, including our favourite chocolate and carrot cakes.
Entertainment
We wanted as many people to get stuck in with dancing so had a barndance/celidh band in the house which was brilliant fun. After that we had a disco to keep us going into the night.
Handmade or personal touches
Most things had the personal touch from the invites to thank you letters and everything in between.
All the decorations were handmade. The tables for the afternoon tea were decorated by branches in bud with lots of handpainted hearts hung on them and photographs of Jon and Sarah growing up pegged on with white and colour heart-shaped pegs.
We also had a fingerprint tree which was drawn and painted by my talented aunty as well as a white wedding postbox where guests could post their cards.
Sarah made a Mr and Mrs scarecrow bride and groom cake topper to fit in with the Mr and Mrs scarecrows we had made for our wedding invites.
We also painted a second-hand wheelbarrow white to fill with ice and keep the fizz chilled. Jon's mum bought some big white flower planters and filled them with lots of colourful flowers which we put outside the marquee.
At the church after the service our flowergirls handed out handmade confetti cones made the night before filled with biodegradable colourful confetti and miniature soap bubbles.
We designed the table flower arrangements a few days before the wedding and had a lot of help putting them together the day before.
All the place settings were wooden hearts that we painted white handwritten with everyone's names in gold.
The seating plan was a second-hand large white frame which we strung with white thread and pegged our table plans onto with heart-shaped pegs. We designed it ourselves and printed the table plans onto white linen-effect paper. We ended up borrowing a blackboard from the venue owners to use as a backdrop.
We did most of the decorating the day before and were truly grateful for all the help from our family and close friends helping us to get everything finished – we couldn't have done it without them and we loved spending time with them the day before.
Special moments or highlights from the day
We only had three hours sleep the night before as our baby had a bad night but after we had coffee the whole day was amazing and every moment was special. We got through on adrenaline, excitement and fun! One highlight was surprising everyone with our first dance which we had a lesson for and practiced a little routine for (to One Day Like This by Elbow). We had great time and our mums were both stunned! (Mainly because neither of us are known to have any dancing skill at all).
Advice for other couples
If you are DIYing it, try to do as much as possible in advance – we ran out of time and only got everything finished because we were lucky to have so many generous people willing to get stuck in and help. It turned out to be a great way of getting different people to know each other though and was a lot of fun having lots of people with us the day before. Ebay and local markets are useful places to get DIY/craft supplies.
Biggest Surprise
Jon's speech – he kept telling me he would just do a few thank-yous but pulled it out of the bag with a warm, funny speech with a few stories about us too. I was really impressed!
Supplier Shout Outs
For more information on Peter & Sara's work at Pixies in the Cellar go to:
Pixies in the Cellar.co.uk
Pixies in the Cellar.co.uk/blog
Facebook
Twitter
[email protected]
0161 338 6442 or 07929 712073
Peter and Sara, husband and wife team, casting an artistic eye over your big day! From epic sweeping landscapes, sleek urban cityscapes, quirky rustic details, bright colourful days or full on opulent class, we love the all the variety and personalities along the way. Based, in our cellars (more spiders than wine!) within Greater Manchester, but travelling throughout the UK, with even a hop across to France this year – wherever we'd love to shoot your wedding.