This weeks Featured Supplier is the fantastic Bunting Queen.
I came across this great company when i was trying to find ways to decorate the Civil partnership tent at Sheffield pride. I specifically wanted pink bunting to fit in with the colour scheme, but couldn't for the life of me find any at the right price for the large quantities I wanted. Most companies were either selling large amounts of plastic bunting, or small amounts of handmade bunting at about £15 a meter. Luckily by the power of twitter and facebook I was recommend Bunting Queen!
Bunting Queen, not only sell bunting but hire it out, so if you are looking for a large quantity, as I was it, won't cost you the earth!
They have a wide variety of bunting in stock that you can choose from to buy, or you can choose from many of their designs to hire or buy………the choices are endless, with different colours, patterns and 3 different flag sizes!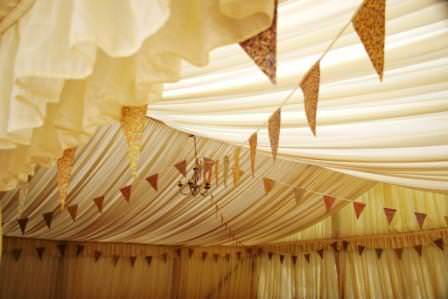 Bunting Queen say 'We are willing to create designs that suit the venue, colour scheme and event theme – not just for the summer, we will be offering themed runs for Christmas and introducing warm winter colours.'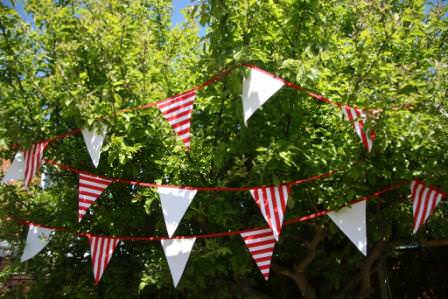 Bunting is perfect for lots of settings including providing marquees with colour to an otherwise plain ceiling backdrop, giving outdoor venues movement and colour, a perfect mobile finishing touch for weddings abroad, or perfect for children's parties or keep sakes.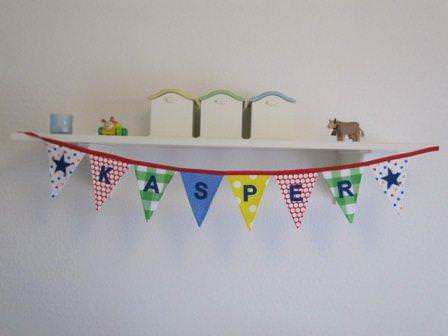 Of course I LOVE this bunting for all differnt sorts of weddings, it dosn't have to be a vinatge inspired wedding it can fit many colour schems and many theams. And it dosn't have to just be for a marquee, it can fit into many veneus inside and out!
Bunting queen says 'In addition, we can tie into themed weddings, for example we created blue and white stars and red and white stripes bunting runs for a couple returning from their New York wedding.'
Here's what Bunting Queen say about themselves?
We are a friendly family run business who have been designing, creating and selling bunting and other handmade fabric products since 2005. We love finding pretty, funky and stylish materials and making them into much loved products for use in our homes, gardens and parties.
Bunting is a happy product, a symbol of celebrations and great days! We know bunting can look great as a home decoration throughout the home, in rooms including bedrooms, kitchens and conservatories. We also know that bunting adds a fabulous fun factor to the garden, children's dens, trampolines, and tents for the great outdoors. We offer a wide variety of fabric choice for your bunting, ranging from pretty shabby chic floral prints to funky canvas stripes to fast and furious racing cars!
Celebration venues often warrant large amounts of bunting being used as a perfect decoration, so why not hire the required length of your chosen design for the happy day, then send it back to us. Enjoy the benefits of handmade, not mass produced, quality bunting in appropriate quantities at affordable prices
The bunting starts at £1.50 per meter to hire stock items and £2.00 a meter to hire for the Bespoke or personalised bunting. So absolutely perfect if you have a large area to cover…………and so much quicker than trying to make it yourself!
I am please to say that that I am now a bunting queen agent (which isn't the reason for this post…I really do LOVE this stuff) So let me know if you are interested in hiring in any for your wedding or event and I can help you with all your requirements. Contact me at: [email protected] 07989431821 / 0114 2854532
For more information and on Bunting Queens work and to see loads more pictures go to:
www.buntingqueen.co.uk
email: [email protected] or call: 0788 219 0040