Today I have something different for you a Save the Date Photo Shoot………………..and a Video! 2 for the price of one! Both are courtesy of Beautiful Life A husband and wife team, who specialise in wedding videos as well as wedding photography.
Shaun says about the video 'Once upon a time a couple would get engaged and send out nice cards to friends and Family to announce they were getting hitched. But Matt and Megan decided to do it a little bit different than the norm. Something that would reflect their characters and personalities and really grab the attention of their guests. So early this morning they arrived with pots of paint, canvas sheets and plenty of energy!!! We set out to a remote field to film and Photograph their 'Save the Date' Video.
We had a fantastic time, the weather was perfect and Matt and Megan were fab to work with. It's difficult to film when your laughing so much behind the camera but we got some great shots. Here is the finished 'Save the Date' Video.

'
I really love this idea…….better than sending out a few bits of card! I love the fact that couples these days are getting more and more creative with their ideas, they really are dictating to us the wedding suppliers the way the industry is moving……and any move away from the traditional and into anything different is fine with me!
As well as the finished Video, Shaun sent me the photos from the shoot…………enjoy!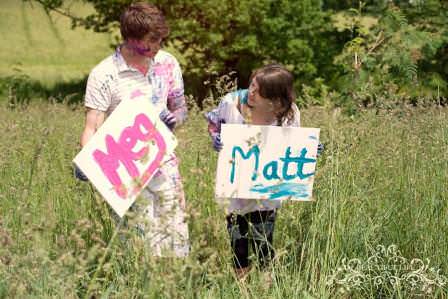 A massive thanks to Shaun for sending in these great pictures and Video, save the date photo shoots I'm sure will become a really big thing!……so watch this space for more wonderful ideas!
For information on Beautifull Life go to:
www.beautifullifeuk.com
www.beautifullifeuk/blog
Email: [email protected]
Telephone: 01509 505438 or Mobile: 07590 549180