Today I am pleased to introduce you to another new DIY contributor Anne-Marie from Posy Rosy . Anne-Marie in her words 'Makes Beautiful Things for Special Occasions' so is an expert when it comes to all things DIY.
Today Anne-Marie is showing us how to put together some cute cake bunting for the top of your wedding cake, it can be simply put together with a few off cuts of fabric, so is cheep to do as well as pretty.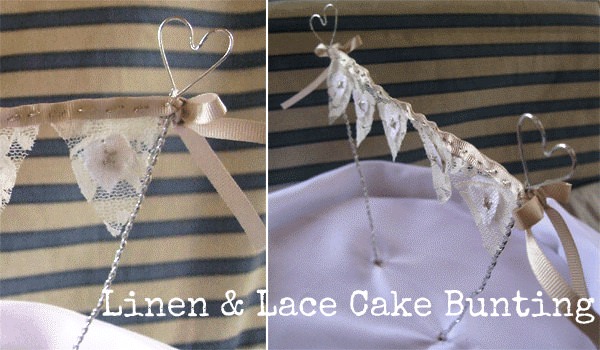 Here's Anne-Marie to tell us a bit more about herself……….
'I'm a Yorkshire lass and divide my time between Leeds and Girona, just north of Barcelona in Northern Spain.
 I make bespoke handcrafted heirloom bouquets and wedding accessories using vintage and new luxury fabrics, Swarovski crystal, vintage buttons and jewellery which I source in England, France and Spain. Each petal and leaf are entirely handcrafted I don't use bought silk flowers.  All my designs are original and created to meet my brides wedding style and colour palette.
I also publish a weekly blog  on the website on colour, design, wedding style and feature regular DIY's. Researching for the blog keeps my own design up to date and I hope gives inspiration to couples planning their wedding.'
STEP 1) Bend florist wire in half and using your finger as a guide bend to form a heart shape, cross over at the base and twist. Continue twisting along the length of the wire.  Repeat to create two props for your bunting.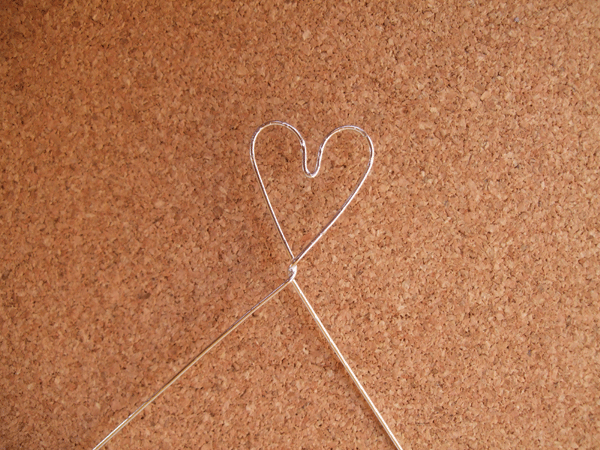 STEP 2)   Cut out five triangles of lace approximately 2.5cm along the top edge.  Next cut out smaller triangles of linen, round the top corners, fold in half and snip out a triangle to form a heart.  Cut out ten of the linen hearts.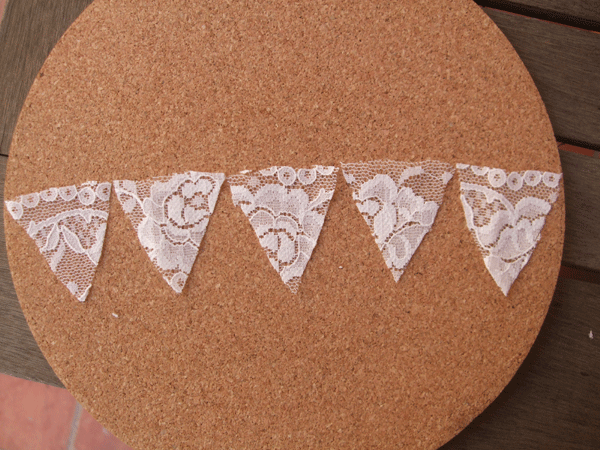 STEP 3) Using embroidery thread attach a linen heart to one side of the lace bunting flag using a cross stich. Tie off the thread on the reverse.
Stitch a cross stitch on another linen heart and tie off on the reverse of the heart.
Put a dot of fabric glue on the back of the small linen heart and press firmly to the reverse side of the bunting flag to cover the tied off embroidery thread.
Leave the ends sticking out and trim off when the glue is dry.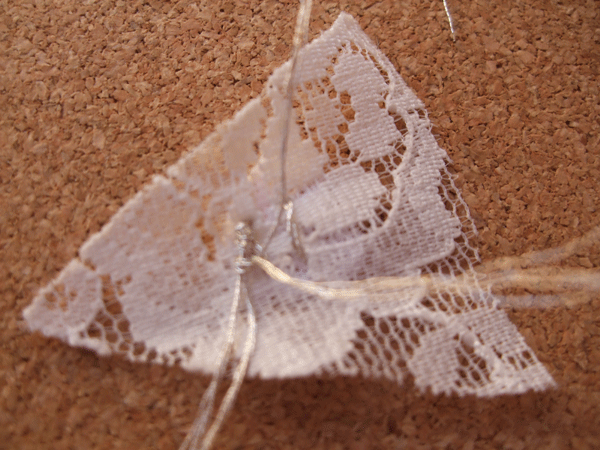 STEP 4)   Sandwich bunting flags between two strips of narrow ribbon leaving a good 25cm of ribbon at either end for tying to the props.  Using embroidery thread and a running stitch sew all three layers together. You may find it easier to pin the layers together so they don't slip as you are stitching.
STEP 5)  Tie the ribbon firmly under the silver hearts of the side props and finish with a bow.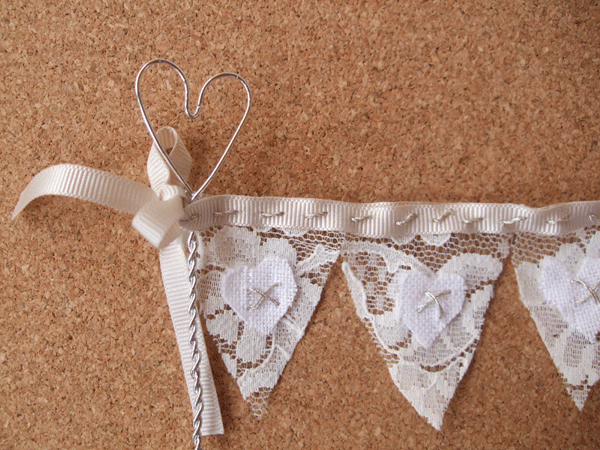 Thanks so much to Anne-Marie for this fab tutorial, remember fif you do decided to make any of the tutorials  featured on the blog do let me know how you get on, better still if you take any photos do send some in for me to see.
You can read more about what Anne-Marie gets up to here:
www.posyrosy.com
FACEBOOK
TWITTER
Due to an email issue if you have emailed me between the 2nd & 9th of December, please resend it.
X