For many years Bride and grooms have used the Traditional guest book to capture the memories and good wishes from their guests. They do this in many ways, signing a book, tacking a Polaroid and sticking along side a message, signing a picture mount for the bride or groom to hang up in their house after the wedding, having a guest book made by their photographer using the photos from the engagement shoot. One increasingly popular method is now the Wedding Wish Tree.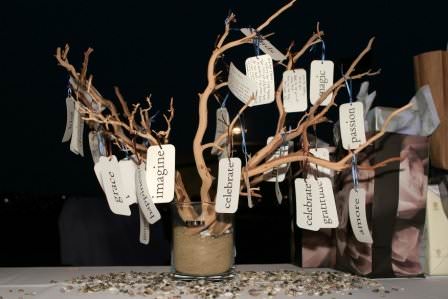 image from www.weddingbee.com

The wish tree is originally a Dutch wedding tradition. Each guest is given a piece of card, or a notlet to write a message on for the bride and groom and then hang it from a small replica of an oak tree. As the messages get written so the tree fills up warm wishes.
tree from paperbird design

The tree creates a beautiful and imaginative centre piece and can be placed anywhere around the reception area. After the wedding the wishes can be taken off the tree and kept in a keep sake box. The tree itself can be used as decoration or an ornament.
image from www.bridalbuds.com

The tree can also double up as an escort card holder, or as a more English traditional table plan, instead of just using a mounting board.
image from http://signaturek.wordpress.com

As well as being more imaginative, Wish Trees are perfect for the DIY bride. Very simple to make and can tie into any theme. Think spraying branches with silver or white paint, bedding down in a large jar of coloured sand, or bed or flowers and using ribbon, crystals or beads to decorate. Then collect co-ordinating card to tie your guests wishes to create the perfect memento.
image from http://3v07.blogspot.com/2009/09/keep-your-wedding-wishes-here.html

I really love these trees, and think they are a fabulous idea to incorporate into any wedding! So go get creative and see what you can come up with! and if your not the creative sort, hire or buy one instead!
image from www.herecomestheguide.com/blog

[jprel]