Most people these days have a guest book at their wedding, it's a way of your guests writing you a short note that you can look back on in years to come, a memento from your day. The guest book from my own wedding is the only thing my Husband has actually looked at since we got married, he has refused point blank to watch the wedding DVD, and he wouldn't even look at our wedding photos on our 1st wedding anniversary! So it goes to show that the Guest book can be an important addition to the day itself and the memories afterwards.
However along with many long standing wedding traditions, the normal guest book that guests just sign and pass round the room are dying a death. Couples are now looking for new and more interesting ways to get their guests to leave a memento.
I often get asked by my couples to give them ideas, so I have put together a few ideas to inspire you.
The Typewriter
Here your guests get the chance to type out messages on preselected cards or letter paper, which can then be stored in which ever way you choose. The Typewriting table can be a real feature at the wedding and at least you know you are going to be able to read your guests handwriting.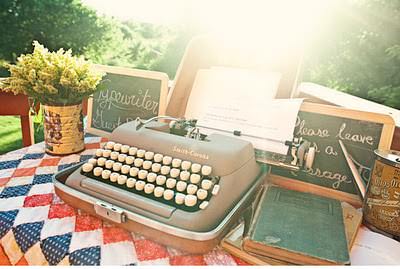 image from bluelilyevents.blogspot.com
image from www.fineandfunkyevents.com

 

The Jigsaw
There are quite a few companies out there now that will make you wooden jigsaw puzzles that your guests can sign. Each guest has one piece of the puzzle to sign each and it's your job as the couple to then put the whole thing together.
image from www.bellapuzzles.com/

Place names
Why not try and double up your guests place names with your guest book idea, by getting them to write a message on the reverse of their place name? you get to keep each place name in a lovely memory box.
idea and photo from www.abespokedesign.co.uk

Guest Book Boxes
Perfect for the organised bride. Here your guests get to write you a message on a pre designed card, and then file them in the box provided. The box can be decorated with your own theme as in the one below (old Hollywood glamour with written quotes from classic Hollywood movies on the cards)  or made to look beautiful with decorative filing and storage systems.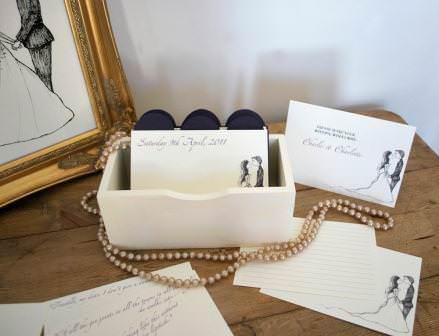 design from http://inkyeverafter.com
image from www.brendasweddingblog.com

Wish Notes
Guests are invited to the make a wish table, where they write a wish on a small piece of paper put it into an envelop which is then popped into a glass container. These wishes can then be opened at the couples own convenience and stored away in the glass jar, or in a memory box. It may be a nice idea to open a wish a day, or store them all up until the first wedding anniversary and open then all then.
image found on hitched forum

Mounting boards, plates and vases (or anything else that can be signed)
One of the more traditional and quite widelyused guest book ideas is the signed mounting board. Often couples will have a pre wedding shoot before the wedding and the photographer will add in a signing board for the couple using a picture from the shoot (this can then be replaced after the wedding with a wedding photo) guests are invited to sign around the picture.
Another idea is for a personalised plate to be signed or even a vase.
image from www.billchandphotography.com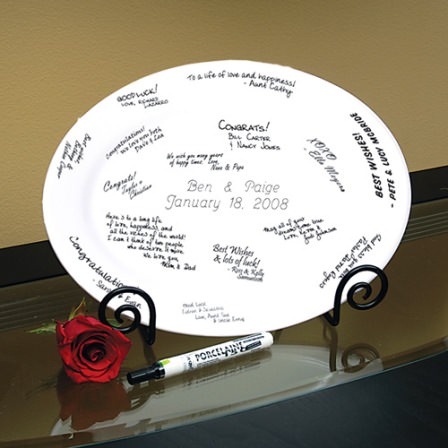 image from www.ezresearch.com
image from www.weddingbycolor.com

The Guest Book table
Why not make a real feature of the guest book and tie it in with the theme of your wedding. The picture below shows an example of how a couple have made the guest book into a whole area at their wedding, providing different sorts of paper and pens along with props and old family wedding photos.
image from www.slatersparke.com/blog

Wish Trees
Wish trees are becoming more and more popular, many of my brides are having these (I'm even making a few of them myself) they can be as simple or as decorative as you wish. the idea is for your guests to write a message (wish) on a small piece of card or paper and then tie it to a decorative tree with pretty ribbon. You then keep the wishes and store them in a memory box.
available to buy at www.paperbirddesign.co.uk
image from signaturek.wordpress.com

The Suitcase
Perfect for vintage weddings, or travel themed wedding. Guests are given a postcard to write on and then left to pop it in the suitcase. Looks great for any wedding and make a real feature out of the guest book.
image from www.ruffledblog.com
image from the hithced forum

Pebbles
Yes that's right pebbles. These pebbles are written on by the guests and then kept for years by the couple. They can be stored in a glass vase, or immersed in water.
image from www.mysanfranciscobudgetwedding.wordpress.com
image from www.mysanfranciscobudgetwedding.wordpress.com

Photographers Picture Book (with added questions for the guests)
Many photographers will offer a guest book in with the price of the engagement shoot. This guest book can be filled with the pictures from the pre wedding shoot, left with spaces for the guests to write in, always a lovely keep sake. One idea that goes one step further is from mckinley rodgers photography where the book offers questions for the guests to answer about the couple 'We love the idea of having questions (which can be totally personalised) for the guests to answer, as some people can be stuck for what to write.'
www.mckinley-rodgers.com
www.mckinley-rodgers.com

Fingerprint Tree
Kind of a take on the wish tree but this time each guest makes their mark with their finger print, which they then sign. You can get as artistic as you want.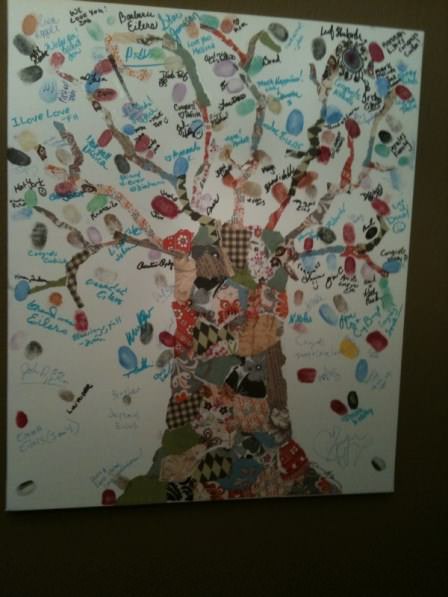 image from www.mareeyah.com/blog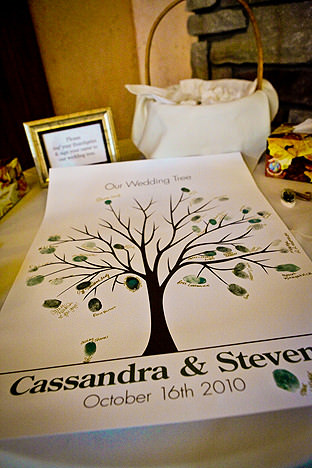 image from www.lucydylanweddings.com

The washing line
This is one of favourite ideas and one that a lovely bride of mine used last year. The idea is to either take pictures of your guests and pin them up for all to see (later to be stuck into a guest book) or get them to write messages on coloured paper or card which is then pegged up for all to see. Both options create a lovely focal point as the messages or pictures start building up throughout the day.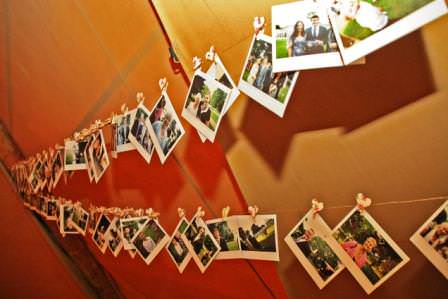 from one of my own weddings (photo credit lisa devlin photography)
image from www.bluelilyevents.blogspot.com
image from www.thenaturalweddingcompany.wordpress.com

So there you go, I hope you like my selection. Do leave a comment to tell me which is your favorite, or if you have used or are planning to use any of these ideas in your own wedding.
Kelly xxx