So it's the start of the Easter Holidays and a very happy Good Friday to you all! So how many of you are on holiday and how many of you are working today? Nik is off on a stag Do this weekend he has jetted off to Latvia, so I have the house to myself to work in peace!
But onto todays wedding, it was actually sent into me by the Dress designer not the photographer as it normally is, so big thanks to Kpoene' Kofi-Bruce the gown designer for Mignonette Bridal in Chicago!
It's the wedding of Melissa and Larry who tied the knot in San Francisco's Golden Gate Park, and what a beautiful venue it is! married by one of their friends (this makes me so jealous that we can't do this in the  UK) the wedding is a wonderful celebration, which included 50 of their  closest friends and family for the outdoor ceremony and  speakeasy-inspired cocktail reception. The whole day is full of charm, style and of course a whole load of love.
Kpoene' Kofi-Bruce the dress designer tells us a bit more about the day, while Melissa tells us all about the suppliers and her DIY details.
Theme and Venue
Melissa and Larry moved from Brooklyn in 2008 for work (she in education, he in computers). Melissa and Larry are adventurous intellectuals who love to travel, and they wanted their wedding to be an inclusive celebration, reflecting who they are as a couple and honoring the love they have for their wonderful friends and family. Wanting to keep the focus on having a fabulous party, they opted for an outdoor ceremony in San Francisco's enchanting Golden Gate Park with a speakeasy-inspired cocktail reception afterwards for about 50 family and friends at Bacar Restaurant.
The Ceremony
Guests arrived from all over the country to enjoy the lighthearted ceremony performed by a friend of the couple's, and to appreciate all of the personal touches that went into making the day perfect.
Details
Melissa handmade the bridesmaid's favors herself as gifts for each attendant. She also kept costs low by taking an early-morning trip to San Francisco's Wholesale Flower Market with her mother and sister to purchase blooms, and then arranging the flowers for her bouquet, boutonnières, and the tablescapes herself. Printed signs and balloons directed guests to the ceremony venue, a delightfully cozy public garden in the park filled with herbs and flowers from Shakespeare's plays and sonnets.
Reception
At the reception, guests descended Bacar's dramatic grand staircase for photographs. The escort table directed guests to their seats with a display of vintage family wedding portraits, and each guest went home with an individual painting commissioned by the couple from Brooklyn artist Steve Keene. Rather than having a cake, Melissa had cupcakes from Pinkies Bakery specially made in their favorite flavors, and commissioned a custom cake topper in the shape of the couple's two cats to grace the scene. Guests toasted the couple with a signature cocktail and danced the night away.
The Dress
For her gown, Melissa wanted to reference the feel of Mad Men's Joan, the sexy secretary known for her amazing style and voluptuous figure. We also wanted to try and incorporate some elements from her grandmother's veil into the gown. Because we were doing such a structured gown, we decided on a candlelight silk dupioni with a cotton cady lining, and to emphasize the bride's figure we added small pleats around the neckline of the crossover bodice, and deeper pleats on the skirt. Melissa isn't a fan of ruffles and bows, so we decided on an obi-style closure for her sash, giving it a romantic touch with wired resin flowers from her grandmother's veil.
The accessories
Melissa, a talented crafter, teamed the gown with a cage veil and fascinator that she made herself, plus earrings from Sulu Design, a friend's Etsy shop. She gave her attendants earrings and fascinators from Sulu Design as well. As a final touch, she wore a bracelet made from the remaining flowers on her grandmother's veil.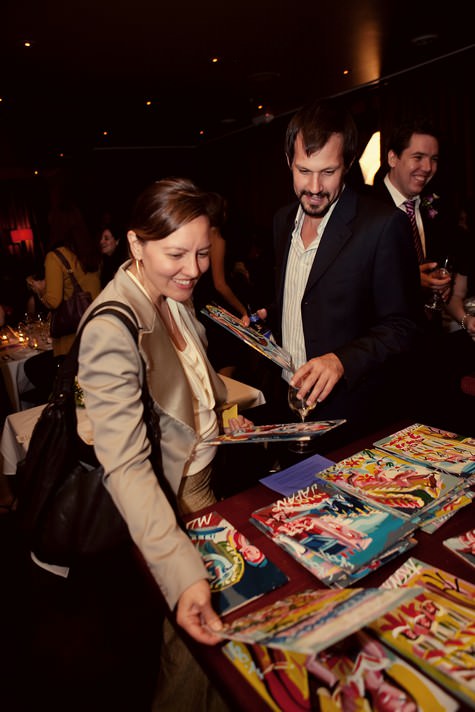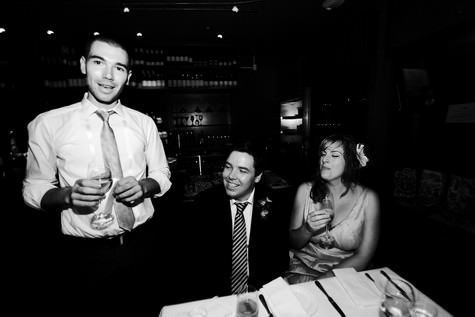 The entire effect was thoroughly modern, beautiful, and unique, just like the bride herself! Hearty congratulations to them both!
Supplier Shout Outs