Today's wedding is super stylish and super fun and features a donkey! Now I LOVE donkeys, they are arguably my favourite animals, so when this wedding was submitted to me by Julia Franzosa Photography I just knew I had to share it with you. Joelle and Henry always knew that wanted to hold their wedding in Mexico, they wanted a destination wedding where they could celebrate for the whole week instead of just the day. They filled their day with lots of Mexican influences and the results are a stunning ceremony and reception area, with amazing blooms, lots of festoon lighting and the cutest sweetheart table. The escort card wall made up of maracas is probably my favourite feature though, how cute! But not as cute as the donkey obviously.
Can we do it all over again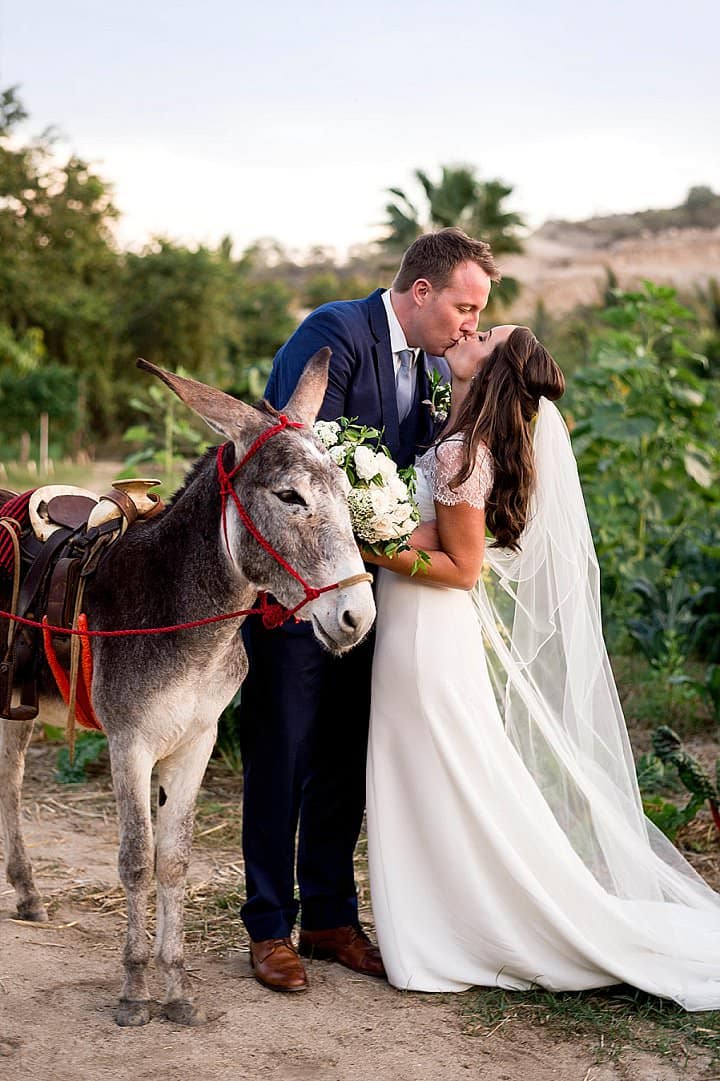 Joelle and Henry were married on 17th February 2018 at Flora Farms; San Jose Del Cabo, Mexico (In their mango grove!) 'When Henry and I decided to have a destination wedding – far away from the winter snow– we knew it had to San Jose Del Cabo, Mexico. When else could we gather all our family and friends from across the United States, vacation in the sun for more than a day? We wanted to have more time to celebrate and enjoy than just the day of our wedding! Call us selfish. We had 130 guests.'
How they met 
Henry and I met ten years before our first date. Freshman year at St. Mary's College of California far from my home in Chicago and his home in Montana. We don't remember meeting but over the next ten years our paths undoubtedly crossed multiple times, having mutual friends at a small college, spending a full semester working across the hall from each other at different internships, and living it up in San Francisco after college. We even moved to Chicago the same month in 2013.
We finally noticed each other over the most romantic weekend of the year in Chicago-–Saint Patrick's Day Weekend. The timing was perfect because two years to the day later, we were engaged!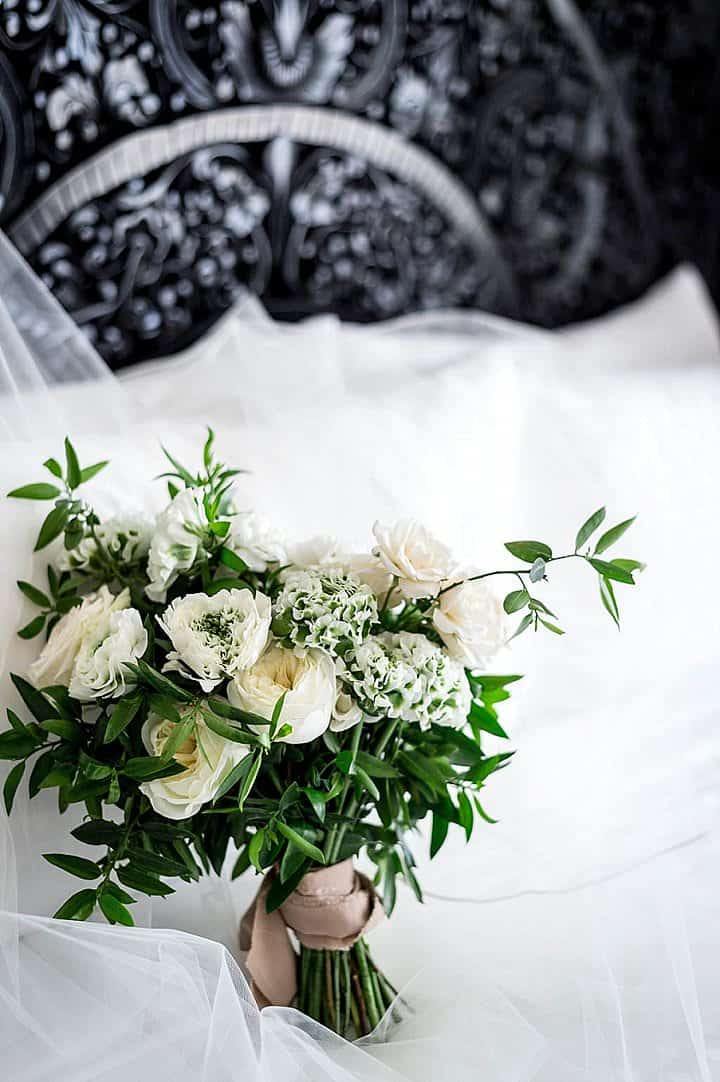 The proposal
On a cold Friday evening the night before St. Patrick's Day (two years after we both caught each other's eye) Henry insisted that we have dinner in the suburbs near my parents because he was working late. Leaving for work that morning I had an inkling that maybe something was up so I brought my cute coat.
We walked to dinner, and Henry kept going to the bathroom and he was not paying attention to me! So I thought for sure – nothing is happening. No one is treating me special.
When the waiter asked if we wanted dessert Henry told them – no we are good. I pouted and thought when we get to my parents I'm going straight to bed.
As we walked towards my parents house I saw that in the windows it said "Will you Marry Me" in lights. Henry got down on one knee and started to recite a poem. He couldn't get through it because I was screaming and jumping up and down. My parents and brothers were hiding in the bushes and my mom started screaming too.
Where did you splurge of the day and where did you save?
When we decided we wanted to get married at Flora Farms- we knew that we wanted our family and friends to fall in love with it as much as we did. When planning the one thing we had debated on were the tables – there is cost savings round vs. farm tables. We went back and forth, crunched the numbers and at the end of the day we decided to go with what we wanted.
Vow to be Chic was a great option for our bridesmaids since they had to spend on travel and hotel. We used Black Tux for the grooms the grooms too which was affordable. I borrowed my veil and didn't splurge on accessories for the day of. We also debated doing a welcome party for our guests, but it was not in our budget. We were able to organize a champagne toast with our hotel and they were able to work with our budget.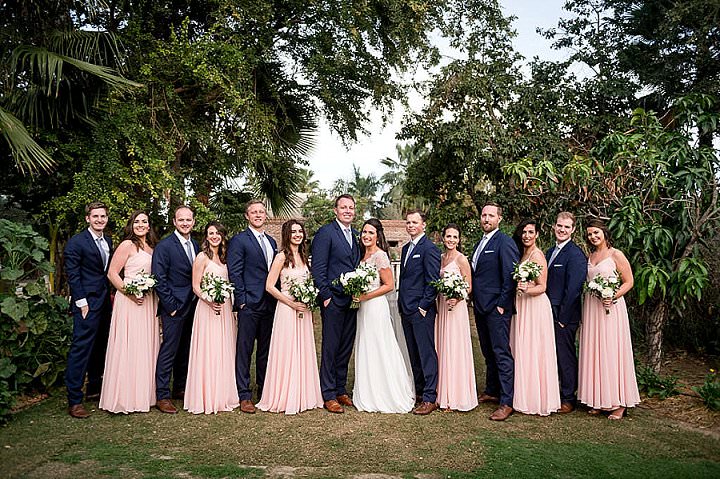 Theme or colour scheme 
The farm and venue had such natural beauty, so we chose our bridesmaid dresses and suits to compliment the scenery Pink and Navy Blue. For the décor we stayed with neutrals and mixed metallic. At work – our design rationale is timeless design – so we tried to stick to simple and classic. My mom and I worked with Lauren to make sure that everything fitted with what we had imagined.
Wedding favours
Maracas! My mom really wanted it as a Mexican Flavor! Our guests loved it and it was a perfect dance accessory.
Food 
Appetizers: Shrimp and Avocado with Horseradish Cream, Seasonal Vegetable Empanadas, Goat Cheese & Onion Jam Crepe, Cucumber Cup with Ceviche
First Course: Seasonal salad, House-made Burrata
Main Course: Lemon & Herb Roasted Chicken w/ Roasted Mini Yukon Gold Potatoes, Catch of the Day w/ Green Beans, Tomatoes & Garlic, Pearl Pasta w/ Vegetables and Herbs, Roasted Vegetables
Desserts: Cheesecake in a jar, Hand pies, Chocolate cupcakes
Wedding cake
Naked Cake, Vanilla Citrus
Personal touches 
Henry was really wanted to have some individually for each of his groomsmen. He found Argentine Luxury Leather Belts La Matera that had a pattern that matched with the suites and gave each groomsman their own pattern.
Lauren (our wedding planner) knew we wanted to have a sweetheart table since we wouldn't have seen each other all day. She had a great idea to have a loveseat which made it great to be close to each other when we were seated!
We cut the cake with Henry's Grandmother's antique cake knives which made it all the more special since she couldn't attend.
To memorialize the special day in our favorite place in the entire world – we engraved the latitude and longitude of Flora Farms in the inside of our bands.
What did you learn from the experience?
The best investment we made was getting a wedding planner. Lauren was an all-star. As someone who manages projects and clients it was nice to be the client for once
Our vendors really were responsible for what a great weekend it was. They helped us throw the party for our loved ones where everyone could really let their hair down and really enjoy themselves! We had a great team
If you know what you want – just do it! Henry and I will always look back at it as one of the greatest time of our life.
Supplier Shout Outs
For more information on Julia Franzosa Photography
julia-franzosa.com / [email protected]  / julia-franzosa.com/blog / FACEBOOK / INSTAGRAM / PINTEREST / TWITTER