Make up can be some women's best friend, while others shy away and dread the thought of even trying to get it on their face. Personally it's been my best friend since I was 11 when I bought my first lilac eye shadow and proceeded to smother it across my eye lids. It was at that point that my mother took me aside and told me if I was going to wear it she would show me how to do it properly, a little at a time (Thinking back this may have been a bit young, but I walking round looking like a clown before she got her hands on my make up skills!)
So for all those people who make up isn't their best friend the next 4 Fridays will be dedicated to you, as Make Up professional Catherine Hughes from Ivy Clara shares with us all the step by step tricks of how to create the perfect make up look.
What we will be covering:
Day Look

– 1) Base  2) Eyes  3) Cheeks and Lips
Night Look

– we will then be showing you how to take a day look and turn it into a night look with a few easy steps.
Catherine will then be showing us the products she used to create all the looks so you can replicate it your self.
Now we were going to use a model for this step by step guide but I decided that models are all well and good, but they never give a true representation of what that look will do for a real women, so instead you have Me! (sorry about that!) I thought I would challenge Catherine's make up skills and see what she can do for my normal 40 year old face! basically it's to show you that these looks can be created on anyone!
So we will be going from this –  No make up (well maybe just a tiny bit)
To This – Day Look
To This – Night Look
I'd like to say a special thank you to Catherine for the Make Up, Bil from Hair Aesthetics, Nicola Thompson for the Photography , Styal Lodge for the use of the Venue and DC Bouquet for the hair accessories and cuff used in the night-time shots.
OK I'll hand the Blog over to catherine and let her explain the First Step – Base………
1)   After moisturising, apply a face primer to the face. This will help even out skin tone, soften fine lines and smooth over pores creating the perfect base for the rest of your makeup. A primer also helps your makeup stay on for as long as possible.
2)  Apply foundation to centre of the face and blend outwards. I like to use a buffing brush to apply the foundation as it creates a really natural and glowing result. To increase coverage use the brush to pat the product onto the skin.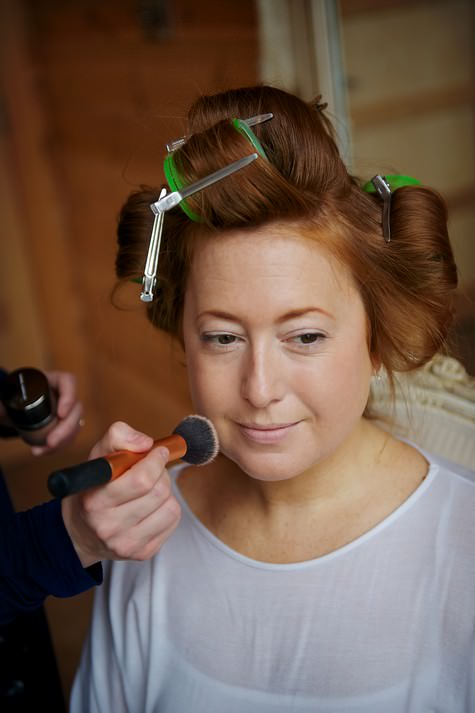 3)  Apply concealer sparingly to under the eye area. I find that using a fluffy brush such as the Mac 224 really helps to buff the product in and ensure concealer does not lie in any fine lines. After applying, I always like the foundation and concealer to 'rest' before I then take a clean fluffy brush to buff off any excess product.
4)  If there are any blemishes to conceal, pat the concealer into the area using a flat brush or a finger. For people who have blemishes, please don't be tempted to apply a thick, mask-like foundation. Start with a light coverage all over and then apply a fuller coverage product only where needed! The Daniel Sandler Invisible Radiance foundation is perfect for this as it has a light coverage foundation with a concealer in the lid.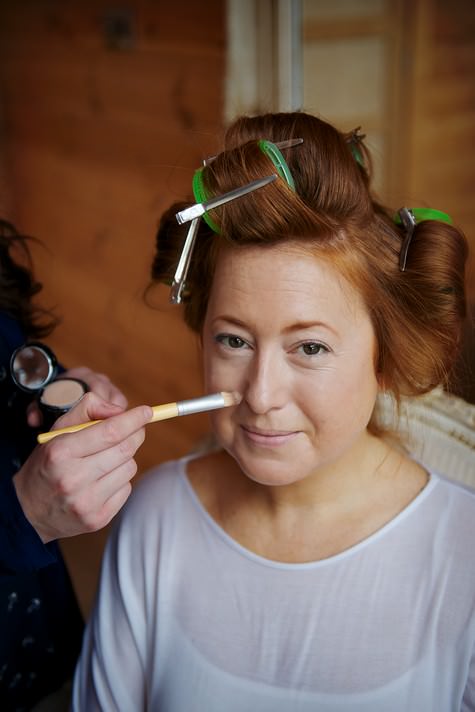 5)  At this stage, I always like to add some liquid highlighter to the foundation to make the look even more glowing. Apply it sparingly as too much shone is not a good look! Apply the tops of cheek bones, on the cupids bow and on the brow bone. My current favourite is Daniel Sandler Watercolour blush in 'Icing' which gives a subtle glow without being overly shimmery.
6)  To add a healthy glow, use a light, natural toned bronzer and apply sparingly, building up the colour where the sun would naturally catch. Use a large fluffy brush and sweep across the forehead, down the nose, across the cheeks in outward sweeps and onto the chin.
7)  I love bronzers with two tones. Daniel Sandler's has a matte shade included which is great for contouring the face. To create killer cheeks bones, suck in the cheeks and apply a matte bronzer along the hollows. Make sure you blend well in an upwards direction using circular motions to avoid stripes!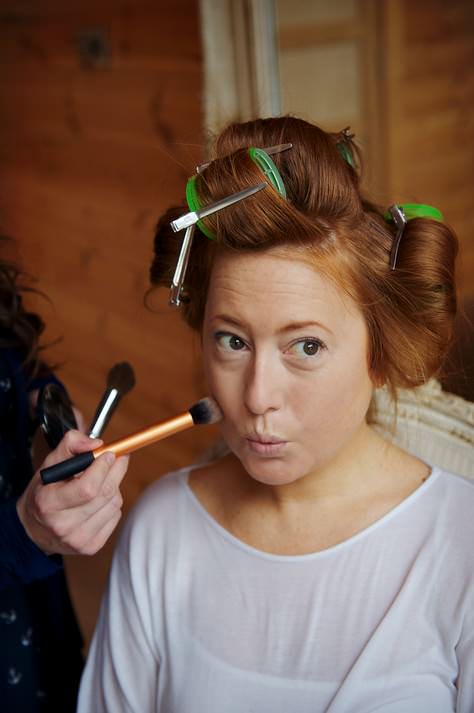 And that's it…base done! not that hard is it really!?!
Next week we will be covering step 2 – eyes, so make sure you pop back then.
For more information for all of those involved in the shoot go to:
Make Up – Ivy Clara
Hair – Aesthetics Hair
Photography – Nicola Thompson Photography
Venue – Styal Lodge
Hair accessories and Cuff – DC Bouquet