Today I have a relaxed and chilled out engagement shoot all the way from Australia, courtesy of Sarah Maree Photography . The lovely couple are Anna and Ross who are getting married this June in Brisbane. It has a cool, Boho/hippy vibe to it which I just love, I'm sure you will too.
Anna has been kind enough to put some words together about her relationship with Ross and about the shoot.
My partner Ross and I embarked on our wonderful journey of love, laughter and adventures just over 10 years ago, after meeting at university in Liverpool.  Instantly we feel in love and knew that one day we would start a family and grow old together. I remember when Ross first said "I love you" underneath the lamplight in Pilgrim Street and the realization of what it meant to meet your soul mate.
Throughout the past decade we have been on many adventures together, sky diving in New Zealand, taking our first surf in Byron Bay and learning to snowboard. Along the way there have been tears of joy and sorrow, but no matter what, through the good times and the bad times we know that the rainbows of life will always follow the storms.
We are both creative souls and we nurture and inspire each other. While Ross strums his guitar and sings I will while away the hours making weird and wonderful creations.  We both love the ocean, the majesty of the waves and the sun's rays shimmering on the surface of the water and the peace and tranquillity of the hinterlands.
Our ceremony will take place in the beautiful setting of JC Slaughter Falls, Mt Coo-tha, Brisbane, on 30th June 2012.  We feel a spiritual connection to this location, where symphonies of sounds emanate from the birds, wind, water and passers-by, you can find peace and re-connect with nature away from the confines of the city and the history and passage of time can be read from the stories ingrained into the bark of the trees.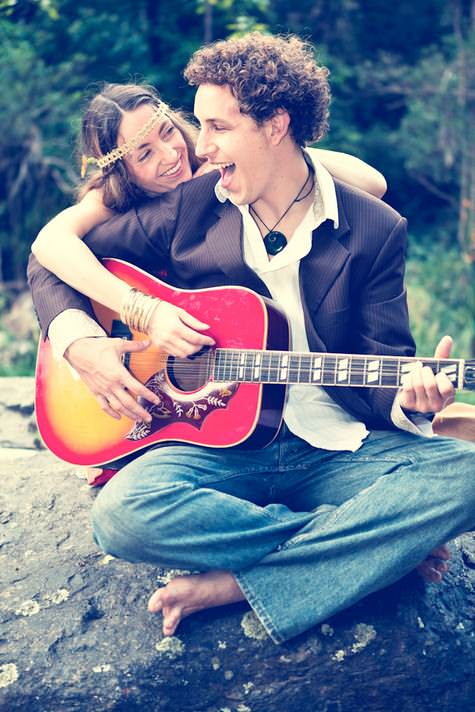 As soon as we meet with Sarah and saw the stylistic quality of her work, we knew she was the photographer we wanted to work with. Sarah did an amazing job of capturing our essence, our love for each other and incorporating the natural beauty of the surroundings.
For more Information on Sarah's work go to:
Sarah Maree Photography – Brisbane, Australia
www.sarahmaree.com.au
[email protected]
FACEBOOK
TWITTER
0412 792 112

'I am a Brisbane (Australia) based photographer specialising in wedding and event photography, I love capturing people during those amazing moments in life from school formals to weddings and beyond. My style is colourful, artistic and always full of life! I dream of travelling the world and photographing all the beauty and wonder that the eye can see.'

[jprel]