It's Friday……YAY!! and I have a GORGEOUS wedding to round off the week for you! This wedding sent in to me by Andy Garfitt is everything that I love about English country weddings, full of fun, relaxed, beautiful weather, and lots of happy guests and a very happy bride and groom.
It's the wedding of Kirsty and Ben who were married on 27th August at Oakwell Hall in Batley with 60 guests, with the reception at Weddings & Wellies at Low Farm in Norristhorpe, with 150 guests.

Andy has done a superb job in capturing the real essence fo the day, the crisp clear quality of his photography, coupled with creative angles, along with a real sence that we are actually there, just gorgeous! And I'm sure you will agree that the venue is fabulous! just perfect for an english country wedding! oh and a Wellie throwing competition thrown in for good measure…….what more could you ask for?…….Oh yeah a tractor ride!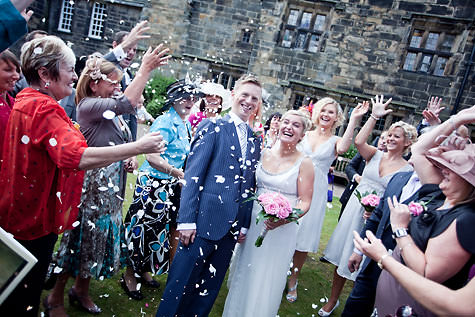 How they met
Although Kirsty is now a primary school teacher her background is in musical theatre, we met on a tour that Kirsty was performing in and I was working on as technical stage manager. After much flirting we finally got together towards the end of the tour, that was 7 years ago.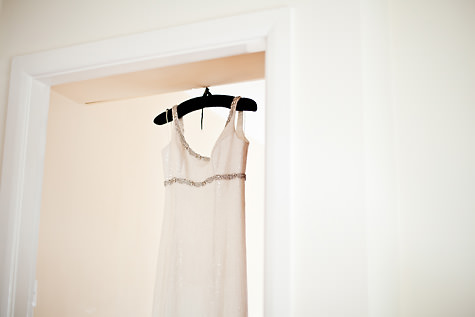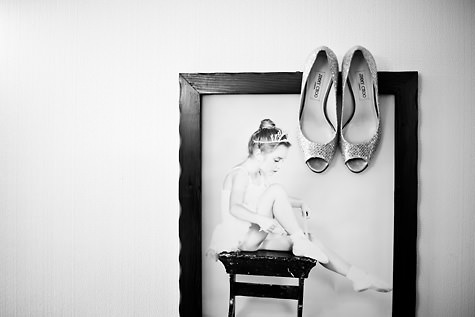 The proposal
I took Kirsty on a surprise trip to Prague, we stayed in an amazing hotel and spent the first day doing touristy stuff. That evening we went out for a nice meal, after the meal I took Kirsty to Charles Bridge and popped the question. It was an amazing weekend!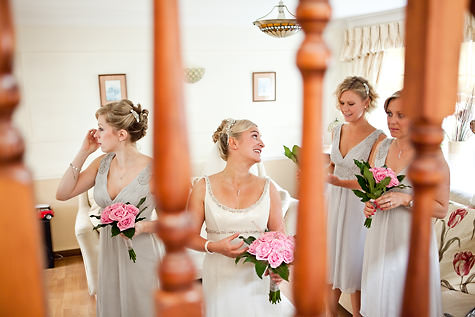 The wedding planning
It was about 18 months from getting engaged to the wedding, we booked Oakwell Hall and Weddings and Wellies about a year in advance to secure the date, everything else was done slowly after that.
The Venue
We were looking for somewhere near to where Kirsty's parents live, the last thing we wanted was "hotel wedding package A" so we looked at a few different places and stumbled across Oakwell Hall by chance. We went and had a look around and really liked the feel of the place, the building and gardens are beautiful and full of history and character, so much so we didn't need to do anything to the room in terms of dressing, which suited us down to the ground.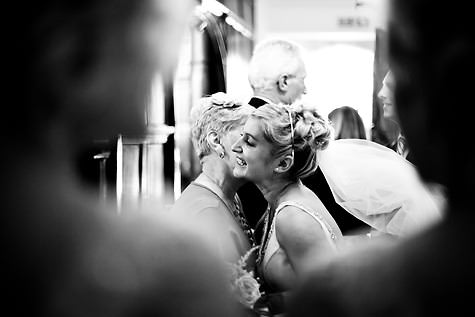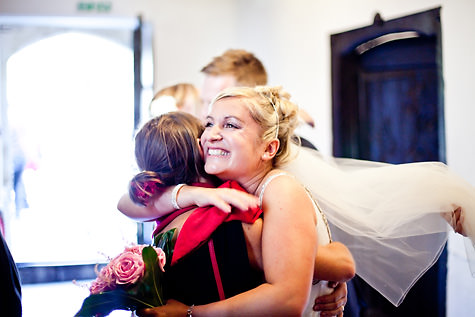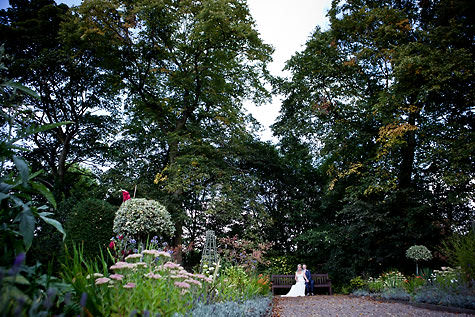 The dress
The dress and accessories were by James Bride in Nottingham – stunning vintage style dresses. The shoes for the ceremony were by Jimmy Choo and wedding and for the reception, wellies by Fairytale Footwear.
And the suit and bridesmaids
The suit was by Boglioli from Flannels Nottingham,  The bridesmaids dresses were from Monsoon bridal range.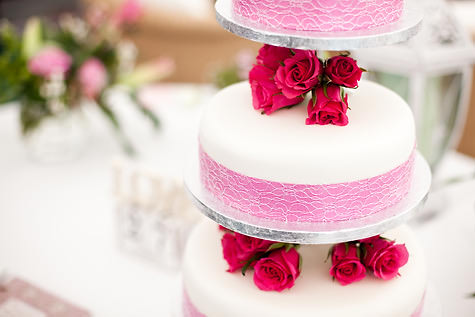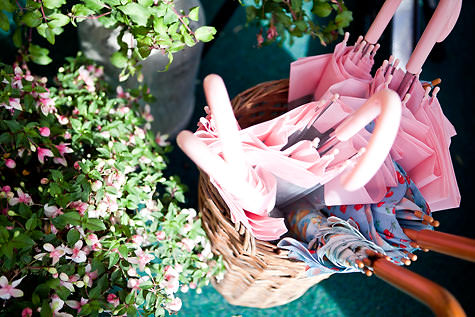 Theme
We wanted the reception to be very informal with a garden party feel to it. Claire at Weddings and Wellies came up with some nice ideas and we pretty much left her to it. She arranged a really nice marquee which was dressed with fairy lights and strings of flowers. The tables were dressed with vintage crockery and lovely locally sourced flowers, it was quite simple but very effective.
Food
We had an amazing afternoon tea of sandwiches, cakes and scones that seemed to keep on coming and in the evening we had a hog roast with roasted veg and salad with a spanakopita dish for the veggies. It was all really good!
Entertainment
During the afternoon we booked the brilliant and all round nice guy DJ78 who came along and played a great selection of original 78rpm records on his two gramophones dressed in a cracking original 1940's dinner suit. The rest of the afternoon's entertainment consisted of games of croquet, a best dressed wellie competition and a hotly contested wellie wanging contest. The rest of the day and into the night was fuelled by some of our DJ friends.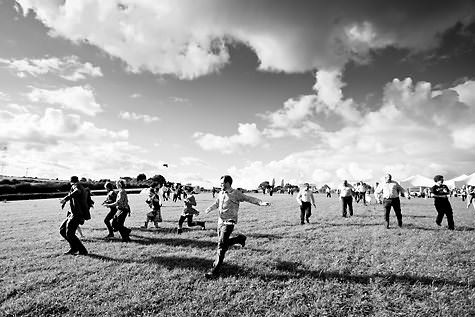 Personal touches
Wedding invite design, Table place name tags, Table plans
Special moments
The biggest surprise was how much we both loved the ceremony, we had been so focused on the reception, but the ceremony was brilliant and loads of fun. That said, on the honeymoon we both admitted to each other that neither of us could remember what we had said to each other!! The other massive highlight was getting all of our friends and family together and having a big ol' party.
Wedding Planning Advice
• Lists, it makes keeping on top of all the little jobs really easy and is a great psychological boost to tick stuff off as it gets done. (spreadsheets are really useful if your that way inclined!)
• "don't panic…..don't panic…" everything will come together.
• Try not to get bogged down in micro details, fretting about napkin ring designs will only stress you out, won't really impact any ones enjoyment of the day and really isn't worth the hassle. Make bold decisions and stick to them.
• The day itself will be a crazy blur, try and step back and take it all in.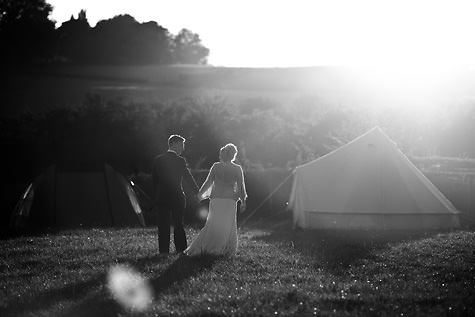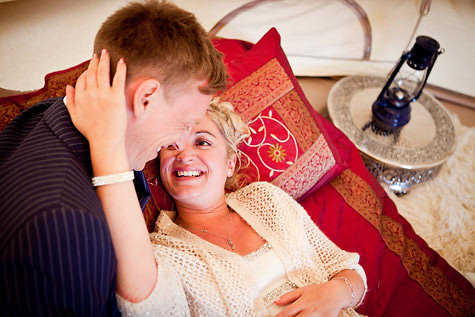 Biggest surprise of the day
The biggest surprise was that the sun shone and the weather was amazing despite the torrential downpours of the previous day.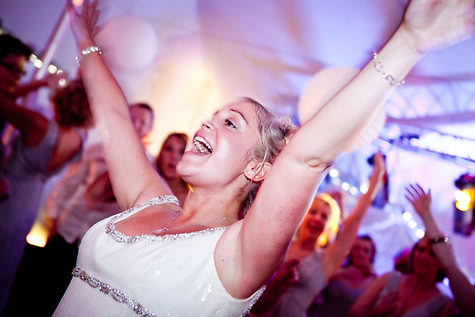 Supplier Shout Outs
For more information on Andys work got to
Andy Garfitt  – Greyeye Photography
http://andrewgarfitt.com
http://andrewgarfitt.com/blog
www.greyeyephoto.com
[email protected]
FACEBOOK
TWITTER