Today I have a glorious wedding to share with you, a beautiful summer wedding set in the heart of the british countryside! It has been sent into me my Matt Tordoff and I just love the relaxed summer feel it has to it!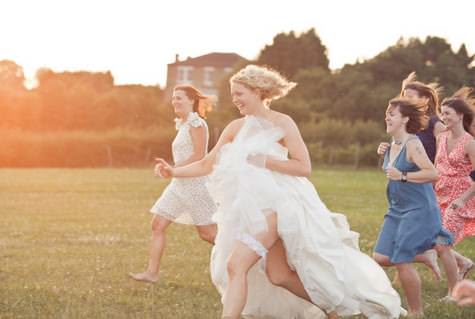 The couple are Amy and Ben Fearnley who were married on 30th July 2011. They held their ceremony at the United Reformed Church Norristhorpe, and reception at Weddings and Wellies, Low Farm, Norristhorpe for 113 guests.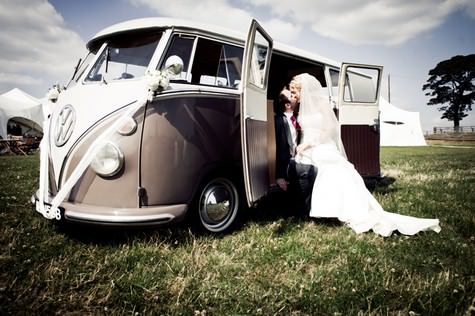 I've still not been up to Weddings and Wellies but I'm pretty sure I would LOVE it, such a wonderful venue and I have heard so many good reports from very happy brides and grooms who have hed their weddings there. This wedding is a brilliant example of a proper good old fashion english country wedding. It has all the things that for me make up a great country wedding. Tractor rides, hay bales, a relaxed menu, relaxed guests, welly wanning (and who dosn't want that at a wedding!) and the bride playing a game of fottie! But what really makes a wedding special is the amazing couple getting married and Amy and Ben are just that, and look so happy together.
How they met
We met in 2003 when we began working at the same school in North London, We got together a year later and have now been together 7 years
The proposal
Ben took me on a surprise holiday in the summer of 2009, to Rome and Barcelona. He proposed at night by the Trevi Fountain witnessed by hundreds of other tourists, it was totally amazing.
The planning
It took 2 years to plan the wedding from proposal although we did not really start the planning until the year before (we also had a baby in that time)
The venue
We wanted something different from all the weddings we have been to and with its beautiful location and the fact that we could have exactly what we wanted and not have to decide from a generic 'package' made it the perfect place for us.
The Dress
San Patrick dress, Veil and headband I brought from the same shop as the dress (Losner Brides St Albans) but I do not know who made them. My shoes came from Dune (10cm Heel) and I wore a bracelet that once belonged to Bens deceased Grandmother and diamond stud earrings which were a surprise from Ben on the wedding morning.
The suit and Bridesmaides
Full tails hired from Moss Bross, bridesmaids adults – Fushia pink, cocktail style from BHS, flower girls Ivory John Lewis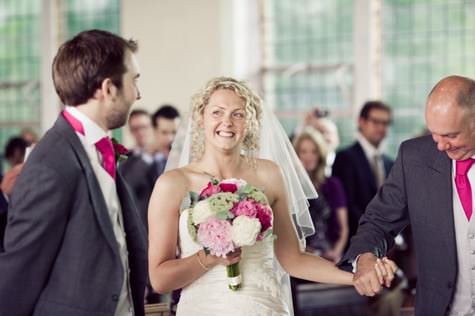 Theme
Pinks, purples, lilacs, creams and green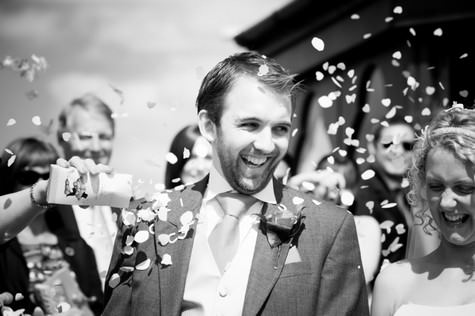 Food
Tapas style starter served in the centre of the table made up of, selection of homemade breads, farm's own pork pate, jumbo prawns, anchovies, continentals hams. For the main course guests were asked to pre-select their main form a choice of farms own slow roast lamb, seabass parcels or Goats cheese and caramelised onion tart, with homemade 'posh' hotdogs for the children. Roasted potatoes, green vegetables and salads were served on the table to accompany. To finish a selection of desserts was served on a platter including, chocolate mousse cake, strawberry frangipane, crème brulee.
In the evening we had farms own reared hog roast and cheeses
Entertainment
One of our Ushers is in a band so he and a band member entertained us outside in the sunshine during the drinks reception, it was brilliant. After dinner we had a welly wanning competition followed by a brilliant DJ and party. We also had a photo booth and with an assortment of costumes and silly hats.
Flowers
I wanted a natural 'just picked from the garden look', so the flowers were arranged in an assortment of ways on the tables, very soft and natural looking. My bouquet was made up of pinks (hydrangea etc – not very good on my flowers) and greens whilst the adult bridemaids had cream Hydrangea. The flowers girls carried latern vases full of sweet peas.
Decoration
Soft, country fayre look, bunting, fairy lights.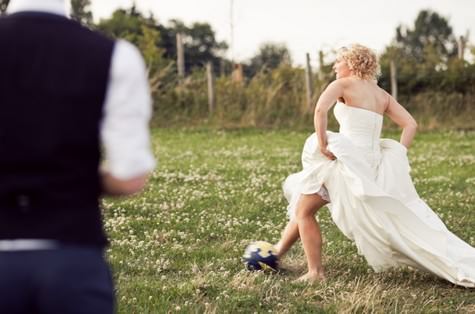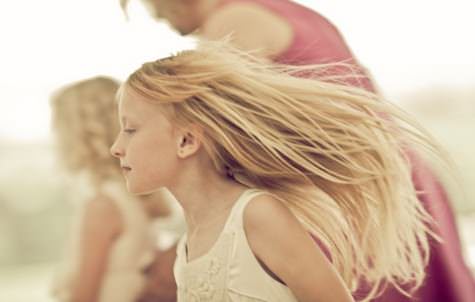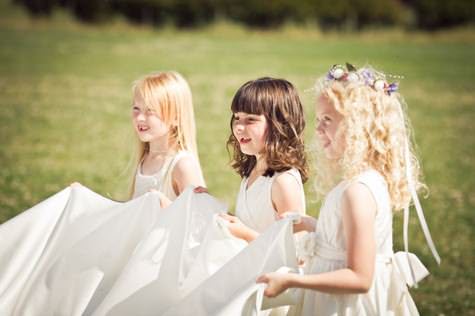 Personal touches
-The flowers girls wore garland headbands that I made with my chief bridesmaid.
-The sweet peas that the little ones carried and also that decorated the church (in jam jars on the pews) were grown by members of the grooms family.
-We did not have a traditional cake and instead asked friends to bake some cupcakes which looked brilliant and really fitted the setting and theme.
-We made all our own stationary with our table plans causing much interest as we named the tables after plays (Ben is an English teacher) and cast the guests as a character (some friends had to google their character)
-We made sweetie jars for the adults and sweet cones for the children as our favours and we hand stamped all our place settings.
-The flowers girls were giving cushions with their name on that were made by my very talented chief bridesmaid.
-We had a photobooth for which my dad cut out wooden speech bubbles and Ben sprayed with blackboard paint
Special moments
Everything: the VW camper which picked me up and took me to the church, the tractor ride to the reception venue, the weather, the setting and views, the children raiding the photobooth costumes during the meal and running around outside, playing on the tractor, there were games of footie and cricket and a very competitive welly wanning competition.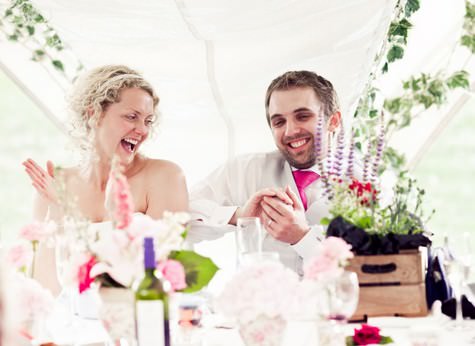 Planning
Don't get caught up on other people's expectations and external pressures, do exactly what you want. Enjoy, Enjoy, Enjoy. On the day itself, after arriving at the church do not look at the clock/watch again.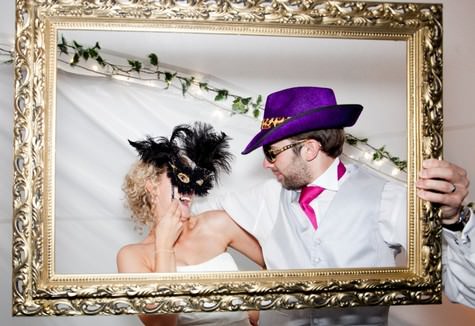 Biggest surprise
Diamond earrings from the groom, and how totally amazing the reception venue looked as Claire at the Farm does not like the couples to see the reception decorated until you arrive on the day and it was even better than I had imaged.
Supplier Shout Outs
For more information on Matts work go to:
www.matttordoff.com
[email protected]
TWITTER