Welcome to another week, it looks like 2012 has kicked in now and we are all back to work at 100 miles an hour! This morning I have a gorgeous wedding to ease you into this rather cold day, so why not stop your busy day for a moment and take a look at these beautiful photos courtesy of Sam Gibson. Sam is a great photographer I am a big fan of his work so I'm really chuffed to be able to share this wedding with you today. It's the wedding of Jessica and Ray Lau who were married on 4th October, the ceremony was at Cardiff City Hall in the Marble Hall and the reception was at Happy Gathering Chinese Restaurant, they had 90 guests at the ceremony and 230 at the reception.
This wedding is just beautiful, I love the way that Sam totally tells the story from the bridal preparations to the grooms men coming to Jessica's house to carry out their 'tests', The traditional english ceremony and then onto the traditional chinese tea ceremony. I love the colours of the wedding, red being a traditional chinese wedding colour, the beautiful outfits, the dragon dancing…….it's all stunning!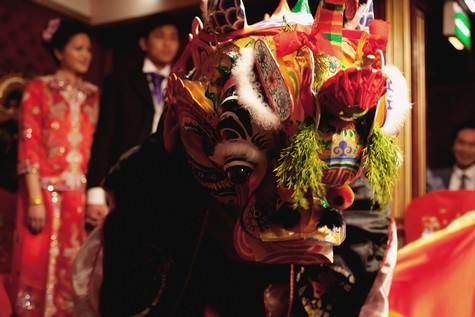 Ray and Jessica describe their day as 'incredibly hectic and chaotic but worth every second!'
How they met
We met online on myspace long before facebook came along haha and eventually agreed to meet up. It turned out that his father was acquainted with my father and his uncle was a long time close friend of my fathers. Such a small world, or rather, small Cardiff Chinese community! We were then together for about 5 years before we got married. It was actually our 5 year anniversary a few days before the wedding.
The proposal
There wasn't really a proper proposal. We had already planned on getting married for a very long time and I had always said to Ray that there wasn't much point in asking me because we both knew 100% that I would say yes. So for a while we had labelled ourselves "unofficially" engaged until late 2010 when Ray bought me a ring and we finally became officially engaged.
The wedding planning
Once we were engaged we didn't plan on actually getting married until Spring/Summer 2012 but the parents were pretty insistent on it being held in 2011. They all thought there was no point in waiting and quickly began consulting the Chinese calendar for a suitable auspicious day. The original date chosen was in June! This would have given us only a few months to prepare! Both Ray and I had agreed it was far too early so persuaded them to change it to a later date. So October 4th was chosen.
 Venue
An acquaintance of ours got married in the Marble Hall and we thought it was a lovely place.
The dress
Because the wedding was set for October, this gave me a chance to fly over to Hong Kong during the Summer to buy things needed for the wedding. This was when I took my chance on picking a wedding dress and evening dress.
I spent a good few days looking at and trying on a lot of wedding and evening dresses but couldn't find what I was looking for. Eventually, after a very long day of searching I was sat in a store feeling very deflated and frustrated when the shop assistant offered to custom make my dresses rather then just picking from the shelves (I don't know why other stores didn't just offer me this earlier, it would have saved me a lot of time!). So finally after much discussion and negotiation, I managed to have two custom made dresses for around £700 which I thought was a bargain!
I bought my wedding shoes in HK along with the shoes I wore with the traditional Chinese dress which the restaurant provided with the reception package.
The jewellery I wore with my wedding dress were borrowed from my mother and the gold jewellery worn with the evening dress was a gift from my mother. Traditionally in Chinese weddings, the bride will receive gifts of gold jewellery from her mother and sometimes her uncles (on the mothers side).
The suit and bridesmaids
The grooms tux and the best mans tux were rented from Moss. Ray had picked so many groomsmen (I think there were 14 in total!) that we couldn't really afford renting suits for all of them and felt rude for asking them to pay for it themselves! I bought them all matching ties when I was in HK. They cost less then £2 each! When I got back we distributed them amongst the groomsmen and ask them to wear a black suit with a white shirt (something we thought they all would have) or something close to that.
The bridesmaids dresses I also bought in HK. Most stores have a few designs to choose from and then they get custom fitted to each bridesmaid. I only had one bridesmaid out of 4 with me on the trip so we had to do a lot of messaging on facebook to get the details! I thought they turned out great and it was a huge relief to get home and find out that they all fit. Again, these dresses were an absolute bargain! They came to about £20 each! We were so shocked at how cheap they were! Both my sisters have vowed to go back to HK for all their wedding needs when their own weddings roll round!
Theme
There wasn't really any particular theme. It just came down to picking the colour for the ties and then matching the bridesmaids dresses to that colour. For the traditional Chinese part, it was just done according to the traditions, so a lot of red!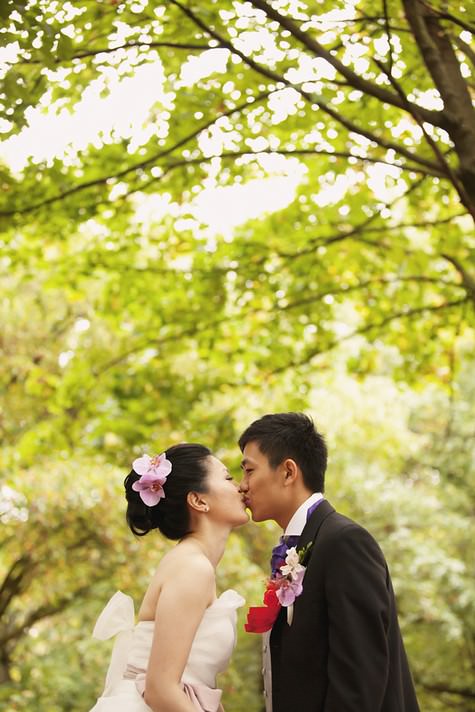 Food
The meal at the reception is what you would see at most typical Chinese weddings. It consisted of around 13 courses, or rather, 13 dishes which were brought out one after the other and placed in the middle of the table for everyone to share. A lot of the typical celebratory foods were included; lobster, suckling piglet with jellyfish, fish, duck, chicken etc.
Entertainment
There wasn't really any entertainment in the form of a performer etc. But there was a traditional Chinese Unicorn dance which is preformed to bring luck to the newly married couple.
Also there were the games done when the groom comes to pick up the bride before the ceremony. Typically in a Chinese wedding the groom, followed by his groomsmen, will go to the brides location to pick her up and then arrive at the ceremony together. Before he is allowed to see the bride though, the bridesmaids have to put him and his groomsmen through a series of "tests" to prove that he is "worthy" of having the bride. This can range from having to eat/drink something horrible to answering questions about the bride. Luckily for Ray, he had plenty of groomsmen to choose from to do the games for him! Unluckily for them, some had to get their legs waxed, others had to eat sushi packed with wasabi and some came very close to kissing each other!
I'm not sure if this is classed as entertainment, but it certainly was entertaining for my bridesmaids and the people watching!
There were also the tea ceremonies which are performed as respect for the elders of both families. The bride and groom offer tea to each elder and in return the elder gives their blessings, well wishes and a red packet (gift of money).
Flowers
The only flowers we had were the bouquets and the corsages which we made ourselves. I wanted the main flower theme to be orchids as that's one of my favourite flowers and it was certainly easy to get hold of as my mother is an avid orchid grower. The rest of the flowers were bought from supermarkets and a local flower shop, nothing specific in particular, it was just what looked nice. I wanted something more eclectic and carefree, nothing too "arranged". They were all made the night before the wedding by my bridesmaids and my aunties. I remember that night, very stressful with a lot of rushing about!
Decoration
There wasn't really any decoration. We weren't really bothered about the decoration of the venues. The wedding car (kindly lent to us by the grooms father) was decorated in the typical Chinese fashion with the ribbon, bows and stuffed animals at the front which I bought in HK. They were two rabbits which I thought appropriate as both Ray and I are year of the Rabbit (Chinese zodiac)
Special moments
After the registrar announced us husband and wife. It was just a fantastic feeling to finally be married.
It was also quite funny when I couldn't get the ring on his finger, it was our very own Wills & Kate moment!
Planning Advice
Don't take it all too seriously! It might be stressful and hectic on the day but just let it be! It will turn out all right in the end!
Biggest surprise
That everything turned out ok!
For more information on Sam's work go to:
www.samgibsonweddings.co.uk
www.samgibsonweddings.co.uk/blog
FACEBOOK
TWITTER
[email protected]