Happy Friday everyone! I hope you have all had a wonderful week so far? I am so happy for the weekend, it's been a busy old week here at Boho HQ, so I am ready for some time away form my desk. Saturday night it's a Chinese takeaway and the Brits! Then Sunday we are meeting up with family and going to the National Space Centre, which should be a fab day out. Then next week it's half term! On with today's wedding and it's a real cracker to finish off the week. Kayla and Jason were married on 3rd July 2021 in the Dominican Republic at Kukua Punta Cana they held a beautiful bohemian beach wedding that was dripping in boho decoration. From endless pampas grass to a plethora of macramé, this wedding is oozing Boho Luxe. The flowers, the ceremony arch, the floating cake table, Oh my!!! The list is endless. So much thought has gone into this wedding and so many amazing details, inspiration for days!!! As for the trash the dress shoot the day after!! WOW!! Well done to Kayla and Jason on creating such a magical day. Big thanks to Photo Cine Art for the lovely photos.
Milan the photographer tells us more about the day
Kukua restaurant Punta Cana was a host for a wedding of stylish New York couple Kayla and Jason. They always shared the love for each other and travel and adventure! Kayla and Jason organized a never-seen-before bohemian wedding on the beach in Dominican Republic. Elegant local venue, Kukua restaurant Punta Cana was filled with pampas grass, hanging centerpieces, and A LOT of fresh flowers!
"Our wedding décor was boho based! So much thought was put into my décor that I think the wedding planners themselves wanted to fire me! It was so important to me to design my own décor from flowers, specific placement, and centrepieces. I'm pretty sure they needed to order all pampas grass available in DR! There was no such thing as NOT ENOUGH pampas grass or macramé. All 50 of Our macramé place-mats were handmade just for the big day! The bridesmaids macramé bouquet wraps were personally cut and shaped. Our 'The Moore's" neon sign hanging on the greenery wall with the boho chair was a must!" 
Circular wedding ceremony infinity arch added an extra modern touch with a perfect mixture of pampas grass in-between white, ivory, blush, greenery and terracotta color-based flowers.
The bride looked breathtaking in her Pearl by Enzoani wedding dress, while handsome groom, looked sharp and on point with his suit – Bar III. The outdoor ceremony took place on the beach, where the couple exchanged their personalized wedding vows.
At the end of the night all of the guests (bride and groom included) ended in the swimming pool. I believe that the explanation here is not needed to describe how fun was that!
Also special touch was added trash the dress photo shoot that Kayla and Jason had at local "Cenote" which included some breath-taking (pun not intended lol) underwater photos.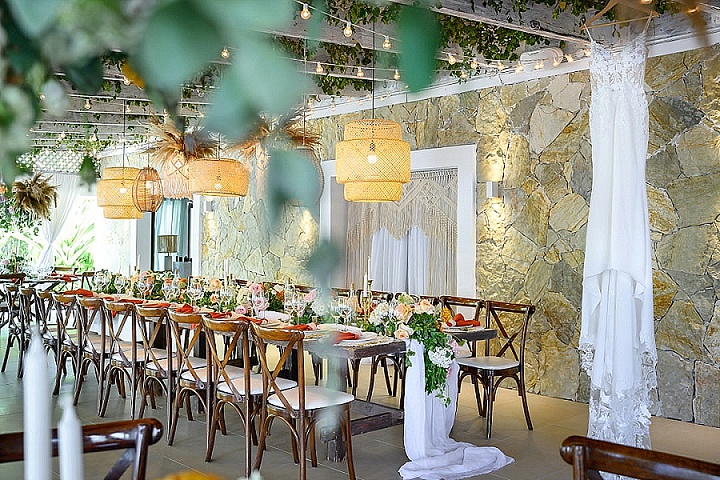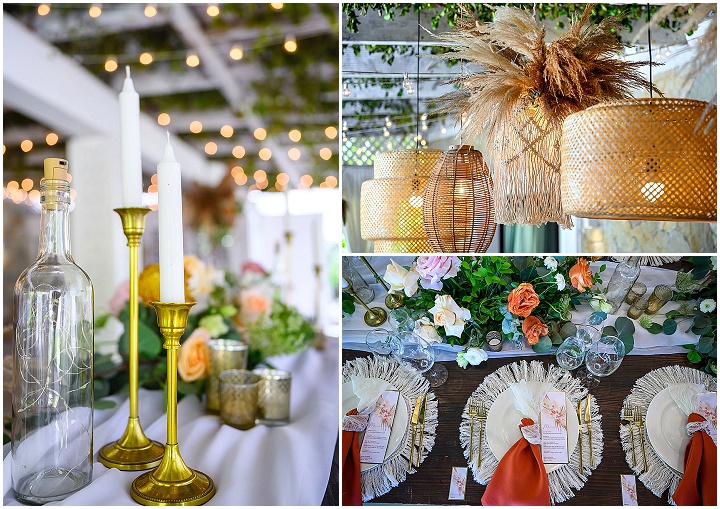 Supplier Shout Outs