Today's wedding sees us head over to Croatia, one of the most stunning countries I have visited, for the jaw dropping wedding of Marija and Nicolas. Croatia is becoming a very popular destination wedding location. I only featured a wedding in Croatia last week. Marija and Nicolas were really spoilt for choice when it came to location but with the help of Adriatic Weddings Croatia, their wedding planners who sent me this gorgeous wedding, they decided on Crvena Luka. The whole wedding is absolutely beautiful, it is filled with an abundance of the most gorgeous decor, all following the bohemian theme. King Protea and Pampas grass, Macramé, rustic candles, baskets, hand died napkins, a real mixture of Boho meets sophisticated chic, such a delight for the eyes. Martina Skrobot was there to capture the day in all it's bohemian glory.
It was an overwhelming experience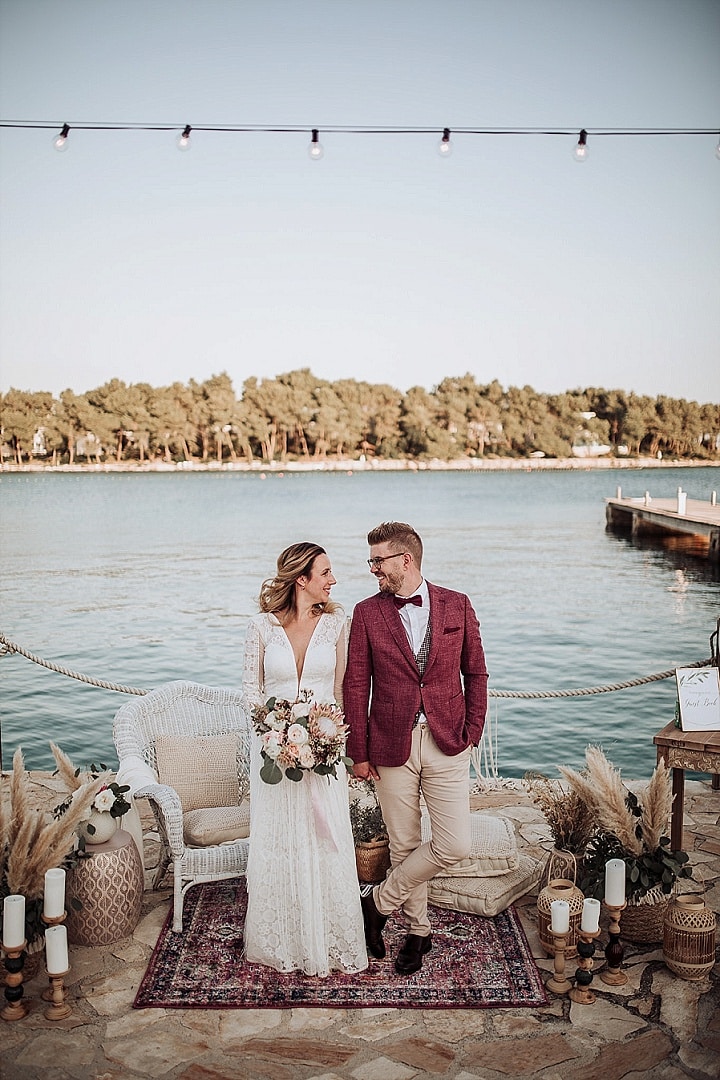 Marija and Nicolas were married on 3rd August 2019 at Resort Crvena Luka near Biograd na moru, northern Dalmatia in Croatia. 'The open sea ahead of you and few little Islets on the horizon are just magical. Family and most of the friends stayed at the Resort, it is the perfect place to have a Boho style wedding. The reception and ceremony took place at the very end of the Bay. It is away from the nucleus of the Resort and as such it allows more flexibility and it is very handy to have it all walking distance especially after few drinks, later at night taking stroll back to the accommodation. Its location made it all so practical. The reception was set up downstairs overlooking Kornati Archipelago under beautiful  light garlands stretched from one to the other side of the patio area. 
Maria and Andreas did their civil ceremony back home, in Switzerland, and had a beautiful and romantic bilingual symbolic wedding ceremony. As Maria has Croatian roots and they have been coming to Croatia for a holiday on regular basis, and still family members in Croatia so it was just right choice to choose Crvena Luka! Guests all loved it.  To Maria and Andreas it was extremely important to have an environment that is kids friendly so this location was really well chosen.'
How did you choose your photographer?
Photographer was suggested by the wedding planner but the couple had the final word. Martina Skrobot was the photographer, who did amazing job!
The suit and bridesmaids 
The bride did not have any bridesmaids as her father walked her down the aisle, however one of their sons carried the rings, he was so cute. We were all worried he would run away with it but he did his task professionally.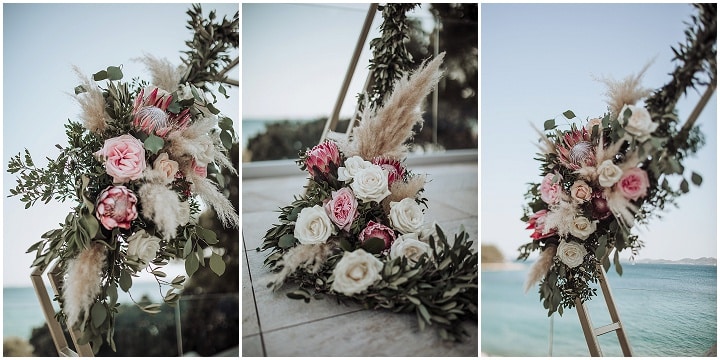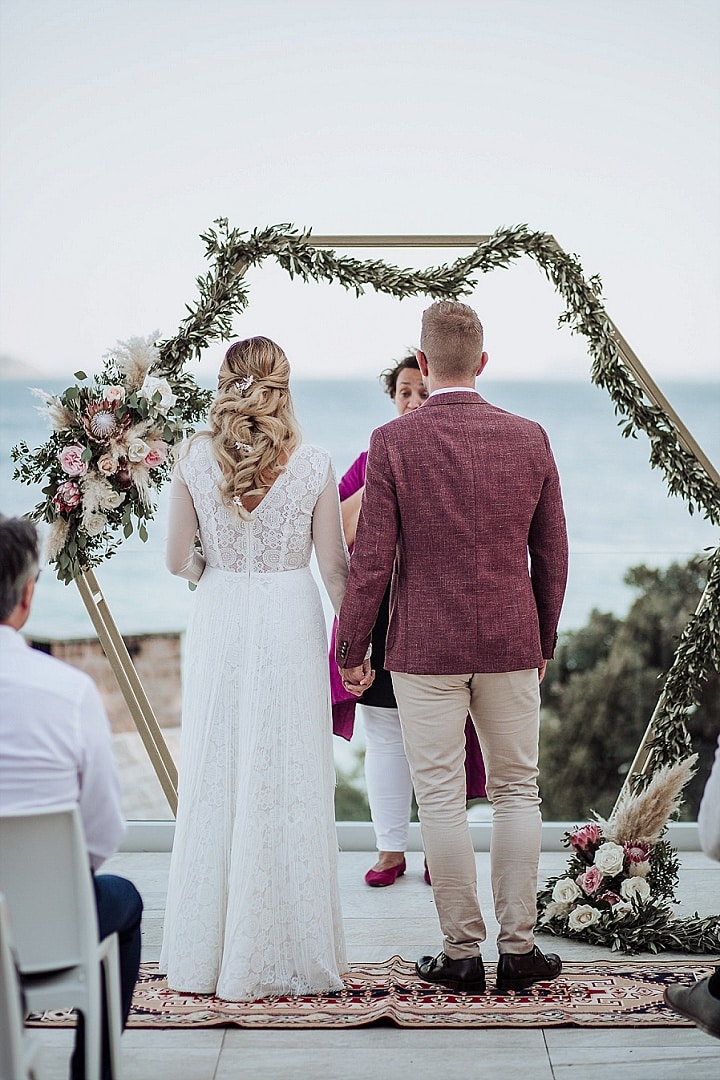 Theme or colour scheme?
It was a Boho theme. We really enjoyed coming up with the Photo booth in a Bohemian style, with candles, antique arm chair, Pampas grass  and creating pretty a laid back environment. Especially having the setting by the sea, with all decorations felt like it was really an event held back in time.
Colours were so natural, blush and dusty pink.
Flowers 
King Protea, Pampas grass, O'Hara roses, Dried flowers, Eucaliptus, Olive tree branches and beautiful hexagonal prism frame for the ceremony' arch.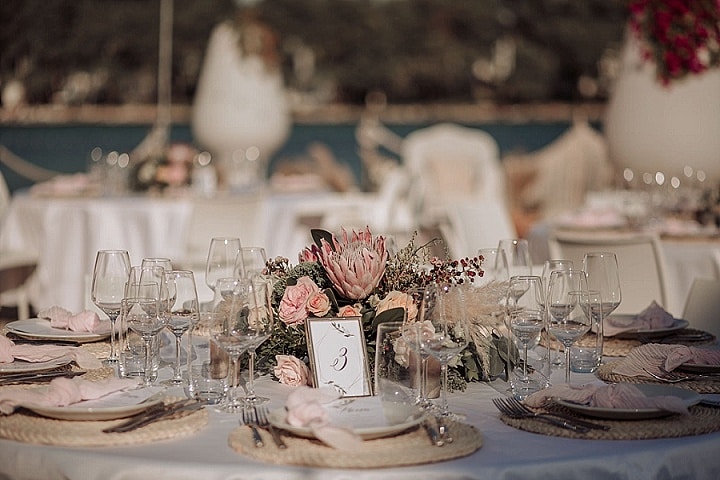 Decoration
Decorations were simple yet magical. The Bride did not want anything extravagant but elegant, laid back Bohemian style with Macramé background perfectly blended in with beautiful colour of the Sea, trees and the magical blue sky was just a perfect choice. Candles, rustic candle holders and baskets, beautiful oriental woollen carpet…magic carpet ride.
As for favours are concerned it was a locally made organic bottled honey and lavender bags, perfect gift to anyone coming to Croatia, kind of a souvenir.
Table setup details were all custom-made with geometrical details added to it. Napkins were hand dyed specifically for this occasion. Table numbers were framed and in rustic old-fashioned writing style.
Wedding cake
The Bride did not want the cake so we came up with a carefully selected varieties of custom made desserts supplied by Magnolia Cakes.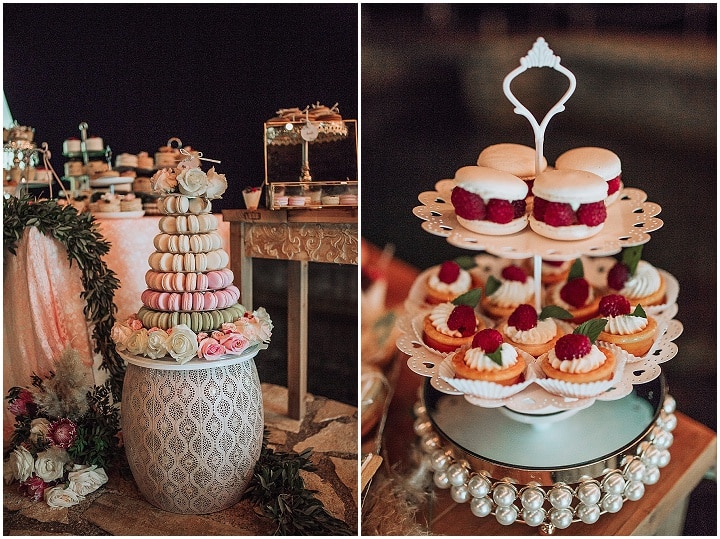 Supplier Shout Outs
[jprel]