We have the most gorgeous wedding for you today all the way from the Dominican Republic. Genevieve and TJ were married at Natura Cabana with the most stunning beach ceremony. A truly tropical affair, with gorgeous bright flowers, delicious food and a truly wonderful backdrop. The wedding suited Gen and TJ's personality's down to the ground. What's more they came back for more the next day with their super sexy day after shoot, which has been captured beautifully by Katya Nova.
We just really wanted our wedding to be "us."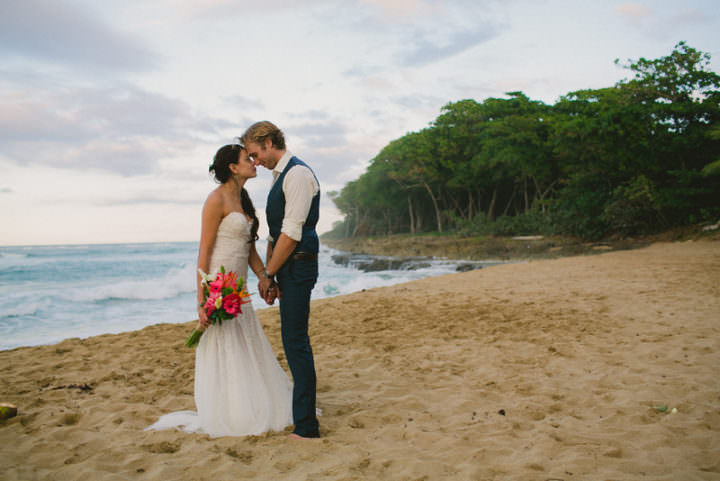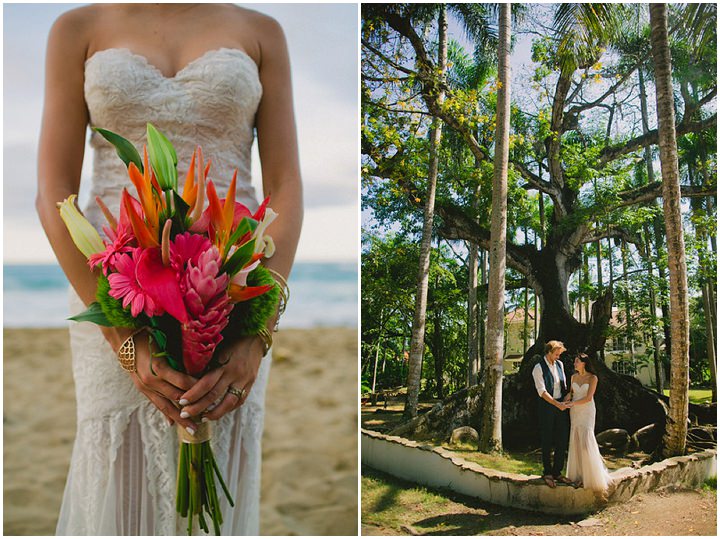 How they met
Gen & TJ worked together at a restaurant in downtown San Diego. "That hot, blonde, surfer dude" was Genny's new secret crush, and after a work Christmas celebration on a party bus they became inseparable. They were traveling abroad and living together within a year, and this was 7 years ago!
The propsal
TJ describes the proposal: 'Gen was not expecting anything, so I gently slipped the ring on her finger one morning while she was still sleeping. When she woke up and asked what I wanted to do today, I replied that I wanted to go on a hike and be engaged to her and pointed to her hand… then we hiked to one of our favourite local spots with our dogs and that's where I did the whole down on one knee official proposal… tears ensued.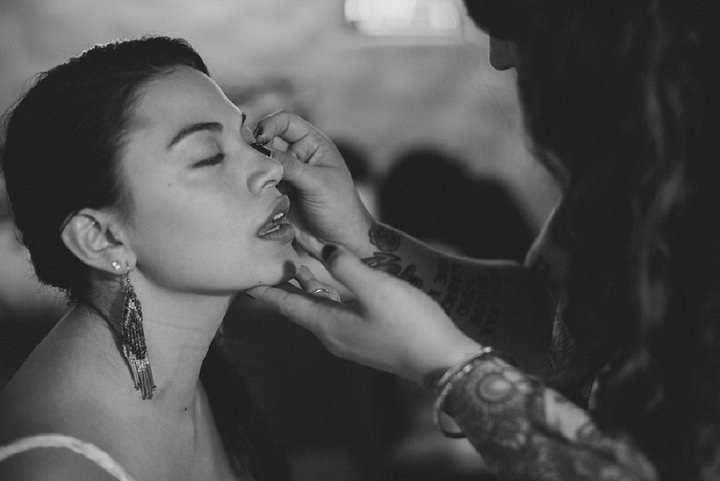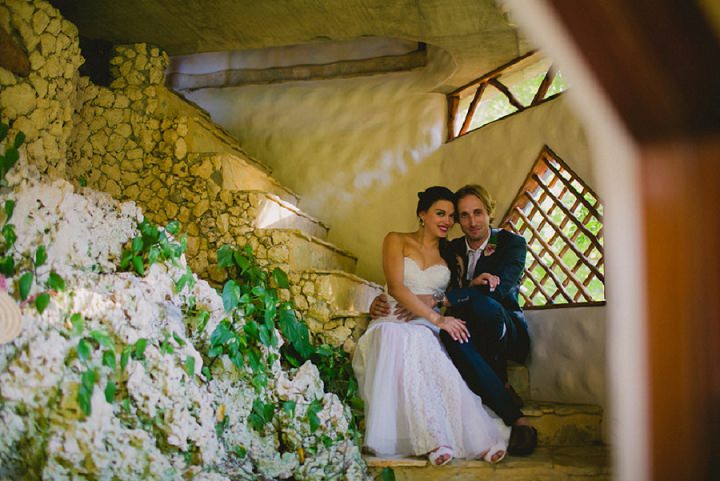 The venue
Cabarete is a cute surfing town on the North Coast of Dominican Republic and is off the beaten track, just how Gen & TJ like it. They chose Natura Cabana for the boutique beachy feel, amazing food, service and a unique experience. For their day after session, we drove towards the capital and stopped along the way in the countryside, making a special stop at our favourite 'secret' beach called Playa Diamante, for a picnic.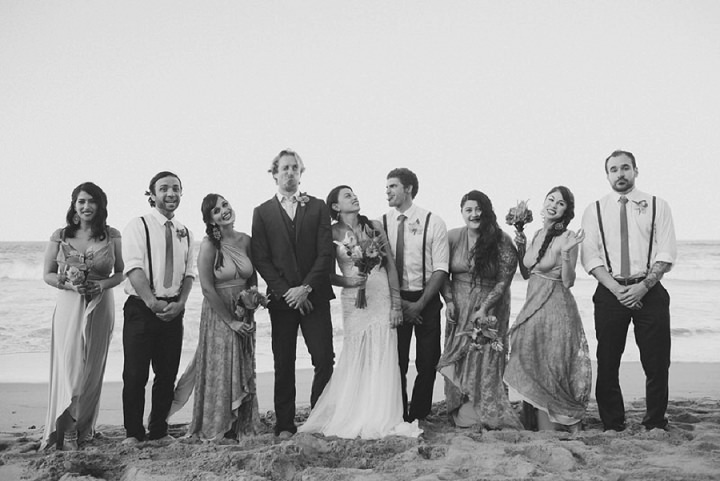 The Theme
Besides the fact that it had to be one of 'our trips,' and by the surf, we wanted the location to be our theme. We knew we wanted it some place lush and green, and with delicious food from their own garden. We chose dusty rose and persimmon to be our colour themes to match the tropical destination.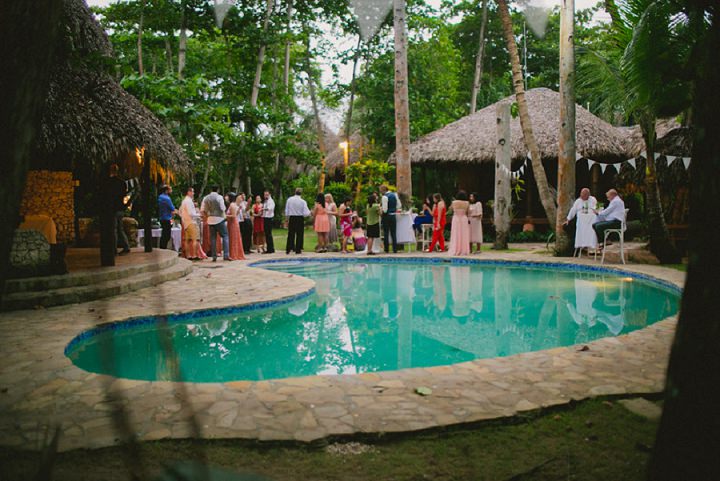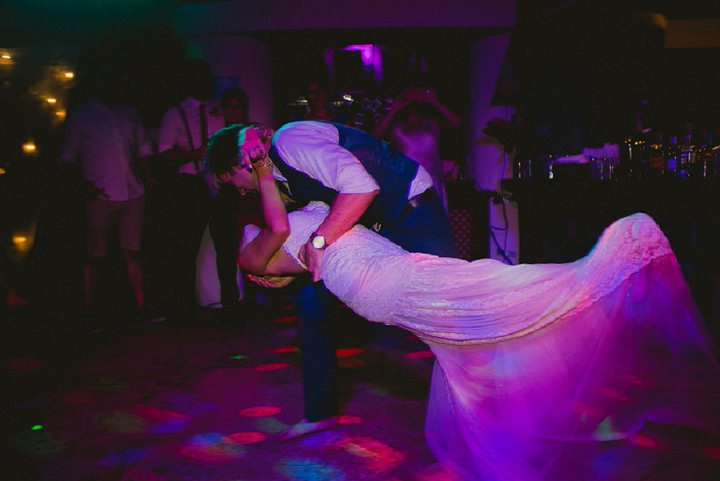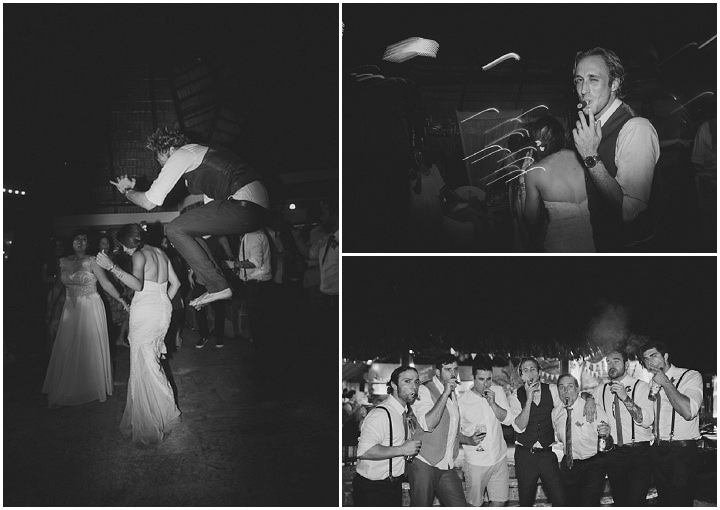 Top three things Gen loves about TJ: 'I love TJ's constant silliness and twisted sarcasm, it's impossible for him to be serious. I also love the fact that I am the most comfortable, in life, when I'm with him. We've basically grown into each other over the years. And of course, how genuine he is. This one definitely wears his heart on his sleeve'.
Top three things TJ loves about Gen: 'She is like a beacon of light for weary soul travelers. People just love her right from the moment they meet her. She just makes people feel better. She's also very intelligent and I couldn't be more proud to have seen her go through nursing school and now to do what she does. She's the strongest person I know. She's comfortable in her own skin and also has a feisty side (to say the least) and can hold her own, which I wouldn't have any other way'.
Supplier Shout Outs
For more information on Katya's work go to: 
www.katyanova.com / [email protected] / FACEBOOK / PINTEREST / T: @katyanova / I: @nurturingnova