Happy Thursday everyone, I hope you are having a good week so far. Today I have a gorgeous typically British wedding for you. We are off to Chichester for the beautiful wedding of Sophie and Darrell. Covid made their wedding planning go on for an extra year, which gave them more time to get all those gorgeous personal details ready and made the wedding even more special when it eventually did happen. With a delightful outdoor ceremony that not even the British weather could stop. This couple are super relaxed and had the most wonderful wedding. A chilled ceremony and reception and then one big party, fueled by an espresso martini bar! Thanks to Illy Elizabeth Weddings for the wonderful submission and for planning such a fantastic wedding.
A day we would do anything to go back and relive!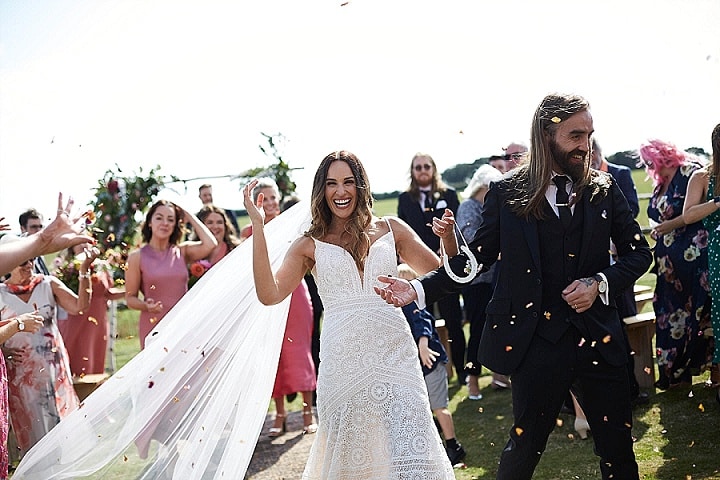 Sophie and Darrell  were married on 11th September 2021. 'We got legally married at the end of August in Islington Town Hall but our 'proper' wedding was held at Chidham Barn, Chichester. I (Sophie) grew up in Chichester, I've since moved to London but always thought Chichester would be a lovely place to get married. My grandparents all also live there and when we were planning the wedding it was important to me that they would be able to attend, and I knew they wouldn't be able to travel far. We also wanted to dry hire venue where we could have as much creative control as possible and also be able to supply our own drinks. We had 115 guests with a few additional evening guests. It Ended up being about 2 years in the planning, due to us delaying the wedding a year because of Covid. Luckily, we didn't have to change too many details or suppliers due to this, only the band really, so compared to a lot of people in the same situation we ended up quite lucky!'
How they met
We met at the birthday drinks of a mutual friend Charlotte (I went to uni with her and was living with her at the time and she was also one of my bridesmaids and Darrell went to school with her!). Dal was actually meant to be going on another date that evening, but he ended up staying and we arranged a date that day. We'll have been together 7 years in October (gosh that feels so long saying it out loud!).
The proposal
The proposal took my completely and utterly by surprise, I was absolutely gobsmacked and SO shocked! Dal was planning a surprise trip for my birthday and some friends at work were convinced he was going to propose, I on the other hand was so unconvinced that I went that home that evening and said to him 'you're not going to propose are you!'. Needless to say, he obviously said no!
The surprise trip was to Norway and Finland and Dal proposed in a glass igloo in Finland. The setting was incredible!
How did you allocate your budget?
We had a few areas that were most important to us and wanted to make sure we prioritise our budget on those and then just try to save a bit in other areas. We also had a spreadsheet where we had estimated costs for each element and just tried our best to keep within those, not always possible though to be honest!
Where did you splurge and where did you save?
We definitely wanted to splurge on the food and the entertainment, which are admittedly quite large parts of a wedding! But we felt really strongly about it feeling fun and a party from the very start, and keeping people well fed and always topped up with drinks! We probably saved on it overall being a totally dry hire, "blank canvas" type venue but we definitely paid for that in extra hours of organising!
How did you choose your photographer?
I'd seen our photographer, Leo's, wedding pictures a few years back and had been obsessed with them ever since. We had to postpone a couple of times due to covid and he was always the person I checked the new dates with first. He was out first choice photographer and having him there was pretty much a non-negotiable in my eyes! The photos are amazing, he captured everything perfectly and top it off, he's a really lovely guy.
The dress 
The dress was Sottero and Midgley. Custom embroidered veil from Sash + Veil, shoes were Monsoon, earrings Cult of Youth and evening crown/headpiece was Tilly Thomas Lux.
The suit and bridesmaids
Darrell's suit was Edit Suits, groomsmen were in hired suits from Moss Brothers and bridesmaids were in a mix of Ghost and Rewritten.
Theme or colour scheme
We didn't really have a theme as such, I think the look of the wedding came together organically from our tastes.
Flowers
I was very very fortunate that my Grandma did all of our flowers and she completely surpassed all expectations, they were amazing!! I wanted wild, big, uniformed flowers and bouquets and she nailed the brief completely.
Decoration 
We didn't have too much decoration. We hired rugs, sofas and props from Toast and with the festoon/fairy lighting from the tipi and in the barn and the flowers, that's all we felt we needed. The barn did also have a disco ball which was great in the evening!
Food 
We wanted all food to be feasting style to create a more casual atmosphere. I also really love small plate restaurants and being able to try a selection of different things so it was really important to me that we had an element of this in our wedding menu!
Starter: sharing boards with a selection of cured meats, burrata, paprika houmous, marinated olives, charred aubergine and selection of artisan breads.
Main: Rosemary & apricot slow roasted leg of lamb, Courgette ribbons, garden peas, mint, feta & seasoned olive oil, Honey roasted carrots, rocket, pomegranate & tahini dressing, Corn on the cob, herb butter .Buttered minted baby new potatoes. Tzatziki
Dessert: Salted caramel brownies, Whipped cream & fruit pavlovas, Glazed lemon tart, raspberry cream.
Wedding cake
We had an amazing 4 tier wedding cake from Lucy Burton Bakes with chocolate, vanilla and salted caramel, raspberry, lemon and almond and passionfruit and coconut tiers. It was so delicious!
Entertainment
We wanted the day to be a party from the start so we had the band start about 15 mins after the ceremony finished. We wanted a roaming band and went for Nomad Lite, they were brilliant and the exact vibe we wanted and got people dancing from the beginning which was great.
Due to having to postpone we lost out original band but that turned out to be a blessing in disguise as we definitely preferred Nomad to our previous choice.
Our friend Tom who is a DJ very kindly provided the evening music and did an amazing job, dancefloor was packed start to finish!
Who supplied the stationery?
Dal is an amazing artist so he designed all of stationery!
Where did you go on your honeymoon?
We went to Puglia in Italy a couple of days after the wedding which was amazing. We'd visited a couple of years back and fallen in love with it, so it was lovely to be able to return especially after having not travelled for a while due to Covid. We've also just booked our big honeymoon to Sri Lanka which we're super excited about! Can't wait to go on an adventure.
Personal touches
We did the majority of stuff ourselves which I won't lie, was very stressful at the time and we definitely regretted it more than once!! But seeing it all come together was lovely and definitely worth it!
Special moments 
The speeches were a real highlight! There was a lot of tears and a lot of laughs, they were absolutely brilliant and even included a toast in one of the Best Man's speech to the #freeBritney movement which I'm sure must be a wedding speech first!
The weather and being able to have the ceremony outside. The morning of the wedding was very cloudy but the closer we got to the start time, the sunnier it got and it ended it being a perfect sunny which we were incredibly lucky to have. I'd told our wonderful planner, Illy, that if the weather was nice then I'd like to have the ceremony outside but until I arrived on the day I wasn't sure if it was going to be inside or out so it was lovely surprise that it was outside.
One of my best friends, Matt, conducted the ceremony and acted as our celebrant which felt so personal and special. We were a little worried that people may not to take it as seriously as he wasn't an 'official' celebrant, but I think it was actually the opposite and so many people commented on it. He was brilliant and I am so glad we did it that way.
Dal had arranged a confetti cannon for our first dance. I had asked him to arrange this as a 'surprise' ages ago but had completely forgotten about it so it was a massive surprise on the day.
Advice for other couples?
We didn't really enjoy the build up to the day that much due to covid worries and having so much to do but looking back I really wish that we had enjoyed it more! So, if we could give any advice it would be to enjoy the build as much as you can because you don't get that time back.
Also, accept that there are likely to be hiccups in the lead up/on the day and try not to let them affect you too much. We had last minute supplier cancellation a couple of days before and a broken generator and delay on the food on the day but in the end none of this mattered.
Biggest surprise 
Definitely how quickly the day just flies by, people do you warn you but it really is a whirlwind.
Supplier Shout Outs