What a lovely wedding I have for you today, set in the Yorkshire Countryside this gorgeous day has Boho charm and a beautiful outdoor ceremony. Sarah and Mark decided on a country-style wedding and set a budget to stick to, they did very well to stay on track and worked as a team to make this happen. As they are both keen cyclists they decided on a tandem bicycle theme, to go alongside the boho style of the day. With wildflowers, homemade cakes and lots of DIY projects this wedding is super cute and full of personality. A child friendly day that is pretty as well as fun. Thanks to Ryan from Shutter Go Click for the images.
'Only second to the day my daughter was born our wedding day was the biggest emotional roller coaster ride, from being completely petrified to being on the biggest high ever. It was incredible.'
Sarah and Mark were married on 27th July 2014 the ceremony was held at the Priest House in Barden and the reception was at the Devonshire Fell in Burnsall. 'I drove past the Priest House on a regular basis and when we started planning the wedding and I heard you could get married there we had a look around and just fell in love with the imposing building and surrounding area and knew it would be perfect for the outdoor ceremony that we were looking for. They also had a licence for weddings so we could do the legal part with a registrar on the same day indoors. We chose the Devonshire Fell for the reception as it had excellent reviews, stunning views and ticked the practical checklist we had, which was a big priority when it came to our daughter. Cara at the Devonshire Fell is a fantastic wedding organiser. We had 75 day guests and 90 evening. About 6 months it took to plan but it felt like most of it was done in the last week before the wedding. Our wedding vows were written just the day before the wedding. It was very stressful and I promised myself I wouldn't leave it all until the last minute but it's easier said then done when your fitting planning into your daughters nap times.'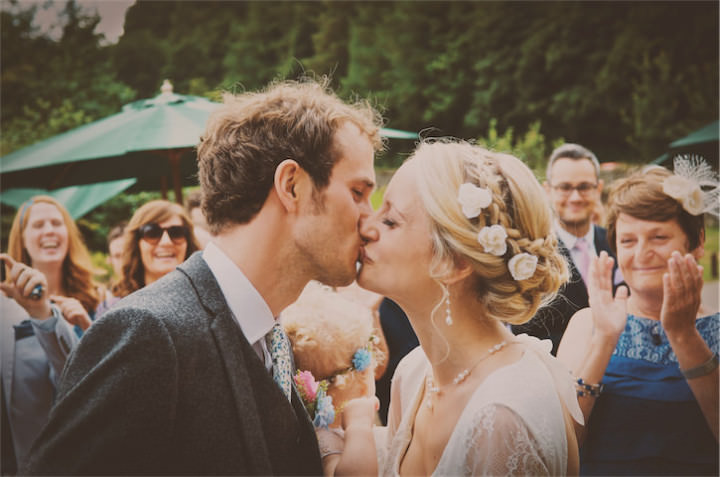 How they met
We met five years ago not very romantically on a dating website. On our first date we went biking along the Leeds to Liverpool canal, had some pub grub and got very muddy. It was the definitely the best first date i'd been on, we just clicked and I don't think either of us have looked back since that day.
The Proposal
My husband is a very practical and dare I say unromantic Yorkshire man but the boy did good. Mark surprised me with a trip to Bruge for my 30th . We were walking along a quiet river, it was raining and we were talking excitedly about our future as we'd just found out I was expecting our daughter. Looking back now I should have guessed what was coming (as he had been behaving rather suspiciously) but I was completely blind sided when in the middle of talking through all the practical plans we'd just made, he suddenly dropped to one knee in the rain and pulled out his grandmothers beautiful art deco ring. I'm not much of a cryer but I did well-up and said 'of course'.
How did you allocate your budget
Mark is very organised and likes a good spreadsheet so after discussions we came to an agreement on what we felt we could afford overall and allocated for each aspect of the wedding. I was really strict on keeping to the budget and Mark kept the spreadsheet up to date. Our mums generously each offered a 1/3 toward the wedding costs and although we didn't go crazy, without them it would have been unaffordable. After the wedding we managed to sell things on ebay like the tandem bike, shoes, accessories, decorations.
How did you choose your photographer
We originally didn't plan on having a photographer as I don't usually like pictures of myself but while I was looking for inspiration and googling 'outdoor weddings at the Priest House' I came across a beautiful winter wedding shoot that Ryan (our photographer) had done at the Priest House. I loved the relaxed quirky retro style to his photography and changed my mind instantly about needing a photographer. Ryan was great at putting us at ease, very professional, enthusiastic and I think he did a brilliant job of capturing the emotion on the day.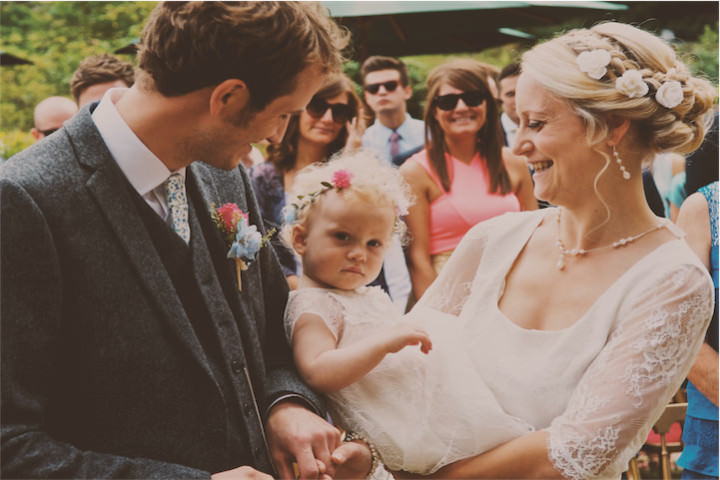 The Dress
My wedding dress was a massive risk, which luckily paid off. I found Polina Ivanova's shop on Etsy and fell in love with the boho lace style of her dresses. She had rave reviews and so I went out on a limb and decided to ask her for a custom made order which had a large part of her design but with the floaty silk chiffon skirt. I gave her my measurements and she made me my dream dress in just a couple of weeks! The dress fit perfectly so I didn't have any expensive alterations either. I would highly recommend Polina, especially if you have your own design in mind, she is a truly talented seamstress. My shoes were from Monsoon. My accessories were also from Etsy and Joanne from the Perfect Look did a brilliant job with my hair and make-up.
The Suit and Bridesmaids
The tweed suits were from River Island and after making my sister try on about 20 different dresses because I had no idea what I was looking for we settled on a floaty pale blue dress from Warehouse for the bridesmaids. The flower girls' dresses were Monsoon and pageboy suit was from Marks and Spencers. I thought everybody looked brilliant on the day.
Theme or Colour Scheme
I wanted a boho country style, with a slight tandem bicycle theme running through the wedding, as biking is a common interest Mark and me share. The original plan was that we would tandem bike between venues but strangely enough this idea got discarded. I still wish we'd had a go though
Flowers
Vanessa who did the flowers was amazing, as I was clueless on flower names. I knew I wanted the flowers to look wild. So after a lot of email and picture exchanges we decided on purple Clematis, Cowparsley, Thalaspi, hint of blue Hydranga and blue Delphinium, purple Lizzianthus, hot pink Roses, white spray Roses and for the foliage Eucalyptus, Senecio, Ruscus. Phew! They looked so beautiful contrasted in rustic tin buckets as the table centrepieces.
Decoration
Bunting and crocheted flowers that mine and Mark's mum knitted together. They now decorate my daughter bedroom. Mark enjoyed getting his router out and made the wedding signs himself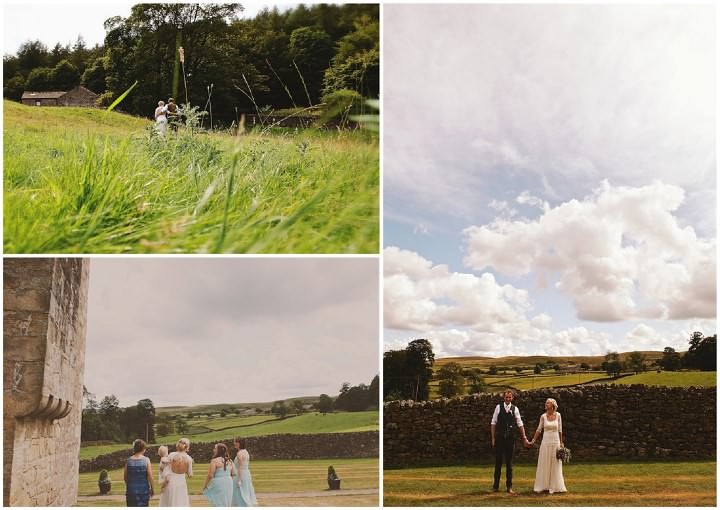 Food
Salmon fish cakes to start, pork for main and profiteroles. Then a ploughmans buffet in the evening
Wedding Cake
The wedding cake was a three tiered masterpiece, with carrot cake, chocolate and sponge cake made by Mark's amazing aunty and nana. It sounds like it was quite a traumatic experience making the cake but the end result looked incredible and tasted really scrummy.
Entertainment
My talented and lovely cousin did quick sketches of the guests, which went down really well. We had a blow-up softplay as we had 12 children under the age of 4 at the wedding. Garden games and DJ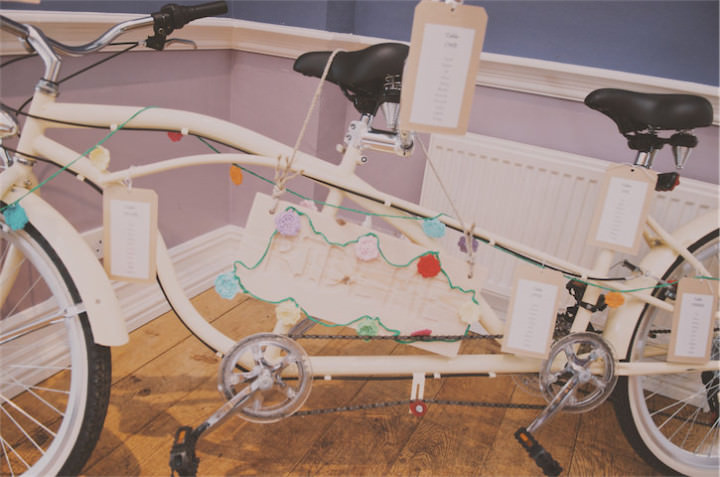 Buy or DIY your Stationery
The invitations were from ebay. The thank you cards, place cards and wedding favours (which were envelopes of wildflower seeds were made ourselves.
Special Moments
Without doubt the best part of the day was the outdoor blessing ceremony in front of all our friends and family. It looked like it was going to rain all morning so I was feeling a bit gutted thinking the ceremony was going to be held in the marquee but the sun came out just in time. Apparently there was a dash to move chairs outside just before I arrived. It was perfect, my nerves disappeared instantly when I saw Mark grinning at me as my mum walked me down the aisle. I was holding my daughter, the sun shining and surrounded by all our smiling friends and family. It was the best feeling ever. We asked our legendary friend John to perform the ceremony and he did such a brilliantly professional job, as I knew he would. The whole ceremony and vows were written by ourselves, which was an added stress but worth it. The bridesmaids and my uncle did some lovely readings. The whole ceremony was really relaxed and personal especially with our friend John leading it all.
Advice to other couples
Definitely have a photographer and find a good one. The day is a blur and after the roller coaster ride is over all you have are the pictures…well and a ring..and a loving husband but it gives me so much pleasure looking through our wedding album and seeing how it all came together and everyone having such a good time.
Another bit of very specific advice is check the legalities of what you've got planned, if it's out of the ordinary. We knew of course you couldn't get married outdoors legally but unbeknown to us apparently you are not legally allowed to have a 'blessing' before the legal marriage. We received an email from the registrar just 2 days before the wedding saying what we had planned (with the legal ceremony taking place immediately after the outdoor one) could not happen by law. This was eventually resolved after a trip to the council office but to avoid the stress I'd recommend you do the legal ceremony in a registry office before and not try to do it after any blessing ceremony if you're planning something similar.
Biggest surprise
That there was no baby related disasters, with the added bonus of my daughters 3 hour nap in the afternoon was a rather unexpected surprise.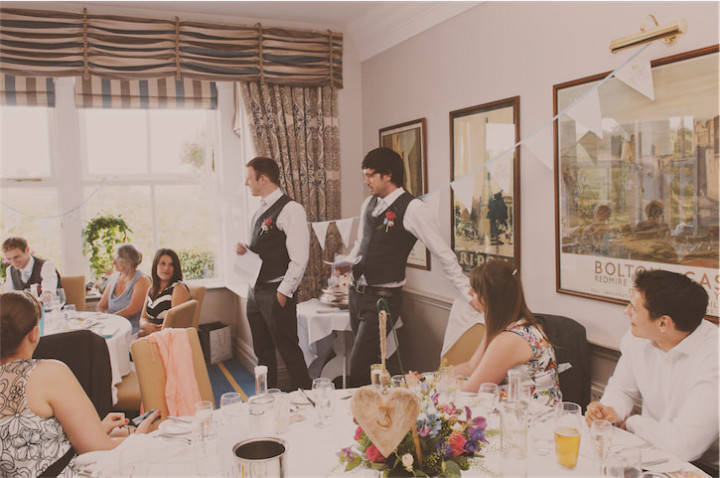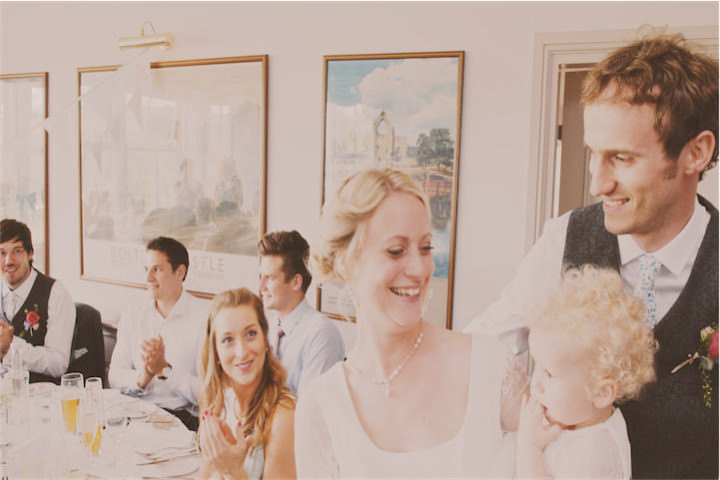 Supplier Shout Outs
For more information on Ryan's work please go to:
www.shuttergoclick.com
www.beyondthemegapixel.tumblr.com
FACEBOOK
TWITTER
[email protected]
07595370874
Shutter Go.. Click Photography is the artistic alternative to traditional wedding photography in Saltaire, Leeds & Yorkshire.