Today we are back with our regular feature 'Advice from the Married Side,' real life wedding planning advice from all the lovely brides and grooms I have featured on the blog.
I get to feature so many amazing real weddings here on the blog and with each wedding I ask the couple to share with us their wedding planning knowledge and experiences. This post is a super useful collection of wedding wisdom from those who have just got married, to help you on your own wedding planning journey. I hope there will be something amongst these experiences that help you. Happy Planning!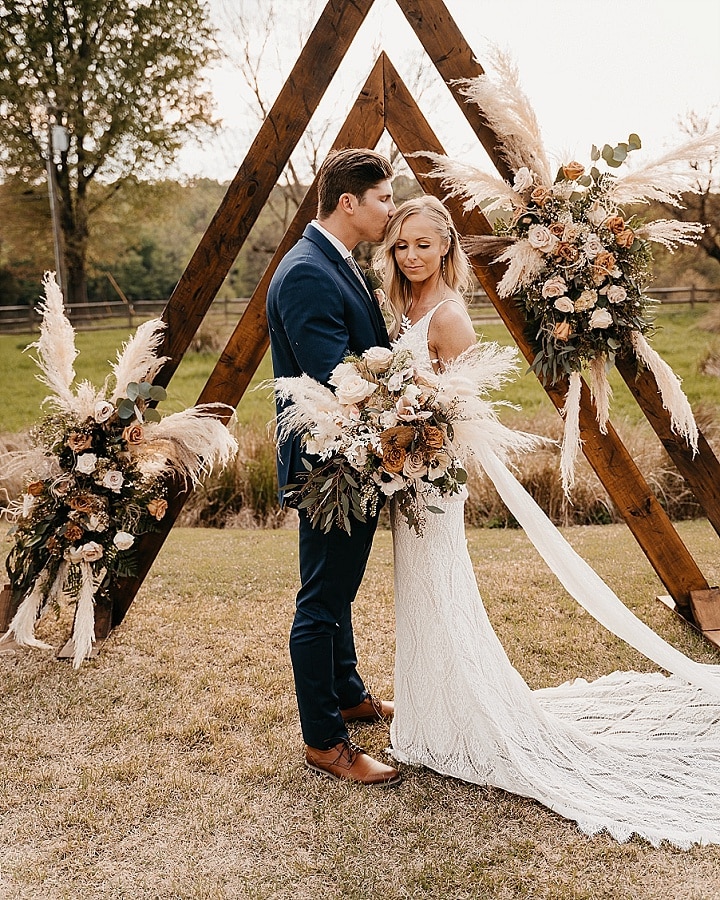 General Advice 
Don't compromise on things that will make your day perfect for you. If you like a venue that won't fit all the guests you want, look for something else. Who is around you on the day is way more important than what it looks like.
Try not to get caught up in the hype/stress in Facebook groups. There is lots of helpful information but your day is yours. Enjoy the planning, you'll only do it once and your mood in the run up will set your tone for the day.
Have some time away afterwards, time to reflect and enjoy each others company away without wedding planning for the first time in months, it will help the wedding blues a lot!
It's about the marriage, not the wedding day – you will be a bride/groom for a day, but a wife/husband for life. This is why you are getting married! To love your spouse for life, no matter what! That is a big commitment and not something to take lightly. Whilst there is a lot of practical planning to do for your wedding day, we highly encourage you to prepare yourself for marriage more.
It is absolutely 100% about you both and what you want to achieve. Don't stress about minor details. Hug everyone. Get a photographer.
Weddings get very expensive, very fast. Don't bother to do anything or purchase anything that isn't authentic to you as a couple!
Planning
Give yourself A LOT of time for planning if you want to do lots yourself. No time is enough as you'll always find more things to do. Take the week before off work if you can, the last minute things take longer than you think!
First of all, hire a planner! That is the best investment you could make to your wedding. We were so thankful to have our planner every step of the way. Without her the wedding would not have been what it was.
HIRE A DAY OF PLANNER!
Think about what's really important to YOU! So many of my friends said they spent so much time stressing over the guest list/table plan and pleasing everybody else. Apart from a few who unfortunately couldn't be there due to the pandemic restrictions, we had our very nearest and dearest with us and it made it so intimate and special.
COVID wedding planning was hard…it's just the truth. However, our day was so special and we appreciated every moment because we worked hard to get there. Don't get discouraged and remember what is most important about the day.
Get a good photographer and planner! It is so worth it. It made a world of a difference for me as the bride because I showed up to my wedding day SO RELAXED. It's because I knew in my heart I was well taken care of and that gave me permission to be at peace.
If it's within your budget, you should definitely hire a wedding planner. It will make the process of "getting married" much less torturous for you, and it's the highest "value-to-dollars-spent"
Make the day your own
Cherry pick the traditions you want to follow, there's no point in doing something you don't want to do or feel uncomfortable with.
Think about what is important to you and don't just do things because that's the done thing.
There is so much that will feel like a big deal in the run up but not matter on the day, no one else will ever know what hasn't gone to plan.
Plan your wedding exactly how you want it and don't worry what you think other people would expect or want!! You want to end your special day not wanting to Make any changes.
Getting organised
Don't be swung from left to right due to people expecting you to do x, y, and z. You may be surprised about where these voices come from, but do not back down – this is a day celebrating your united love, and your guests are invited to celebrate that with you, not for them to plan their own wedding or ideal day out.
My advice, take your time. Rome wasn't built in a day, so why should one of the most memorable moments of your life we rushed into a year. Take your time and make sure that you get all the important details you want incorporated into your wedding and don't let the venue hinder your ideas.
I highly recommend a small wedding, and using photographer's who you know and trust! It makes the whole process a lot less awkward!
On the day
Don't sweat the small stuff because once it's the wedding day, you forget about all of it and just think of your new bride/groom and you're filled with happiness. No one notices if everything wasn't "perfect."
My advice would be to relax on the day-of and soak in all the special moments. Chances are, there will be a few things that happen that you didn't plan on happening. Embrace those moments and know that your day will turn out exactly how it was meant to!
If anything goes wrong, embrace it. No matter what happens enjoy the day, enjoy each other, and enjoy your loved ones. This will be how memories are formed of the day and what you will look back on, not whether the decorations fell down or you tripped walking down the aisle – if anything you will laugh about it!
It's YOUR DAY! Don't worry about the little things that went wrong or didn't go as planned. People will feed off your energy so take a deep breath, shot of tequila and make sure to let loose and enjoy the happiest day of your life!
Above all else, enjoy the day because it goes by so fast and you don't want to remember it by being stressed out.
It is YOUR wedding so treat it as such. Many people warned us that we wouldn't have fun at our own wedding because we would be too busy being hosts. Our advice would be to eat the dinner you paid for, have your own signature cocktail, and spend the night dancing.
Don't sweat the small stuff it all comes together on the day… even if it doesn't you still have the best time!
I hope you found these pieces of advice helpful. If you are already married is there anything you would like to add ? Was there anything in these words of wisdom that has resonated with you?
Is there something you would particularly like to ask me  for advice? any questions just email me [email protected]
BIG BOHO LOVE
KELLY XX