If you are a fan of all things bright and colourful you are going to love today's wedding. Brenna and Tyler are big music lovers, so they wanted to incorporate this into their big day. They went for a 70's festival theme with vinyl table names, round glasses and the most stunning retro decor. They also wanted the whole place to be filled with the most gorgeous flowers and their florist certainly hit the brief. The entire day looks amazing, from the macrame filled ceremony, to the retro themed, super colourful reception. I just love the fun element of this wedding, and the bursts of colour are just adorable. Big thanks to Jackie McGinnis Photo for the amazing photos.
Our wedding day was so intimate and special. Everyone said it was so "us."
Brenna and Tyler were married on 10th October 2020 at Southern Grace Weddings Arlington, Tennessee. The location had everything we were looking for. A "backyard wedding" type vibe. We had about 100 guests and it took a year and half to plan.
How they met
We met on bumble when we were both getting our master's degrees in accounting in the fall of 2017, so now we have been together for 4 years.
The proposal
When we were both getting our master's degrees in accounting, we joined bumble and met through there. It was instant chemistry and so easy. We always give advice to others doing online dating – it shouldn't be hard! It should feel right. A year and a half into our relationship, Tyler surprised Brenna with tickets to the Orpheum to see Anastasia. After the show, Tyler led Brenna in front of the theater where the marquee read "Brenna will you marry me?" Tyler got on his knee to propose and everyone around us cheered and cars driving by honked. So happy!!!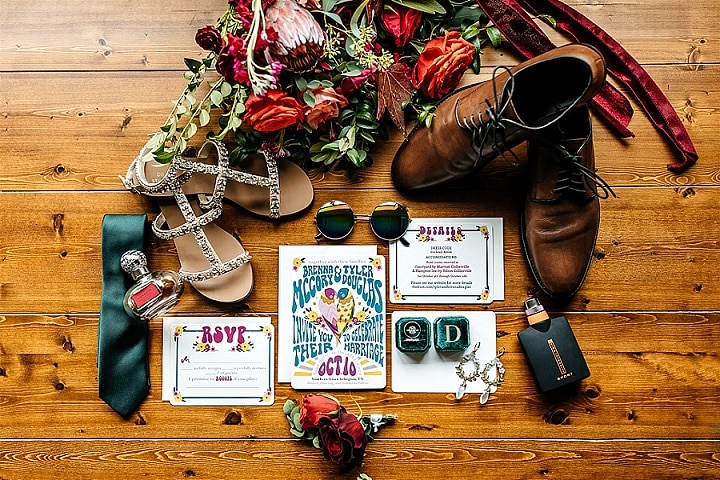 How did you allocate your budget?
Mostly planning and florals, the rest we tried to keep low (we failed)
Where did you splurge and where did you save?
We wanted to splurge on the florals because that was the most important part for the bride. We wanted florals everywhere! We saved on the guest favors and décor – a lot of it Tyler's mom got thrifting!
How did you choose your photographer?
Jackie McGinnis's style is so colorful and vibrant and that is EXACTLY what we wanted! She was perfect. And her personality is incredible too.
The dress
Brenna always knew she wanted a lace-sleeved dress – so that is what she wore! She also wore a flower crown to match her boho vibes and it was perfect. Again, Jennifer from Southern Sparkle killed it.
The suit
Tyler wore a dark gray suit with brown shoes and belt, an emerald green tie, and of course a colorful boutonniere.
Theme or colour scheme
One of our favorite things to do for fun is go to music festivals, so we really wanted to incorporate that part of our lives into our special day. We also wanted to have a very colorful wedding with a lot of beautiful fall colors. So, we decided to bring all of those maroon, orange, pink and green colors into our Woodstock theme to create our one-of-a-kind experience. To accomplish this goal, we set the tables with vintage glassware, vinyl records as table markers, and 70s round frame sunglasses as seating assignments to capture the 70s era vibe.
Flowers 
One of the most important aspects when planning was to have a LOT of flowers. Brenna told Tyler from the beginning that was where we needed to spend a lot of the budget and Jennifer from Southern Sparkle absolutely delivered. We used flowers everywhere we could. Brenna's bouquet was huge and gorgeous, everything she dreamt of and more!
Decoration 
For our décor we wanted to make the venue cozy and inviting for the guests to feel comfortable opposed to being overly formal. Tyler's mother has multiple antique booths, so we really leaned on her for finding a lot of the detailed decorations. For the ceremony, Tyler's mom built an entrance way from old doors that she refurbished and painted that were topped with florals and greenery. We lined the aisle with vintage rugs and antique vases filled with pampas grass. And the alter had an arbor that Brenna's mom made from scratch, that the venue loved so much that they kept it!
For the reception we wanted it to be very colorful and fun. We wanted flowers everywhere on the tables. The glasses were collected by Tyler's mom from thrift stores and antique booths. She also had an old collection of records to give us for the table markers.
Food
Heavy hors d'oeuvres of salad, sliders, beef wellingtons
Wedding cake
Half was spice cake, and half was almond flavored. Delish!!
Entertainment
Everyone said, "this wedding is SO you!!!!" because of how the décor was all 70s and colorful. We used a lot of songs from the disco and had a fun camper photobooth. It's hard to pick a favorite part of our day because the day was so incredible, but the photobooth was a hit and people got really crazy with their photos in there!
Who supplied the stationery?
Our friend Leslie designed the stationery.
Where did you go on your honeymoon?
We went to Cancun! Incredible honeymoon.
Personal touches
All of the décor was thrifted including the doors at the entrance of the ceremony and the colored glasses on the tables. Brenna's mom made the arbor from scratch, and the venue actually asked to keep it. We honestly tried to have everything be personal because we wanted the wedding to be
about US and what we wanted. Festival vibes, antique, thrifty, and colorful.
Special moments
Tyler says his most special moment is seeing Brenna walk down the aisle. We were adamant on not doing a first look because we wanted her walk to be the first time he sees her. No regrets there – it was amazing! Tyler cried and Brenna laughed down the aisle from being so giddy.
Brenna says her most special moment was reading their vows. They wrote them themselves and they ended up being so precious. Hearing what the other person feels for you in front of everyone is magical and emotional.
Advice for other couples
First of all, hire a planner! That is the best investment you could make to your wedding. We were so thankful to have Madison our planner every step of the way. Without her the wedding would not have been what it was. Second, don't sweat the small stuff because once it's the wedding day, you forget about all of it and just think of your new bride/groom and you're filled with happiness. No one notices if
everything wasn't "perfect." For example – our wedding was actually supposed to be outside. That week, a hurricane hit the US and it hit Memphis on our wedding day! So we had to make the decision that morning to move it all inside. Brenna cried because this wasn't at all what they planned or envisioned, but the day ended up being even better than what they originally thought. The venue felt more intimate and comfortable than it would have outside. We ended up being happy we went inside!
Biggest surprise of the day?
The rain was the biggest surprise, because we planned on having the wedding outside but that obviously couldn't happen. But it turned out better than I think it would have if we had it outside. It was very intimate and cozy.
Supplier Shout Outs
Photos: Jackie McGinnis Photo
Planning: Southern Sparkle Wedding and Event Planning
Florals: Southern Sparkle Florals
Venue: Southern Grace Weddings 
Catering: Pink Flamingo Catering
Makeup: Isabella Allen-Makeup Artist