Hello you lovely lot and welcome to another wonderful week! I hope you all had a great weekend? Did you get up to anything wedding related? I'm still seeing so many weddings popping up on my socials, I'm looking forward to featuring some of these lovely weddings in the ongoing months. I am starting off the week with this gorgeous wedding from Georgia. Jaden and Michael were married on 2nd October 2020 in Buford, Georgia. They wanted to hold the whole of their wedding outside. They found the perfect venue in Four Oaks Manor and held their romantic macrame filled ceremony and their super stylish reception in the venue gardens. With stunning decor and fashion led outfits, this wedding ticks so many boxes, I just love it. Big love to Jaden and Michael and big thanks to Atalie Ann Photo
for the amazing photos.
"Our wedding day experience was amazing! It felt like a dream when we woke up the next morning. Everything was perfect and we had the best time with our family and friends. We wanted to get married again!"
McKenzie from Four Oaks Manor tells more about the day
How they met
Jaden and Michael met in college, but it was another few years later when their story really began. "We met in college and I knew there was something special about Michael," Jaden explains. "We didn't reconnect until 3 years later. I messaged him on Instagram, asked him on a date and the rest is history!"
The proposal
A few years into the relationship, Michael decided it was time to propose. "My dad had recently moved to Texas which was hard for me and my brother since we are all very close. Michael planned a trip to visit my dad a few months later and decided to include him, my stepmom, and step-siblings." Michael's original plan was to propose with Jaden's family all around them. But on their first night in Texas, he decided he couldn't wait any longer and proposed to her right in their bedroom. "It was perfect for it to be just us and take in the moment together. It was also very special to celebrate it with my dad the rest of the weekend," Jaden said.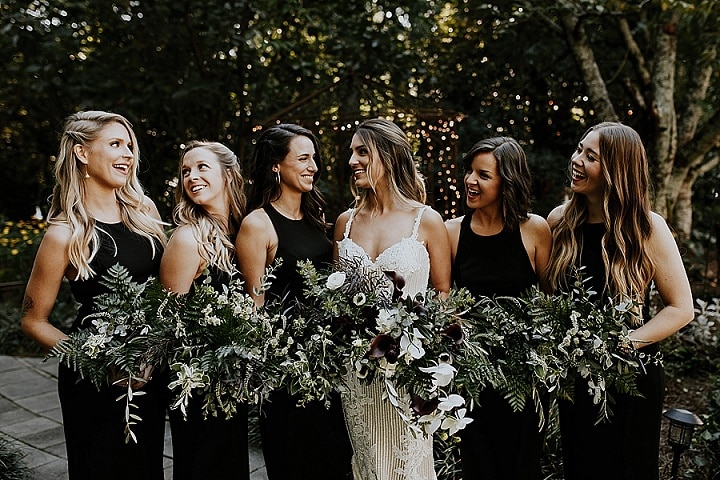 The venue
Soon after getting engaged, Jaden and Michael began looking at venues. Jaden said they wanted "an outdoor wedding that had some character." After touring Four Oaks Manor, they decided that was the place they wanted to get married. In addition to our outdoor space, Jaden said she was also drawn to all that came included at our venue. "The venue was also extremely affordable and came with a lot included in the rental price. The biggest sellers for me were the beautiful grounds and the complimentary decor."
On the day
Jaden and Michael married on a beautiful Friday in October. On the morning of their wedding, Jaden and all her bridesmaids got ready in Four Oaks Manor's upstairs bridal suite while Michael and his groomsmen hung out in our groom's room.
While the girls were getting the final touches on their hair and makeup, Michael and his groomsmen went outside to start taking photos.
The Outfits
The girls were all dressed in classic black dresses. We're loving this modern trend – keep it coming! The bridesmaids' bouquets were full of greenery and touches of white mixed throughout. Jaden's bouquet showed off different types of greenery mixed with deep wine calla lilies, anemones, and so many other amazing florals. Stems Atlanta, all we can say is wow!
Decoration
Jaden's style felt very boho chic and her altar was no different. Jaden opted to hang up this incredible woven macrame in the center instead. Stems Atlanta added a beautiful arrangement to the center.
Four Oaks' modern glass lanterns lined the aisle, which Stems Atlanta filled with more simple arrangements. We also placed our large ferns on both sides of the aisle. This altar style was a first for Four Oaks and we loved how Jaden's vision turned out!
Black tablecloths, light gold runners, and alternating centerpieces decorated the reception tables. Some tables adorned Four Oaks Manor's antique gold lanterns decorated with greenery while other tables included beautiful modern floral arrangements by Stems Atlanta.
For their head table, they opted to use one of Four Oaks Manor's farmhouse tables. They decorated it with a hanging macramé, a vase for Jaden's bouquet, greenery from Stems Atlanta, and our Mr. and Mrs. chairs.
Supplier Shout Outs
[jprel]