I have the most delightful styled shoot for you today full of amazing florals and the most gorgeous vintage car. The shoot took place on 10th February 2020 at 800 Congress in Austin, Texas. The theme was Boho Industrial and personally I feel the team of talented suppliers carried this off perfectly. The star of the show for me is the car and the totally stunning flower installation. The rich colours, the amazing Rue De Seine dress and that cake! WOW! Talk about breathtaking! I just love this shoot, personally I love a bit of industrial chic and mixing it with Boho makes my heart sing! Big thanks to Nikk Nguyen Photo for the fabulous images.
boho industrial – Bright colors, fun florals, and a vintage car
Nikk the photographer tells us more about the shoot
The design inspiration for this shoot was boho industrial – such a fun contrast! We sought to combine a bohemian bride with the city boy and the urban space with the softer stylings made for gorgeous photos. The dress, designed by Rue De Seine, was the star of the show – a non-traditional bohemian-styled gown with rust-colored lace and a pop of soft rose within the dress.
Gypsy Floral did a magnificent job with the flowers. They utilized Ikebana bowl arrangements on the tablescape, which added a fun touch to the table. The bright colors were stunning and contrasted so beautifully with the other elements of the shoot. The overflowing red roses and ranunculus out of the El Camino were, by far, my favorite piece of the shoot. Fun fact: Emily, the owner and lead designer of Gypsy Floral, has been dreaming up a fun installation for her vintage 1984 El Camino ever since she bought it a few years ago. It was perfect!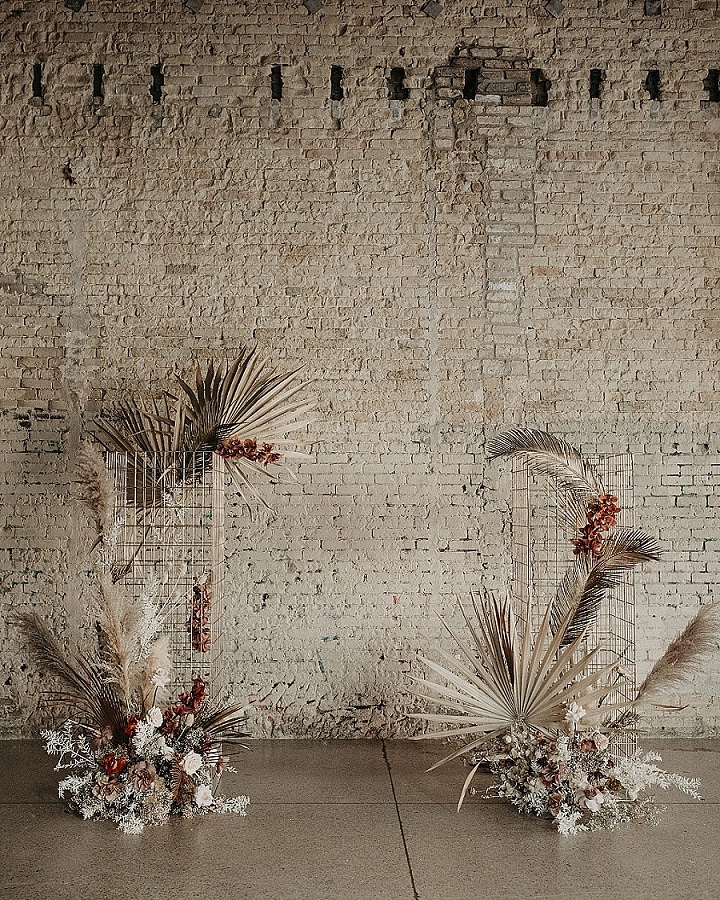 Supplier Shout Outs