Today I am taking you off for a real treat, a styled shoot so real that you would be forgiven for thinking it was an actual wedding. The shoot took place on 25th May 2023 at Villa Immacolatella – Trapani (Sicily – Italy). The shoot was put together by Sabrina Urilli to show that timeless elegance will never go out of fashion. Here we see a stunning old Villa being used with a mixture of Boho charm, the modern and the old working side by side. Soft warm tones of creams and greens mixed with natural colours have been put together to create this timeless inspiration. A stunning collection of images from a super talented collection of wedding suppliers.
'A romantic and intimate dive into the past, embraced by nature and the warmth of the Sicilian land.'
Sabrina the designer tells us more about the shoot
In the early twentieth century western Sicily was a popular destination for the English who chose it for its beautiful landscapes, the warm welcome of its inhabitants and for the good food and excellent wine that this flourishing and rich land offered.
Villa dell'Immacolatella is certainly a place full of charm and history, a real time capsule where you can live an unforgettable experience immersed in the Sicilian countryside a stone's throw from the sea. Well connected to the international airport of Trapani, from which it is 10 minutes by car, it will be for today's English couples, as it was in the past, a way to live unique and unforgettable experiences such as a wedding with Mediterranean notes could be. Sicilian style.
The inspiration was showing that today the welcome of the Sicilians, the beautiful landscapes and the good food are the same as they were then, all excellent reasons to choose Sicily as the setting for your dream wedding.
Although I always have very high expectations, despite the difficulties of designing and managing design remotely, Fabrizio Cannella's photos and Diego Napoleone's video perfectly emphasized every aspect of my design.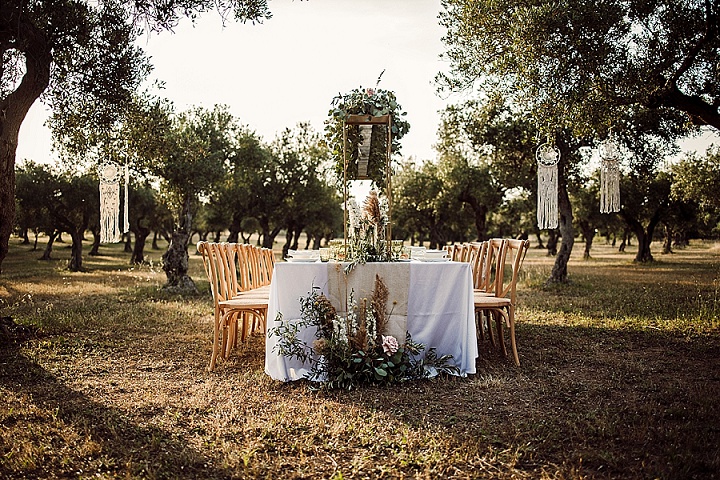 Supplier Shout Outs
SABRINA URILLI WEDDING PLANNER & DESIGNER
www.sabrinaurilli-weddingplanner.it / www.sabrinaurilli-weddingplanner.it/blog / [email protected] / FACEBOOK / INSTAGRAM / PINTEREST