Happy Monday everyone and how are you this lovely Monday morning? I hope you had a good weekend? Mine was lovely. Friday evening was all about the school Halloween party that I organised with a couple of other mums, it all went well, and despite the bag of nerves that I was, everyone had a great time. Saturday I got my hair cut, and then took Dexter to a birthday party, and yesterday Dexter and I went to the theatre, what about you? Today I am kicking off the week with this STUNNING wedding from Nikk Nguyen Photo. Stephanie and Mark were married on 1st December 2018 at Villa Mazuelo Vineyards in Driftwood, Texas. The Vineyard actually belongs to Stephanie's mum, which meant they could hold their ceremony there and then hold the reception in a marquee on the grounds. And what a reception it was, oh my!! So beautiful. The colour scheme was burgundy, black, cream/white, dark green, and navy, giving a dark, romantic and opulent feel to the day. With jaw dropping floral displays and the most stunning decor, this wedding is oozing style and glamour. A total triumph of the day and as for Stephanie and Mark, what a beautiful couple!
A few words from Nikk the photographer
When I decided to shoot this bohemian vineyard wedding I knew it was going to be incredible, but I had absolutely no idea just how amazing this night would turn out! I can't wait to tell you all about it!
Some would say it was by chance that Stephanie and Mark met, but I like to believe it was fate that had their offices placed next to each other at work. Talk about the perfect set up! It was just a matter of time before these two would fall madly in love with each other.
Fast forward in time and these two love birds are getting ready to say I do at Stephanie's parents vineyard just outside of Austin, Texas. They originally wanted to build a winery in time for the wedding but who has time to wait to construct a building when love is calling? So, setting up an exquisitely beautiful tent was the perfect alternative. I think you'll agree when you see the photos!
Stephanie and Mark's receptions was, by far, one of the most amazing and captivating receptions I've ever had the privilege of shooting. It was easy to see the amount of attention, care and thought that was put into each and every detail of the evening. One thing in particular was the insanely gorgeous florals above the main table! When I first laid eyes on those stunning wedding florals I couldn't believe my eyes.
Set against the backdrop of opulence and beauty was my favourite part of the entire evening; two people so enamoured with each other that their surroundings failed to compete with their extravagant love.
Just to give you an idea of how amazing these people are; Stephanie's parents are actually planning on turning their gorgeous property into a wedding venue in the future with the proceeds being donated to a charity they've set up to battle a specific form of cancer that claimed the lives of a few of their beloved parents and grandparents.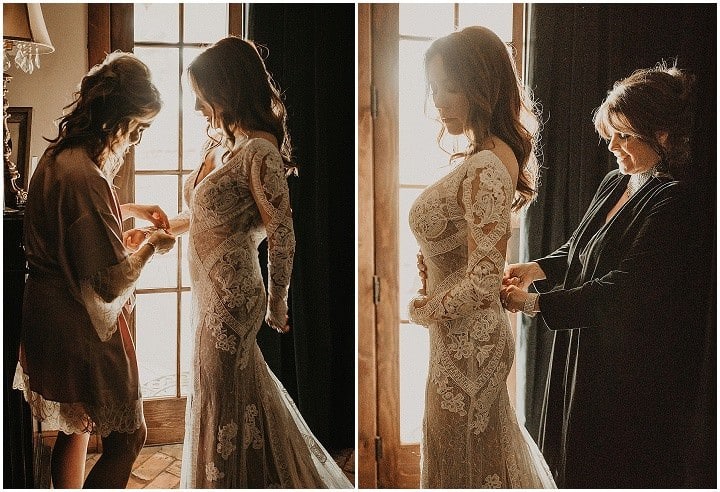 Theme or Colour scheme
Dark, moody, and romantic. Colours were burgundy, black, cream/white, dark green, and navy. The location was at Stephanie's parents', with the ceremony in their backyard overlooking Texas hill country, and the reception was in a tent next to a small vineyard on their land.
Flowers
STUNNING. Fit the theme perfectly, and my favourite part was the cascading arrangement over the main table at the reception.
Outfits
I wanted something simple but that felt very "me" – and I found it perfectly in my Willowby dress. And I asked my bridesmaids to wear anything they want, so long as it was black and long – I wanted them to feel 100% comfortable and actually have something they'd wear again!
Wedding cake
A "naked" cake with Mark's mom's buttercream frosting.
Favourite parts of the day?
Our vows that we wrote to each other. The slideshow my mom surprised us with, which includes pics of us from birth to present. And just seeing everyone we love all in one place at the same time.
Personal touches
The ceremony programs included random facts about each of us. Bridesmaids gifts were PJs and matching robes with their names embroidered on it.
Advice for other couples 
Add all the personal touches, write your own vows (and even the entire ceremony!), and hire a wedding planner if you can! I would have drowned without Tracy Collins.
Supplier Shout Outs
For more information on Nikk Nguyen Photo go to