Yay it's Friday! Thank goodness! Only a few hours before it's wine O'Clock. So week 3 of lockdown is nearly over, how are you getting on? I'd love to know about your wedding plans and how you are getting on with all the restrictions. Have you had to postpone your big day? Or are you going ahead with a micro wedding when weddings are allowed again? We are having a chat about it over in the Boho Brides and Grooms Facebook Group (with over 2.5K members) so why don't you come and join us! On with today's wedding and today I am taking you to beautiful Italy. Northern Italy to be specific, for the gorgeous Italian wedding of Greta and Flavia. These two brides are super stylish and make the perfect pair. They had a Disney themed fairy tale wedding, with a baby blue colour scheme and the whole day is just adorable. Big thanks to Stefano Cassaro for the images.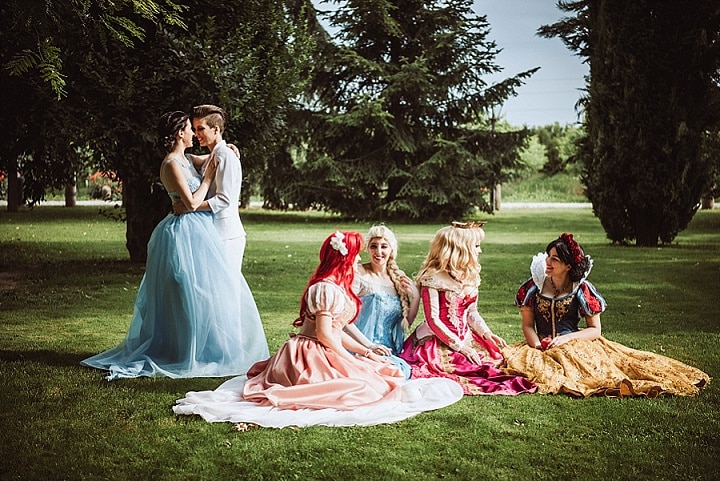 Greta and Flavia were married on July 20th, 2018 at  Villa Ca' Prigioni in Vicenza, Northern Italy. We chose the villa because of the beauty of the garden, such a stunning location. We had 100 guests in total and it took 6 moths to plan the wedding. It truly was a Fair tale.
How they met / the proposal 
We met at a dance class. We were engaged engaged 2 years before the wedding. Flavia asked her parents for Greta's hand.
How did you allocate your budget?
Altogether the budget ran to around Euro 30.000 Euro. The Location and photographer were our biggest expenses, but totally worth the money.
Why did you choose your photographer?
Stefano is the best italian wedding photographer for us, eh is amazing.
Theme or colour scheme 
Our theme was 'A Disney Fairy tale' the main colour was light blue. We had gorgeous roses as our main flower and lots of fairy tale Disney decorations. It was truly magical.
Food
Our food was  fish based and then we had a strawberry and raspberry wedding cake, it was delicious.
Entertainment
We had an excellent DJ.
Personal touches
We made all the stationery ourselves, it added a real personal touch.
Special moments
The moment we both said yes in the ceremony, a moment neither of us will ever forget.
Advice for other couples
Remember it's your wedding, so stick with your taste and ideas.
For more information on Stefano Cassaro go to
 www.stefanocassaro.com / www.stefanocassaro.com/blog / [email protected] / FACEBOOK / INSTAGRAM
'My name is Stefano Cassaro and I'm a destination wedding photographer based in Venice (Mestre), Italy. My photography follows a fine-art and photojournalistic style, in order to portray emotions, details and moments of any couples' Special Day. The passion for photography, combined with the love for my country, leads me to make myself available to all future couples who, coming from all over the world, have the desire to celebrate their Big Yes in one of the many splendid locations offered by Italy: Venice, Lake Como, Amalfi Coast, Florence and Tuscany, Rome, just to name a few.'