Happy Friday everyone and happy Easter holidays if you are about to break up! Today I am whisking you off to beautiful Italy for this quite stunning fairy tale wedding. Andrea and Marika held a traditional church ceremony in one of the prettiest churches I have ever seen. They adorned it with olive trees, candles and swags of fabric making it look even more impressive. This was followed by a fairy tale reception held in the woodland grounds of Convento dell'Annunciata. The whole area was decked out with festoon lighting, amazing flowers, candles and their sweetheart table is a rustic boho dream, with lace, wood and a super pretty flower garland. Not forgetting the amazing cake area as well, what a wedding! Big thanks to the amazing Giovanna Aprili for the gorgeous images.
It was an emotional and full of love day with a touch of fairytale mood and it was gone too fast! We'd love to live it again and again.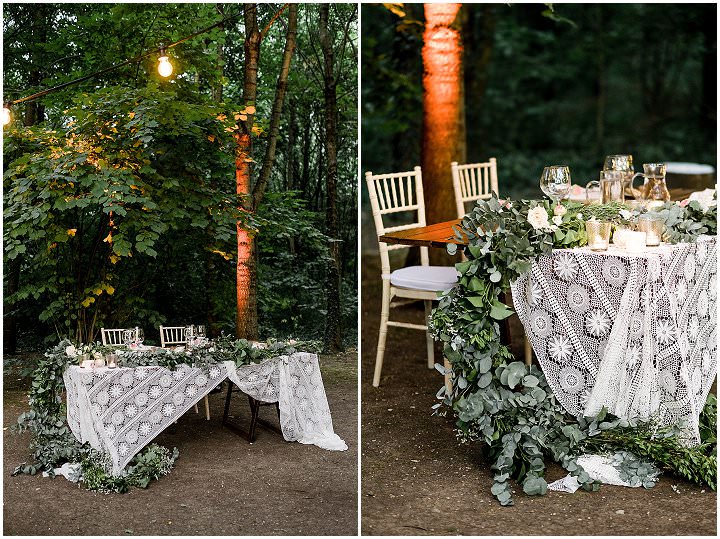 Andrea and Marika were married on 22nd July 2018 at church of Castel Goffredo Mantova, with the reception at Convento dell'Annunciata, Medole in Italy. 'We fell in love with Convento dell'Annunciata for its fairytale atmosphere and the opportunity to have a beautiful additional dinner option inside the cloister in case of bad weather. Once we've seen the Convento in all its ancient beauty we didn't want to see any other locations, we immediately have booked it. We had 120 guests and it took about 9 months to plan every detail.'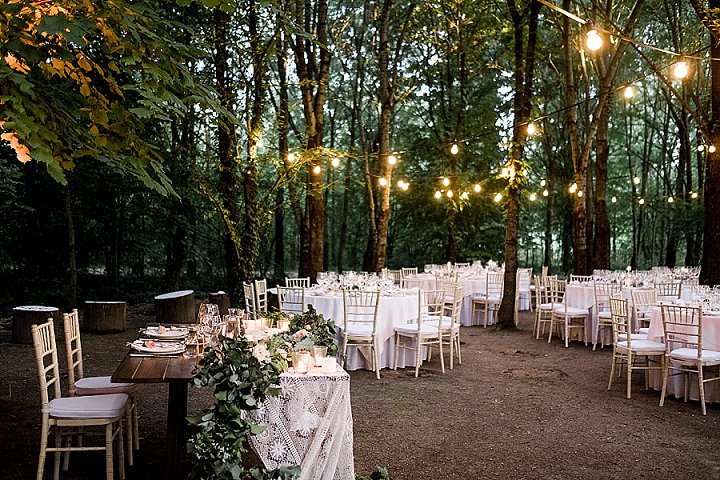 How they met 
We've been introduced from common friends as we all share the love for sailing. After two years we've decided to got married.
The proposal
The distance between our cities was about 200km and every time we saw each other it was difficult to separate. At the end of one of our trip together Andrea asked me to start a new life together under the same rooftop but he also proposed to do it as husband and wife!
How did you allocate your budget?
Between 28000/30000 EUR
Where did you splurge and where did you save?
We've splurge on almost everything but, in the end, we'll do it again.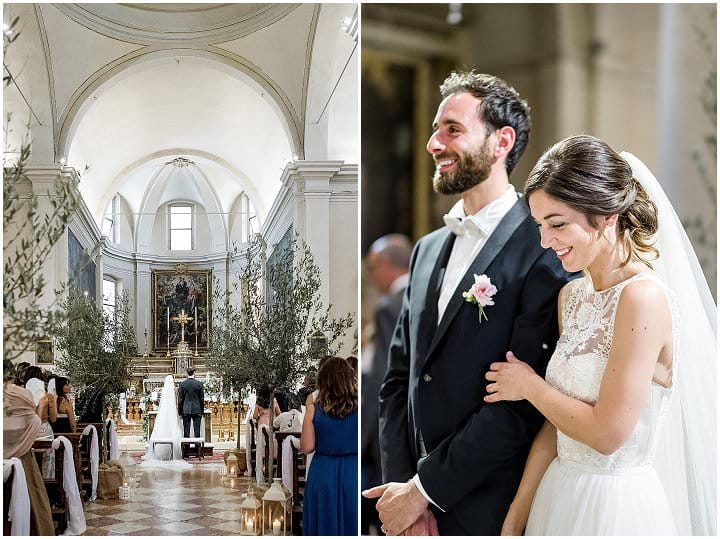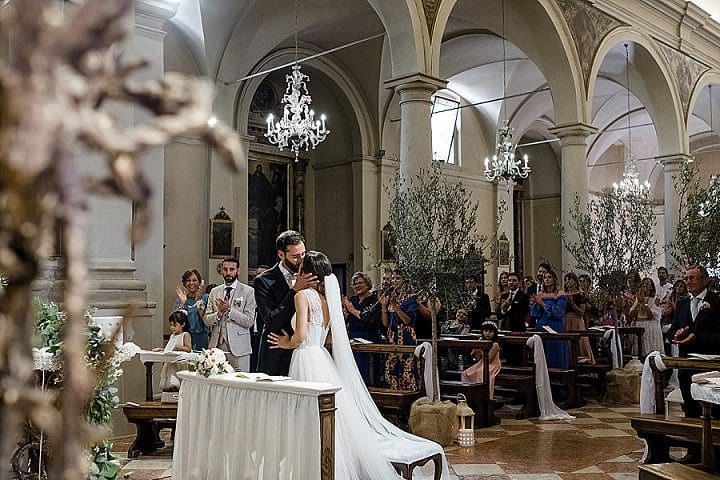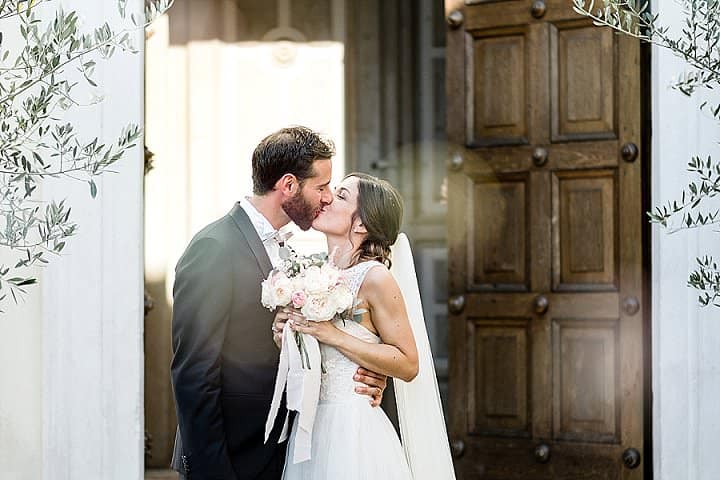 How did you choose your photographer?
We immediately fell in love with Giovanna's fresh style, colours and special care for details. We've been impressed by her candid view. In her spontaneous photos we have find all the precious, truly emotions of our day.
The dress 
My dress came from Divine Atelier, I've fell in love with the boho style and the lace. I've found it in Atelier Sposa d'Este. Shoes are from Le Silla.
The suit
Andrea's suit came from Italian brand Corneliani.
Theme or colour scheme
We've dreamed about a fairytale reception surrounded by nature. The dinner was served into the wood under a ceiling of light bulbs. Benedetta, our florists, made everything beautiful and it was like walking in a dream. Tables were named like our travel destinations. Color palette was made of green with a touch of pastel pink.
Flowers 
We had eucalyptus, olives, lisianthus, hypericum, garden roses, wax flowers, limonium, delphinium, astilbe and oak tree leaves.
Decoration 
For the church aisle we've chosen to have olive trees as décor. We've also had green curtain on the altar. For our seats we had a big green boho garland and a lace table cloth on wood naked table.
Guests seats were in round tables in front of us with green and white centerpieces. Tableau de marriage was made of pottery handmade hot hair balloons.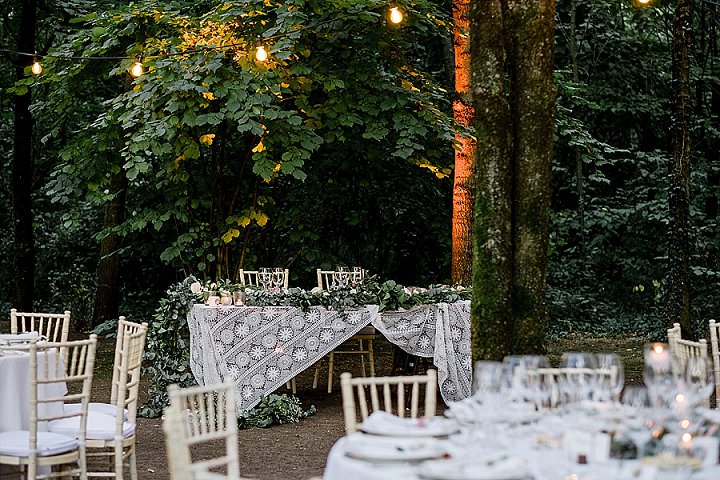 Food
After a big aperitivo in the cloister we had a typical Italian menù in the wood including Risotto with agrumes from Sicily followed by raw and cooked fish.
Wedding cake
Wedding cake was unforgettable! It was a layered cake made of Chantilly cream and wild strawberry. We did the cut of the cake in the most ancient courtyard of the Convento.
Entertainment
We had a big party in the courtyard with a great band called Good Vibes.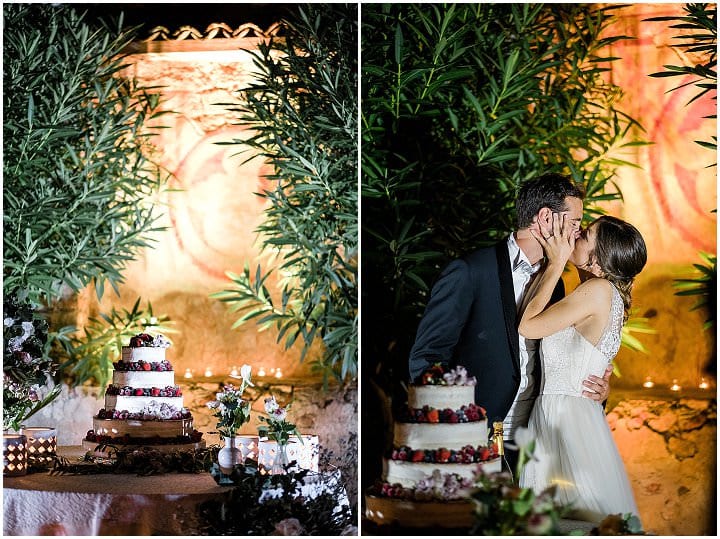 Personal touches
We've wanted to leave a special memories of our day to our guests, something that will lasts forever and tells something special about us and our love for travels. So we've asked to a craftswoman from Mantova to handmade pottery hot air ballons that are also perfumers. We've also used them as tableau de marriage.
Special moments
We did our first dance in the wood during the dinner time and it was a magic moment! We've really felt the happiness and involvement of our guests to our joy.
Advice for other couples
Try to be present and enjoy every moment of our day because it flies so fast.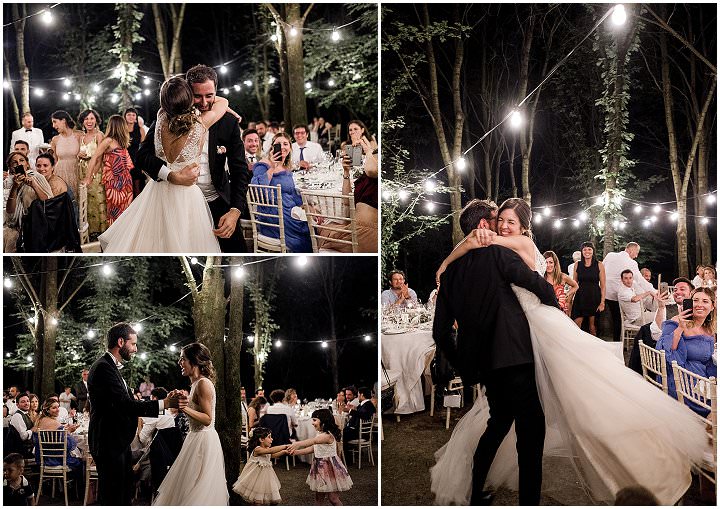 Supplier Shout Outs
For more information on Giovanna's work go to
www.giovannaaprili.com / www.giovannaaprili.com/stories / [email protected] / 3409255809 / FACEBOOK / INSTAGRAM / PINTEREST

I'm Giovanna, a wedding photographer based in Verona, Northern Italy. I believe that happiness is hidden in the little day-by-day things. Even when I'm not shooting a wedding my eyes are always in search of wonders. I love what I do because it keeps me in touch with beauty every day and, most of all, with people and their stories. I love to catch flying moments and impress them in a candid, spontaneous and joyful way.

[jprel]