Italy is a beautiful country and an incredibly popular place to get married. I have featured some amazing Italian weddings here on the blog, and will continue to I'm sure. Italy as you know has been badly effaced by the Coronavirus, so much so that I have many emails from wedding suppliers based in Italy asking me to help them. So this afternoon I will be sharing an advice piece from a wedding planner based in Italy about how to get married in Italy while living under the cloud of Coronavirus. Things may seem hard at the moment, but things will get better we will get though this and Italy, like the rest of the world, will be uniting families again. So this morning, I wanted to share a beautiful Italian wedding from ManiSol Wedding to remind everyone what a stunning country Italy is, and what an amazing place to hold a wedding. Maybe not for the next few months but later on in the year, or in 2021. Caroline and Chris did a wonderful job with a great team of fabulous Italian wedding suppliers and the pictures are evidence that Italy is still a place to consider for your dream wedding.
 We had the most awesome weekend tying the knot with all our favourite people around. Everyone was in a vacation mood and we enjoyed the sun, great Italian food, had a relaxed wedding day and an awesome party with a lot of laughter and dancing.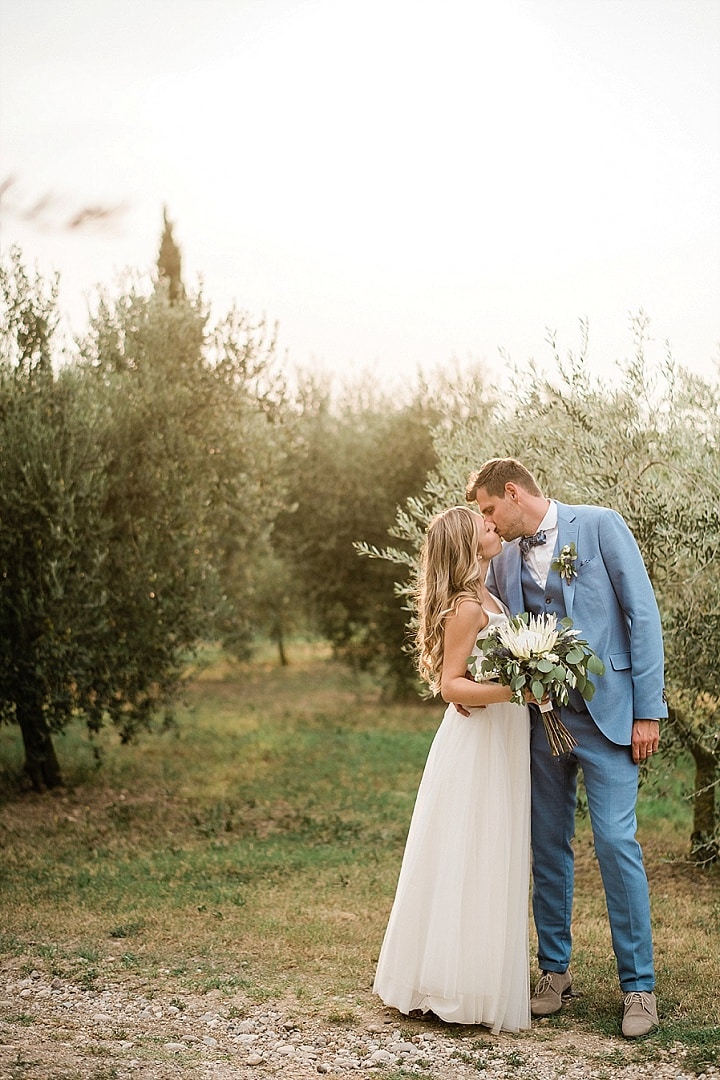 Caroline and Chris were married on 31st August 2019 at Agriturismo Antica Dimora del Turco in Verona Italy.  'We love to travel and wanted to let all our friends and family experience the laid back and special atmosphere of Italy and have a relaxed come together on Friday with a pasta party and an aperitivo and diner outside. My dream was to dance under the stars and we made it . The location also included a wedding planner. Martina was a big help for us to organize a wedding abroad. We had around 100 guests from 7 countries: Germany, Poland, Italy, France, USA, Canada and South Africa. Also during our ceremony we had our guests speaking in 5 languages what was really touching for us. We visited Italy in August of 2018 and decided to get married there once we saw the location, so we had one year for the planning.'
How they met
We met through Chris sister, who is one of Caros best friends. We were teenagers when we met and got married after 15 years. We experienced a lot together, also one year abroad in the US.
The proposal
Caro's all time big dream was to travel to Australia and see Sydney for NYE. We had a picnic in a nice area overlooking the harbor. We enjoyed the evening and then Chris popped the question. As he wanted me to choose the ring I love, I got a head piece saying Sydney NYE 2018. We managed to bring it home safely and it's now our wall decor.
How did you allocate your budget?
We didn't really have a maximum budget. We knew what was important to us: location, food, photographer. We tried to have a unique wedding with a personal touch, so I made all the stationary and a lot of decoration on my own with some very good friends.
Where did you splurge and where did you save?
As I mentioned location, food and photographer were the most important to us. We also talked about a videographer, but decided to rent a drone and ask some friends to make videos with their smartphones that I took together in a short nice amateur video.
How did you choose your photographer?
I looked for a photographer based in Italy and I didn't know any. So I started on Instagram and found the account of Manisol. As I looked at the photos I loved their style. When we first skyped with Selene we knew it would be awesome. When we came to Italy in April to meet all the suppliers, we had a couple shot after some glasses of Aperol. That really made a difference for us on the wedding day. We knew Selene would take amazing pictures of us and we were totally relaxed during the shooting.
The dress 
I got my dress from a special little designer based in South Germany: Nala Bridal Couture. A friend of mine found her Instagram account. I saw a dress that really matched my style in the collection Daniela designed. It was important for me to feel natural and not too dressed up. I wanted to have a cool, modern and minimalistic look. Everyone told me that it was the perfect dress for me, what was the biggest compliment for me. The dress was tailormade and the process was just as awesome as wearing it on the day. We had several meetings where Daniela and I designed my two pieces dress and made alterations like the slit in the dress, the golden belt and the design of the top.
We planned all around my accessories, as I wanted to wear my necklace and bracelet that I wear every day and that is a reminder of our time in the US.
The suit and bridesmaids
The suit was tailormade by a small shop in our hometown, Mr. Ash. Chris wanted me to go with him. He could choose the color, material, shape, buttons and every little detail, which was awesome. All while enjoying a glass of whisky and gin.
We didn't want to choose some dresses or the colours for the bridesmaids, but it worked out pretty well, as the colours they wore matched very well,
Theme or colour scheme
We had some neutral colours, green, grey with golden details as main colours.
Flowers 
I wanted to have a special bouquet with just one flower and just in white/green. The florist managed to find a protea, the national flower of South Africa, which was amazing.
Decoration 
Also for the decoration it was a minimalistic approach. We had some golden details like lanterns mixed with greenery. As place cards we had some marble hexagons tiles with golden handwritten names. The seat plan included countries we visited and photos of us.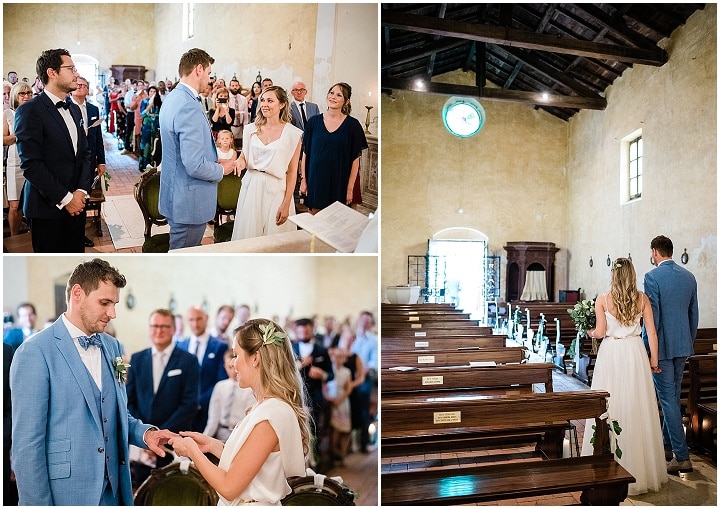 Food 
We had an awesome aperitivo with all you can dream of when you think about Italian antipasti. Then we had a set Italian menu with risotto with prosecco and noodles with mozzarella di buffalo as a 1st course and beef with balsamic vinegar sauce as a 2nd course.
Wedding cake?
The cake was a surprise, as it was way bigger than we thought. We had a blast doing the knife fight and cutting it. We decided to have a tropical cheesecake.
Entertainment
Music was very important for us, so we decided to have a DJ. He's a friend of our photographer. We met him and talked about our favourite songs. We wanted to have a big party. The advice he gave us was: if you enjoy the party and dance, everyone else will. And it worked out! We danced until 6 in the morning and then jumped into the pool.
Who supplied the stationery?
It was me and a very good friend who is brilliant in InDesign.
Personal touches
A lot of our guests said, that the wedding represented us. We had a lot of small details, like a little fan for the ceremony, a personal church booklet, yoga lessons in the morning, the pasta party the day before and much more. It was fun to organize!
Special moments 
There are a lot of special moments to mention: the come together the day before the wedding. the getting ready with friends and close family, the first look, the entry into the church, that we made together, the little moment, that we had just the two of us, before all the guests arrived at the location, the relaxed atmosphere, the surprises our friends made for us, the party all night long and the jump into the pool.
Advice for other couples 
Don't get overwhelmed by all the possibilities and amazing weddings you see on Instagram. Try to build your own brand and not just copy someone else.
We really enjoyed every moment of our wedding day. We haven't felt any rush to talk to everyone, as we met all our guests the day before. That was a real game changer for us.
Biggest surprise 
Our friends surprised us. First there was a quiz about our habits, where they showed the answers in a video they made in our home wearing masks with our faces. It was hilarious. Another surprise was a little ice cream truck that suddenly appeared with some friends with the song ice, ice, baby. Not only the little ones were happy as it was a really hot day.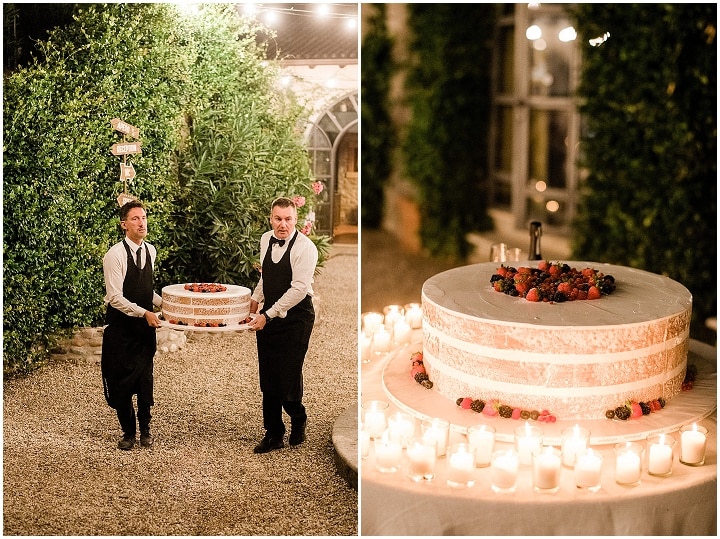 Supplier Shout Outs
For more information on ManiSol Wedding go to
www.manisolwedding.com  / FACEBOOK / INSTAGRAM / PINTEREST
We are a team of seven among photographers and videographers. I am the foundress of this studio, together with Alba Renna (videographer). Our search is towards Truth and Beauty: true, spontaneous moments and emotions, but also keeping an eye on the beauty side of it. We love shooting portraits and memorable shots, but we want to keep a natural look on it, so that the people can really recollect the moments they lived with the people they love.