Italian wedding Happy Friday everyone and how are you this very wet and soggy Friday? Here in Sheffield we are having a bit of a bad time of it with the weather, along with many parts of the country. There has been large scale flooding all over the city, so I hope that everyone is OK and no one is hurt. I hope the rain stops soon and the clean up operation can start and things can get back to normal! If the weather allows me, I am off to the theatre tonight, my Nice is in a production of Joseph and the Amazing Technicolor Dreamcoat, at the Lyceum in the City Centre, so I am super excited to go and watch her. Tomorrow my mum is coming up from Cornwall, again weather permitting. I haven't seen her since April so it will be lovely for her to spend some time with Dexter and have a good catch up. What about you? anything wedding related? or maybe you have started your Christmas festivities already? Here on the blog we are celebrating the wedding of An and Davy, who held their fairy tale Italian wedding against the most perfect backdrop. I just adore their outdoor reception, so soft and romantic. It has been sent into me by Loving Marche wedding planners, with photos by Kaba Photo Studio.
'Just a fairy tale'
An and Davy were married on 29th June, they held a weekend long wedding at Teatro Bruno Mugellini. Potenza Picena, Italy, with the reception at Pamperduto Country resort , Porto Potenza Picena. 'We are in love with the region of Le Marche. We love the beautiful landscape. Behind every corner there is another surprise. The medieval villages, The hospitality of the people. The food…. Davy asked me to marry him during a walk among the olive trees. We had 50 guests and it took a year to plan.' 
How they met 
He was the neighbour. He didn't know. We saw each other for first time in a cafe. It was love at first sight. Really magic! We are 14 years together
The proposal
Davy asked me to marry me, during a walk among the olive trees. I always wanted to get married. But for Davy it wasn't necessary. And when I no longer expected he asked. He knelt during a morning walk in the olive grove with a wonderful ring.
How did you allocate your budget?
We asked our wedding planner for an example of editions of other weddings
Where did you splurge and where did you save?
We always thought: " is this worth it for us"  and it was!!!
How did you choose your photographer?
We had suggestions from the wedding planner. I studies the websites of  the photographers and so we decided.
The dress 
Dress was Affezione, shoes from Alma en Pena, rings from Peter Poussenier diamonds
The suit and bridesmaids
The where free to choose
Theme or colour scheme
Not for the dresses of the guests. For the decoration: Soft pink, gold and pine green
Flowers
The wedding bouquet was Gypsophila, for the decoration: eucalyptus, ruscus, light pink astilbe, daisy, laurel, lisyantus, white freesia and olive.
Decoration 
Tables, White brushed towel, bronzed chandeliers, green table runners and white and soft pink flowers, the runner goes down to the head of the table. Dancing area with candle cylinders and flower and green bouquets and with pillows. White arch to hang the tableau with floral decoration.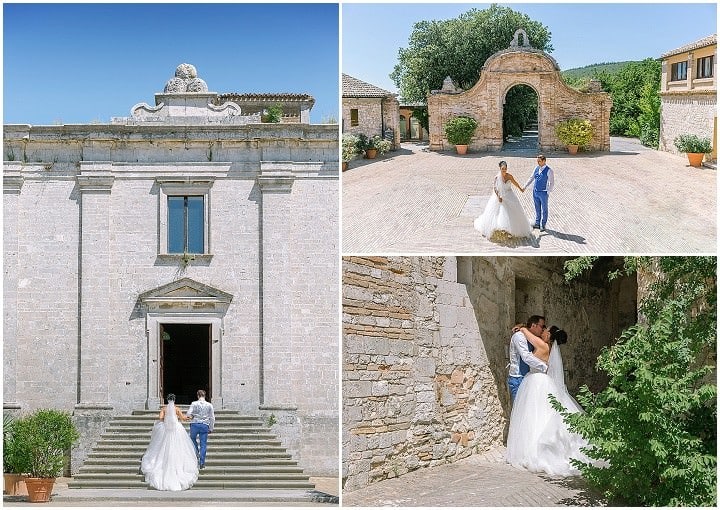 Food
Aperitivo di benvenuto. Gran buffet di antipasti
1st Course: Raviolo con pachino, basilico e ricotta salata, Tagliolini di Campofilone al Ragù, Tagliolini di Campofilone con burro e tartufo (v)
2nd Course: Tagliata di manzo alla griglia a vista su letto di Patate arrosto, Parmigiana di Melanzane (v)
Dessert: Buffet di dolci e frutta, Caffè e cordiali
Wedding cake
1 high cake, Sponge with 2 types of  filling. 1: nut cream with crispy pistachio 2: Chocolate cream with white and milk chocolate flakes. Around the cake was vanilla cream , with golden drips (dripcake) on top real flowers.
Entertainment
Live music (violin and cello) and then a DJ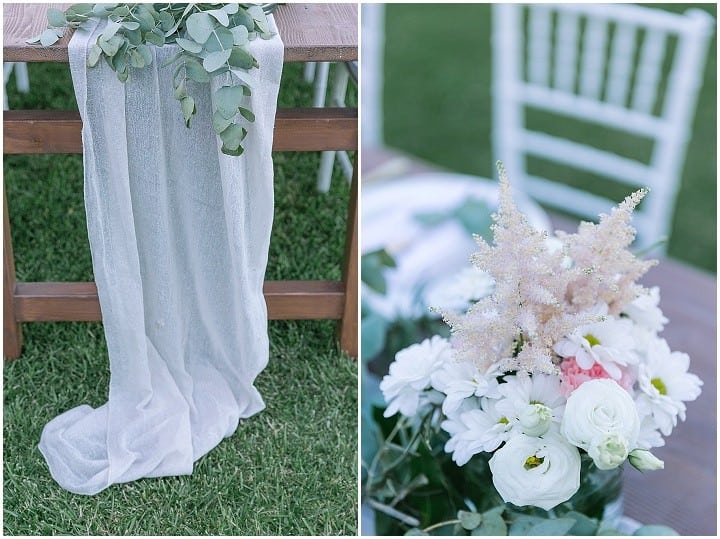 Who supplied the stationery?
Made for moments.nl
Special moments 
The arriving at the teatro with the wedding car and  with all ore guests in front of us. And off course the moment that Davy knocked on my door with the wedding bouquet. (that was the first moment that we see each other)
Biggest surprise 
We had 2 party crashers. 2 colleagues of me. They have taken a plane and a hotel nearby. And they are waiting at the teatro. It was a really surprise! I knew nothing about it.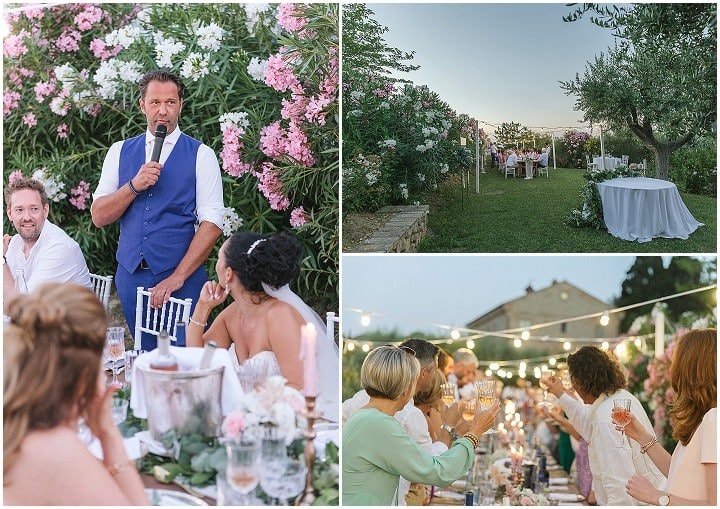 Supplier Shout Outs