Happy Friday everyone and how are you all holding up? We are now in day 2 of Lockdown 2.0 and I have to say I am looking forward to the weekend! Not that we can really go anywhere! But all the same, wine, food and my lovely little family will see me through. We have Nik's mum coming to stay on Saturday (she is part of our bubble), so it will be lovely to spend some time with her over the weekend. I am still trying to come up with ideas of fun things to do with Dexter. So far the weekend consists of walking, bike rides, baking, watching films and board games. If anyone else has any ideas of how to stay sane over the next 4 weeks then please do get in touch! Today we have the last wedding of the week and it's the turn of Clarice and Ryan who were married in November 2019 at Costa Mesa, in Orange County, California. They wanted a classic and elegant day that would be timeless but full of modern touches. They chose a neutral colour scheme and added to it with black accents and a mixture of texture and flowers. Big thanks to Astray Photography for the lovely photos.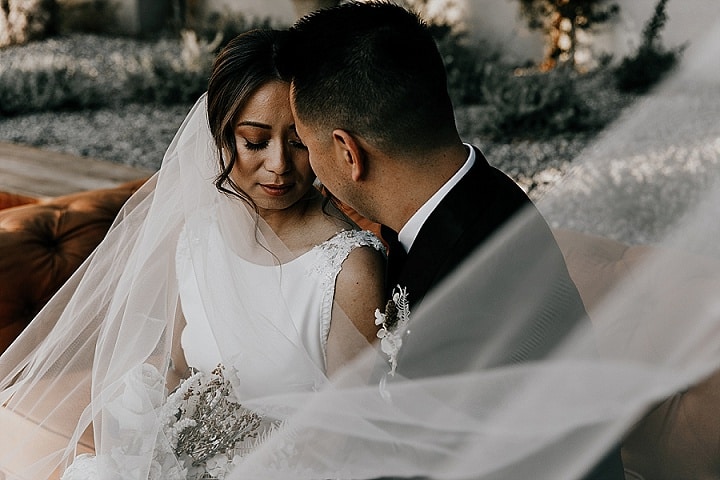 How they met 
Nothing more romantic than a simple flick of the finger to identify true love, right? Well, that's how this love story began back in the Summer of 2015. A corresponding pair of "swipe-right's" creates a match.  Ryan asked Clarice to meet for their first date, and they agreed to meet at The Hudson House in Redondo Beach, CA on September 16, 2015. The rest, as they say, is history.
The proposal
Ryan and I celebrated our anniversary together by taking a weekend trip out of town. Celebrating our 3 year anniversary, Ryan had mentioned he wanted to keep our destination a secret. One quick flight and a rental car later, we found ourselves in South Lake Tahoe. The weather in mid-September was perfect, and the lake views were stunning. Ryan revealed that we would be doing a hike to Mount Tallac, the highest summit in South Lake Tahoe. Just some minor details about this hike. One – the trail is 10.2 miles round trip. Two – the trail has a 3,290 feet elevation gain. Along the trial, there were gorgeous views and serene landscapes with undisturbed lakes. After finally reaching the top, we stood in awe of all the beauty Mother Nature had to offer. He asked that I turn around, so that he could take an 'Instagram-worthy' photo of me. Feeling silly, I quickly turned back around, only to find him down on one knee, with a ring box in his hand. He had planned everything to that exact moment and location of where he was going to propose. Of course, my answer was "yes!"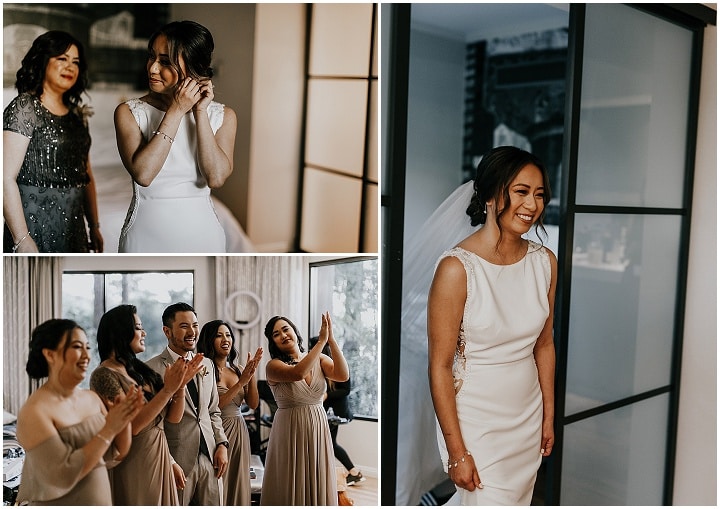 Outfits
The groom: After deciding that we wanted a classic and traditional look, it became obvious that I need to wear a tuxedo and bowtie. For my wedding, I knew that I wanted a true bespoke tuxedo that was made perfect for me. I was able to work with a professional bespoke suit designer, Ton Chookhare from Chookhare & Sons. We worked together to craft a tuxedo to every detail. We selected a subtle metallic grey polkadot silk liner for the inside of the jacket. My white tuxedo shirt was personalized with my initials on my left sleeve.
The bride: I wanted a dress that fit my body shape, that was comfortable and, of course, would allow me to have a good time on the dance floor. I tried on various dress silhouettes and styles from boho, traditional, to high fashion. Ultimately, I fell in love with the very look that I envisioned, a clean and classic look that was totally my style. Chloe at Bella Bridal in Los Angeles helped me find the perfect dress. I chose a crepe Pronovias dress. I fell in love with this dress for its timeless and classic look and the subtle feminine details that made it uniquely modern.
Theme or colour scheme
We simply wanted a timeless wedding. After looking at old family wedding photos, including our grandparents and parents, we noted their attire, decorations, look and feel. We fell in love with The Harper venue for its modern and clean interior design. It had everything we wanted: neutral colors, and strong, modern accents. After securing our venue, we took inspiration for the style and colors for our wedding. Our ceremony was a traditional Catholic ceremony in a beautiful church in Orange County. We incorporated Catholic-Filipino traditions for our ceremony.
Flowers
The florals for our wedding were absolutely stunning! The floral décor, most especially the sweetheart table backdrop installation, was such a highlight within the reception space. The floral design and colors tied in with the venue and reception seamlessly. Our florals were light and earthy with varied modern textures. The floral design gave the classic, neutral reception space the modern touch we were looking for. The bridal bouquet and bridesmaid bouquets was designed beautifully and incorporated dried florals, beautiful white flowers and pops of taupe/brown shades.
Decoration
Not wanting to detract from the churches inherent features, we worked with our florist to provide some minimal flowers and decorations. However, our florist, Rogue and Fox, went above and beyond our dreams for our reception venue. Rogue and Fox designed and constructed a large floral installation placed behind our sweetheart table. Our communal seating set up allowed for our florist to place floral decorations and sculpture art at the centers of each table. All stationary for the wedding was designed and created by us. We took inspiration from our favorite artists and typographers, and were able to design our save the dates, wedding invitation suite, welcome signs, bar signage and seating chart. We placed Thank You cards at each of our guest's table settings. For our giveaways, we gave out our favorite vanilla waffle scented candles. We added a candle label and tag we designed for each of our candles, and our parents volunteered to decoratively package them individually for our guests.
Personal Touches
Ever since the first day of our wedding planning, we always knew what our number one priority of the wedding day would be…the music. We were extremely blessed to have secured a beautiful church and stunning venue. But, the true bow on top of our special day was the music and our DJ, DJ Kara. Our DJ asked us to curate playlists that we wanted to listen to. We truly took this request to heart as a way to personalize our reception experience. We spent months and months putting together all the songs that told our story. This is what made our day so special. During cocktail hour, we enjoyed music that our parents love. During dinner, we heard some of our first love songs that we danced to together. The vibes of the evening all took shape because of the music that filtrated the venue. This was the perfect way for us to personalize our special day.
Special Moments
The most anticipated moment of our day was seeing each other during the ceremony. We opted for a 'traditional' first look and saw each other for the first time as I walked down the aisle. The intensity of that very moment was quite emotional. Even though we were surrounded by our loved ones, it felt like time stood still, as if it were just us.
Advice for other couples 
First and foremost, we would say that it's important throughout the process to keep in mind that the big day is about you two. There can be so much involved in planning a wedding that it's always a good idea to take a step back and remind yourselves the real reason and meaning behind this special day.If we can pass on wedding planning advice it would simply be to act together as a team throughout the process.  Not every task needed to be a joint effort. We split up tasks and decisions based on the strengths and weaknesses we knew each other possessed. This made the planning go as efficiently as possible, and helped make the final product be something that we can both be extremely proud of.
Supplier Shout Outs
For more information on Astray Photography go to