Hello Monday and how are you all today? I hope you are all good and had a wonderful weekend? What did you get up to? Did anyone go to a wedding? With the fantastic news that here in the UK we can hold not only a ceremony with up to 30 people, but now we can also have a sit down wedding reception with 30 people, things are looking up for the wedding world. So were you one of those lucky people who had a wedding this weekend or went to one? I would love to hear all about it if you did. Moving on to today's wedding and it's the turn of Hollie and Regan who have shared their gorgeous handmade North Yorkshire marquee wedding with us. The couple put so much time and effort into their day, enlisting friends and family to help with all their DIY projects. The whole day really is a labour of love, so many cute details, gorgeous decoration and lots of super pretty pastel finishing touches. A dream of a wedding perfect to start the week with. Big thanks to Sasha Lee Photography for the lovely images.
A beautiful day full of sunshine, colour and ease. Wrapped with love, chatter and kisses.
Hollie and Regan were married on 29th June 2019 at St Lawrence's church, Kirby Sigston in North Yorkshire with the reception at Oaktree farm, Bullamoor Rd. 'We both wanted to have our ceremony at a church. That was very important to both of us. Our local church was just perfect. A small church in the middle of fields down a lane. It was intimate and held so much character and charm. The reception was at Hollie's mum and step fathers farm. We wanted a very chilled day and having a marque in the middle of their field just seemed like a plan. We had around 70 guests for the day and 100 in the evening. We discussed the type of wedding we wanted for a good year before booking anything, once we had a vision of the day we booked the marque, photographer, cake almost immediately and everything else a little later. It helped that we knew what theme and style we wanted to go with for our wedding.'
How they met  
We met in November 2014 on Tinder (oh dear), but quickly went to phone calls and constant messaging. We became official on the 29th December 2014, Engaged in May 13th 2017, bought our first home in 2018, married in 2019 and had our darling little Rosie one week before Christmas the very same year.
The proposal
Regan proposed on the 13th may 2017 at our local restaurant. He was very nervous about it all, not wanting to create too much fuss around us he carefully and quietly got the ring box out onto the table and opened it. 'will you?' he said whispering. I nodded very dramatically. Id never been quite so certain about anything.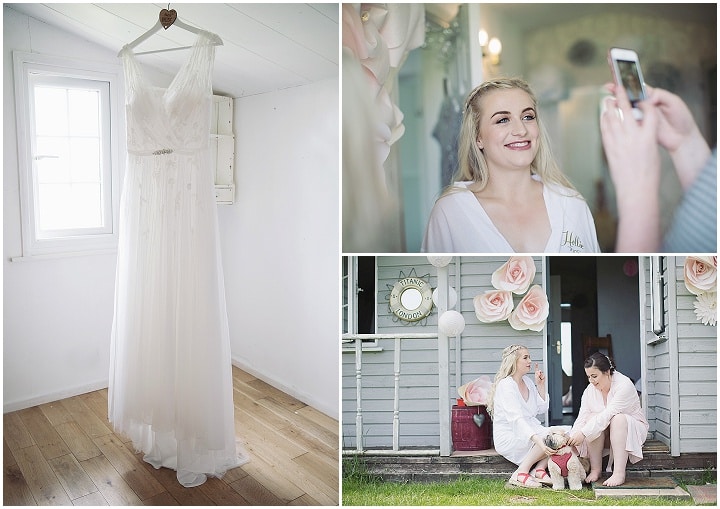 How did you allocate your budget?
We were very lucky to have my mum who helped us so much with our beautiful day. She saved for two years to give us such a wonderful wedding. Without her we could not have had our vision. We made a list of EVERYTHING and made priorities. For example the marque took main priority and the price could not be shifted on. But then other areas of the list could be saved upon, getting second hand or making ourselves.
Where did you splurge and where did you save?
The biggest splurge was the marque. We wanted something so different and I feel that our marque was so unique and different to any I had seen before. It also had a vintage theme running through it which was perfect. We saved on stationary as they were home made. Also we decided to use Suzie for our flowers, which were picked from her walled garden, they were so much cheaper than going to any other florist but tied our theme together perfectly.
How did you choose your photographer? 
We chose the fantastic Sasha through a client of my mums at the salon. We were shown her wedding photos and were just blown away with the quality and distinctive style. Sasha arrived on the day and just did her thing. Nothing was staged or forced. We were made to feel so comfortable by her. And the photos captured so much colour and the vibrance of the day.
The dress  
The dress was from WED2B.  I tried on many styles but fell in love with a vintage inspired sequin gown. The dress fitted perfectly then and I even had room on the day being 14 weeks pregnant. My veil and belt were from WED2B also. My shoes I bought from Monsoon.
The suit and bridesmaids
Regan is a mod through and through. So it was important his suit represent that. He decided on a blue checked three-piece suit from Moss Bross, with a crisp white shirt from Debenhams and his bright Beatles inspired paisley tie from Pretty green. His Shoes were from Fred Perry.
Naomi my one and only bridesmaid wore a beautiful pastel purple long Grecian style dress from Quiz. We wanted something to tie in all the groomsmen and fathers, so they all wore bright coloured socks. Sasha took a fantastic photo of them all showing them off.
Theme or colour scheme 
We had no colour scheme as such but wanted pastel colours to pop through different areas of the wedding. From the lavender and barley on the end of the pews to the meadow flowers in and around the marque. We wanted the theme to be vintage with a boho edge.
Flowers 
I always wanted a bouquet that looked as if it had been picked from a meadow. Suzie from picked at dawn accommodated this perfectly. She has a walled garden where she grows most wonderful variations of flowers. I had sweet Williams, daisy's, sweet peas amongst meany more. The bouquet was wrapped in a hand dyed ribbon and had attached a hand embroidered cloth with my late brothers name Henry James.
Decoration  
We had such lovely decorations, many made by my fantastic and very talented mum June. From our milk churns and antique bike full of flowers at the entrance, to our bunting hanging from one end of the marque to the other. We wanted simple pop of colours everywhere. So big jugs filled with wild flowers were placed around the marque, trees and lavender plants, creating an outside inside theme. Twinkling origami stars hung above the dance floor. Heart shaped confetti cut from many Austen and Dickens books covered the tables. Every decoration had hours of love and time poured into them.
Food 
Food was important for us but we wanted to keep it simple and keep it local and in budget too. Johnsons of Thirsk created our a three course affair with canapes on arrival, followed by a lovely roast with Yorkshire puddings galore. Pudding was different tarts. We had a table full of sweet treats and cookies for our guests. The Yorkshire Hog roast company joined us for our evening food.
Wedding cake 
The wedding cake is one of my favourite parts of the day. Made by the amazing Jen at Darrowby cakes. We decided on a naked style cake with three different flavours; lemon drizzle, chocolate and vanilla. We had a little fruit cake iced too for traditional purposed to put away for the christening of our baby. The cake was presented on a log base with a mod couple on a scooter.
Entertainment 
Entertainment was a typical wedding disco. But I have to say that because of the 27 degree heat and sunshine paired with  the bales of hay and a fire pit and sofas we set up, everyone wanted to chat and lounge outside rather than use the dance floor to boogie.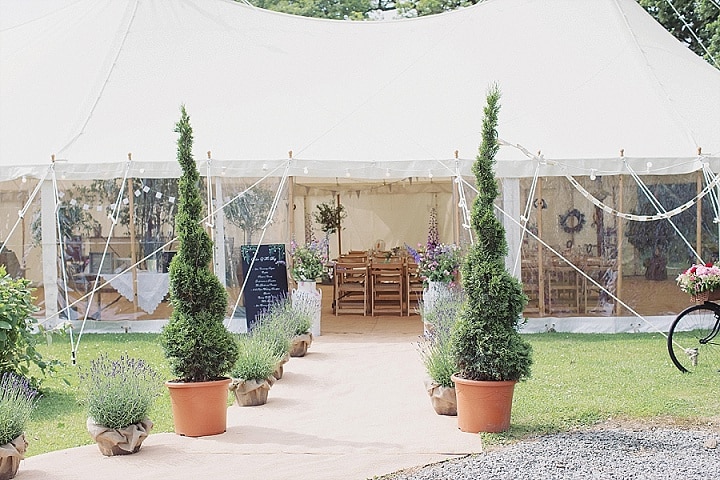 Who supplied the stationery? 
My wonderfully talented grandmother created my stationary. We sat together week after week creating.
Where did you go on your honeymoon?
Going into the wedding we were 14 weeks pregnant so everything seemed to shift focus from us to our little future. So we decided instead on a mini moon. We spent the weekend at Swinton Park. Enjoyed a day at the Spa and had a cheeky ice cream from Brymour on the way.
Personal touches
There were so many parts of the day that we created and made ourselves. We wanted a memorial frame that included our loved ones that couldn't be with us on the day could be remembered and thought of. My mum made the most beautiful welcome signs and itinerary for the day with chalk and paints which just looked beautiful. we tied ribbon with lavender around each persons name tags. That was something I found on Pinterest that was unusual but showed effort into making their day so much more special too.
Special moments
My special memory of the day is walking down the aisle with my mum by my side, feeling so overwhelmed by love. Waving and smiling to all my family and friends that had joined us on such a special day. Knowing that I was carrying our little baby all the way to my husband.
Advice for other couples 
I would pass on the advice given to me. Instead of being nervous walking into the church embrace it, look and smile or even wave to all those happy faces because they have come to support you on your day, they are not their to judge you so look up into the crowd of people.
Also at the end of the night take a step back when guests are dancing and being merry and just watch, sit and soak up all the joy and love in the air.
And make sure you get a video or your vows and speeches and first dance because although photos are amazing its so lovely to relive those nervous and beautiful moments.
Biggest surprise 
There weren't surprises as such but I did find it surprising how truly fast the day goes, from getting ready and those moments before arriving at the church lasting a lifetime to arriving at the reception and suddenly you are saying goodbye to all your guests at midnight. So just take advantage of every moment. You cant have too many photos or too many kisses.
Supplier Shout Outs
For more information on Sasha Lee Photography go to
www.sashaleephotography.com / www.sashaleephotography.com/blog / [email protected] / 07539630209 / FACEBOOK / INSTAGRAM / PINTEREST

Being a natural wedding photographer, my main goal is to capture the real glow, character and personality of a wedding day. I keep an eye out for those quiet romantic gestures, bursts of laughter, happy-tearful eyes, silly moments and warm embraces. Lover of colourful photography with a creamy dreamy hue.

[jprel]