Happy Monday everyone and how are you all? Did you have a good weekend? Mine was OK. Dexter has been a bit poorly so it has been up and down, one minute he is fine the next he is keeping us up all night coughing! It's fair to say that both Nik and I are exhausted! But onwards and upwards. Hopefully he will be fighting fit very soon and we can all catch up on our sleep! I have another week of wonderful weddings for you, starting off with this gorgeous yorkshire wedding courtesy of Mark Tattersall Photography. It's a lovely wedding, with lots of cute homemade touches. The flowers are all DIY and are brimming with colour, the dress was tailor-made for Kate the beautiful bride and I just love it! A stunning wedding for a very lovely couple.
A huge whirl of emotions, love and laughter. Family, dear friends, daisies and a cake of cheese
Kate and Simon were married on 28th June 2014 at Taitlands in Settle, Yorkshire Dales. 'Simon proposed at the top of Ingleborough in the Yorkshire Dales, it's a stunning bit of the world so we loved the idea of getting married nearby. Taitlands was the only wedding venue we visited and we instantly fell in love the relaxed feel and beautiful setting. The search was called off! We had guest wise – Ceremony 70, reception 70, night do + 40. We booked the venue a year before the big day, mainly because we snapped up the last date for that year. Planning started slowly and picked up a few gears in the months running up to the wedding.'
How they met
We shared a flat in halls of residence at university in 1999 and got together in the millennium. A mere fourteen years later we were married. A whirlwind romance!
The Proposal
Simon organised a walk to the top of Inglebrough in the Yorkshire Dales with our dog, Olive. At the summit Simon started striding towards the trig point under the guise of it being the perfect spot for a picnic before, much to my amazement, getting down on one knee.
After a stunned silence and much staring from onlookers I said yes. We shared a picnic and took in the view. I realised our backpack had been so heavy because there was a concealed bottle of champagne in there. The walk back down was giddy and slightly tipsy.
How did you allocate your budget
The first things we booked were our photographer, Mark Tattersall and the band for our evening reception. We wanted a good party and pictures to remember it all by! Most of the rest of the budget went on catering, drinks and touches to make the day unique to us. (And on a good honeymoon afterwards in the states.)
How did you choose your photographer
We knew Mark's work as he photographed our friend's wedding a couple of years ago – you can really feel the love and emotion in his photos so he was a first choice for us. Easy! His work is really natural, nothing staged, just the day and the moments to remember forever as they unfold.
When I look at the photos Mark took I'm back at Taitlands, with family, friends and gorgeous summer fresh air. (I can literally smell the flowers and hear the buzz in the marquee again.)
The Dress
My dress was handmade at Sophie Louise in Boston Spa, Leeds. I wanted a shorter dress and was struggling to find something that was exactly right in the other bridal shops I visited so after discussing my ideas with Vivienne who runs the shop and makes the dresses I decided to go for a bespoke one. The dress itself was really simple with a little lace jacket. The process of making the dress was great to be part of and it meant lots of appointments with my Mum and sister in law to see the dress come together bit by bit. (Good excuse for a morning off work if I don't say so!)
My shoes were from Rachel Simpson (very comfy even though the heels were quite high for me).
I opted for fresh flowers in my own and the bridesmaid's hair. I was lucky enough to have an creative and calming hairdresser (Georgina Wild) recommended to me. She made me chill out and breathe for the hour I was having my hair done. I felt positively zen by the time she'd finished with me. A good feeling the morning of your wedding!
The Suit and Bridesmaids
Simon is a Paul Smith fan and took this as the ideal opportunity to spoil himself with a new suit from there. (I'm jealous he gets to wear his outfit again.)
The bridesmaid's dresses were from an Etsy seller.
We asked groomsmen to wear a grey suit and we provided a matching tie (we weren't fussed about everyone being in exactly the same colour.)
Theme or Colour Scheme
Not specific colours really just muted summery tones. The venue we picked wasn't too structured or orderly so I wanted the feel of the day to suit the relaxed space we were in.
Flowers
I found a gem of a flower grower near to York, Rachel Wilkes from Ducks and Daffodils. She provides buckets of freshly cut British seasonal flowers for DIY flower arrangements. She also made up our bouquets.
I didn't know exactly what I'd get, it was just whatever looked nice the morning of cutting. There were some nice surprises in the bouquets including some fresh mint. Very calming to have a sniff of as I waited to walk down the aisle.
The beauty of having DIY table arrangements was that we could have far more flowers than we could have afforded from a regular florist. I also had a great selection for my own and my bridesmaid's hair. It was a big task to get everything in vases the day before, if anyone reading this is thinking of it make sure you have helpers on hand.
Decoration
To add a few quirky touches we made strings of hearts to hang behind us at the ceremony made from paper hearts cut out from a book of love poems, and spray-painted with a bit of gold paint.
I also made some little gold rabbits (got a bit happy with the spray paint again) to sit amongst the flower centrepieces. We have two rabbits so thought guests would get the reference. Taitlands quite handily had loads of bunting so we were able to use that for the marquee.
The centrepieces were flat logs toped with lots of mismatching vases and teapots and flowers, lots of flowers!
Food
We had some afternoon tea canapés at our drinks reception. We wanted everyone to have a really good chance to chat and catch up so we ate dinner later in the day. We thought we better provide a snack at this point so people didn't pass out from hunger waiting for the main meal.We went for fish cakes followed by Beef bourguignon (using beef from the Taitlands herd). To finish we had a nice light crème brûlée with an almond biscuit.
Emma at Taitlands was very flexible and made a vegetarian option using some ideas from a vegetarian wedding guest.
Wedding Cake
We had a wedding cake of cheese from a local dairy, which doubled up with the help of a few pork pies as our evening buffet. (We finished dinner at 7pm so didn't see the point in spending lots on another meal.)
(Also, going for an afternoon of cheese tasting to pick what we wanted was a highlight of the planning process!)
Entertainment
We had a fantastic band called Obscurity Knocks, they definitely know how to get a party started and played loads of indie floor fillers that had everyone dancing like nobody was watching. They had played at a number of friends weddings where we danced all night so we knew they were a good option.
The lead singer from the band also sang at the ceremony and at the drinks reception in the walled garden.
Buy or DIY your Stationery
I'm an illustrator and Simon is a graphic designer so we had a lot of fun creating an invite that was personal to us.
Simon designed fold out concertina invite with the classic British summer wedding slogan 'pray for sunshine' in hand drawn type inside a sun printed in metallic gold ink. (We didn't get lots of sunshine on the day but we managed to avoid the rain!)
I illustrated the lettering and some wild flowers to tie in with our arrangements. We used elements from the design for our table numbers and place settings etc.
Personal or Handmade Touches
Simon and our friends are real ale lovers. We bought barrels of Leeds Best from Leeds Brewery (a nod to where we live). Simon designed a new pump clip featuring the polka dot pattern on the groom's men's ties and renamed the beer Leeds Best Man. (In honour of the very amazing best man, Tom.)
Special Moments
Aside from the obvious one of marrying Simon, for me highlight of the day was seeing all my friends and family in one place enjoying themselves. It really was them who made our day special. Also, my Dad's speech, very unexpected funny and heart warming!
For Simon the best part of the day was hitting the dance floor and partying with friends and family.
Advice to other couples
Whatever you are stressing about you won't care two hoots about on the actual day. Also, small things can turn into unnecessary massive decisions, take a moment to think about the what the day means to you both and what you want to do and everything will fall into place.
Making your own decorations etc can be really enjoyable but start about six months before you actually need it to be finished because it'll take far longer than you imagine.
Biggest surprise
The biggest surprise was that I managed to make it through the ceremony without weeping chin wobblingly and uncontrollably. When it came to it I was just ecstatic to see Simon. (We'd both been worried about it but it was one of the best parts of the day.) Very pleased to have picture of us smiling in the moment rather than of me blowing my nose.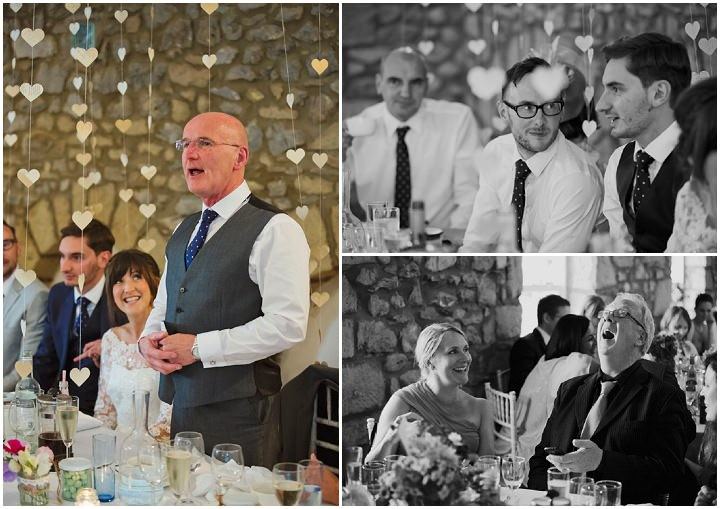 Supplier Shout Outs
For more information on Mark's work please go to:
www.mark-tattersall.co.uk/
www.mark-tattersall.co.uk/blog
FACEBOOK
@Mark_Tattersall
[email protected]