We are taking you off to North Yorkshire today for this totally gorgeous and laid back garden wedding, courtesy of Patrick Phillips. Sarah and Robin were lucky enough to be able to get married in Sarah's parents' garden, which allowed them to save a huge proportion of their budget, while creating a really DIY friendly day, where all their friends and family mucked in and helped them plan. With a custom wedding dress and homegrown flowers this wedding is a great example of how doing things your self, can not only save you money but can inject a huge amount of personality into your day.
A relaxed, informal day where our families and friends were able to get involved and feel a part of the day. The happiest day of both of our lives.
Sarah and Robin were married on the 20th June 2015 in Sarah's parent's garden and field, North Yorkshire. 'We were on a tight budget but wanted an outdoors wedding. Sarah's parents had only moved there a few years previously but it had created a home for the whole family and we wanted to celebrate this. It's a very special place for us. We had 120 guests and took 6 months from engagement to wedding day.'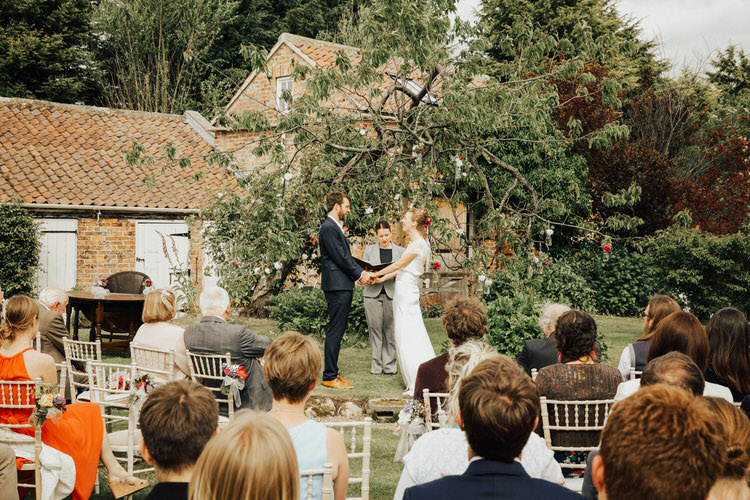 How they met
Sarah had moved to Cornwall from London and was missing the Swing Dance scene that she had been a part of for years. She decided to post on facebook looking for swing dancing in Cornwall. Meanwhile Robin was just planning to move to Cornwall himself from Brighton. His swing dance teacher saw Sarah's post and suggested, then insisted, that he get in touch with Sarah. A few months later he got in touch asking if Sarah would be up for teaching swing dance as there were no classes south of Devon. Within three months of meeting, Robin and Sarah had set up 'Swing Out West', teaching twice a week for over 60 dancers and Robin had moved into Sarah's tiny little flat by the sea. This was just over four years ago and they now live in York to be closer to friends and family.
The Proposal
On Sarah's birthday, a week before Christmas, Robin wined and dined her with champagne cocktails and gorgeous food at the Blue Bicycle in York near the river Foss. Sarah knew something was up but Robin kept it together and just after the meal, on the bridge over the river, he got down on one knee and proposed. The solemnity of the occasion was partly ruined by Robin dropping the ring and Sarah losing all of her cool, not believing that he was actually proposing! Every time we walk over the bridge we have a little moment together.

How did you allocate your budget?
We tried to do nearly everything ourselves, or with help from friends and family, it was a proper DIY wedding. A friend of ours lent us a beautiful Indian Raj tent for the gin bar, and after scouring charity shops we found furniture to create the bar. In total the gin bar cost us £100 and we still have some of the furniture in the house. We spent quite a lot on the marquee, with a generator and toilets etc. People could also camp so we hired showers for the weekend, although in the end we think only a few people used them.
Where did you splurge and where did you save?
The marquee, toilets and showers were the most expensive outlay of our budget but were essential; having an outdoor wedding in North Yorkshire even in June is a bit of a gamble. We saved by asking friends to bring a bottle of wine instead of a wedding gift and we offered camping instead of accommodation in a hotel to save money for our guests and ourselves. We did all our own decorations, with the local village making miles of bunting, Sarah and her Mum making big floor cushions for around the fire, we spent many Saturdays making rose scented candles for the tables. Sarah's Mum and friends did all the flowers which became the main focus of the day.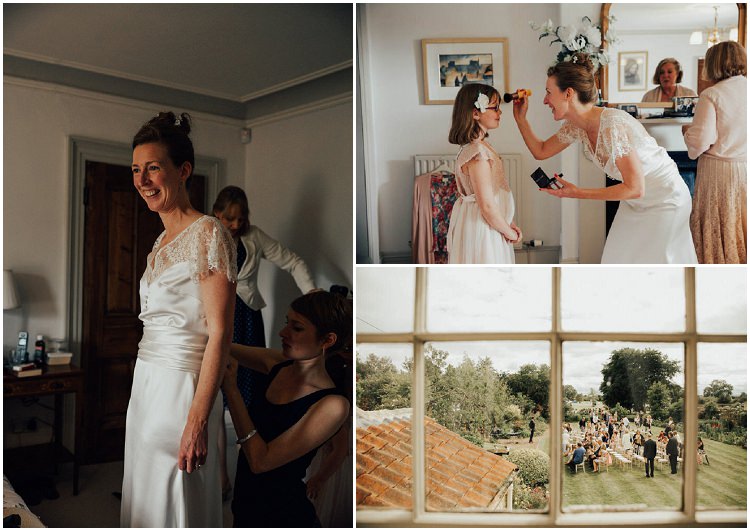 Why did you choose your photographer?
We found Patrick Philips on gumtree, he was offering a really good package and we thought we'd get in touch. Even though he was living in Scotland at the time it turns out his family lived just down the road. We really enjoyed working with Patrick; he was very easy to get on with, creative and captured the spirit of the wedding.
The Dress
The dress was designed and made by local wedding dress maker, Hayley from Glory Days. She specialises in vintage dresses but also designs and tailors wedding gowns. Sarah wanted something that could be used again and wanted to base it on vintage ideas. Between Sarah, her Mum and Hayley they came up with a long skirt (with a beautiful train) and top for the day with a shorter skirt for dancing for the evening. It was made from pure silk and French lace. Sarah intends to work with Hayley again to turn the long skirt into beautiful silk nightwear, and she is currently looking for someone brave enough to dye the short skirt so it can be worn for dancing. Sarah is keeping the top and waistband as an heirloom. Sarah wore a very simple necklace from John Lewis, earrings from accessorise and flowers from the garden in her hair.
The Suit and Bridesmaids
The suit was a three-piece from Ted Baker that Robin had been admiring for months. His shoes were vintage Barker brogues, found in a vintage shop in Cornwall. He also wore a pocket watch that was found in a Cornish car-boot sale. The little bridesmaid dresses were from Monsoon (our niece still wears it as her 'Princess dress') and Tilly wore an original 1950's swing dress.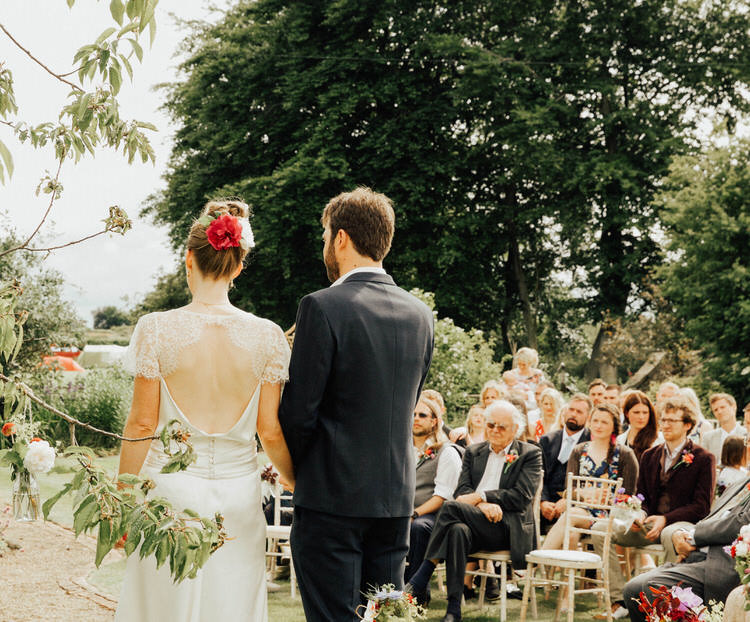 Theme or Colour Scheme
We went for seasonal flowers and an outdoor country theme.
Flowers
We grew our own flowers and also used local flower farms from the 'Flowers from the Farm' growers group. We were incredibly impressed with the beauty, scent and quality of the flowers, how much joy they bought us, as well as the challenge and pleasure of growing our own. So much so, that we have converted a corner of the field, where we got married, into a flower farm called 'Wild Bee Flower Farm.' We are now fully signed up members of the 'Flowers from the Farm' group ourselves and have our first wedding orders in a couple of months' time. We're hoping to give them as much joy as we got from our wedding flowers, they were our favourite thing of the day.
Decoration
Flowers, flowers and more flowers! As well as; vintage tea cups, home made rose-scented candles, miles of fairy lights and bunting.
Food
We had a hog roast from 'Happy Hogs Catering' in York, and some of Sarah's closest friends made the desserts. In all the excitement and chaos neither of us got to taste these delicious beauties.
Wedding cake
Was made by Sarah's Mum!
Entertainment
We're very lucky to have some highly talented friends who sang for us in the ceremony, they are from the band 'Firefly Burning', based in London, it was such a privilege to have them play. We did a swing dance number as our first dance and then it quickly moved into 90's dance, a play list created by two very close friends.
Stationery
Again, we did it ourselves. We designed and made our wedding invites, ceremony cards, table places and thank you cards. We kept it really simple with a lovely design on brown card.
Personal Touches
So many! Everything that mattered to us was hand-made either by ourselves or our friends and family. We tried to make sure that all suppliers and things we had to buy in were local businesses. For example we ordered a keg of beer from a local brewer; Hambleton ales When they delivered it, they set up the tap on the bar for free and when he saw the wedding preparations he kindly gave us 3 cases of bottled ales absolutely free!
Special Moments or Highlights
The humanist ceremony conducted under an old tree in the garden, strung with flowers in jam jars, and surrounded by all our friends and families was incredibly special. The relaxed atmosphere created at the start remained throughout the day with people free to wander from the marquee to the gin bar to the bonfire and back again. A special highlight at the end of the evening was Sarah's Mum and Robin's niece dancing away to Jungle!
Advice for Other Couples
Don't be scared to do it the way you want to do it, it's your wedding and it's about your love and commitment to each other. We felt quite strongly about not following all the traditions and making it more about us and our personalities. We feel really lucky that we work well together and enjoyed every moment of planning and creating in the months leading up to it. Don't scrimp and save too much, but also don't fall for all the 'must-haves' if they are not important to you personally.
Biggest Surprise
We've never been in a situation where we're surrounded by all our friends and family who were there just to show us love. It was a very humbling experience.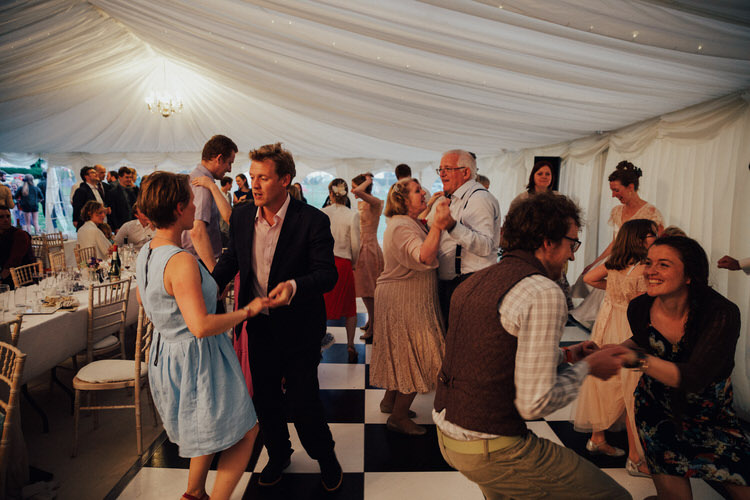 Supplier Shout Outs
For more information on Patrick's work go to:
www.pjphillipsphoto.com / www.pjphillipsphoto.com/blog / [email protected] / 07516 301507 FACEBOOK / Twitter: @ pjphillipsphoto  / Instagram: @ pjphillipsphoto / PINTEREST /
I split my time between Glasgow and my home town of Thirsk in North Yorkshire. I love shooting the traditional Scottish weddings with lots of kilts and whiskey as well as the lovely countryside weddings in North Yorkshire. I always aim to capture the day is it unfolds, photographing all the details and moments along the way in a candid, unobtrusive manner. I take inspiration from 1930's street photography, and try to incorporate this into my wedding photography.