Today we are in the North Yorkshire countryside for this super cute wedding of Hannah and Danil. As the temperatures here in the UK plumit to below zero and we take 'snow days', it is lovely to feature a UK wedding from the summer, just to remind ourselves that we do actually get warm weather in this country! Hannah and Danil were lucky enough to hold their wedding reception on the family farm, while holding the ceremony in the same church as Hannah's parents did. The whole day is filled to the brim with homespun and DIY projects and details, as the couple set about doing as much as they could themselves. With pretty pastel decoration, an amazing homemade cake, and a whole lot of fun, this wedding is proof that you don't need an enormous budget to have your dream wedding. Thanks to Stacy Irving Photography for the images.
It was the MOST magical day of our lives and the perfect start to our married life together. Being surrounded by all of our favourite people who love us and wanted to support us into the next adventure was so wonderful, priceless and special for both of us.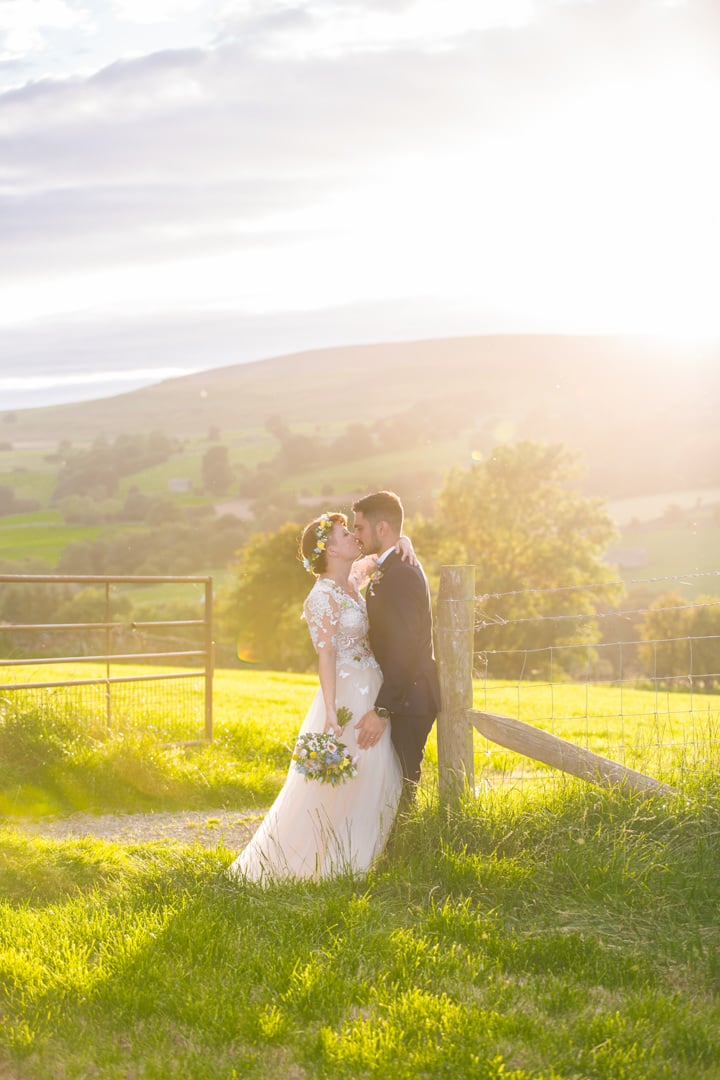 Hannah and Danil were married on 12th August 2017. 'We got married in St Botolph's Church, Horsehouse where Hannah's parents were married 24 years before and she was a bridesmaid at 4 years old. Horsehouse is a very small area in the North Yorkshire dales with very few, yet beautiful cottages. The reception was on our family farm in the back garden/field. It was held inside a huge white marquee, in a village called West Scrafton in Wensleydale. This is ten minutes from the ceremony and is again a very small area but surrounded by the most stunning green views overlooking Carlton and the rest of the beautiful valley. We had 82 guests to the day and approximately 30 more to join us in the evening. Polly the family dog was invited but preferred not to dance and to sleep instead. We booked the 'big' things about a year before such as the church, marquee, furniture, bar and posh portaloos hehe. Then 6 months before we started all the making of things!'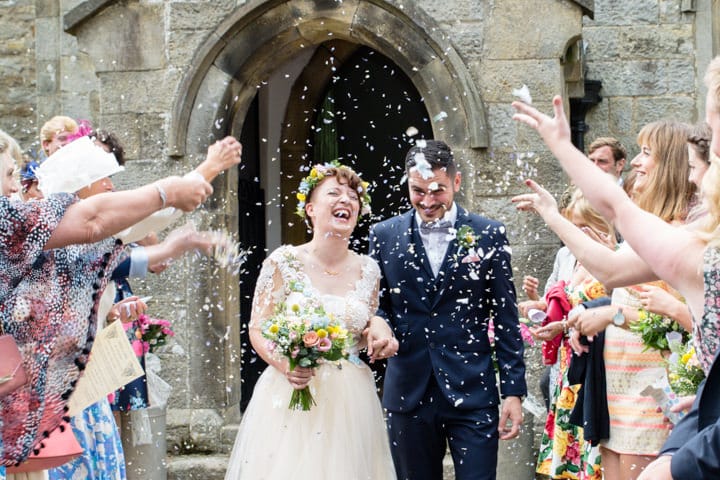 How they met 
We had been together almost 7 years when we got married and had a relatively long engagement of 4 and a half years! We met through one of our best friends, Mark, who Hannah met at university in Manchester and lived in student accommodation with. Danil came to see Mark at home and Hannah was in, Hannah had heard a lot about Danil especially from the other girls who had cooed over him for months before Hannah had met him. We instantly got on, and we're friends for around a year before becoming a couple. 
The proposal
Danil proposed to me on the moors which overlook the village of west Scrafton where I grew up. We usually go for a walk when we are back home visiting family so it wasn't out of the ordinary. Danil had set out wanting to walk up to the waterfall which is a good hours walk but holds special memories for us both. Hannah was moaning about having to walk so far so Danil obviously had to change his plans. It had been snowing but he still got down on one knee and popped the question. It was such a surprise and we were both so giddy that we ran all the way down the moors back home to tell the family….Mum already knew and had a bottle of champagne chilled ready for us returning!!
How did allocate your budget?
There was no specific allocation because we had a small budget in comparison to a lot of other people's wedding. We just had rough ideas of how much we could spend on each area and stuck to it. We were very lucky that the reception was on Hannah's family farm so no land rental needed, we knew the marquee company and knew we didn't need the 'typical' wedding marquee as we dressed it all ourselves so that saved a lot. We had a family friend do the electrics with my dad who also plumbed in some water for the catering tent from a cattle troff. The cake was also handmade by Hannah's sister. The main things we spent on though were the band, the marquee and the catering.
Where did you splurge and where did you save?
We splurged on the band! Music is a HUGE part of our families life. And we knew how much our family and friend would love getting up and dancing to good music! It was SO worth it!
We saved on making everything that we possibly could! Hannah, her mum, mother in law, granny, and grandmother in law spent months sewing bunting to go inside and outside the marquee. Hannah hand painted all of the wedding favours (Hand painted pebbles with the guests names on with simple botanical illustrations). Bobby made the logs for the table and the cake stand. Kevin (Hannah's Dad) did all of the hay bales setting out and made fire pits. Kevin and Will (Hannah's Uncle), and actually all other strong men in the vicinity helped make the stage! We also borrowed a load of fine china sets and bottles from friends and family.
How did you choose your photographer?
One of my bridesmaids was on a mission to find a relatively local photographer, although that was difficult being in a pretty remote area. When Hannah (also called Hannah!) showed Stacy Irving's website to us we instantly loved how their style was not so typical of the posed wedding photos you see.  Alex was just so personable and really wanted to get to know us. Then the engagement shoot totally affirmed that we had made the right choice.
The dress
Dress by Chotronette, Shoes by Irregular Choice, Necklace by Alex Monroe, Shawl Cow Vintage in Manchester
The suit and  bridesmaids
Slaters and ChiChi London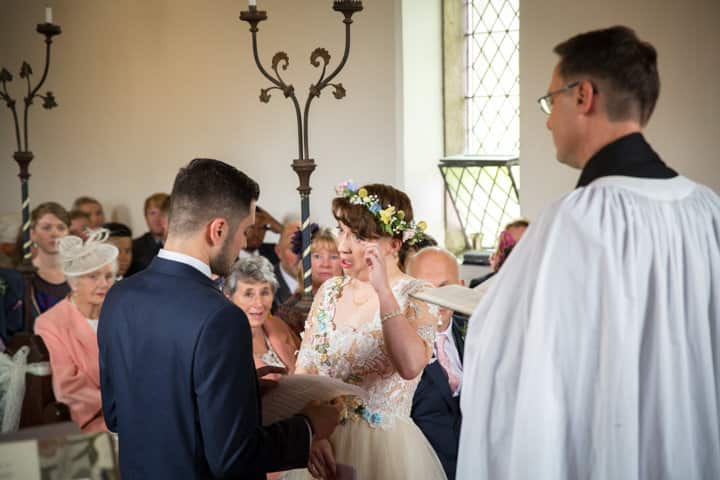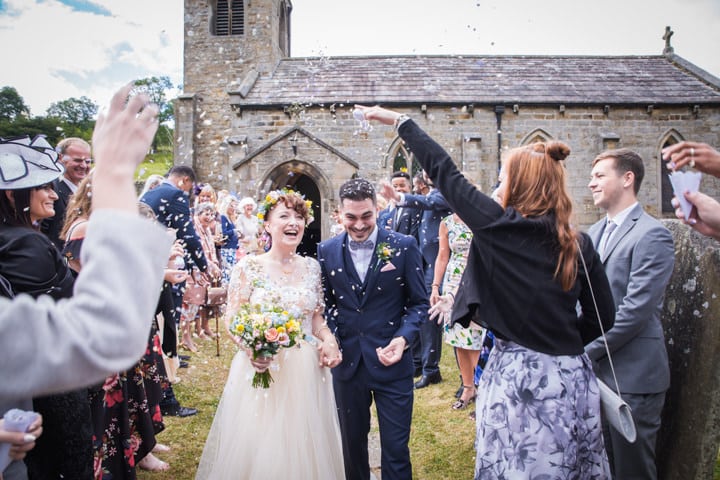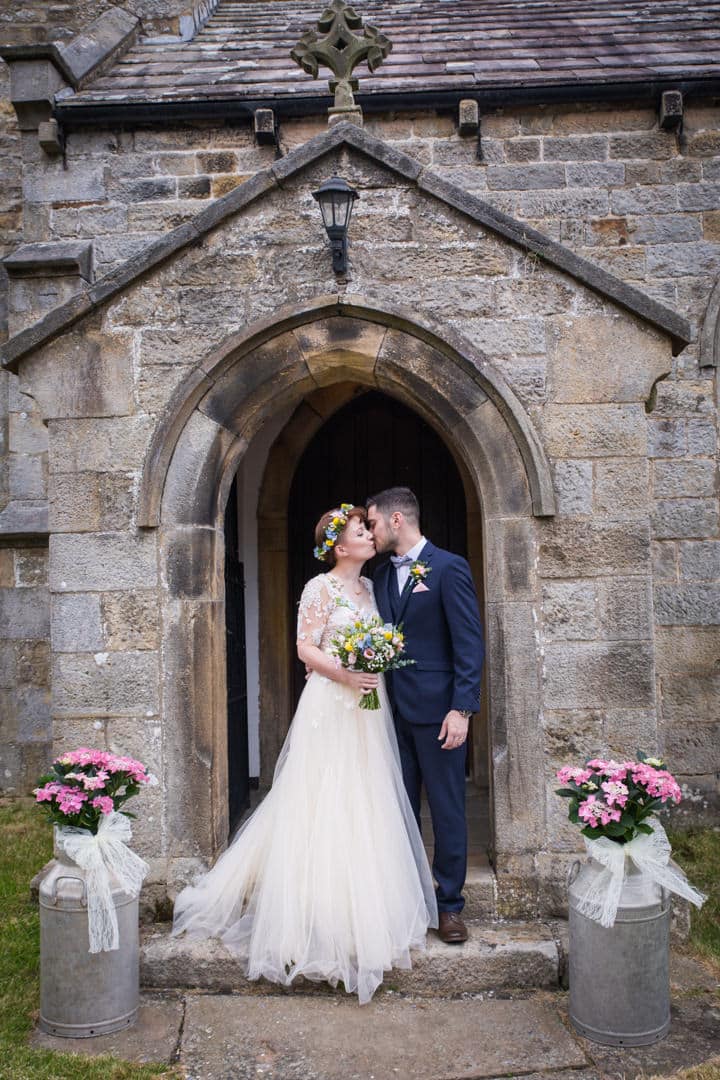 Theme or colour scheme
No particular colour scheme, I suppose all soft vintage colour pallets. I chose so many floral prints from Leeds markets and it all mismatched! We wanted colourful but not too bright. 
Flowers 
I LOVE FLOWERS!! We didn't have the pennies to do them on all the tables so we named each table one of each of the flowers and then had one sitting in a vintage bottle with some gypsophila and other foliage.
My bouquet was round hand, really loose and natural, country cottage just picked feel. And the bridesmaids a smaller version. I also had a flower crown (always my dream!) 
Decoration 
Bunting everywhere! Fairy lights, candles, lanterns, hay bales, handmade fire pits, step ladders with photos of bride and groom, ribbons around tent poles and a cozy sofa area with cushions and blankets.
All handmade by me and my family: name places, table place settings, hand waxed tree stumps with moss as centre pieces, vintage glass bottles and hand-made table clothes.
What did you eat?
We had an afternoon tea around 5 with things like scones, sandwiches, pies, cheese straws, mini quiches, biscuits, cakes and tarts. In the evening we had a hog roast with all the trimmings. 
Wedding cake
My sister Elizabeth (also a bridesmaid) made us our wedding cake. She had just recently qualified from Le Cordon Bleu and wanted to make us the cake as our present. We had some discussions about what we would like in terms of flavours but the rest was left to her! 5 tier, chocolate orange, lemon drizzle, carrot, Victoria, and fruit (made by Hannah's mum) layer. All hand made fillings. And all hand made sugar paste flowers modelled on the flowers in the bridal bouquet, which went from the bottom of the cake round and up to the top which was then laced into a raised tea cup. 
Entertainment
Chequered Band
Stationery
Hannah made it all- She designed the wedding 'emblem' and then it went on all stationary.
Personal touches
We made everything we possibly could ourselves and it took a very long time but we don't regret it for a second! The wedding website, which Danil made, acted as our RSVP to help people reply quicker and so we could help guests with hotel arrangements, location of the church/venue and little tiny notes of information which were important.
Special moments 
When we read our own personal vows, prior to the official church vows.
When we both improptu started dancing in the field whilst the band were running up. Some of the best photos were taken then and we didn't even have a clue they were being taken!
The speeches, particularly loved the interactive factor of the best mans speech. So much laughing!
The dancing, Danil and I's first dance, then second first dance and then dancing all night long with everyone! And just looking around seeing everyone having such a good time. 
Advice for other couples 
Do not panic, get angry or forget why your planning on getting married. The day is only filled with happiness if you allow it to fill with happiness. Yes, your bound to have the odd disagreement but it's how you overcome that hurdle which will show you the way in dealing with similar types of issues in the future – so aim to make it a positive and educational process, rather than an angry one.
Try not to get bogged down in what others want and expect from you when planning, it's about you two and only you two!
Also, the day will go very fast so take some time together to run away from it all for five-ten minutes so you can catch up with each other and reflect. It is, honestly, quite a funny feeling when you finally realise your married! 
Biggest surprise 
Seeing the cake for the first time when we arrived down at the marquee!
Danil's surprise speech (we did a joint speech and then I thought we were finished but Danil stayed standing), he had written a poem/word collage combining lyrics from some of our favourite songs.
Supplier Shout Outs
For more information on Stacy Irving work go to
www.stacyirving.com / [email protected] / 07500555752 / FACEBOOK / INSTAGRAM / TWITTER
We are a husband and wife team based in County Durham covering North Yorkshire, the North East & Cumbria. Alex is the main photographer and Stacy provides additional coverage where required. We offer artistic photography of the bride & groom together with relaxed, documentary coverage of the wedding day creating a perfect blend of creativity and memories.