Well Hello Friday am I pleased to see you! How are you all? Have you had a good week? Today is a day full of mixed emotions as it's Dexter's last day at school before he breaks up for the summer. His last day in Year 1! Obviously it's been a very strange school year what with everything that has been going on, but I am just so glad that he got to return to school for part of it. We are off to Cornwall on Monday so this weekend is all about getting next weeks blog posts written for you all. I am so excited to be going away, it all seems a bit surreal to be honest. But the three of us are definitely due a good break and some relaxation time. Before all that though I have today's wedding to share with you. Aurélie and Daniel had lots of guests coming from different parts of Europe, so they chose their home of North East London to hold their wedding. They filled their day with giant balloons, dried flowers and some beautiful hand crafted projects that took them both months to put together. Big thanks to Marianne Chua for the lovely images.
Our wedding was a relaxed, multilingual and joyful affair. We brought our guests from all over Europe to have them share our love for our new country and neighbourhood.
Aurélie and Daniel were married on 31st August 2019, the ceremony was held at New Unity Meeting House in Islington, with the reception at Woodberry Wetlands in Stoke Newington in North East London. 'Our families and friends live all over Europe so we decided to have them all come to London rather than playing favourites with one country over the other. We've been living in Stoke Newington for five years and wanted to have as a local a wedding as we could. We've been part of the non-religious church New Unity for a couple of years. Their main building was unfortunately undergoing renovations at the time so we had to use their other meeting house. But getting married there allowed us to have a dear church friend to officiate a legal, meaningful and very personalised ceremony. We often go for walks to the Woodberry Wetlands – it felt like the perfect setting for our reception. And we loved being able to walk back home at the end of the night through our neighbourhood. We had 130 guests, including 15 children and it took about a year to plan.'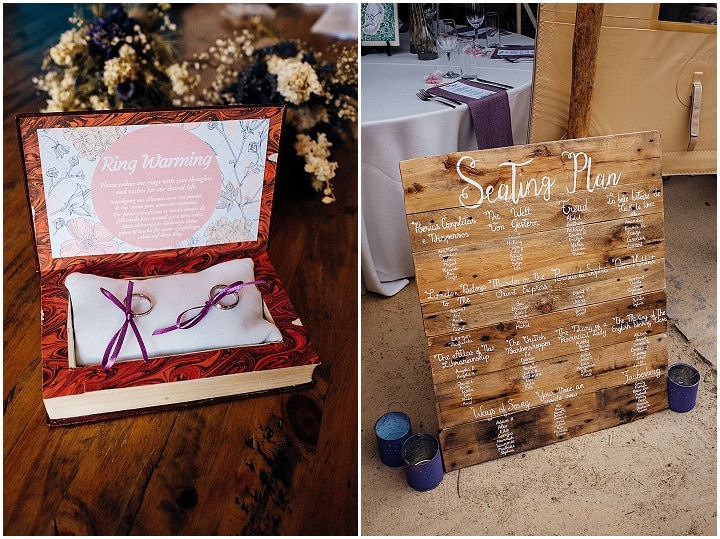 How they met 
We met five years ago online. Daniel's profile said "William Powell type looking for a Myrna Loy." Aurélie's first message reads "You're a feminist ranting about okcupid's creationism question? I'd very much like to meet you! " Our first date was at the patisserie Maison Bertaux in Soho and on our second date we had sake in Camden.
The proposal
We have always had ongoing conversations about our relationship so the decision was made quite naturally over a period of months, not in a specific moment. However, after we had started planning and booked the Woodberry Wetlands, we went there for a walk and exchanged engagement rings, which we had chosen together. It was low key and perfect.
How did you allocate your budget?
We very much followed our priorities. One third was spent on delicious food and drinks. The next third covered the venues and all practicalities needed to make our guests comfortable such as chairs, buses, childcare or the all-important portaloos. The last third covered everything else, from the photographer to our clothes, décor, entertainment and our wonderful planner.
Where did you splurge and where did you save?
We prioritised excellent food, plenty of drinks and chose venues very dear to our hearts. We also chose to splurge on our favourite photographer, a wonderful videographer, and an extraordinarily efficient day-of-coordinator who also handled the last few months of planning.
We were fortunate enough not to have to scrimp too much, but we did save on things that felt less important to us: neither of us had their hair or make-up done, all of our stationary was self-designed and printed cheaply, we got relatively cheap chairs and linens and very few accessories. And Aurélie and her sister did almost all of the décor themselves, which was a wonderful way to spend time together while making very personalised details.
How did you choose your photographer?
We knew we wanted somebody who would work in a documentary style and wanted to prioritise female vendors. We combed through the Internet for London-based photographers, and Marianne Chua not only fit the bill – she was our absolute favourite. She ended up being the very first vendor we booked once we had chosen a date. And boy did she deliver.
The dress 
Aurélie had an amazing experience trying on all manners of plus-size wedding dresses at Heavenly Bodies Bridal. In the end, she picked Seline by Studio Levana, and had the neckline slightly altered.
Since accessories wasn't one of our priorities, she picked some very cheap but colourful green shoes and a dried flowers headband. She didn't wear any jewellery.
The suit and bridesmaids
Daniel had his suit made by the Cad and the Dandy. He already owned the rest of his outfit. All of our friends of honour wore their own clothes but Aurélie did gift some aubergine pashminas for hers.
Theme or colour scheme
Not formally. One of our early decisions was to have dried flower bouquets (for both of us) featuring a lot of lavender, so lavender became an informal theme through many of our decisions.
Flowers 
Aurélie and her siblings did all of the flowers together over a long weekend. Choosing to have dried flowers allowed us to make them over a month in advance. We ordered lots of wheat, lavender, baby's breath and larkspur and put them in an assortment of mismatched bottles and jars for the centrepieces. We also both had bouquets made out of the same flowers.
Finally, we created boutonnieres for all of our guests. Since most of our guests came from different European countries, we wanted to facilitate conversation by subtly signalling which language each person spoke. So we tied each boutonniere with ribbon following a colour chart which we shared in the order of service: lavender for English, blue for French, pink for German, green for Portuguese and white for everything else. (Our guests spoke 20 different languages in total!) Tying the ribbons was very fiddly, especially since most boutonnieres had to have more than one colour; if we had to do it again, we would probably use coloured florist tape or masking tape instead.
Decoration 
We wanted to keep things simple at the ceremony site so we had a group of friends blow some giant balloons for the altar and some smaller balloons throughout the room.
At the Wetlands, we had a few hand painted wooden signs, and on the tables jars of dried flowers and some of our favourite books in lieu of table names. For place names, Aurélie cross-stitched every guests' names into simple, personalised bookmarks. This project took the better part of a year but felt therapeutic and meditative amongst the bustle of wedding planning. Some of our favourite planning memories are the hours of Aurélie cross-stitching while Daniel read her The Diary of a Provincial Lady by E.M. Delafield, one of our favourite books.
Food 
Our menu honoured Daniel's Portuguese identity, Aurélie's French roots and our common love for Great Britain. When we arrived to the reception site, our guests were greeted with drinks and Portuguese bites, from savoury pastries to custard tarts. For dinner we had a burrata salad, lamb roast, a cheese platter and some Eton mess. Later in the evening, guests were offered the traditional Portuguese evening soup, Caldo Verde.
Wedding cake
We ordered the traditional French croquembouche – a literal mountain of choux pastries covered in caramel!
Entertainment
Aurélie being a barbershop singer herself, she hired her favourite female quartet for the ceremony, Fortuity. The reception was DJ'd by one of Daniel's friends, Rui Trintaeum.
Who supplied the stationery?
Aurélie's sister kindly designed all of our stationery and we printed it online.
Where did you go on your honeymoon?
Right after the wedding, we left for two wonderful weeks in Seoul, South Korea.
Personal touches
All of our guests were greeted with personalised gift bags which included a buttonhole with its colour-coded ribbons, a ceremony handout in their language, bubble bottles and some favours: little bags of saffron from Daniel's mum, lavender soaps made by Aurélie's sister and honey from her brother's beehives.
The ceremony handouts were another big project, which we made together. Aurélie's sister created a big stamp for the covers. We printed the text at home and bound the handouts with waxed thread. Inside the cover, we tucked in some old-fashioned library cards including the name of the book representing the person's dinner table. This was a particular nod both to our love for books and to Aurélie's profession as a librarian.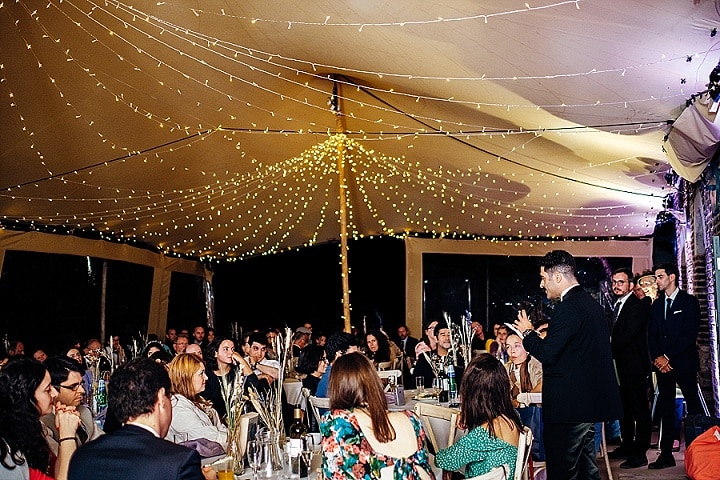 Special moments 
Aurélie: I'm not a very confident dancer but Daniel really wanted us to have a first dance, so we rehearsed for months a little routine to the tune of "Dancing Cheek to Cheek". The morning of, we got ready at home with our closest friends and practiced our dance one last time in our living room, all dressed up. It was both laid-back and magical, setting the exact vibe we had wanted for the day.
Daniel: I think the speeches were all very lovely, even if they didn't shy away from mentioning my most embarrassing moments. The whole dinner was lovely, seeing that we were loved and that our love had brought these people together.
Advice for other couples
We made a lot of the big decisions early on, booking the venues, photographer, caterer, etc. Then we started overly worrying about the rest of the smaller but all the more important decisions that would have to be made to make sure the day went on without a hitch. So we decided to hire a planner to take it from there and do the day-of coordination. This was easily our best decision of the whole process. Holly was a dream to work with, calm, competent, and extremely well organised. She took care of all the nitty-gritty organising needed to make sure that things ran smoothly and everybody was corralled and comfortable. If you can afford it, we highly recommend booking her up (or another planner in your area / budget), or at the very least having a friend in charge so you don't have to be event managing while trying to enjoy your own wedding.
Biggest surprise 
The croquembouche falling apart and absolutely no one noticing.
Supplier Shout Outs
FOR MORE INFORMATION ON MARIANNE'S WORK GO TO:
www.mariannechua.com /  [email protected] / FACEBOOK / INSTAGRAM

[jprel]